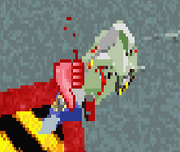 Sergeant Bash was a House Robot built in the image of a futuristic robotic soldier. Sergeant Bash was armed with a pair of crushing jaws on the front and a flamethrower mounted on a fully rotatable turret. Sergeant Bash appears in the Game Boy Advance release of Robot Wars: Extreme Destruction in addition to the other four Robot Wars video games.
Appearance and Armament
Edit
Sergeant Bash and the other four House Robots made their fourth video game appearance during this game. As a result of the graphical limitations of the Game Boy Advance, Bash appears very different than his appearance in the PC/Xbox release of the game.
Sergeant Bash is one of the more detailed house robots in the game, as all of its main features are easily recognisable and proportional to real life, in contrast to its fellow House Robots. As in real life, Sergeant Bash is armed with jaws at the front and has a top-mounted flamethrower, which is much more powerful as a weapon than in real life.
Strategies
Edit
Against Sergeant Bash
Edit
Sergeant Bash's flame-thrower is capable of causing real damage, and its long range makes Sgt. Bash very difficult to attack. As such, flipping robots should attempt to flip and pit Bash as quickly as possible, where as robots with spinning weapons or axes should employ hit-and-run tactics to damage Sgt. Bash and take as little damage to yourself as possible.
Differences from Real Life
Edit
Sergeant Bash's flame-thrower weapon is far more powerful than in real life
Community content is available under
CC-BY-SA
unless otherwise noted.