"A thirteen-strong team took seven months to build this, the tallest and longest in the heat with a three milimetre-thick aluminium shell, and a punching-lifting-ramming weapon powered by carbon dioxide."
— Jonathan Pearce introduces Sgt. Meikle
Sgt. Meikle was a competitor robot that exclusively fought in Series 3 of Robot Wars. It lost in the first round to The Darke Destroyer on a judges' decision.
"Looks like a stealth bomber, Sgt. Meikle!"
— Jonathan Pearce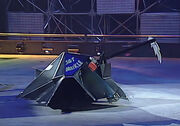 Sgt. Meikle was a tall, black robot built by thirteen people over seven months, powered by two 12V wheelchair motors and a 12 volt dry cell battery, with the armour being 3mm thick aluminium plating. Its weapons were a serrated duralumin-headed axe and a CO2 - powered pneumatic spike, referred to the team as a 'punch'. While Sgt. Meikle displayed reasonable aggression during its only battle, its axe proved relatively ineffective, and the robot was slow and very light at just 64.8kg.
Sgt. Meikle was named after an engineering lecturer with the surname Meikle, who the team took inspiration from.
Sgt. Meikle participated in Heat F of the Third Wars, and was drawn up against fellow newcomer The Darke Destroyer in the first round.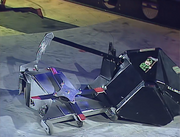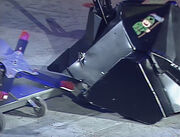 Both robots started slowly, with The Darke Destroyer moving across to ram Sgt. Meikle as Sgt. Meikle turned to strike its opponent's rotating blade. Sgt. Meikle continued to push and follow The Darke Destroyer around the arena as it sustained gashes and scratches from The Darke Destroyer's blade, but its axe could not penetrate through The Darke Destroyer's armour. In the process, it kept stopping The Darke Destroyer's blade from spinning upon contact with its bodyshell, before pushing The Darke Destroyer from the side into Matilda.
"Doesn't look greatly punishing, does it, the blade? Looks like a feather, really, at the end of an ostrich leg."
— Jonathan Pearce comments upon Sgt. Meikle's axe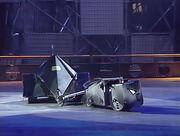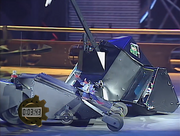 The Darke Destroyer slammed into the side of Sgt. Meikle again, its blade again stopping on contact and folding on itself as Sgt. Meikle pushed it again as the battle went to a judges' decision. Despite Sgt. Meikle arguably proving the more aggressive robot, the decision went in favour of The Darke Destroyer, eliminating Sgt. Meikle from the Third Wars.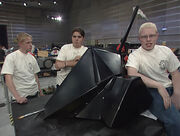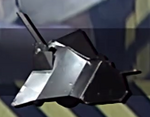 The statistics board atypically spelled the robot's name as Sgt Meikle, without a full stop.
Community content is available under
CC-BY-SA
unless otherwise noted.