"Built by the 39th Scouts group so "be prepared"! The spiked front edge for plenty of dib-dib-dob-dob and £500 to build, plenty of bobba-job."
— Jonathan Pearce introduces Shark Attack
Shark Attack was a robot that entered Series 3 of Robot Wars, entered by the 39th Huddersfield Scouts (later renamed Team Banshee), which lost in the first round to Behemoth. The team would return in the following series with the equally unsuccessful Banshee.
Design
[
]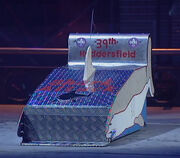 Shark Attack was large box-shaped robot built in the shape of a shark. The shark's head was lowered into a shovel for lifting with sharp hedge-trimmer blades and modified so that the whole body of the robot would jack up to help turn other robots over. This was run off two mid-welder bottles stashed away to protect them from impact. It cost £500 to build, had cased and fire-proofed electronics.
The Team
[
]
Shark Attack was entered by the Scout Masters the 39th Huddersfield Scouts. Of the team members, Richard Jackson designed the robot, Graham Walker was the engineer, and Peter Gagen was the electrician. Peter Gagen was also the team captain and drove the robot.
"I notice with the Shark Attack team, by the way, all the Scout Masters are here, and the poor old Scouts that did all the work are probably back out on camp somewhere! Yeah, you take all the glory boys, don't worry about it..."
— Jonathan Pearce at the start of Shark Attack's battle
Robot History
[
]
Series 3
[
]
Shark Attack had an unlucky draw in the first round in its only appearance, drawn against previous series semi-finalist Behemoth in the first round of its heat.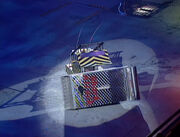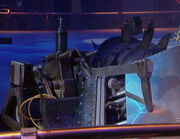 Both robots started fairly sluggishly, with Shark Attack turning away as Behemoth closed in, then turning more to get its lifter under Behemoth's. However, Behemoth turned to try and get under Shark Attack's side, and Shark Attack turned to try and escape. Behemoth got one side of its scoop under Shark Attack as it tried turning away and lifted it up, but Shark Attack slid off. Shark Attack turned around to face Behemoth, and Behemoth tried getting under Shark Attack again and lifting it up, but Shark Attack fell off again. Behemoth reversed for another attack, then rammed into the side of Shark Attack, which had foolishly exposed the side whilst trying to escape. Behemoth easily tipped its opponent onto its side, from which it could not self-right. The House Robots almost instantly came in to destroy Shark Attack, with Matilda knocking it on its back and Shunt axing a large hole in the base.
"...and the only merit badge this little lot [The Team] are going to get is in welding, I think, to repair that!"
— Jonathan Pearce as Shunt axes Shark Attack's underside
Shark Attack was therefore eliminated from The Third Wars at the first hurdle.
"Shark Attack: more like a dolphin that's been slapped around the gills!"
— Craig Charles after the battle
Results
[
]
Wins/Losses
[
]
Series Record
[
]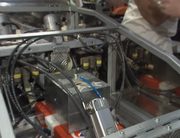 Trivia
[
]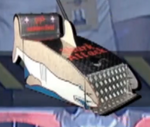 After Shark Attack's loss to Behemoth, Craig Charles described Shark Attack as a dolphin that had been slapped around the gills. However, dolphins are mammals and do not have gills.
Like its successor Banshee, Shark Attack lost to a semi-finalist from the previous series.
All teams that the 39th Huddersfield Scouts fought won a heat at some point.