"A robo-bobby hits the beat!"
— Jonathan Pearce
Shockwave was a robot which was entered by and represented the Police in the Forces Special of Robot Wars Extreme. It lost in its only battle in the first round, falling into the pit despite its potent weapon and sound design.
Shockwave was teamed by the Peter family, who previously entered Flirty Skirty in Series 2 and Miss Ile in Series 3, and represented the Police as Albert Peter is a senior crime officer.
Design
[
]
"Dial 999 these days and look what rushes out at 15mph! An electric paddywagon with a 22 inch, 12 kilo, vertically mounted cutting disc!"
— Jonathan Pearce introduces Shockwave
Shockwave was a roughly hexagonal shaped robot armed with a 22', 12 kg, vertical spinning steel blade, similar to that of The Alien's. It also featured a pair of ramming spikes at the front, had a top speed of 15 mph and was painted black, white and blue with flames, lightning bolts and Police stripes and badges.
Robot History
[
]
Extreme 1
[
]
Albert Peter: "Our robot is so dangerous, so devious, so down right deadly, it's almost criminal, that's why we have to keep it locked up in a cell, isn't that right son?"
Richard Peter: "That's right Dad, and as the driver, I'm about to go down for dangerous driving!"
— The team's introduction
In its first round battle, the Police representative Shockwave faced Anvil of the RAF, and Sub-Version of the Royal Navy.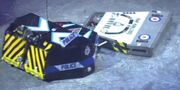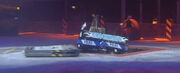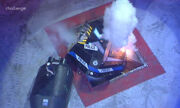 Shockwave started by charging and missing Sub-Version. It tried to get its weapon into position, but just spun around on the spot instead. All three robots met near a CPZ and rammed into each other, but Anvil was too low for Shockwave's weapon to cause any damage, and it only made light contact with Sub-Version. Shockwave abandoned its efforts using its bar spinner, and used its front spikes to push Anvil sideways, while Sub-Version activated the Pit. As the Pit descended, Shockwave was pushing Anvil near it but got stuck on the lip of the Pit, gradually slipping in until Anvil pushed it over the surface, and Sub-Version finished it off, sending the Police out of the competition.
"Straight to our own magistrates court for Shockwave, and the sentence: you are out!"
— Jonathan Pearce as Shockwave is pitted
Results
[
]
Wins/Losses
[
]
Series Record
[
]
Outside Robot Wars
[
]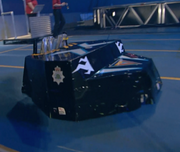 Shockwave also entered spin-off show Techno Games in 2002, under the name Quadsey. It competed in the Assault Course, where it lost to Smash and Grab in Round 1.
See Also
[
]
Trivia
[
]
Shockwave was the only robot in its lone battle to not represent the United Kingdom Ministry of Defence.