"Shunt, ready to deal with any trespassers!"
— In-game quote from Jonathan Pearce
Shunt was one of the original four House Robots from the robot combat game show Robot Wars. Inspired by bulldozers and railway shunting engines, he was notable for his pneumatic axe, which caused significant damage to competitor robots he attacked, as well as his front plough and rear lifting scoop. Shunt was renowned as one of the most powerful and reliable House Robots in the show's history, and would be used frequently in various competitions throughout all versions of Robot Wars.
Shunt, like the other Series 2-4 House Robots, appears in the game Robot Wars: Arenas of Destruction, the second of four Robot Wars video games he appeared in.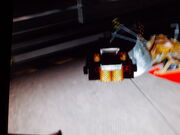 In the Arenas of Destruction version of the Series 4 arena, Shunt is found in the bottom left CPZ, the one closest to the pit. His in-game counterpart is relatively faithful to its real life version, with the correct colour scheme and his axe/scoop weapons depicted accurately. However, Shunt's rear scoop is static in the game, and does not lift upwards, unlike his real-life counterpart.
Like all of the other House Robots in Arenas of Destruction, Shunt will only slightly stray away from his CPZ to attack competitors that come near, a dangerous tactic, as Shunts CPZ is directly next to the pit. The only time that Shunt will fully escape his CPZ to attack is if a robot has been classed as fully immobile. Shunt's method of attack would usually involve firing his axe whilst pushing, trying to scoop up robots with his shovel. Despite being flipped over the most times out of all of the House Robots in real life, it is difficult to defeat Shunt through this method in the game, as he will almost always roll back onto his wheels.
Differences from real life
[
edit
|
edit source
]
Shunt's front bulldozer scoop is completely static on the in-game model.
Shunt can use his axe as a srimech, unlike in real life, making him very difficult to immobilize through flipping like the other House Robots
The axe is fairly slow compared to its real life counterpart.
Shunt is wider than in real life.
Community content is available under
CC-BY-SA
unless otherwise noted.