"It's stainless steel, it's very durable, a real survivor, this robot."
Siren was a super heavyweight competitor robot that competed exclusively in Series 2 of Robot Wars. It fought in the Super Heavyweight Championship - also known as the Super Showdown - and reached the final, but lost to Kick Robut after driving onto the edge of and being pushed into the pit.
Siren was subsequently retired, and its speed controllers were cannibalised for the team's next robot, Psycho, a box-shaped robot with an axe. Psycho failed to qualify for Series 4, and the team did not attempt to enter any other series thereafter.
Siren was a roughly-octagonal shaped robot with two-wheel drive and stainless steel armour. Its weapons were a tungsten-tipped circular saw at the front, and a rear nitrogen-powered pneumatic spike which fired at a force of 1000psi. While it was reliable and boasted durable armour and decent weaponry, Siren suffered from sluggish turning and poor pushing power, which adversely affected its performance in the Super Showdown.
Robot History
Edit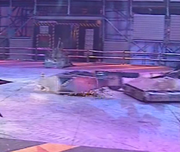 In its qualifier for the Super Showdown, Siren faced Roter Ochse and Thud, which was delayed by technical problems and Roter Ochse's power cord causing it to lose control before it started. Only a small portion of the battle was broadcast, although Siren was declared the winner when Thud lost drive to one side and was attacked by Sergeant Bash, and Roter Ochse ran through the arena wall and into a television camera, stopping the fight early.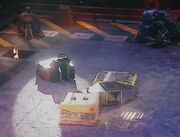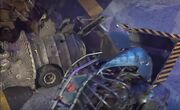 In the final, Siren faced Demon Duck, Kick Robut and Berserk. It avoided Demon Duck's initial charge before being nudged by Kick Robut. It stayed away and spun around as Berserk was picked up and carried to the Flame Pit by Sir Killalot, before confronting all three of its opponents in the middle of the arena. Siren attempted to use its circular saw on Kick Robut as the latter lifted Berserk, but to no avail, before being nudged by Kick Robut and driving itself onto the edge of the pit. Matilda sliced through Siren's armour with her chainsaw before pushing it down, with Shunt and Sir Killalot also coming in to cause more damage before it toppled in. Siren was eliminated from the Super Showdown, and thus lost the Super Heavyweight Championship to Kick Robut.
Wins/Losses
Edit
Series Record
Edit
Outside Robot Wars
Edit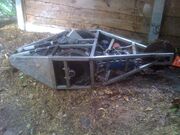 Following its appearance on Robot Wars, Siren was kept at a team member's house, but was left behind when they moved out. In October 2014, a garden clearance team discovered the robot, with its wheels, weapons and chassis apparently intact, and sold it on eBay. It was purchased by Brian Smith, who intended to restore it.
Community content is available under
CC-BY-SA
unless otherwise noted.