Skabs was an invertible robot which attempted to enter Series 4 of Robot Wars. It failed to qualify for the latter series; very little information exists on the circumstances surrounding its unsuccessful entry, and it is unknown whether the team attempted to enter any other series.
Design
[
]
Skabs was an invertible, four-wheel drive box-shaped robot armed with a static spike. It was painted silver with transparent top/bottom panels, yellow and black hazard markings and warning signs, while the robot also featured an orange light which was lit up from inside whenever it fought in live events. Skabs' design was intended to allow the robot to survive attacks from opponents armed with lifting or flipping weapons, in spite of its high ground clearance. Its spike was claimed to be capable of piercing any kind of armour.
Series Record
[
]
Outside Robot Wars
[
]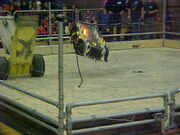 Skabs appeared in the 2000 Debenham Robot Rumble, where it is known to have fought - and lost - separate battles against Chaos 2 and Wheely Big Cheese.
"We had to 'nice' the robot up to compete in Techno Games, so we thought we would give it a purple paint job; however the paint did not come out the same as was on the tin, it was more pink, hence the name."
— Dave Robinson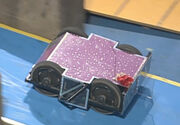 Despite its failed entry into Series 4 and its unsuccessful run at live events, Skabs enjoyed some success in the 2003 Techno Games, where it competed in the Assault Course as Sugar Plum Fairy. Repainted pink and with the spike removed, Sugar Plum Fairy managed to beat Snowstorm in the first round to reach the Semi-Finals, where it lost to Typhoon Rover.