Skullmania was an American competitor robot from California which entered the first season of Robot Wars: Extreme Warriors. Due to technical difficulties, it could not fight in the US Championship, and was the first robot to be eliminated in the Annihilator, which was broadcast before the former.
The team dressed in black leather jackets and wore dark glasses, in reference to the Terminator films.
Design
[
]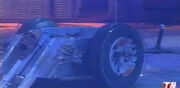 Skullmania was a box wedge-shaped robot with a two-wheel drive system, decorated with skulls and featuring two weapons: a lifting arm and a spiked tail used to whack opponents. On either side of the lifting arm, it sported two narrow wedge-like bars, each extending close to the arena floor and intended to get underneath other robots. Skullmania's large wheels were exposed, although they allowed the robot to run inverted.
Robot History
[
]
Season 1
[
]
In the Annihilator, Skullmania fought Unibite, Drillzilla, Red Virus, Rippa Raptor and Conquering Clown.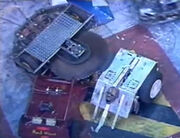 At the beginning of the Annihilator, the other five all converged, with Skullmania remaining in the background. However, Unibite slashed Skullmania once it did join in, inflicting damage on its wheels.
"Skullmania is starting to look like Scrap-mania."
Skullmania seemed quick and mobile for a fair while, but several robots clustered together, and Unibite's disk inflicted severe damage to its body. From then, Skullmania attempted to drive, but its tires had been severed from its axles and would not spin. Skullmania was placed on the floor flipper and thrown.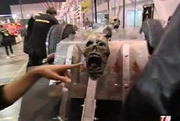 Mick Foley: "Now it seemed that everyone was ganging up on the Clown, but you guys were secretly getting your butts kicked"
Austin Karp: "Well, they were supposed to beat us."
— Post-Annihilator interview
Skullmania was also planned to compete in the US Championship, even participating in the pre-battle interview. However, the robot suffered technical difficulties, and was replaced by Coffin-Bot, which was driven by Team Sylvan Lake Robot Warriors.
Results
[
]
Wins/Losses
[
]
NOTE: Skullmania's withdrawal from the US Championship is not included in the tally
Series Record
[
]
Outside Robot Wars
[
]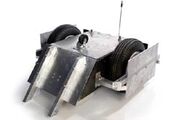 An earlier version of Skullmania with just a pair of static ramming wedges named Yoshik competed in Season 3.0 of BattleBots, losing its first battle to B.O.B. The team also entered a middleweight version with a spike into BattleBots Season 4.0 named Yoshikillerbot, which also lost its first battle to Tesla's Tornado. The team also entered the lightweight Dude of Destruction into Seasons 4.0 and 5.0, along with a middleweight counterpart, Mr. "D" in Season 5.0, with more success.
See Also
[
]