Slippery Strana was a lightweight robot which competed in the Lightweight Championship of Robot Wars: The Second Wars. It won the battle - and the championship - on a Judges' decision after being prompted to show its mobility along with the other surviving competitors.
Slippery Strana returned for the planned Series 3 Lightweight Championship, but a behind-the-scenes accident caused the championship to be cancelled along with a number of other planned side events. As a result, Slippery Strana retained its title of incumbent Lightweight Champion all the way until Extreme 2.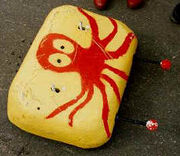 Slippery Strana was a rectangular-shaped robot with an MDF baseplate, rounded corners and a two-wheel drive system. The robot was armed with two custom 10-inch static spikes[1], weighing between 1-2kg each, while its bodyshell - decorated with a red octopus mascot - was made out of glassfibre, hardened resin and Kevlar. To determine the shell's shape, The Axle Grinders initially made a chicken wire mould, which was delivered to the team's sponsor, Matrix Mouldings of Bristol, for the fibre layers to be added.[2] Slippery Strana was powered by two 7.2V Bosch cordless drills running at 12 volts, one for each wheel, as well as a 12V gel battery for drive and a single 7.2V Bosch battery for its receiver. The drills allowed the robot to be highly manoeuvrable and capable of accelerating from 0 to three metres per second (approximately 6.7mph) in three seconds.[3]
Initially, Slippery Strana was to feature a 'steel angle-iron rim', where the spikes were initially welded onto. However, the robot's weight with the rim and shell totalled 24kg - 2kg over the Lightweight weight limit at the time of Series 2 - forcing The Axle Grinders to discard the rim and commission a new set of spikes which were bolted through the front of Slippery Strana's bodyshell.
Following its televised debut, Slippery Strana received a number of modifications, including sharpened spikes and an upgraded battery, in preparation for its planned appearance in the Series 3 Lightweight Championship.[4]
Slippery Strana's unusual name was derived from The Axle Grinders' decision to give their robot an 'elusive' and 'surreal' identity. The "Slippery" part was adopted as a result of the high top speeds of the robot's prototype, and in turn influenced the octopus logo on its bodyshell.[5] "Strana", meanwhile, was a portmanteau of "strawberry" and "banana", which not only alluded to the robot's yellow and red colour scheme, but also - according to the team's website - contained a hidden innuendo which complied with the family-friendly nature of Robot Wars.[6]
"Weird - yes. Guaranteed unique - yes. Sufficiently cryptic to avoid hassle from the censors - yes."
— The Slippery Strana website on the robot's name[7]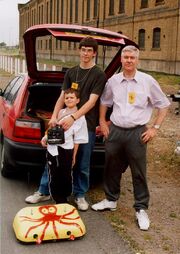 "Deciding on the team name The Axle Grinders took us about 3 months, but we were inspired by the number of hours we spent grinding threads off the M12 bolts we used as axles."
— Slippery Strana website on the team name[8]
Slippery Strana was entered into Robot Wars by a Bristol-based team, led by the team captain Charlie Dale-Staples who also drove the robot. He was joined by Colin Pearson, who covered most financial costs of the machine and arranged transportation. Charlie Dale-Staples' younger brother Alex completed the team.
"Charlie was the wizard on the radio control. I just drove the real car and carried the credit card."
— Colin Pearson on his role
In The Second Wars, Slippery Strana made its only appearance in the Lightweight Championship, where it faced Rosebud, Damacles, Shadow Fiend, Spartacus, Armageddon and an as-yet unidentified robot. Brief highlights of the battle itself were shown in the end-of-series special, The Grudge Matches, along with a number of other lower and higher weight class championships.
"The battle (really a mêlée) started with the house robots humming menacingly in the outer edge of the arena, in their Perimeter Patrol Zone, and us five competitor robots arranged just inside. Someone hinted to Charlie that he should make a quick getaway at the end of the countdown - "Roboteers Stand By - - - 3 - 2 - 1 - Activate", because Matilda was sitting just a metre behind Slippery Strana and was likely to make a quick grab for us. So, as soon as he heard ". . . Activate" Charlie accelerated Slippery Strana at full speed towards the centre of the arena. This was cleverer than it might seem, because Charlie's view of our start-corner was blocked !"
— Slippery Strana website[9]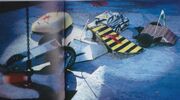 At the start, Slippery Strana darted towards the middle of the arena, in an attempt to avoid Matilda, and proceeded to battle with its opponents for some time. After bumping into and weaving around its opponents, Slippery Strana lost drive on one side, leaving it vulnerable to attacks from the House Robots.
"Charlie was spinning in the vain hope of avoiding the "you're dead and we're coming to eat you" clause in the House Robot's rules. But sadly, Slippery Strana was crippled and the house robots closed in. We were doomed. "
— Slippery Strana website[10]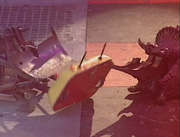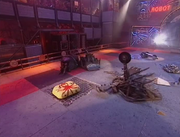 Matilda and Shunt closed in, with the former initially attempting to cut through Slippery Strana's shell with her chainsaw, but without success. Slippery Strana was then rammed into Matilda by Shunt, who proceeded to pound its shell with his axe before trying to lift it forwards in front of a returning Matilda. Slippery Strana's spikes caught Matilda's tusks as it was pushed back into Shunt's scoop; after sustaining one more axe blow, it was flipped by both House Robots before being levered back onto its wheels. These attacks resulted in Slippery Strana regaining full drive; after turning round, it proceeded to stab the side of Matilda with its spikes, before escaping from the PPZ and driving past Dead Metal.
"Oh, revenge is sweet ! and it was good to hear some of the audience giggle at his cheekiness. It didn't last long though, as Charlie knew the odds were against him, especially when Dead Metal came lumbering over."
— Slippery Strana website[11]
With this, Slippery Strana re-joined its fellow Lightweights, sustaining damage to its shell from Spartacus' pincers in the process. It was shortly ganged up by two of its opponents, which attempted to push it into the PPZ for further House Robot attacks. Slippery Strana responded by pushing one of its opponents back shortly before 'cease' was called, with the battle going to a Judges' decision.
"All 5 robots obediently stopped, and we waited patiently for a judge's decision. And we waited some more. And some more. Then, to help the judges finalise their scoring, the 'voice from above' asked all roboteers to move around the arena a little. Charlie took this opportunity to spin another pirouette and to zip a couple of times - very visibly - across the arena. One of our competitors seemed to take offence at this and Charlie found himself in a dangerous post-battle push-and-shove, which mercifully didn't last long."
— Slippery Strana website[12]
In order to better determine the winner, the surviving competitors were instructed to move around the arena and show signs of mobility. Slippery Strana promptly spun around and darted speedily across the arena a few times; its movements irked one of the other competitors, resulting in Charlie Dale-Staples being involved in a 'brief post-battle scuffle' (it is unclear whether this refers to the robots or the roboteers). Eventually, the Judges ruled Slippery Strana victorious, making it the first official Robot Wars Lightweight Champion.
"In the heat of the battle, we can't recall who or what inflicted most damage, but everything is relative - and really, our robot came out relatively unscathed. I think Slippery Strana left the Arena with its tail (?) up, and it did us proud."
— Slippery Strana website[13]
"Charlie and I were nearly filmed for the 1999 Series 3 program too, but it was not to be. Along with the 12 Featherweight competitors, we were one of 4 Lightweight teams assembled at Elstree Studios in London, hoping to be filmed. But mysterious machinations contrived against us all."
— Colin Pearson on attending the filming for Series 3[14]
Slippery Strana returned to the Robot Wars studios to defend its Lightweight title in The Third Wars, with various upgrades prepared. However, the emergence of the behind-the-scenes incident whereby a crewmember was injured by a competitor robot, the Lightweight competition was cancelled and Slippery Strana did not participate in any battles.
"With an upgraded battery, sharpened spikes, a cosmetic touch-up and an interesting new rim, Slippery Strana WAS to have defended its title as winner of the Series 2 Lightweight melée. And yes, we GOT to Elstree Studios OK, but... Ooops! Due to a combination of unforseen events, all the Featherweights and Lightweights returned from London unscathed and unhappy. In fact, the Lightweights and Featherweights were told to 'stand down' and were not filmed for Series 3. The 'unforeseen events' were a combination of a robot, a weapon, an ankle and an injury (mercifully small, and reasonably described as 'accidental'). And all in spite of some carefully scripted safety precautions."
— Slippery Strana website on the upgrades made for Series 3 before the event was cancelled[15]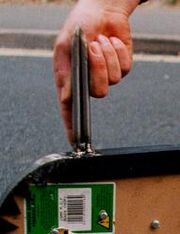 Slippery Strana also appeared at the Sevenoaks Charity Event in 1999, where it fought at least one battle against Miss Struts.[16]
As the Lightweight Championship was cancelled in Series 3 and Extreme 1, and would not return until Extreme 2, Slippery Strana had the longest reign of any champion which does not still hold the incumbent title, other than the 12-year gap between Typhoon 2 and Apollo winning the heavyweight championship in Series 7 and 8.
Community content is available under
CC-BY-SA
unless otherwise noted.