Snatcher was a robot built by students of the Brabant Highschool in Tilburg, the Netherlands, which intended to enter the second series of Dutch Robot Wars. For unknown reasons, it was rejected by the selection committee and did not appear on the show.
Design
[
]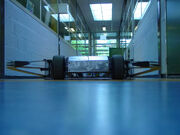 Snatcher was a large, rectangular, box-shaped robot, armoured in polycarbonate with two semi-exposed go-kart wheels at the front, partially guarded by its main weapon and a large, polycarbonate box at the back which protected some of its vital hydraulics. The robot was armed with two massive hydraulic crushing claws which covered both the sides and front of the robot, crushing at a force of 2.8 tonnes. Early on in the design phase, the team considered giving Snatcher a large, heavy, spinning disc but decided on the claws instead as they thought it would be easier to control.
The Team
[
]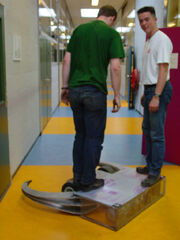 Snatcher was built by a team of six mechanical engineering students from Brabant Highschool in Tilburg, as well as their teacher and another student studying a different subject. The team was split into two different groups, each focusing on a different aspect of the robot's design with Maikel Okhuizen, Bram Otten and Cas Wijnstock focusing on the construction of the machine whilst Arno Klaasen, Rob van Meerendonk and Hidde Visia worked on the inner workings of the machine, including the weapon, drive and batteries. Also part of the team were fellow student Maurits Jansen and teacher Ad Spijkers who supervised the project.
Qualification
[
]
Snatcher attended the in June of 2002 with their robot lacking any armour whatsoever. Unfortunately however, upon the mandatory weight check, the team were shocked to find that Snatcher had come up 16kgs overweight and therefore, in the upcoming days, the team worked frantically to get their robot underweight. However, this was all in vain as Snatcher never ended up being selected for the show due to unknown reasons, possibly related to its weight issues or design similarities to fellow competitor, Tough as Nails.
Series Record
[
]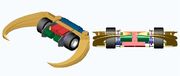 | Dutch Series | Snatcher Series Record |
| --- | --- |
| Series 1 | Did not enter |
| Series 2 | Not selected |
External Links
[
]