Armament! This Robot Wars article is in need of rewriting to bring it up to a higher standard. You can help Robot Wars Wiki by rewriting it.
Son of Armageddon was a competitor robot that exclusively competed in the only series of German Robot Wars. It performed relatively well in the German series, finishing third overall despite sustaining considerable damage from the eventual champions Black Hole.
Design
[
]
Son of Armageddon was a box-shaped robot painted red and grey and equipped with a flipping arm that would double as a clamp. It had relatively little armour, apart from two red side panels with white stripes, which left its chassis, wheels and internals relatively exposed from the front and vulnerable to damage. However, Son of Armageddon displayed good durability and lifting power, even surviving to a Jury's decision in its fight against Black Hole.
Qualification
[
]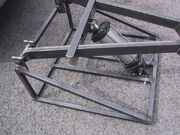 In order to qualify for the German series of Robot Wars, all German competitors were required to attend an inspection run by Derek Foxwell in May 2002, to receive safety advice, and pointers with the build. At the time, Son of Armageddon was far from complete, consisting of little more than a chassis and a pneumatic ram. Nevertheless, the robot was completed in time for the filming two months later, and as German Robot Wars had less applicants than the number of spaces for competitors, Son of Armageddon was automatically accepted for the German series.
Robot History
[
]
German Series
[
]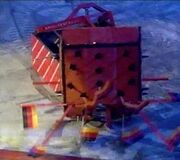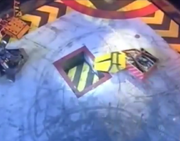 Son of Armageddon had an easy pass through the first round, as it was the only robot in its melee that moved. As a consequence, it spent the battle pressuring its immobile opponents, lifting up and nearly toppling Thorgrim, and pushing around and eventually pitting Tyke. As neither of Son of Armageddon's opponents had long been immobilised, the decision was made by the jury, who ruled that Thorgrim had been eliminated first, and so was out of the competition. Son of Armageddon easily progressed into Round 2.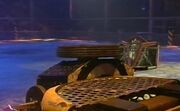 Next, Son of Armageddon faced Junkyard Queen, who it almost immediately put onto its side, leaving Junkyard Queen at the mercy of the House Robots. Junkyard Queen's tyres were shredded and it was eventually pitted, leaving Son of Armageddon the winner and into the Grand Final.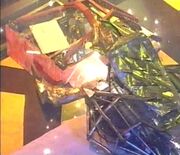 In the Grand Final, Son of Armageddon came up against Black Hole. Black Hole heavily punished the supports on Son of Armageddon's flipper, shearing one off completely. Son of Armageddon was eventually pushed into the CPZ, where Dead Metal attacked it until cease was called. Still technically mobile, Son of Armageddon survived until the jury's decision, where it was unanimously eliminated.
Son of Armageddon's final fight was against Tyke. Son of Armageddon flipped Tyke over at the beginning of the fight, and then chased it around for a while, eventually catching it and flipping it up against the arena wall. When Refbot freed it, Tyke pressed the pit release button and attempted to shove Son of Armageddon in; however Son of Armageddon spun away and pushed Tyke in instead, securing a third place finish for the series.
Results
[
]
Wins/Losses
[
]
Series Record
[
]
Outside Robot Wars
[
]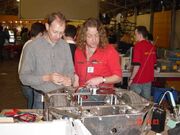 Although Son of Armageddon was retired immediately following its appearance on Robot Wars, the team did travel to the Dutch Robot Games in 2003 to assist with other robots, primarily I Bot One Alpha, a fellow German team.
Trivia
[
]
Son of Armageddon was able to push Tyke into the pit to end its first and final battles.
External Links
[
]