"Battery powered, the main weapon is its wedge shape, the boys from Hagley don't mean to "haggle" here, they want a quick, early, decisive victory!"
— Jonathan Pearce introduces Sonic
Sonic was a competitor robot that fought in the third series of Robot Wars. It was the third robot to be entered by Team Power, reaching the second round before being flipped by future double UK champion Chaos 2.
Design
[
]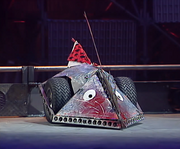 Sonic was a two-wheeled robot with a snowplough-like front wedge and a series of front ramming spikes as its weapons. A couple of extra weapons were made in the early design stage, including a front-mounted spear and a rear hanging hook, but these were removed as not to exceed the weight limit. It was constructed from a lightweight spaceframe chassis and used the wheels, batteries and motors from Team Power's Series 1 entry, Barry, as the team considered Barry to be too heavy for the Series 3 weight limit:
"We have decided to retire BARRY and use his parts to build a lighter robot - SONIC. We would have liked to have had a chance to try BARRY as we feel the design was right but he was a little over weight, 40 kgs over weight! We have designed SONIC to use the running gear from BARRY but with a lighter Space Frame chassis. SONIC will have a weapon if we can fit it in under the weight limit. Most of the parts for our robots are donated, for which we are very grateful. The problem is that the weight is to some extent out of our control. We may have to run without a weapon if the weight is approaching 80 Kgs."
— Team Power website on Sonic
Sonic proved to be fast and relatively powerful, with a top speed of 30mph and the capability of ramming other robots around effortlessly with its wedge. However, it had a high ground clearance and did not have a self-righting mechanism, which contributed to its defeat against Chaos 2.
Qualificiation
[
]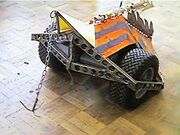 Sonic attended the Series 3 auditions with a sacrificial spear added to the top.
"The spear is fake and was just added so that we could say that we had a weapon."
— Sonic website on Sonic's spear at the Series 3 auditions[1]
Sonic ran the driving test, but became immobile after the spear fell off the top, breaking the aerial.
"Sonic ran OK but it's sacrificial lance snapped off, taking the aerial with it. I didn't like it anyway ! I guess we now wait for a letter to drop on the mat, TV stardom or back to the drawing board."
— The Sonic team on Sonic's performance at the Series 3 auditions[2]
Despite this, Sonic qualified for the main competition.
Robot History
[
]
Series 3
[
]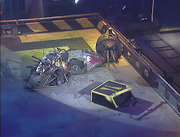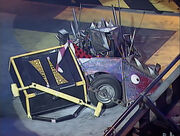 In Heat E of the Third Wars, Sonic went up against newcomer Hammertron in the first round. At first Sonic rammed Hammertron around, and then into the wall before Hammertron got its hammers spinning, and almost got flipped over by the arena spike. Eventually after a little fight in front of the CPZ, Dead Metal chased after Sonic and and got hold of it, causing some damage with his saw. Soon, Hammertron got flipped onto its side by the arena spike, coming to rest on top of Sonic who reversed into Hammertron, overturning it completely. Hammertron had its drive tracks sawn off by Dead Metal, and was eventually pitted. This put Sonic through to the next round of the Heat.
Sonic then went up against Chaos 2 in the second round, a robot from the team who'd helped Sonic with repairs before this round.
"The aerial's just fallen off, the wheel was binding, we haven't been able to test it all day so we'll "suck it and see""
— Chris Sherwood on his last minute repairs to Sonic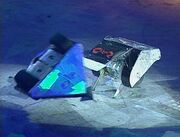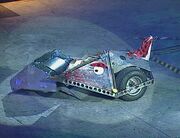 In the battle, Sonic was flipped almost immediately by Chaos 2, Chaos 2 then put Sonic back on its wheels. Sonic then managed to circle round and get under Chaos 2 but Chaos 2 managed to escape, Chaos 2 then flipped Sonic upside down again and this time left it so that the house robots would take care of Sonic. Sonic eventually ended up in the Pit of Oblivion after being pushed in by Shunt, eliminating it from the competition. This was Team Power's final appearance on the televised show.
"Sonic goes "boom", and the winner is Chaos 2!"
— Craig Charles after the battle
Results
[
]
Wins/Losses
[
]
Series Record
[
]
Gallery
[
]
Trivia
[
]
References
[
]
External Links
[
]