"This teacher and pupil team use square steel tubing and aluminium sheeting for the chassis and bodywork, wheelchair motors for the power, watch for the battering ram shunting wedge and angle grinder arm."
— Jonathan Pearce introduces Spike
Spike was a competitor robot in Series 3 of Robot Wars. It was entered by a teacher and two students from Wilmington Grammar School for Boys. It lost its only battle on a Judges' decision.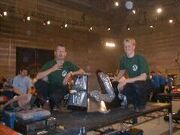 It was a large robot made from square steel tubing and aluminium sheeting for the chassis and bodywork that had a large retractable spike, and would also use its hard front as a battering ram to defeat opponents. Spike was based on a mythological Golem wielding a gun, and had an angle grinder arm which was not seen. The team also used vacuum plastic for the artwork that adorned the robot's sides and front. According to the team, it took half a year to build.
Robot History
Edit
"This is our first appearance on the show, we're hoping to go as far as we can, and if we get past the first round we'll be very pleased!"
— David Brooker on the team's rather modest aims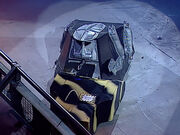 Blade was Spike's opponent in its only battle. Its adversary had a much faster start than Spike, and ripped off small aesthetic parts from Spike's bodywork with its blades. Spike, unable to use its ram as Blade was too low, pushed Blade until Sgt. Bash drove in, and Blade pushed Spike into Bash's CPZ.
"You can see there the slower turn of Spike. They say they'd do well do go beyond this first stage. Blade has shown the greater aggression and control, certainly speed"
— Jonathan Pearce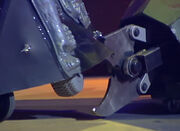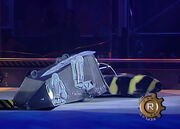 Both robots drove around each other for a while, until Spike pinned Blade against the arena wall. Matilda came out and lifted Blade. Blade escaped and time ran out. However, after cease was called, Blade continued and pushed Spike backwards into the pit, but it was too late to win outright and the judges determined the winner based on the action during the fight, instead of what happened after. The Judges' decision, however, went to Blade.
"Well. The judges' decision is through, and I can see a grudge match coming on. They've decided that even though there was some skulduggery from Blade after time elapsed, they are the unanimous winners!"
— Craig Charles announcing the winner
SPIKE - RESULTS
Series 3
The Third Wars - UK Championship
Heats, Round 1
Heat C, Round 1
vs. Blade
Lost
Wins/Losses
Edit
Series Record
Edit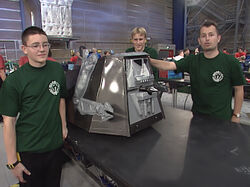 Community content is available under
CC-BY-SA
unless otherwise noted.