For the Series 3 competitor, see Stealth.
"STEALTH - BOT was a Heavy Weight entrant for series three of the BBC's ROBOT-WARS program. Although we were shortlisted following the auditions, we did not make it into the actual show."
— Stealth-Bot website
Stealth-Bot was a robot that attempted to enter Series 3 and 4 of Robot Wars. While it completed the assault course at the Series 3 auditions, it was not selected to compete in the latter, and later failed to qualify for Series 4 for as-yet unknown reasons.
Design
[
]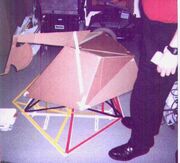 According to its original design drawing, Stealth-Bot was a dual-wedged, box-shaped robot with a slanted top and a front wedge that was raised off the ground. Its weapon was a small bladed axe mounted on a flailing arm, which would pivot and swing round to strike opponents when the arm was thrust down. A static bladed axe head was also mounted at the rear, presumably to act as a ramming blade when the robot was driven in reverse. Prior to Series 4, Stealth-Bot was painted black.
Qualification
[
]
Stealth-Bot was first conceived for the The First Wars but a lack of time and skill meant the application was withdrawn. The team also attempted to apply for the Second Wars but applied too late[1].
"We have returned an application for series four and have received our contract which has been signed and returned. Good News, we received our Audition/Tournament date mid July. We are to attend on the 2nd August."
— Stealth-Bot website
Stealth-Bot was completed in time for Series 3 and ran the obstacle course, but ultimately was not selected to compete in the series. Stealth-Bot also attended the qualifiers for Series 4, but did not qualify for this series either.
Series Record
[
]
References
[
]
External Links
[
]