For the robot that failed to qualify for Series 3 and 4, see Stealth-Bot.
"Made by the Lythalls, looks lethal with its circular saw and 90-degree lifting arm. Only cost two hundred-odd quid to build from scrap and borrowed parts, the shovel's 3mm thick hardened steel plate."
Stealth was a competitor robot that fought exclusively in Series 3 of Robot Wars. It reached the second round of its Heat before being destroyed by Hypno-Disc, and did not compete in any other series.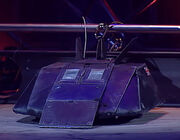 Stealth was a black wedge-shaped robot designed to resemble a stealth fighter, costing £200 to build and with its armour mostly made out of scrap metal. Its weapons were a pneumatic lifting ram made out of 3mm hardened steel plating with a travel of 90 degrees, along with a rear-mounted circular saw. While its lifter had a low ground clearance that allowed Stealth to get underneath opponents with ease, neither the lifter nor its saw were used much, with the lifter being criticised by Philippa Forrester, and Stealth's armour proved famously fragile against Hypno-Disc.
Robot History
Edit
In its first round battle, Stealth faced Death Warmed Up.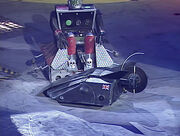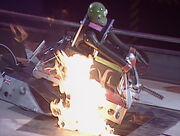 It started slowly, lingering against the wall as Death Warmed Up approached it, before pushing it aside in an attempt to mount an attack. Eventually, Stealth used its lifter to get underneath Death Warmed Up's back end and push it against the wall and onto the Flame Pit, where Death Warmed Up was attacked by Shunt and began to smoke as its armour caught fire. Stealth nudged into Death Warmed Up again as it met Shunt and Sergeant Bash in the middle of the arena, with Shunt appearing to be immobilised along with the smouldering Death Warmed Up.
"You were very stealthy, and that's how you got through!"
Stealth progressed to Round 2, where it had a tough draw against Hypno-Disc.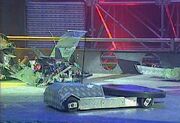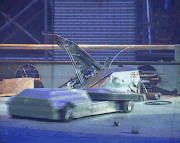 Again, it was sluggish to start and was immediately buffeted away by Hypno-Disc, causing bolts to fly off on the first hit. Stealth steered Hypno-Disc round as it backed into Matilda, but was thrust up by an arena spike and had its right-hand side panel torn loose by Hypno-Disc. Another attack saw Hypno-Disc rip off Stealth's circular saw as it was flipped onto its right-hand wheels by the spike, before simultaneously ripping its rear and right-hand panels off in the same hit.
"Ooh, Stealth, there's hardly anything left now, down to bare bones! Groggy, reeling in dismay, more mayhem and machinery!"
— Jonathan Pearce as Hypno-Disc rips into Stealth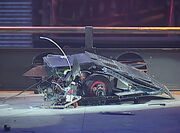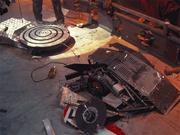 Eventually, Stealth became immobilised completely as Hypno-Disc continued attacking, tearing off its left-hand panel and destroying its chassis and internals much to Team Stealth's dismay. Hypno-Disc finished Stealth off by shearing the pneumatic rams powering its lifter and attacking its back again before 'cease' was called. Following its decimation, Stealth was eliminated from the Third Wars.
"Well, Stealth's not so stealthy no more!"
Wins/Losses
Edit
Series Record
Edit
Team Stealth was also the name used by the Panzer Mk team.
Community content is available under
CC-BY-SA
unless otherwise noted.