"You know what it is, you know what it does, you know how it does it. And we're back for more of the same."
— Tim Mann in Series 5
Stinger was a heavyweight robot which competed in Series 3-6 of Robot Wars, as well as both series of Robot Wars Extreme.
In its Series 3 debut, it was defeated in the first round against Mace 2, after veering into the pit during the first battle of the series. However, a much more successful Stinger returned for Series 4 as the thirtieth seed, and was able to reach the Semi-Finals by defeating Bulldog Breed 2. It progressed to the Grand Final after winning a close judges' decision against the fourth seed Panic Attack, and performed strongly against the defending champion Chaos 2, only to lose its eliminator to the latter on another close Judges' decision. Stinger ultimately finished third in Series 4, after Hypno-Disc withdrew from the planned playoff.
Stinger was unable to emulate this level of success in its subsequent appearances, losing nearly all of its fights in both series of Robot Wars Extreme. It still reached the Heat Final stage in Series 5 and 6, before losing to S3 and 13 Black respectively. Stinger retired in August 2003, mere weeks before Series 7 was due to be filmed, as Kevin Scott felt that there was no way to improve Stinger's design to keep up with newer competitors of the time.[1] The team subsequently moved onto newer interests afterwards.[2]
Design
[
]
"A lot of momentum behind that weapon, and it becomes like a pendulum...with force, and also with venom!"
— Jonathan Pearce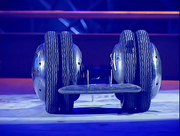 Stinger, which could reach a top speed of 10mph (18mph in Series 4), was a two-wheeled thwackbot armed with a large spiked mace. The mace was made out of conrods from a car engine, and attached on the end of an arm which took three months to construct. The robot itself was inspired by American robot The Master. In Series 3, a 5kg grinding wheel (often nicknamed a 'pizza cutter') was used instead of the spiked tip, while both weapons were made interchangeable for Series 4 only.
"Car parts from a Lotus and leather from a trouser belt were used in the 3-month construction of Stinger. The 3mm body shell steel dome's come from a gas turbine, and there's a real sting in the tail!"
— Jonathan Pearce introduces Stinger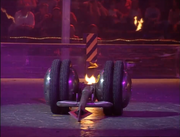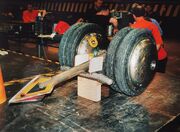 In Series 3 and 4, Stinger had a pair of bumpers to give it some pushing power and stability, though these were subsequently removed, as the bumpers would sometimes stop the robot from turning itself over when flipped. Stinger's arm was designed to swing around whenever the driver reversed the motors. The robot itself had virtually no body, other than a small section made out of 3mm steel from a gas turbine; all of its electronics were housed within its two modified motorcycle domed wheels. Stinger's 1HP motors, power electronics and batteries, as well as car parts from a Lotus and leather from a trouser belt, all rotated around a solid axle.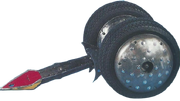 After the weight increase in Series 5, the team gave Stinger a thicker and heavier mace, and removed the baseplate the Series 3 and 4 version had used; it was still lightweight at 83kg. Its weight was finally increased to 95kg in the Sixth Wars, where its wheel hubs were armoured with a new 'dotted' metal. In Extreme 2, the tyres and mace were decorated with yellow and black tape, to imply danger.
Etymology
[
]
In an interview shown during the Swedish broadcast of Series 4, Heat J, Kevin Scott revealed that Stinger's name was suggested to him by his children, which references the 'sting' in the tail of the robot.
"My children liked the idea of this robot, and the fact that it dives in, it 'stings' other robots, and it disappears out!"
— Kevin Scott reveals the origins of Stinger's name to Micke Dubois in the Swedish broadcast of Series 4, Heat J[3]
The Team
[
]
"Stinger, designed by three engineers, they know what they're doing!"
The Stinger team came from Lincoln. Originally, the team consisted of Kevin Scott, Karl Skinner and Jonathan Pillai, but Jonathan Pillai left the team after Series 3. He later created his own machine, Infernal Contraption, which fought in Series 6 through 8. He was replaced by Tim Mann for all the team's subsequent appearances. During Series 4, Karl Skinner was not present for Stinger's Pinball Warrior run and similarly, Tim Mann was not present for Stinger's appearance in the Northern Annhilator.
"This is the Stinger team. On my left, I've got Karl Skinner, with the software, on my right, Tim Mann with the electronics, and I'm Kevin Scott, Team Captain."
— Kevin Scott in Series 4
Robot History
[
]
"A Tail of Two Wheels"
— Stinger's website history
Series 3
[
]
Stinger made its first appearance in Heat A of Series 3, and fought in the first fight of the series where it was drawn against Mace 2, a Semi-Finalist in the previous war.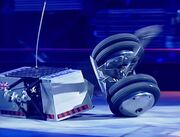 Mace 2 started much faster, reaching Stinger just as it began to move. Stinger swung its weapon across, but Mace 2 was too close and the attack was simply deflected onto the ground.
"And again Stinger crashes that great grinding wheel against the floor of the arena - what on earth for? Wasted energy there!"
— Jonathan Pearce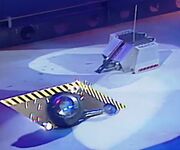 Stinger moved away and attempted to swing its weapon, but Mace 2 kept close, so Stinger could not get an advantage. Stinger moved back and charged at Mace 2, but its weapon deflected off its opponents side and sent Stinger flailing on one wheel and then down. Mace 2 fired its flipper several times, but Stinger was unaffected because it was an axlebot. Mace 2 bumped Stinger twice, easily avoiding the weapon, before both robots reversed away. Mace 2 pulled out of reverse cleanly, but Stinger flailed and rolled over and over.
"Do they really know what they're doing? Should we have tested them for booze beforehand, I wonder?"
— Jonathan Pearce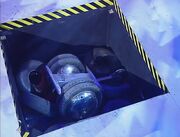 Mace 2 pressured Stinger, causing it to roll towards the pit. Stinger turned, its weapon clashing against the side wall and sending a shower of sparks. It then charged at Mace 2, but was deflected and ended up falling into the pit. As a result, Stinger was eliminated from the Third Wars.
"Well it was only a matter of time, absolute Looney Tunes from the Stinger team."
— Jonathan Pearce
At the end of the series, Stinger was nominated for the Most Original Entry Award for the Third Wars, but it lost to Hypno-Disc.
Series 4
[
]
"A spinning whirling dervish, with a narrow axe weapon at the back of the steel shell, mobilised by customised motorbike wheels, and the top speed of 18mph means that Stinger goes like a missile!"
— Jonathan Pearce introduces Stinger
Despite losing its first battle, Stinger was seeded thirtieth due to its unique design and popularity, although it was originally due to be seeded thirty-second before Blade's Big Bruva and Trident pulled out.
"Coz it was well made & massive novelty. They trusted that we'd sort out our series 3 embarrassment - & since we got into the Grand Final, hope you agree it was a fair call?"
— Kevin Scott on Facebook, asked about the Series 4 seeding[4]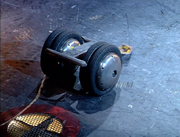 In its first round eliminator, Stinger went up against newcomer Spikasaurus and fellow Round 1 drop out, Bulldog Breed 2. Bulldog Breed 2 started quickest, flipping Spikasaurus in the opening moments. Due to the rollcage of Spikasaurus, it rolled back onto its wheels, and after briefly crashing into Shunt, it shot back and crashed into Stinger, pushing the axlebot into Bulldog Breed, which flipped Stinger, but as an axlebot, Stinger was unaffected. Stinger slammed Spikasaurus with its mace, before crashing its axe around the arena floor.
"Stinger, with the great axe on the back, slamming down like a mighty pendulum. They say it's better than the pizza cutter, but boys, we didn't see the pizza cutter last time around! You were in the pit too quickly!"
— Jonathan Pearce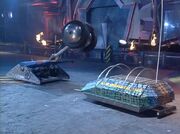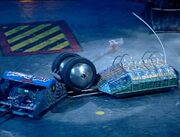 Bulldog Breed flipped Stinger as Spikasaurus rammed into it from the side, pushing it away. Stinger rejoined the battle, with Spikasaurus pushing it against Bulldog Breed, who threw it up into the air. Stinger fled, and Bulldog Breed turned its attention to Spikasaurus, flicking it on its side. The momentum was not enough to get it on its back, so Spikasaurus fell back on its wheels. Stinger skidded in amongst the action, flailing its mace in and driving its opponents away. Bulldog Breed 2 then flipped precisely as Spikasaurus charged into it, lances first, negating the attack, before flicking it over. Spikasaurus rolled back onto its wheels then pushed Stinger into the side wall, sending sparks flying, and when Bulldog Breed intervened, Stinger swung its mace in random directions, walloping both robots and fleeing.
"You're supposed to attack the other robots and the House Robots, not the arena floor, with the weapon!"
— A gleeful Jonathan Pearce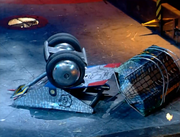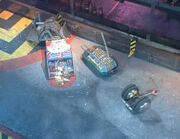 As Stinger spun, Spikasaurus was dealt a heavy blow and its charge was redirected into the side wall, where its spear buckled and pinned it to the wall. It was freed by Dead Metal, and rejoined the battle between Bulldog Breed and Stinger. Bulldog Breed flipped both opponents, but neither was affected, and the battle continued in the same way until Spikasaurus ran into the side spike near Shunt's CPZ. Bulldog Breed tried to push it into the waiting House Robot, but ended up flipping Shunt slightly and catching itself in the CPZ. Shunt axed through the flipper of Bulldog Breed, but dragged it out and allowed it to escape. Bulldog Breed, Spikasaurus and Stinger continued to fight, with Spikasaurus being flipped over and its now-damaged rollcage not allowing it to self-right. However, due to blows from Stinger and Bulldog Breed in the duo's own battle, Spikasaurus was knocked back onto its wheels. The match went to the judges, who unanimously eliminated Spikasaurus.
Stinger then fought newcomer and fellow Lincoln robot Hammer & Tong in the second round.
Julia Reed: "Can you hear the audience cheering for you? Can you hear it?"
Kevin Scott: "We've got fifty people out there."
Julia Reed: "You've got fifty of your own people out there?"
Jonathan Pearce: "One thing that amazes me about Tim Mann and the crew - they've got fifty friends at all! Just joking boys - the whole of the village is here"
— The whole of Lincoln - home town of both Stinger and Hammer & Tong - was supposedly in the audience.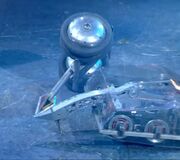 Hammer & Tong advanced, with its weapon lowered in the flipper position. Stinger started much slower than usual, rolling off its starting position and positioning itself. Hammer & Tong drove alongside it and Stinger spun, striking its opponent several times with its mace. Stinger reversed and charged Hammer & Tong, slamming its mace onto the bodyshell. Hammer & Tong moved forward and brought its weapon down, nudging Stinger up onto one wheel. Stinger flailed on one wheel, trying to land on the ground. It finally landed on both wheels, and swung its mace at Hammer & Tong, striking again.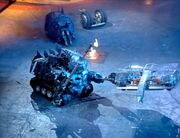 Stinger attacked three times, with the first landing on the armour, the second missing, and the third being blocked as Hammer & Tong brought its weapon down. Stinger attacked again, and then drove forward. Hammer & Tong had its weapon lowered, attempting to flip Stinger, but Stinger struck with its mace and retreated before the weapon could be fired. Hammer & Tong tried to use its axe, but also missed. Stinger slammed Hammer & Tong, nudging it across the flame pit. Hammer & Tong weakly moved off, but broke down. Stinger pushed its mace underneath, and Hammer & Tong was showing no signs of movement. Stinger began spinning, but Hammer & Tong was just out of range, so Stinger drove forward to attack. Its bumper caught on something and caused Stinger to jump away. Stinger continued to harass its opponent, and the House Robots came in to attack Hammer & Tong, then put it on the floor flipper which threw it.
"They're supposed to be our friends from Lincoln! They said they were going to be gentle with us!"
— Paul Schmidt after the match
Stinger advanced to the Heat Final, where it met Bulldog Breed 2 once again.
Kevin Scott: "We were in the same driving arena with them this morning, we were standing next to each other! And now we've got to knock 'em about!"
Karl Skinner: "We've got something to prove really, because in the last wars, Craig said we were drunken drivers, so this year we've got to prove him wrong!"
— Stinger talks to Julia Reed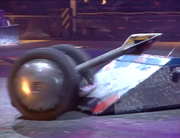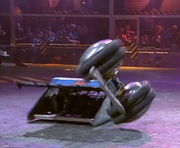 Stinger span on the spot, and Bulldog Breed 2 moved forward, knocking it onto one wheel. Bulldog Breed tried to flip Stinger again, managing to tip it onto its side. Stinger veered away and attacked, with Bulldog Breed moving at the same slow pace and taking hits when it wedged beneath its opponent.
"Its a bit tentative here, they're feeling each other out, I don't know why. They know all about each other, they fought together against Spikasaurus."
— Jonathan Pearce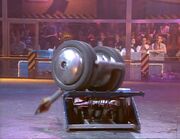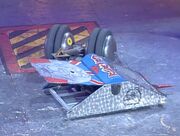 Bulldog Breed nudged Stinger onto one wheel again, after driving across the flames. Stinger then drove onto Bulldog Breed, who fired its flipper, raising it off the ground but not flipping it. Stinger struck Bulldog Breed twice, but Bulldog Breed flipped it aside on the second attempt. Bulldog Breed's flipper stayed open, and Stinger spun on the spot, slamming into Bulldog Breed's side and back. The flipper still wouldn't close, and Stinger's attacks caused CO2 to start venting.
"Stinger - a side attack on the Bulldog, the jaws of the Bulldog are open - ah! CO2 being vented there! Bulldog Breed is in trouble here."
— Jonathan Pearce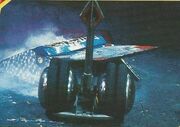 Stinger struck the top of Bulldog Breed, then swung its axe to hit inside the flipper. Bulldog Breed spun in a circle, then pushed its open flipper onto the mace, holding it still, but Stinger escaped and struck again, knocking Bulldog Breed aside several feet and knocking it out. As Stinger propped itself against Bulldog Breed, smoke began to pour from the immobilised machine. The House Robots came in to attack, and it was placed on the floor flipper by Dead Metal. Bulldog Breed 2 was thrown by the floor flipper and cease was then called, letting Stinger go through to the semi-finals.
Craig Charles: "You're more like a puppy now. What happened there?"
Toni Bond: "Sorry guys, they hit us a bit hard, they knocked something out, so..."
Craig Charles: "They bludgeoned you to death! Your flipper went, they gave you a serious pounding, didn't they?"
Tony Somerfield: "Call RSPCA!"
— The post-battle interview
Stinger was drawn against MouseTrap with its unique trap weapon in the first round of the Series Semi-Finals.
"The strategy is; it's well made, it's bulletproof, but with bulletproof the problem is, you hit them twice in the same place and you're through, so that's our strategy."
— Karl Skinner's tactics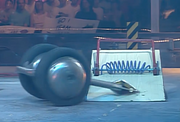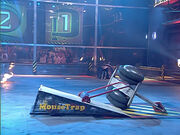 Stinger made the first charge and attempted to bring its mace into play, but was unable to, before MouseTrap closed in and brought its trap down on Stinger. MouseTrap took time retracting its weapon, so retreated, but Stinger landed two quick blows. MouseTrap slid its wedge beneath Stinger and attacked, but Stinger's weapon swung in at the same time, negating the spring and propelling Stinger off the wedge. Once again, Stinger dealt a powerful blow to the spring of MouseTrap, whose trap just missed the retreating 30th seed. Stinger attacked again, but MouseTrap raised its retracting weapon, hooking beneath Stinger's wheel and pushing it off to the side, causing Stinger to flail on one wheel briefly.
"What control do the Stinger boys have? We have suspected that from time to time, lovely to see it dancing and pirouetting, but not greatly effective."
— Jonathan Pearce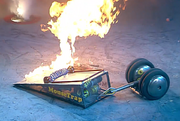 Stinger backed away, and then stumbled up the wedge of MouseTrap, catching it with a glancing blow. Stinger continued to hassle MouseTrap, which missed with another attack of the trap. Stinger span on the spot, hitting MouseTrap's wedge and sides repeatedly, until a chain used to control the trap became dislodged. MouseTrap tried to fight back, and drove Stinger up its wedge, but it suddenly stopped by the floor flipper. The House Robots came in, and Sir Killalot roasted MouseTrap on the flame pit, and then dropped it into the pit.
"It's compact - it's hard to hit, it just does the business in true style!"
— Tim Mann on Stinger
Stinger then met Series 2 champion and fourth seed Panic Attack in the second round of the Semi-Finals, for a place in the Grand Final.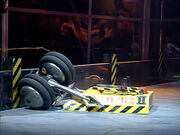 Panic Attack made the first move towards Stinger, with Stinger fending off Panic Attack with multiple slams of the mace. Panic Attack slid under Stinger's axle, but Stinger attacked with its mace and moved away. Panic Attack rammed Stinger against the arena wall, before Stinger span on the spot, dealing two powerful hits to Panic Attack and knocking it aside. Panic Attack came in on another drive and forced Stinger back, but suffered from more heavy blows from Stinger.
"Stinger proving the more wild pattern than Panic Attack - steadier progress by Kim Davies."
— Jonathan Pearce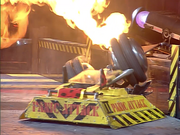 Panic Attack then pushed Stinger into the side wall and pressured it there. Stinger spun and slid off Panic Attack, but Panic Attack continued to attack and shoved Stinger into Matilda's CPZ, although it drifted in itself. Both machines escaped, with Panic Attack scooping Stinger and torching it with one of the external flame jets, holding it in the flames. Stinger escaped, but Panic Attack slipped beneath and pushed it around, with Stinger pulling away and running to safety just as cease was called. The judges went for Stinger on aggression, which proved to be an unpopular decision with the audience.
"Listen to that crowd, they don't agree! You've got them split down the middle; you've got people shouting 'Stinger', and you've got people booing the decision from the Panic Attack side!"
— Craig Charles to the Panic Attack team
In the Grand Final, Stinger went up against the reigning champion Chaos 2 in its eliminator.
"We're going to drive straight up, over the flipper, sit on top and thump him on the back!"
— Kevin Scott's tactics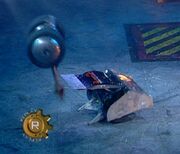 Chaos 2 quickly got underneath Stinger and flipped them, before trying to drive Stinger towards the arena wall, but Stinger spun itself away from danger and Chaos 2 missed with a flip. Stinger slammed down onto Chaos 2 twice in quick succession with its mace. Chaos 2 missed with two flips, as Stinger spun once more. Chaos 2 moved away to line up another attack, but Stinger continued to fend Chaos 2 off, swinging the mace around into Chaos 2. Chaos 2 attempted to push Stinger into Matilda's CPZ, but drove in itself; it reversed away quickly, but as it did, it suffered damage from the rotating Stinger, which knocked off the back panel, leaving the mechanics exposed.
"As they go into Stinger here... look, the back plate comes off! That's what Kevin Scott said he'd do - knock the back plate off, and George Francis now knows that the very innards of Chaos 2 are vulnerable and exposed!"
— Jonathan Pearce
Chaos 2 flipped Stinger again, but Stinger simply bounced away unaffected. It briefly drove away, and when Chaos 2 came in, it span on the spot.
"Chaos 2 has a lot of work to do, because if this goes to the Judges, they will mark on damage, control, style and aggression, and Stinger, very aggressive, have caused the damage!"
— Jonathan Pearce
Chaos 2 tried to get underneath, but Stinger knocked it away twice with the mace as it span. Chaos 2 managed to get under Stinger and flip, but barely lifted them from the ground. Chaos 2 chased and rammed Stinger, but Stinger was able to spin off Chaos 2's flipper. Chaos 2 then bundled Stinger into Dead Metal clutches, but Stinger escaped unharmed. Both robots were mobile at the end of the battle and the decision went to the judges. They decided that the two robots were equal on style, damage and aggression but Chaos 2 was ahead on control and was therefore awarded the victory.
"...you've done ever so well, you got so far, your robot - I thought - was virtually unbeatable unless you could get it out of the ring, and that's what Chaos 2 was trying to do, but it couldn't quite achieve it, and you're quite tenacious!"
— Craig Charles to the Stinger team
Stinger would ultimately finish third overall in the Fourth Wars, as Hypno-Disc was forced to withdraw from the planned playoff due to the damage sustained in its battle with Pussycat, although this would not be reflected in Stinger's seeding in the next series.
At the end of the series, Stinger was nominated for the Best Engineered Award, but lost out to The Steel Avenger.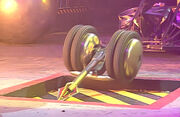 Stinger also competed in the Pinball Warrior Tournament of the Fourth Wars. It knocked down a few Barrels, but was forced into the pit by Dead Metal. As the pit was shallow, it drove out before hitting Sergeant Bash's target, then scored points from the multiball release. Stinger ended the run with only seventy-five points, meaning that it finished a rather low joint twelfth place along with Banshee.
"And the judges go seventy-five points for Stinger, not enough to upset the leaders Hypno-Disc."
— Jonathan Pearce reviewing the total points that Stinger managed to score
Stinger also competed in the Northern Annihilator that took place during the Christmas Specials during the Fourth Wars, it was up against Suicidal Tendencies, Spikasaurus (who it beat in its Series 4 heat), Dominator 2, Chaos 2 (who beat it in the first round of Series 4 Grand Final) and Killerhurtz.
"Watch out for Stinger, this one's gonna go very close in the Annihilator."
— Jonathan Pearce, whilst introducing Stinger in the Northern Annihilator, reviewing its performances in its Series 4 heat
In the first round, Stinger stayed largely out of the main action, it was flipped by Chaos 2 in the early stages but no damage was caused, Stinger camped in the centre of the arena and tried to spin madly to ward off any incoming competitors. However, after Chaos 2 had been badly damaged by both axe-wielding machines, Stinger then decided to approach the reigning champions and smack its backside. Cease was soon called, the immobilised Chaos 2 machine was eliminated and Stinger survived to go through to the next round.
In the second round, however, Killerhurtz rammed Stinger into the arena side wall straight away, before it came round again to ram Stinger again. At this stage, Dominator 2 slammed its axe onto Stinger's tyre, hindering its mobility for the rest of the match, while the axe landed further blows. Spikasaurus came in at the same time, and the second slam from Killerhurtz forced Stinger into the spikes of Spikasaurus. At this stage it became clear that Stinger could not leave its own circumference. Stinger was left alone for the remainder of the round to make it clear to the judges that Stinger was merely spinning in circles. The House Robots didn't come in to finish off Stinger, even though the bout went on to the very end of time, but the judges' decision that resulted went against Stinger, eliminating it from the Northern Annihilator.
"And there you have it. Confirmed Stinger, yes they were immobilised. Yes they're out."
— Jonathan Pearce reviewing the results
Back in the pits, it was revealed that one of Stinger's tyres had been spiked, which had damaged the aerial inside and crippled reception in the wheel.
Kevin Scott: "These tyres were always the potential weak-bit"
Julia Reed: "They carry the aerials in there, don't they?"
Kevin Scott: "We hadn't told anybody about that before, but that's it, it's taken out the aerial and killed the wheel"
— Stinger's post-mortem
Extreme 1
[
]
"Hi, we're the Stinger team. I'm Kevin Scott the team captain, this is Karl Skinner and Tim Mann. The three of us have put this creation together, we came third in the last wars and we're looking to go all the way with an axe and two wheels"
— The team's introduction for Extreme 1
Stinger made several appearances in Extreme 1, but did not have a great deal of success.
Stinger's first battle of Extreme, also the first battle of Extreme altogether, was a Vengeance battle against Tornado. The Stinger team had referred to Tornado as a "big boring box on wheels", which "upset" the Tornado team greatly. The battle was held at the request of the two teams, who both had supporters in the audience to watch them fight, and was originally intended to be part of the All-Stars tournament.[5]
"They're boring! My mother hates them, they just spin around in a circle, and we're going to show them who's boss!"
— Andrew Marchant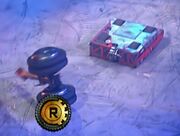 Tornado drove straight at Stinger and pushed it around the arena, with Stinger hitting it with its mace, but with no great effect. Stinger then tried its spinning tactic, but was instead pushed over by Tornado. Tornado continued to pressure Stinger and attempted to push it on the flame-pit, but backed away before this could happen. A second try managed to get Stinger on the flame pit, but no obvious damage was caused.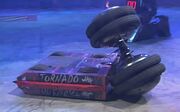 Tornado struck Stinger again, this time flipping it over, but as Stinger was invertible, this had no effect. Stinger tried spinning again, but Tornado pushed it into Dead Metal's CPZ, who attempted to grab it by its axle. Stinger escaped before this could happen, hitting the house robot on the "head" in the process. Stinger drove away and began hitting Tornado again, but could not prevent it from pushing it around the arena. Another slam from Tornado flipped Stinger over again, but in its aggressive attacks, Tornado strayed towards Dead Metal, who cut into it with his saw.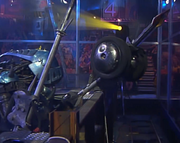 Stinger briefly got caught under Dead Metal, but Tornado pushed it away and towards the other end of the arena, this time into Sir Killalot's CPZ. Stinger was boxed into the corner and Sir Killalot grabbed hold of it by the axle and dangled it over the arena wall, threatening to drop it out.
""Oh no!" he's saying, "No!" Yes, yes, yes, yes! Get the wig off!"
— Jonathan Pearce, in response to the reactions of a Stinger fan in the audience
However, Sir Killalot reversed away from the arena wall before it let go of Stinger, but the axlebot seemed a lot more sluggish as Tornado pushed it towards the angle grinders. Stinger drove away, but both robots seemed somewhat lethargic, with a bit of foam sticking out of Stinger's tyres. As they continued pushing each other, Refbot counted down to the end of the battle, and the judges were called to make a decision. The judges went with Tornado, and Stinger lost the battle.
It fought newcomer Ajjay in a Wild Card Warriors battle. Ajjay was supposed to have horizontal spinning flails, but the weapon failed to work, so Ajjay's only means of attack were pushing and spinning in place. The fight began with both robots largely dodging each other.
"He must have courage to come up against this [Stinger], we've seem some serious metal, and we're gonna just show him what you gotta do to be a top robot!"
— Kevin Scott
Ajjay made the first attack, ramming into Stinger whilst avoiding its mace. Stinger missed several hits with its mace, and Ajjay continued to ram it, eventually hitting it into the pit release button. Stinger drove away, and Ajjay attempted to ram it again, but made no meaningful attacks, whilst Stinger merely continued to slam its mace on the arena floor.
"But is there control? Is there any aim to this?"
— Jonathan Pearce noting both robots lacking in good control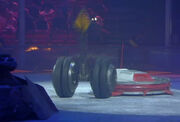 The constant dodging continued, with Ajjay seemingly unable to control itself properly. This became evident when, under no pressure, it drove straight into Sir Killalot's CPZ, who picked it up in his claws. Sir Killalot eventually dropped Ajjay, which then drove onto the flame pit. Ajjay then drove at Stinger, who at last started landing meaningful attacks with its mace. The two robots then continued to drive at each other. A few more less meaningful attacks occurred to both robots, and suddenly Stinger reversed towards Sir Killalot, who grabbed hold of it by its axle. He then proceeded to carry it towards the arena wall; cease was called, but Sir Killalot dropped Stinger out anyway.
"They've done all the work, but it looks as if it could get tossed out of the arena here! But Killalot's got to beat the clock! The clock is ticking down, can Stinger survive? Can Stinger stay in? I think they've just stayed in! Out of the arena they go. But I think it was after time, in which case, Killalot was bang out of order!"
— Jonathan Pearce as Sir Killalot throws Stinger out of the arena
The judges were called to make a decision, and on a 2-to-1 split decision, they went for Stinger.
"We nearly got some egg on our faces, yeah, but we came through in the end, I really enjoyed that fight, and Ajjay did so well for a beginner"
— Karl Skinner after the battle
Stinger challenged Behemoth for the Challenge Belt next.
"They just do not deserve that belt. Show me where they earned that belt!"
— Kevin Scott
Behemoth drove straight at Stinger, who used its classic spinning attack in an attempt to damage Behemoth, but the belt holder's scoop easily deflected the blows. Stinger attempted a few over-head swipes along with its spinning, and at one point got its axe stuck in Behemoth's scoop, but Behemoth kept attacking and pushed Stinger around as it spun.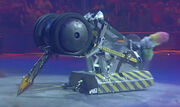 Behemoth pressed Stinger against the arena wall and tried unsuccessfully to flip it out. Instead, it pushed Stinger, which seemed to be limping, into Sir Killalot's CPZ. After trying to pluck up Behemoth, Sir Killalot then grabbed hold of Stinger by its axle. Behemoth quickly hit the pit release button and Sir Killalot began to take Stinger towards the pit, but was forced instead to let it go.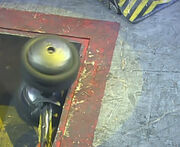 Stinger seemed to be spinning very close to the pit, but Behemoth pushed it away, towards the centre of the arena, and then towards the side wall. Stinger was still only driving around in circles and moving very sluggishly. Behemoth then used its axe to clamp down on Stinger whilst lifting it at the same time, picking Stinger up and carrying it towards the pit. Flicking its mace, Stinger broke away before Behemoth could pit it, but its mobility problems eventually caused its spike to fall into the pit, and soon the whole robot fell down.
"You wanted the Robot Wars Extreme Challenge Belt, and guess what? You haven't got it!"
— Craig Charles to the Stinger team
In its Mayhem, Stinger met Behemoth (again) and Thermidor 2.
"We're really looking forward to this fight, we've added some spikes on for this one, especially to get holes in that Behemoth, and as for the flipper and the pincher, no problem!"
— Confidence from Kevin Scott before the Mayhem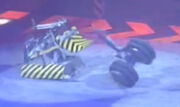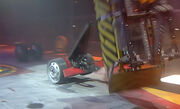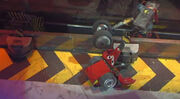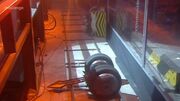 As the battle started, Thermidor 2 immediately backed away whilst Stinger drove towards Behemoth and attempted to use its mace on it, but all its attempts missed as Behemoth dodged away. Stinger pursued, then Thermidor 2 came in, getting underneath Behemoth and flipping it right over, but Behemoth was able to roll back onto its wheels. As Thermidor 2 backed away again, Behemoth and Stinger clashed once more. Stinger span on the spot, but Behemoth was easily able to counter the attack. Behemoth drove away from Stinger towards the arena wall, so Thermidor 2 snuck in from behind and threw it head-over-heels out of the arena. Stinger activated the pit, and Thermidor 2 tried to flip Stinger, but its body-shape made it harder to flip, with Stinger merely bouncing away. Stinger hit Thermidor 2 with its spike, but this had no effect. Thermidor 2 eventually managed to push Stinger closer to the arena wall where Behemoth had been thrown out, but missed a chance to flip it. For a little while, the two robots simply drove around each other, between the arena wall and the open pit, with Stinger looking rather sluggish. Both robots missed with their weapons, then Thermidor 2 managed to get underneath Stinger and flip it again. This time, one wheel got caught over the arena wall and the rest quickly followed, with Stinger landing not too far away from Behemoth.
"Stinger's gone! They've got both of them out! Thermidor - last man standing, the only one in!"
— Jonathan Pearce
In the All-Stars, Stinger faced fellow Fourth Wars Grand Finalist Pussycat. This battle was the main event of the 8th episode of Robot Wars Extreme.
"We're Team Stinger, this is war, and we're gonna skin the cat!"
— Tim Mann's message to Pussycat
The two robots charged at each other, with Stinger spinning to defend itself against Pussycat's blade. Pussycat charged at Stinger, but it bounced down heavily and got its blade caught in the arena floor, before eventually breaking free. It pursued Stinger, who continued to spin, and pushed it around as best it could. Stinger was pushed past the flame pit, but it spun hard, pushing Pussycat into the angle grinders. Stinger continued to spin, and Pussycat stood back, but when it did go in to attack again, its blade clipped the top of Stinger's tyre, dislodging some foam.
"Oh, is it too crazy? I think I saw some padding out of the tyre! Lets have a look to see if there is padding coming out of the tyre, because if there is...there is! It means the actual remote control aerial, which is in there, is suspect and maybe damaged!"
— Jonathan Pearce on Stinger's foam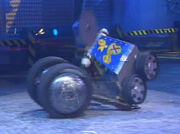 Stinger continued to spin, knocking Pussycat aside once more. Pussycat then attempted to charge at the axle of Stinger, causing no obvious damage, but evading damage itself. Stinger retaliated by chasing down Pussycat and using its mace as a hammer on the top of Pussycat, causing little damage. After driving around the arena a little more, Pussycat attacked the other wheel, but caused no damage. After more driving around, the two attacked each other again, Pussycat appearing to dislodge more foam. Stinger pursued Pussycat, landing several blows with its mace, helped out when Pussycat accidentally reversed into Dead Metal as it swapped into the other CPZ.
"Drawing Stinger on, but nearly drawn on to Dead Metal"
— Jonathan Pearce
The two robots continued to attack each other, but another slice by Pussycat's blade tore out some more foam from Stinger's tyre. The two then dodged each other, neither able to catch the other. Stinger tried to line up another attack, but veered away and missed. Pussycat then sliced into the tyre of Stinger again, tearing out more foam, and managed to evade Stinger's spinning attack.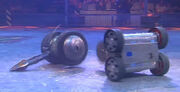 "This is too close for me to call...something's coming out of the tyre."
— Jonathan Pearce as the battle draws on
Pussycat then chased after Stinger and tried to cut into its axle. The two charged at each other once more, then avoided each other for the last ten seconds. The judges decided that Pussycat had done enough to go through to the Quarter-Finals.
David Gribble: "It's a real tough robot, we just don't know how to attack this thing, so we just went for it"
Craig Charles: "But its tyres seemed to be its weak-spot"
Alan Gribble: "It's his only weak-spot, we got his power links, we tried to get it, but we took some massive blows up top"
— After the battle
Stinger's final Extreme 1 appearance was the House Robot Rebellion, where it, Scorpion, and Plunderbird 5 faced Shunt and Dead Metal. During the course of the episode, it was revealed that all three teams intended to take out the House Robots on their own before turning on their teammates.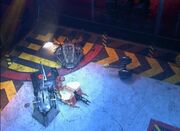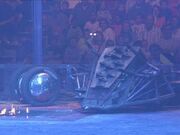 As the battle began, Shunt charged at Scorpion, missing the first attack with his axe. Scorpion used its lifting arm in an attempt to keep Shunt away from its body. Dead Metal attempted to grab hold of Stinger, who veered away, and the House Robot was rammed slightly by Plunderbird 5. Moments later, Dead Metal grabbed Plunderbird 5 and cut into it with his saw. Plunderbird 5 already appeared to have lost drive on one side and was suddenly thrown by the Floor Flipper, landing on top of Stinger. Scorpion attempted to ram into Dead Metal before all five converged near the flame pit. Stinger tried to use its mace to hit Dead Metal, causing little damage, whilst Plunderbird 5 and Scorpion were pushed by Shunt into his fellow house robot, Plunderbird 5 being axed as well. Stinger then activated the pit and drove away from Dead Metal, who attacked Scorpion instead. Stinger then hit Refbot, who quickly backed away.
"Who had a go at the Refbot there? He's not part of it!"
— Jonathan Pearce as Stinger tries to take the "safe" option
Moments later, Shunt pushed the limping Plunderbird 5 into the pit, putting it out of the running. Dead Metal and Stinger attempted to attack each other, with the House Robot charging into the angle grinder. Shunt then axed Scorpion and tried to push it into the pit, but was unable to due to Plunderbird 5's body blocking the way. Stinger attempted to hit Dead Metal again, but this time failed to escape in time as Dead Metal turned it onto its side and clutched hold of its axle. With both challengers trapped and at the mercy of the House Robots, Shunt pushed Scorpion onto the flame pit.
"Again, you see, we hold all the aces. Were you brave or were you foolhardy? Who volunteers these days for anything? You did!"
— Jonathan Pearce
Despite having Stinger in his clutches, Dead Metal seemed to have problems driving it towards the pit and Scorpion was resisting Shunt's attempts to pit it too. At that moment, however, the House Robots revealed their final trump-card, as Matilda entered the arena as a substitute, moments before Scorpion was finally pitted.
"And Stinger's all that's left, and there's little left of Stinger!"
— Jonathan Pearce as Stinger is left in a 3-on-1 battle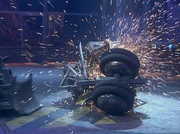 Dead Metal had dragged Stinger towards the other end of the arena and he began using his saw on the wheels, causing sparks to fly. Shunt also attempted to axe Stinger's wheels. All three House Robots surrounded Stinger, which suddenly broke free and hit Dead Metal and Shunt with its spike during the last seven seconds, before driving away, just as Cease was called.
"Down, down, go, go!" Only seven seconds for Stinger to survive. But we have our revenge! The House Robots came out to play, and they've enjoyed their picnic in the arena and how!"
— Jonathan Pearce as the Rebellion finishes
As Stinger was the only one of the three challengers still mobile at the end, it was given the victory.
US Season 1
[
]
Stinger fought in the War of Independence competition in Season 1 of Robot Wars: Extreme Warriors. In the first round, it fought General Chompsalot.
"That thing is going to go slamming over the top, it's going to go spinning around the sides and it's gonna knock the teeth out of Chompalot right back to the dentist"
— Kevin Scott on what they planned to do to General Chompsalot with their mace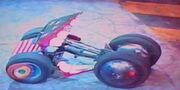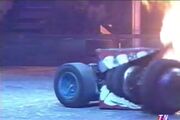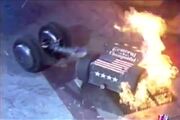 Stinger swung itself around wildly, defending itself from General Chompsalot, which prevented the American opposition grabbing hold of it. It worked, so Stinger kept on spinning, managing to rip one of General Chompsalot's wheel panels off. Eventually, General Chompsalot got hold of Stinger, dragging it around the arena before Stinger managed to escape. In the last ten seconds of the fight, the two robots fought around the flame pit. With both robots still mobile at the end, it went to the judges, who went in favour of General Chompsalot. The Stinger team were unhappy with the decision, as they felt they had done more damage, but the decision still stood.
Mick Foley: "...the British seem to think that they took it! Guys, what's your basis for that decision?"
Tim Mann: "Well, there are bits of General Chompsalot all over the arena!"
Tim Berghoefer: "The pieces they are talking about, scattered, is one foam eyeball, so I think, if we can get an optometrist to stick him back on, we'll be ready in a jiffy!"
— After the battle
Series 5
[
]
In the Fifth Wars, Stinger was seeded number 5.
"Ranked number 5, and thankfully injecting a large dose of common sense and fighting fury to the field is Stinger. Always the bridesmaids, never the brides, Stinger look like they mean business"
— Philippa Forrester at the start of the Heat
Its first battle was against Hippobotomus.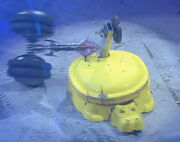 Stinger started by spinning around and attacking Hippobotomus' sides. It came in again and hit Hippobotomus' weapon arm, before dislodging parts of armour with subsequent slams. Stinger continued to attack, landing two more slams on the top of Hippobotomus, but Hippobotomus managed to force Stinger back. Hippobotomus drove into the arena wall, then found itself in Dead Metal's claws. The House Robot attacked it, slicing into the top of the sandpit. Hippobotomus managed to escape, but another piece of the machine fell off and the top of the robot had become dislodged. However, in a dramatic turn of events, Stinger then drove into Sir Killalot's CPZ.
"Could we yet see a surprise if Killalot grapples hold of Stinger? What a mistake to make! ... Well that was very nearly suicidal driving by Stinger!"
— Jonathan Pearce as Stinger is picked up by Sir Killalot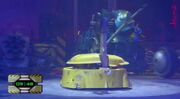 Sir Killalot picked up the 5th seed, but cease was called and the judges put Stinger through. The victory from Stinger clearly upset the daughter of the Hippobotomus team, and to make up for it, the Stinger team gave her a cardboard replica of Stinger's weapon, which she then used to prod them with in revenge, after advice from her brother.
Stinger's next match was against General Carnage 2.
Kevin Scott: "They can't do a lot to us, the flippers, it bounces back, it just comes back for more, and we hope to get them with the tail!"
Philippa Forrester: "So, you think you're completely impervious to flippering?"
Kevin Scott: "Well, if we keep away from the edge..."
— Pre-battle interview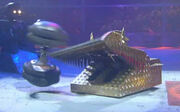 General Carnage 2 got in first, flipping the invertible Stinger. Stinger then span on the spot, hitting General Carnage 2 on the side. Stinger scored another glancing blow, with General Carnage 2 responding by throwing Stinger over again.
"...and there you can see the spinning power. 81 kilos there, spinning madly, with the spike on the end of that great bludgeoner. Not causing any problems, and this has been a worry for Stinger in the past, and General Carnage looks patient and measured out there, the aggression is from Stinger should it eventually go to the judges. General Carnage has other ideas!"
— Jonathan Pearce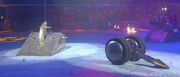 General Carnage 2's drive forward, but Stinger knocked it aside with another side slam, before General Carnage 2 flipped Stinger a few times. General Carnage 2 then appeared to stop, prompting Stinger to launch a barrage of attacks towards it. Finally, Refbot counted out General Carnage 2 before it was attacked by Shunt and Sir Killalot, thrown by the floor flipper and pitted by Sir Killalot.
"Well, anything can happen in that arena, and it usually does, but only time will tell as how far we'll get, but we will go as far as we can to honour those that we've beaten"
— Tim Mann after the battle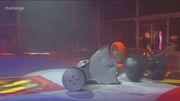 In the Heat Final, Stinger met S3. Both robots made identical early movements, driving forward, spinning in a circle, and halting. Stinger started to swing with its mace, but connected no blows. The two robots reversed into each other, before S3 spun around. Stinger came in which a slam, but was deflected aside as it made contact with the disc of S3. Stinger span on the spot, but S3 interrupted Stinger's usual technique, before attacking Stinger's mace, knocking it against the wall of a CPZ. Shunt came in and rammed and pinned Stinger against the wall, but Stinger was able to escape. Stinger activated the pit before finally hitting S3 with its mace, but caused no damage.
"S3 looks purposeful, menacing, relentless in its pursuit of its quarry. Stinger, still trying to get the bludgeoning mace down."
— Jonathan Pearce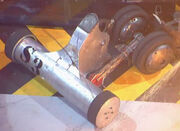 Stinger began to slow, and S3 pushed Stinger against an angle grinder, where it stopped moving. This was because Stinger's main drive system had been buckled by S3's disc to the point that Stinger's gears could not mesh correctly. Stinger was counted out and thrown by the Floor Flipper.
"No disgrace in defeat to the very good machine. I don't think Stinger deserves that, not at the end, been a very good and worthy competitor on Robot Wars, but we love our little final flourish."
— Jonathan Pearce as Stinger is thrown by the Floor Flipper
Upon landing, Stinger started moving, but it was already eliminated.
"Stinger is a very well designed bot. All the sensitive stuff is in the wheels - rubber is a great armour in RW - given the weapons we are allowed to use. However, Stinger didn't just "stop working" We managed to bend the main drive system to the extent that the gears no longer meshed correctly."
— Dave Barker, captain of S3
Series 6
[
]
"Grand Finalists in Series 4, unpredictable, but I love 'em"
— Jonathan Pearce as Stinger enters the arena
Stinger returned for the Sixth Wars, and was granted the number 11 seed, making it one of only two seeds in Series 6 to have not reached the Semi-Finals of the previous series. Stinger was placed in Heat F of the main competition, and was drawn up against newcomer Chompalot, the new and improved 13 Black, and faced Thermidor 2 for the second time.
Philippa Forrester: "So, the lobster right, reckons you're going out of the arena!"
Kevin Scott: "The lobster doesn't know what he's talking about, we're going to chop his...flipper off and take his claws away!"
— Stinger pre-first round interview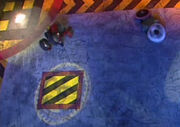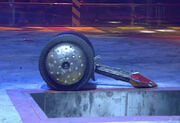 At the start of the battle, the four robots met near the pit, and 13 Black hit the pit release button. Stinger immediately landed a crucial blow on Thermidor 2 with its first attack, directly hitting Thermidor 2's tyre. Although Stinger was flipped over, Thermidor 2 lost drive on its tyre as a result of Stinger's attack. Stinger drew dangerously close to the pit, with its mace moving over the lip, but Stinger managed to escape, just as 13 Black closed in to push it down. Chompalot then grabbed Stinger's wheel and tried to crush it, but Stinger managed to free itself.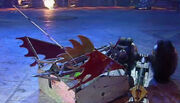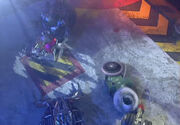 Meanwhile, Thermidor 2's lack of movement resulted in it being counted out by the Refbot, before Thermidor 2 then drove itself down the pit. 13 Black then drew Chompalot into the CPZ, and attacked Chompalot with its discs, immobilising the dragon-like robot. Stinger then bashed into 13 Black, before 13 Black turned and immobilised Stinger too. Fortunately, by this time, Chompalot had already been counted out by the Refbot, and flipped by the arena floor flipper. This put Stinger and 13 Black through to the next round of the Heat.
In the second round, Stinger was drawn against Fluffy.
"He's quite a hard robot to attack, he's just wheels and a long Stinger tail!"
— The Fluffy team before the fight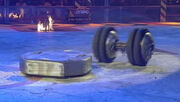 Stinger drove toward Fluffy, but Fluffy dodged, and Singer briefly got stuck on its side as it tried to turn around to pursue Fluffy. The 2 robots circled around each other and tried to get hits on each other. Fluffy managed to hit Stinger twice, after which Stinger appeared to only be moving on one wheel.
"Stinger is going around in circles, and that's just about it."
— Jonathan Pearce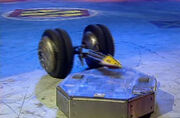 Fluffy got in a couple more hits whilst Stinger was stuck moving on one wheel, but eventually, Stinger got its wheel working again and was back fighting again, retaliating by slamming the top of Fluffy with the mace. Fluffy's blade stopped spinning after it drove onto the flame pit, and it began to slow. Stinger span on the spot, giving Fluffy a few more blows with the mace, then hammering the top as before Fluffy lumbered into the CPZ where it received a hammer-blow from Mr. Psycho. After Fluffy escaped the CPZ, Stinger continued to hammer the top with its mace, and eventually stopped moving and was counted out. Fluffy then got counted out by Refbot, and placed on the flipper by the house robots where it got thrown across the floor.
"It looks like a mighty pendulum, and the pendulum in this battle has certainly swung towards Stinger."
— Jonathan Pearce as Stinger's bludgeoning axe rhythmically slammed Fluffy
Stinger then progressed to the Heat Final, where it was placed up against 13 Black once again.
"Those spinning discs, very innovative you say, but very, very powerful. Awesome, destructive! And I think its going to get hold those rubber tires, and start peeling the rubber off those tires!"
— Craig Charles gives his prediction to Jonathan Pearce
13 Black got its discs up to speed and Stinger started by attempting to hit the sides by spinning on the spot and dodging the discs. It dodged 13 Black for a while, occasionally getting a blow on the discs, in an attempt to immobilise them. Stinger managed to land a few hammer-blows on 13 Black but none were that effective. 13 Black came in on Stinger and tore a piece of rubber off one of Stinger's tyres before bashing it into the release button for the arena spinning disc. Stinger then tried spinning to cause damage to 13 Black but failed to cause any noticeable damage, and got more bashes on its wheels from 13 Black.
"The Stinger team are up against it here, they simply can't get any damage done."
— Jonathan Pearce
In the final few seconds, Stinger drove on top of 13 Black. This proved to be a mistake, as 13 Black shoved Stinger into the CPZ where it was grabbed by Sir Killalot, who nearly dropped the seeded robot out of the arena, but time ran out. The relatively close battle was to be decided by a Judges' decision, but this went in favour of 13 Black, and Stinger once again fell in the Heat Final.
"Well, what can you say? It was a terrific fight, you know, we couldn't have gone down to a better team, it was fabulous, all the way through, and I wouldn't have wanted to be a judge!"
— Kevin Scott, gracious in defeat
Extreme 2
[
]
Stinger's only appearance in Extreme 2 was in the Tag Team Terror, where it teamed up with Nasty Humphrey.
"Basically, we've worked together quite closely, we've fought each other on a number of occasions at other wars, and I think we're a good team, really. What he lacks, I've got, and I haven't got, he's got!"
— Mick Kerfoot on the Tag Team partnership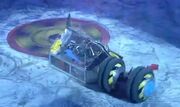 In the first round, they fought The Steel Avenger and Lightning. Nasty Humphrey and Lightning started out in the arena, and Lightning easily got under Nasty Humphrey, and pushed it into Mr. Psycho. Nasty Humphrey escaped, and tagged Stinger, while Lightning tagged The Steel Avenger. Both robots traded blows with their weapons but missed, and then Stinger started spinning on the spot.
"You never quite know with Stinger, rotates very quickly, flails like some whirling dervish, difficult to control, has exposed tires..."
— Jonathan Pearce as Stinger comes out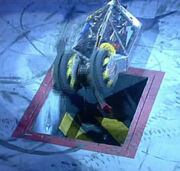 The Steel Avenger rammed into Stinger and disabled one of its wheels, meaning that Stinger could only move in circles. The Steel Avenger went for the pit release button and pushed Stinger into the pit, but it couldn't stop in time, and drove into the pit itself. Although Stinger was now out of the battle, its team-mate Nasty Humphrey fought Lightning head-to-head for a chance at victory, although Nasty Humphrey's axe was proving ineffective against Lightning. Lightning got underneath Nasty Humphrey again, and managed to flip it onto its side. Time ran out before Nasty Humphrey was deemed immobile, but the judges ruled that Stinger and Nasty Humphrey had lost. This battle was Stinger's final appearance on Robot Wars.
"Stinger on the brink! And down! Oh, and Steel Avenger follows through and goes down into the pit as well!"
— Jonathan Pearce
Results
[
]
STINGER - RESULTS
UK Series
Series 3
The Third Wars - UK Championship
Heat, Round 1
Heat A, Round 1
vs. Mace 2
Lost
Series 4
The Fourth Wars - UK Championship
30th Seed, Third Place
Heat J, Eliminator
vs. Bulldog Breed 2, Spikasaurus
Qualified
Heat J, Semi-Final
vs. Hammer & Tong
Won
Heat J, Final
vs. Bulldog Breed 2
Won
Semi-Final 2, Round 1
vs. MouseTrap
Won
Semi-Final 2, Round 2
vs. Panic Attack (4)
Won
Grand Final, Eliminator
vs. Chaos 2 (1)
Lost
Grand Final, Playoff
vs. Hypno-Disc (2)
Won by default
NOTE: Hypno-Disc was forced to withdraw from the playoff due to damage sustained in the previous round.
Pinball Warrior Tournament
Equal Twelfth (with Banshee)
Pinball
75 pts
12th
Northern Annihilator
Fifth
Round 1
vs. Chaos 2, Dominator 2, Killerhurtz,
Spikasaurus, Suicidal Tendencies 2
Qualified
Round 2
vs. Dominator 2, Killerhurtz,
Spikasaurus, Suicidal Tendencies 2
Eliminated
Extreme Series 1
All-Stars
Round 1
Round 1
vs. Pussycat
Lost
Challenge Belt
Failed Challenge
Challenge
vs. Behemoth
Lost
Mayhem

Mayhem
vs. Behemoth, Thermidor 2
Lost
Other Battles
Vengeance, Wild Card Warriors,
House Robot Rebellion (with Scorpion and Plunderbird 5)
Vengeance
vs. Tornado
Lost
Wild Card Warriors
vs. Ajjay
Won
House Robot Rebellion
vs. Dead Metal & Shunt
Won
NOTE: Stinger was given the victory for being the only contestant robot to survive the full 5 minutes.
Series 5
The Fifth Wars - UK Championship
5th Seed, Heat Final
Heat C, Eliminator
vs. Hippobotomus
Won
Heat C, Semi-Final
vs. General Carnage 2
Won
Heat C, Final
vs. S3
Lost
Series 6
The Sixth Wars - UK Championship
11th Seed, Heat Final
Heat F, Round 1
vs. 13 Black, Chompalot, Thermidor 2
Qualified
Heat F, Round 2
vs. Fluffy
Won
Heat F, Final
vs. 13 Black
Lost
Extreme Series 2
Tag Team Terror
Competing with Nasty Humphrey, Round 1
Round 1
vs. Lightning & The Steel Avenger
Lost
US Series
Season 1
War of Independence
Representing the United Kingdom, Eliminator
Eliminator
vs. General Chompsalot (USA)
Lost
Wins/Losses
[
]
UK Wins: 12
UK Losses: 10
US Wins: 0
US Losses: 1
Stinger's default victory over Hypno-Disc is not counted as a win.
Series Record
[
]
UK Series
[
]
US Series
[
]
Gallery
[
]
Outside Robot Wars
[
]
Stinger competed in the Debenham Robot Rumble event in 2000, where it fought other well-known robots such as Wheely Big Cheese, Bigger Brother and Suicidal Tendencies, also winning the morning session of the event by defeating Dominator 2.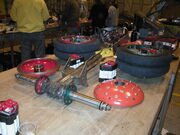 Stinger travelled to the Netherlands to compete at the Dutch Robot Games in 2001[6], where it entered in both the UK and international brackets. It was unsuccessful however, being knocked out of the UK bracket by Tiberius 2, and losing its International bracket match to Lizzard. Stinger also fought M2 in an exhibition match, losing the judges' decision, and finally conceded a three-way melee to Tiberius 2. Stinger, still decorated in the warning tape from Extreme 2, took part in the War of the Wolds event held in Louth in November 2002, where it fought a battle against G-Man.
After several years in retirement as a static display robot for charity events, Stinger was bought by John Findlay of Team Roaming Robots in early 2010, and participated in the 2010 UK Championships, where it fell in the Qualifying Stage and finished 4th in the Annihilator. Stinger was forced to withdraw from the 2011 UK Championships due to technical difficulties.
Stinger yearly competed at the Mechatrons events in Dublin. In 2017, it won a comeback victory against Photon Storm[7], despite losing mobility to one wheel in the early stages of the fight, though it was eliminated by Halo. It also travelled to Russia in 2016 and 2017, to compete in Bronebots.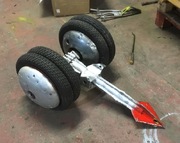 In 2019, Stinger was upgraded with new lithium polymer batteries to keep it up to date with the competing robots of today and had been given a polish and new paint job to make it look as good as new for the 2019 line of robot combat events.
In 2012, the Stinger team started making a Monowheel. Kevin Scott managed to break a World Record by being on the fastest one wheeled motorcycle in September of 2015[8].
Robot Wars Live Events
[
]
Stinger returned to combat again for the new Robot Wars live events in 2014, the first being the Colchester event. Since then, Stinger has managed to achieve victories at the live events against such robots as Ka-Pow! and Apex.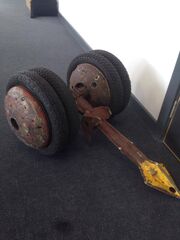 After these fights in the main competition, Stinger was relegated to mainly competing in "retro fights", where it battles other robots that took part in the TV show, such as Schumey Too and The Steel Avenger.
At a July 2015 Robot Wars live event in Barnsley, Stinger's mace was completely snapped off following a "Retro Robots" fight against The Steel Avenger, Bulldog Breed and Mr Nasty, despite Stinger having won the same matchup on a Judges' decision at an event the day before.
In 2016, Stinger was mostly reserved as a robot to drive for the special feature for VIP audience members at the end of shows at the first Robot Wars event of 2016 at Manchester - where the audience members got to have a shot at fighting with it against other Robot Wars veterans in the form of Bulldog Breed, The Steel Avenger & DTK.
It did fight in the main show at Portsmouth. Its first battle it fought against Behemoth where it managed to hit Behemoth a few times before its opponent flipped it towards the already descending pit where it ended up. It also fought in a 3-way melee where despite being an old robot, managed to win its fight against Earthquake and the similarly designed Gabriel. Next it fought in a 4-way melee against Bullfrog, Weird mAlice & Cherub, here it did well landing hits on the other three robots until it broke down. Stinger next appeared at Guildford where in the majority of its fights got flipped out the arena. In Gloucester, Stinger was flipped out of the arena by Ripper.
Appearances in Merchandise
[
]
Trivia
[
]
"...Sir Killalot...he's got history with Stinger, they don't like each other!"
— Jonathan Pearce in prior to Stinger's Heat Final in Series 5
House robot Sir Killalot seemed to hold a grudge against Stinger, on several occasions disrupting its battle by trying to pick it up by the mace and carry it around. This happened mostly when Stinger either drove into or was near a CPZ. The most notable occurrence of Sir Killalot's grudge occurred in Extreme 1 in its battle against Wild Card Warrior Ajjay, when Stinger was picked up and dumped out of the arena by the house robot after Cease was called.
Stinger was the first robot to lose to Chaos 2 via a judges' decision.
Like Hypno-Disc, Stinger's prototype was a LEGO model.
The robots that beat Stinger in the heat finals in Series 5 and 6 became the seventh seed in the following series.
Series 4 was the only series in which Stinger's seeding was an even number.
Stinger in Series 4 was the lowest seed ever to win a heat.
Stinger was the only robot to be seeded thirty.
Stinger in Series 4 was one of only three robots to be seeded despite having never won a main series battle at that point. The others were Killerhurtz, also in Series 4, and Storm 2 in Series 7 (although Storm 2 had fought in and won the New Blood Championship in Extreme 2).
Stinger's increase from the thirtieth seed in Series 4 to the fifth seed in Series 5 was the highest increase in seeding, as well as the largest seed jump of any robot, not counting robots that lost their seeding entirely. By comparison, Mortis' seed gap of twenty-one is smaller.
Kevin Scott was part of The Steering Committee.
Stinger was one of four robots to have been seeded despite losing in the first round of the previous series. The others were Killerhurtz (in Series 4), Plunderbird 4 (in Series 4) and Thermidor 2 (in Series 7).

Stinger was involved in a battle with those other three at some point (it fought alongside Plunderbird in the Extreme 1 House Robot Rebellion, battled Killerhurtz in the Series 4 Northern Annihilator and battled Thermidor 2 in their Extreme 1 Mayhem and the first round of their heat in Series 6).

Stinger was the only eleventh seed which was unable to reach the first round of the Semi-Finals in the series in which it was seeded as such, losing in the Heat Final of Series 6.
Stinger appeared in the first episode where the statistics boards featured Weight, Dimensions, Clearance, Power, Weapons and Notes (Series 3, Heat A) and the first episode where the statistics boards featured Weight, Dimensions, Power, Weapons, Strengths and Weaknesses (Extreme 1, Episode 1).

On both occasions, Stinger was the first robot to be introduced in the episode. Therefore, Stinger is the only robot to be the first robot introduced in the first episode of two different series.

Throughout the series that it appeared in, Stinger never shared the arena with Growler.
Both video games that Stinger appeared in were games for the Gameboy Advance.
Stinger is one of four machines Thrown Out of the Arena by both a competitor and a house robot (Thermidor 2 and Sir Killalot respectively). It shares this with Vader, Napalm and King Buxton.
In the Italian dub of Episode 8 of Extreme 1 , Stinger was erroneously referred to as "Sting" on the battle board for its All-Stars battle against Pussycat. This mistake was not repeated on its statistics board however.
Stinger is one of two robots to be thrown out of the arena by a House Robot and still win a battle, the other being Rick.

Both robots were thrown out of the arena by the same House Robot - Sir Killalot.

Stinger's first and last appearances saw it pitted.
Throughout its period on Robot Wars, Stinger was usually driven by captain Kevin Scott. Although, on rare occasions other teammates took up the controls. Jonathan Pillai during Stinger's Series 3 defeat to Mace 2, and Tim Mann during its Series 4 Pinball Warrior Tournament run, and against Ajjay in the Wild Card Warriors fight of Extreme 1.
External Links
[
]
Honours
[
]
Nominations
References
[
]