Stomp (stylised as STOMP on the team's website) was a walkerbot which appeared in Series 3 of Robot Wars. It exclusively competed in one of two Walker Battles, which it lost to Team EyeEye's Miss Struts.
Stomp was a white and black, box-shaped walkerbot made out of aluminium aircraft catering supply boxes. Its locomotion came from two box-sectioned 'feet' mounted either side of the robot's body, which were designed to move together on the end of three cranks. A turntable was located underneath Stomp's body, which enabled it to rotate on the spot as well as use its 'feet' to whack opponents when they approached.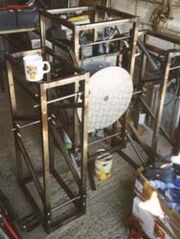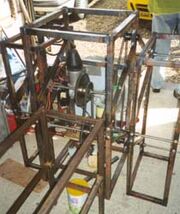 As one of the only working walkers in Series 3, Stomp automatically earned a place in the Walker Battles. Carl Nielsen and Tim Mitchell continued working on Stomp following its Series 3 appearance, while team members John Lilley and Simon Fry left the team ahead of Series 4. Nielsen and Mitchell were joined by two new team members - Malcom Ramsey and Geoff - to work on a new version of Stomp, STOMP2 for that series. However, they did not complete STOMP2 in time for it to appear in Series 4, although the team stated that they would possibly complete it for Series 5 instead. It is currently unknown whether STOMP2 was completed in time for it to qualify for Series 5, or how it failed to qualify if it had. After this, STOMP2 was scrapped.
"Stomp, err, Stomp... not walking at all. Spinning though..."
— Jonathan Pearce as Stomp struggles to move forwards
Stomp competed exclusively in one of the exhibition Walker Battles, where it faced Miss Struts. Despite having functioned properly during testing, Stomp immediately suffered problems as it could not move forwards, due to one of its driveshafts splitting in half while trying to lift its body. As a result, it resorted to spinning on the spot and whacking Miss Struts a few times as the latter slowly approached for an attack. Stomp then attempted to pin one of Miss Strut's legs down with its 'feet', but was unable to move anywhere as Miss Struts pushed it back and Dead Metal grabbed it with his pincers. Dead Metal proceeded to slice through one of Stomp's 'feet' as Shunt axed its body, before Sir Killalot came in to hook and drag Stomp away with his lance. Stomp was carried by Sir Killalot before sustaining more damage to one of its 'feet', by which time 'cease' was called. Stomp was declared to have lost the battle, and the team later discovered that one of its chains also slipped off, adding to its mobility issues.
Stomp's prototype was made out of Lego Mindstorms pieces.
Community content is available under
CC-BY-SA
unless otherwise noted.