For the New Blood Champion and Series 7 runner-up, see Storm 2.
"The debut for this three-wheeled cylindrical storm-bringer, with the top-mounted axe or spiked arm and front flipper, the skin is armour-plated aluminium"
— Jonathan Pearce introduces Storm Force
Storm Force was a robot that singularly competed in Series 5 of Robot Wars. It was defeated in its only battle by then-reigning champion Chaos 2 in the opening battle of the series.
Design
[
]
"The basic objective for STORM FORCE is to build the bot at Zero cost to the team. To achieve this feet we needed to be able to beg and borrow all the essentials for the bot. To this end the addition of Colin as a team member was important. He is well known for either having the part in stock, or if not then knowing someone who has. The next objective was to build a bot that could take punishment with very little damage to the workings of the machine, and at the same time do some serious damage to the competition. the house bots in particular. However we had to make some compromises in the design in order to meet our original objective. Some features would be left out of this bot, hopefully they will be added in later versions."
— Storm Force website
Storm Force was a three-wheeled, silver barrel-shaped robot with aluminium checker plat armour and a steel base frame. It was decorated with lightning bolts painted on either side. It was similar in design, shape and weaponry to the original Mini Morg. It featured a powerful scoop strong enough to lift a small car, and a sharp axe capable of chopping bricks in half. However, these weapons were not used to great effect in its only battle. Unusually, it also had smoke canisters on the insides, which exploded and emitted smoke after being dragged onto the flame pit by Obsidian in its first qualifier, and possibly the same thing happened to it when it fought against Chaos 2 in its only televised battle.
Etymology
[
]
Storm Force was originally just called Storm but another Storm was competing around the time of Series 5, forcing the team to add Force to their robot's name. Despite this, both names were still used on the show. The team called the robot Storm Force and Storm on their website. The name on the robot's flipper was still Storm, though the statistics board and the team's t-shirts said Storm Force. Upon entering the arena, Stuart McDonald introduced Storm Force as "Storm". It is also referred to as such in Robot Wars: The Ultimate Guide and the first edition of the Robot Wars Magazine.
Qualification
[
]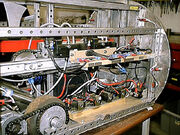 At the Series 5 qualifiers, Storm Force attended the Sheffield leg of the tour, where it fought two battles, losing the first against Obsidian[1], but winning the second. As a result, Storm Force was chosen to compete.
"We had problems in the first fight, our main weapon refused to work. All during testing leading upto the day we never had this problem show, but just when you need everything running it fails. That's life. We did however survive sustaining only slight damage the the outer shell, most caused by SHUNT. WE will remember SHUNT. The problem turned out to be a servo deciding only to use 50% of its full movement. This was fixed whilst at the arena. We had been booked for the afternoon show, but we were asked to stay to compete again in the evening show. Here we did far better, the main weapon worked well, immobilizing our opponent for a time. (He did start moving again later in the bout, but had stopped for more than 30 seconds.) During this time we decided to get our own back on SHUNT. Almost got him in the pit, but our driver turned the wrong way. He took quite a few blows from our axe, and we took some more from him too. In the end he turned us over, then during our self righting move he somehow got himself wedged on top of us, total immobile. What a fight. The audience in Sheffield loved the whole episode. So did we, fair to say that we were disappointed with the first contest, but the performance in the second contest was 100% better. Some modifications will be required. We need more speed. The power isn't bad, but we are too slow."
— Storm Force website
Storm Force returned for Series 6, virtually unchanged, but failed to qualify for currently unknown reasons.
Robot History
[
]
Series 5
[
]
Storm Force fought in Heat A, in the first battle of Series 5. In its first ever televised battle, Storm Force faced an unlucky draw in Round 1, as it was drawn against twice reigning champions Chaos 2.
Storm Force initially held back, but when finally faced with the reigning champion, its flipper activated without being underneath Chaos 2. In return, Chaos 2 unleashed a flip and hurled Storm Force onto its back.
"Storm Force, the first to test the powerful flipper - even more powerful they tell us these days."
— Jonathan Pearce
Storm Force's barrel shape allowed it to roll back onto its wheels. Chaos 2 quickly followed up by hurling Storm Force through the air once more and causing it to land heavily, before rolling it once more onto the flame pit. After escaping the flame pit, something (possibly said smoke canisters) exploded inside Storm Force, and it began to emit smoke.
"Storm Force, scarcely a storm-bringer. And smoking, it would see to me. In trouble, internally. Chaos 2 already has this eliminator in its grasp."
— Jonathan Pearce as Storm Force begins to smoke
Chaos 2 lined up another attack, getting underneath the side of Storm Force, but didn't flip it. This was only temporary respite, however, as Chaos 2 came in and thrust Storm Force over several times, before tumbling it into Matilda's CPZ.
"You have to say, it's resilient, and it's showing a cold front to Chaos 2 there, before tumbling away again."
— Jonathan Pearce as Chaos 2 tosses around Storm Force
However, just as the House Robot closed in with its flywheel, Chaos 2 flipped Storm Force up and out of the way, taking a direct hit from the flywheel instead, causing the first seed to beat a hasty retreat.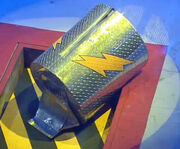 Although Storm Force was able to escape Matilda's CPZ, its drive motors burnt out and it was unable to move, despite its weapons still working to good capabilities. Chaos 2 was able to flip Storm Force broadside until it landed on the pit, which Chaos 2 then activated, leaving Storm Force to sink into oblivion.
"The pressure is descending for Storm Force! They're out!"
— Jonathan Pearce as Storm Force is pitted
Storm Force was there eliminated from the competition, and it did not return.
"For our first attempt at the title we came up against Chaos II. WOW. We had a plan to wait, allow Chaos to throw us around a bit allowing our self righting to work, while he ran out of gas, whilst staying away from the arena sides. All went well until about half way through the battle when we got rolled into Matilda, she had a go at us with her new disc. We quickly made our escape, but during our dash for safety we got caught by Chaos 2, he turned us over (again), but unfortunately we still had power on one of the motors when we came back onto our wheels. This stripped the helical gear in one of our gear boxes. This dropped us to only one drive motor. We battled on , inflicting damage to Chaos in the process. He slowed dramatically and following a another serious flip, with drive still on our one remaining motor the landing burst the flange mounting the gearbox to the motor, and we lost all drive. George came in for the kill and rolled us towards the pit. He darted to the pit actuator, and we toppled tail first into the pit of oblivion. As Storm Force dropped the axe wave good bye, or was a wave of help to the crowd. So that was it our first attempt at Robot Wars, and what a way to go out. To the current champion, and with luck to the next champion."
— Summary of the battle from the Storm Force website
Results
[
]
STORM FORCE - RESULTS
Series 5
The Fifth Wars - UK Championship
Heats, Round 1
Heat A, Round 1
vs. Chaos 2 (1)
Lost
Wins/Losses
[
]
Series Record
[
]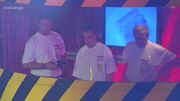 Outside Robot Wars
[
]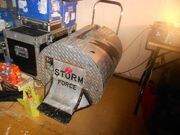 In 2007, Storm Force was sold to John Findlay of Team Roaming Robots, where it was brought out of retirement in a Robot Rumble, managing to defeat Dantomkia along the way. However, Findlay had too little time to take Storm Force as a project, so drivers such as Tom Kane and WJ Dijkstra took turns in fighting with it instead. By the end of 2008, Storm Force was sold once more to Liam Bryant of Team Bud, along with Jason Marston with a newly improved Thor and Shane Swan from Team S.Tek with his newest machine Envy.
Robot Wars Live Events
[
]
Storm Force made its first appearance in the new Robot Wars live events at Barnsley in February 2013. It took part in a whiteboard fight against Toon Raider and St Hammer, in which it lost after its batteries died. It also suffered from the same bad luck at Widnes in May 2013 when it fought in the team challenges. Storm Force subsequently retired from combat after this event.
External Links
[
]
References
[
]