"3-2-1 Activate!"
— McDonald's most repeated phrase
Stuart McDonald is a Britsh television director, specialising in game shows, who worked on Robot Wars as the director and as the famous Robot Wars Announcer.
Robot Wars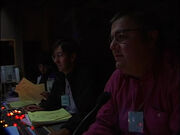 During the filming of the show, McDonald had two primary jobs. First of all, he directed the cameramen to help achieve the optimum end product, as well as advising the audience on health and safety concers, and building them up for the battle. His second, and more famous, role was as the deep-voiced announcer who introduced the hosts- firstly with a different humerous introduction, before this was replaced with the ubiquitous Master of Mayhem introduction- and the robots as they entered the arena. McDonald was also responsible for the calling of Activate and Cease, the latter on the call of the timekeeper, to begin and end a match. It is also possible that McDonald directed the House Robot drivers, advising them on when they were allowed to attack.
Outside of Robot Wars
Stuart McDonald is considered one of the foremost television broadcasters in Britain today, especially in the field of 3D broadcasting, of which he is a pioneer. He has worked on many successful TV shows including Top of the Pops, Gladiators, Are you Smarter than a Ten Year Old?, Parkinson, Pointless, The Chase and The Apprentice: You're Fired, as well as the annual; BBC Children in Need. Along the way he has met the likes of George Michael and Sir Paul McCartney, and worked for the BBC, ITV, Sky and Fox, as well as earning membership in BAFTA and Directors UK.
Trivia
McDonald sometimes, humorously, had trouble pronouncing the names of robots, notably Dantomkia and Tsunami, the former he pronounced many different ways.
McDonald is one of only a few people to be involved in every series, and the only one to speak on screen in every series, including Robot Wars' international spinoffs.
McDonald also directed hit game show Gladiators, of which Robot Wars is considered to be the robot equivalent. The Gladiators from the show were the inspiration behind the House Robots.
Another McDonald directed show Top of the Pops followed Robot Wars in its traditional Friday night slot.
Personalities
Presenters
Pit Reporters
Commentators
Foreign Dub Presenters
Judges

Noel Sharkey

(

Series 1

-

10

,

Extreme 1

-

2

,

US 1

-

2

,

Nickelodeon

,

Dutch 1

-

2

,

German

) •

Eric Dickinson

(

Series 1

-

2

) •

Adam Harper

(

Series 1

-

3

) •

Martin Smith

(

Series 3

-

7

,

Extreme 1

-

2

,

US 1

-

2

,

Nickelodeon

,

Dutch 1

-

2

,

German

) •

Myra Wilson

(

Series 4

-

5

) •

Mat Irvine

(

Series 5

-

7

,

Extreme 1

-

2

,

US 1

-

2

,

Nickelodeon

,

Dutch 1

-

2

,

German

) •

Sethu Vijayakumar

(

Series 8

-

10

) •

Lucy Rogers

(

Series 8

-

10

)

Other