Armament! This Robot Wars article is in need of rewriting to bring it up to a higher standard. You can help Robot Wars Wiki by rewriting it.
"Will this plumb the depths or torpedo the rest?"
— Jonathan Pearce in Series 7
Sub-Version was a robot that was first entered by the Submarine Service in the Forces Special of Robot Wars Extreme to celebrate the centenary of the Submarine Service. It reached the second round of the Forces Special, where it lost to Mega-Hurts. An improved version of Sub-Version, known as Sub-Version 1.1, also fought in The Seventh Wars, but it was eliminated in the first round after being pitted by Trax seconds before the fight ended.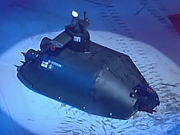 Sub-Version, and by extension Sub-Version 1.1, was a black robot designed to resemble a submarine, complete with a periscope that acted as a self-righting mechanism and a crow's nest complete with a uniformed Action Man figure resting inside. Its weapons included pneumatic spikes at the front and a small cutting disc at the rear.
Sub-Version from Extreme 1 featured two pneumatic spikes at the front of the robot, while Sub-Version 1.1 only had one, described as "torpedoes". The original Sub-Version ran on 1.5HP cart motors, whilst Sub-Version 1.1 was quicker, courtesy of its 24V electric motors.
The team also created a mock-up version of the original Sub-Version. This version was seen during the team's introduction of the Armed Forces Special, where it was shown rising from the water.
Etymology
Edit
The name Sub-Version is derived from the word subversion, which has various meanings, including definitions relevant to the military. Sub-Version builds upon this by highlighting the word 'Sub' within its own name, referencing the submarine design of the robot.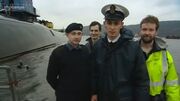 Sub-Version was built by its team captain John Watson, a Scottish roboteer native to Argyll and Bute. His team represented The Royal Navy Sub-Marine Corps, in the division HMS Neptune in the Forces Special, and John Watson was accompanied by fellow members of the Royal Navy, Russell Scott and Gordon Walker. When Sub-Version 1.1 entered Series 7, John Watson was instead joined by Jamie Walker and Mitchell Hamilton.
Qualification
Edit
Sub-Version originally attempted to qualify for Series 5, where it faced the fellow Scottish Corkscrew in the qualifiers.[1] However, Sub-Version lost the battle, and did not qualify for the Fifth Wars. Sub-Version 1.1 would later successfully qualify for the Seventh Wars.
Robot History
Edit
Extreme 1
Edit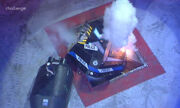 Sub-Version fought in the Forces Special. Its first match was against Anvil of the R.A.F. and Shockwave of the Police. On "Activate", Sub-Version rammed into Anvil, however the spikes were too high to hit it. Sub-Version was then attacked by Sergeant Bash, which was in the process of moving to another CPZ, but Sub-Version was not damaged. Sub-Version then released the pit just as Anvil pushed Shockwave onto the lip. Sub-Version then pushed Shockwave fully into the pit, eliminating the Police team from the competition. Sub-Version and Anvil then qualified for the next round.
"We're going to beat them into sub-mission!"
— Petty Officer Dave Robson of Team Mega-Hurts on Sub-Version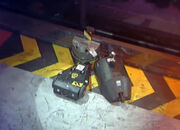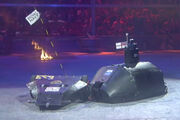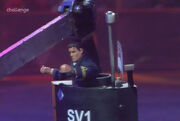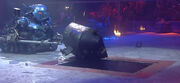 In its next battle, Sub-Version faced Mega-Hurts of the Navy. The two robots attacked each other, Mega-Hurts being the quicker, but in the early stages, Sub-Version being the aggressor. It used its disc to attack Mega-Hurts, but the spikes didn't work. After a while, Sub-Version broke down and was pitted by Sir Killalot, but not before the captain doll was axed out of the crow's nest by Shunt.
"Man overboard!"
— Jonathan Pearce as the submariner mascot falls out of Sub-Version's "crow's nest"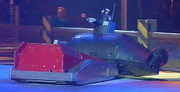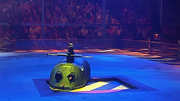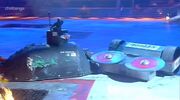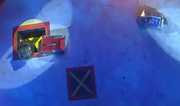 Sub-Version 1.1 made its main UK series debut in Series 7. Its first battle was against veterans Steel Avenger and Shredder Evolution, alongside fellow newcomers to the main competition, Trax, the successor to Hell's Teeth.
Sub-Version 1.1 started by taking a piggy-back over Trax, before being hit by Shredder Evolution. It then retaliated towards the spinners, but it was able to avoid Sub-Version 1.1. The two robots clashed again, being separated by Steel Avenger. Trax then got under Sub-Version 1.1, drove it to the arena wall, and thrust it into the wall. Sub-Version 1.1 nearly made the mistake of driving into the pit after opening it. It then drove onto the flame pit to attack Trax. With just two seconds remaining, Trax pitted Sub-Version 1.1, eliminating it from the competition.
"I was worried about Shredder Evolution for a while, but it's come back strongly! Oh! Sub-Version has gone down, just before cease was called!"
— Jonathan Pearce
Wins/Losses
Edit
Series Record
Edit

Sub-Version is one of only ten robots to debut in Extreme 1 and to fight in one of the main competitions, excluding Typhoon. The others were 3 Stegs 2 Heaven, Axe-Awe, Comengetorix, Fighting Torque, Fluffy, NEAT Machine, Spawn Again, The Executioner and Draven.

Of these, Sub-Version 1.1 held the record for the longest between its debut and main competition appearance, until Draven took the record in Series 8.

Barber-Ous 2'n a Bit, Sub-Version 1.1, Malc 1.5, Iron-Awe 2.1 and Judge Shred 2½ are the only robots to name a robot part sequentially.
Sub-Version was one of two robots from the Extreme 1 Forces Special to compete in a main competition, the other being Shockwave (Extreme 1), whose team competed in Series 2 and 3.
Jonathan Pearce only referred to Sub-Version 1.1 as Sub-Version throughout its Series 7 appearance.
The Steel Avenger was the only robot to beat Sub-Version and not lose its next battle.
Both of Sub-Version's first round melees featured Sgt. Bash as one of the House Robots.
All of the teams that Sub-Version fought appeared in another episode.
Sub-Version 1.1's defeat in Series 7 is notable for being one of a small number of occasions in which a robot was defeated in the last ten seconds of a battle.
References
Edit
Community content is available under
CC-BY-SA
unless otherwise noted.