"Will this 24V wheelchair motor driven hunk of 'botic beef give us something to get out teeth into, or will the 2000rpm spinning disc moooove into the next round?"
— Jonathan Pearce introducing T-Bone
T-Bone was a T-shaped robot with a spinning disc which was entered by Team Butcher in Series 5 of Robot Wars, a combined project from neighbours John Findlay and the builders of Eco Warrior. It lost in the first round to 8645T, a robot built by the team's friends, on a Judges' decision, as it was unable to cause damage when its spinning disc jammed.
Design
[
]
T-Bone was an invertible, yellow T-shaped tubular robot with a horizontally mounted spinning disc, and a small scoop on the back. The scoop was added when the team found they had leftover weight to use. The robot was constructed from polypropylene mains gas pipe-line with a mild steel inner frame, and cost just £50 to build[1], with the team using many parts from their older machines, Banana-R Armour and Eco Warrior.
The slogan "Aye up, me duck!" was written on the wheelguards of the robot, and graphics of a butcher and a cow were also printed on the robot, as a reference to its name.
Etymology
[
]
Its name was a reference to the shape of the robot, and T-bone steak.
Qualification
[
]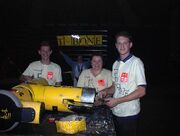 Team Butcher attempted to qualify for Series 5 with two robots, T-Bone and R.I.P.P.E.R. Paul Gibbs captained T-Bone, whilst John Findlay captained R.I.P.P.E.R.[2]. The two had previously met at the Series 4 qualifiers, and discovered that they lived on the same street.
T-Bone attended the Manchester leg of the qualifying tour, where it first fought Kiss of Death, ripping it apart, and in its second qualifier, defeated Bangalore Bertie. These back-to-back victories earned T-Bone a place in Series 5.
"The battle went well, but in the end T-Bone's spinner did so much damage that the opponent was stopped and suddenly they were having an interview with Craig Charles and receiving the prize as winners of Robot Wars 2001 North West Championship"
— Roaming Robots website on the battle against Bangalore Bertie
Robot History
[
]
Series 5
[
]
T-Bone's sole appearance in the wars came in Series 5, when it faced off against 8645T in a first round battle in Heat A.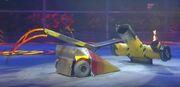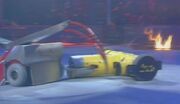 T-Bone edged out from its starting position in the opening moments, and narrowly dodged a thrust of 8645T's flipper. After this attack, 8645T sat still, only able to fire its weapon, while T-Bone attempted to line up an angle to attack the back end of 8645T. After manoeuvring, T-Bone made contact with 8645T's right tyre and cut a slot into it. 8645T responded by using its flipper to lift T-Bone up off the arena floor twice in quick succession, and there was further trouble for T-Bone as its spinning weapon stopped turning.
"T-Bone's disc has stopped spinning. That is a major worry for Paul Gibbs...T-Bone has been somewhat filleted"
— Jonathan Pearce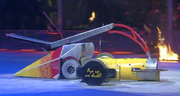 After 8645T's positive spell, both machines trundled towards each other with neither opening up a position to attack the other from. Both robots then kept a fair distance from each other, and T-Bone decided to activate the Pit release button. As T-Bone moved back towards the centre of the arena, 8645T charged in and knocked T-Bone aside, although it also failed to get any purchase on T-Bone with a use of its flipper. 8645T then got its spiked axe stuck onto T-Bone, and after a back-and-forth tussle, T-Bone was able to drag 8645T around.
"Can the T-Bone dig its hooves in here?"
— Jonathan Pearce as 8645T and T-Bone pull each other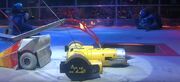 With time ticking down, T-Bone used its advantage to arc 8645T towards the Pit, although cease was called as the two robots sat next to the arena hazard. The two machines had to be separated through a Judges' decision, who went in favour of 8645T, leaving T-Bone eliminated from the competition.
"While the Judges were reaching their decision, Craig Charles asked the audience to choose a winner by cheering when he called the names of the robots. The Team were delighted when the audience cheered louder for T-Bone ... they thought it was in the bag ! However the judges said it was a very close contest, but they had chosen 8645T as the winner. The Team could only think that when they were pulling 8645T towards the pit, that it must have looked as though T-Bone was being pushed !!!"
— The Roaming Robots Website (archived)
Results
[
]
Wins/Losses
[
]
Series Record
[
]
NOTE: This record is mostly reflective of John Findlay. Paul and Angela Gibbs failed to qualify with Eco Warrior, competed with T-Bone, then retired from robotic combat.
Outside Robot Wars
[
]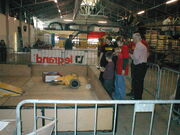 In the early stages of the Roaming Robots touring events, T-Bone was used as an exhibition robot which other roboteers could drive in a non-fighting environment. This included a trip to the Dutch Robot Games in 2003, where T-Bone was kept backstage for demonstration drives.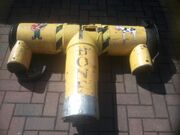 T-Bone's chassis was sold in 2012 to Tony Smith. In 2016, Tony Smith sold T-Bone back to its original builder John Findlay after he won the eBay auction. John Findlay had intended to restore T-Bone to fighting condition for use at his Extreme Robots events, although this has yet to take place.
Trivia
[
]
T-Bone was nicknamed "The Pride of Carlton" by the team.
T-Bone originally had four teeth on the disc, but during testing the team found that having two teeth allowed the disc to spin faster, and also meant they had two spare teeth.
References
[
]
External Links
[
]