TX-108 was a robot which attempted to enter Series 5, 6 and 7 of Robot Wars, built by Team Terrafonics, nowadays known as Team Danby. Despite initially performing strongly during its Series 5 qualifier, it would ultimately not qualify for any of those series, though Team Terrafonics would still appear in various side competitions towards the end of the original series run.
TX-108 also took part in a Wild Card Warriors battle at filming for the first series of Robot Wars Extreme, where it fought then two-time UK Grand Finalist Hypno-Disc. The Rose family's robot was unable to move within seconds of the fight starting, and TX-108 pushed it into the wall. 'Cease' was called, and TX-108 emerged as the surprise winner.[1] Despite being the only newcomer to win a Wild Card Warrior battle, the fight was not aired on television and remains lost media to this day.
"We did the arena drive in walked up to the booths 3, 2, 1 activate they didn't move we pushed them back into the wall and they called cease"
— Craig Danby describes the unaired fight
Design
[
]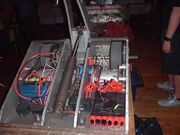 TX-108 was a grey wedge-shaped robot with a vertical hydraulic crushing arm as its weapon. The robot was designed and built so that unlike crushers like Razer and Ming 3, it didn't need an additional self-righting mechanism in order to right itself. It also had a claw pulled down to crush, like the original Tiberius' weapon, instead of being pushed like Razer, Ming 3 and newer versions of Tiberius. It was also faster and had tougher armour.
"We built TX to selfright without wings, we crushed differently, we were faster and better armoured"
— Craig Danby on the Official Robot Wars Fantasy Group
During the 12-year hiatus of Robot Wars, TX-108 was upgraded to have a crusher that pushed down instead of being pulled down, and with its claw piston set on the base instead of being at a angle like TX-108's. The robot was renamed TX-109, and would later be renamed and rebuilt into Apex.
Qualification
[
]
In the Series 5 qualifiers, TX-108 faced future semi-finalist S3. It started well, managing to push S3 around as the machine was suffering from control problems, although S3 did manage to turn and hit TX-108 with its disc multiple times. The match went to the judges with both machines having suffered damage, and S3 was declared the winner.
"Things were not looking too good as Ian drove the robot into the arena. It was clear that the robot was not set up to drive easily and the failsafes were again cutting in at any range. This was nearly to prove our undoing as our adversary gripped the rear housing and proceeded to pierce it. Mercifully separated by the house robots Ian was able to bring the thankfully still functioning disc to bear and rip through other robots armor panels and it was quickly immobilised."
— 1 Law Associates website
TX-108 came back to try to qualify for Series 6. Initially, it was drawn up against Barbaric Response, Lightning and Twister, but withdrew from that qualifier after its controller for the crusher malfunctioned [2]. However, the team were able to fix this, and TX-108 was given a second chance to qualify, fighting Reptirron The Second. After one crucial blow from Reptirron's weapon, TX-108 broke down and failed to qualify again.
The team had plans to compete in the Tag Team Terror during the second series of Extreme with TX-108 as the partner of Behemoth. It is unknown if the duo were invited to compete, but the two robots fought various Tag Team battles at live events in preparation. Ultimately, Behemoth would compete in the Iron Maidens and University Challenge competitions, while Team Danby would compete only in the Featherweight Championship with Gi-Ant-O.
TX-108 then entered the qualifiers for Series 7, and was drawn against 8645T 2 and Mighty Mouse, who coincidentally fought each other in the main series. It lost after its aerial came loose, and again failed to qualify, with TX-108 ultimately never appearing on the televised show.
Results
[
]
Series Record
[
]
NOTE 1: Tanto, a robot built by Team Danby, also competed in the 2016 Pilot episode under new ownership of Team Immersion
NOTE 2: Craig Danby also competed in Battle of the Stars as the mentor of The Cat.
Outside Robot Wars
[
]
TX-108 competed in Techno Games, as RaMyA, (Razer My Arse), without its weapon and clad in pink fur working with Pink Pants (a weaponless pink fur clad Pussycat) in the football competition as Team Pink, losing to Team Typhoon, as RaMyA broke down during the competition. It also competed in the Sumo event, where it managed to beat Rhino when the Army drove their robot off the sumo ring.[3].
Prior to its qualification attempt for the Seventh Wars, TX-108 flew over to the Dutch Robot Games in 2003, but it not known to have fought.
At the 2006 UK Championships, TX-108 fought Storm 2, but as it entered the arena with uncharged batteries, it did not have the power to pit its opponent despite having a clear opportunity. TX-108 was pitted by Storm 2, fought Toxic to a Judges' decision, and eventually lost to Leveller 2 by being flipped over.
TX-108 was later rebuilt as TX-109 in 2014, sporting a stronger crusher, fighting at various events run by Team Roaming Robots.
Robot Wars Live Events
[
]
Although TX-108 regularly competed at Roaming Robots events, it was TX-109 that first competed in a Robot Wars live event, fighting in Newport, later adopting the name Apex.
Trivia
[
]
TX-108 was the only challenger robot to have beaten its experienced Wild Card Warriors opponent, however this win was not shown on television.
According to Craig Danby, Team Terrafonics contemplated making TX-108 a shuffler ahead of The Seventh Wars. This never came to fruition, though the robot was unsuccessful in qualifying for the series regardless.[4]
References
[
]