Possible picture of Xenomorph
Edit
I think I found a pic of this team's Xenomorph. Anyone have any backup on this to I can be sure? (yes, this is the best quality pic there was) Badnik96 17:10, April 11, 2012 (UTC)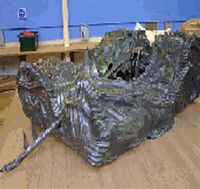 is there a link17:19, April 11, 2012 (UTC)Darkshadow651
http://web.archive.org/web/20041026192816/http://www.golemcrew.roboteers.org/robopics_3.html
most of the other bots on that site are around the same time... X-Terminator 1, T2, The General...
Badnik96 17:29, April 11, 2012 (UTC)
are there any larger images, or making the images larger as i can't access the linkDarkshadow651 18:47, April 11, 2012 (UTC)Darkshadow651
I know that someone described Team Chip's Xenomorph as "quite ugly looking." Not much, but promising. RA2; aka Resetti's Replicas. (My Talk) 20:04, April 11, 2012 (UTC)
Can you go through Adam Clarkes website and look for pics of Twister? Madlooney6 21:16, April 12, 2012 (UTC)
Unfortunately, I can't, every archived page of his has no Twister page or picture. Sorry. Badnik96 18:06, April 13, 2012 (UTC)
Thats ok, it is going to take a miracle to find images of Adam Clark's Twister robot then. Madlooney6 21:03, April 13, 2012 (UTC)
So can I put the Xenomorph pic on this article? Badnik96 19:24, April 21, 2012 (UTC)
there are a few pictures on chip's website and their xenomorph site. i can not access these so can someone upload/send me the images of the technogames events, xenomorph and their qualifier battles, thanks (Darkshadow651 21:03, April 21, 2012 (UTC))
I found the final proof we need to put Xenomorph here: http://web.archive.org/web/20050205122524/http://www.xenomania.co.uk/page4.html Badnik96 15:48, April 22, 2012 (UTC)
Xenomorph
Edit
Would it be worth creating a page for Xenomorph? We know a bit about it and there are lesser known robots with pages, so I think it would be a good idea for Xenomorph to has its own page. It could be called Xenomorph (Series 3) or Xenomorph (Series 4), it'll probably be the first one. Madlooney6 10:07, April 24, 2012 (UTC)
I know I'm replying rather late, but Xenomorph really should have its own page, assuming it doesn't already. If it does, this page needs links to it. Christophee (talk) 10:07, April 16, 2013 (UTC)
Same Chip
Edit
Is this the same Chip? Sam (BAZINGA) 22:37, May 6, 2013 (UTC)
Just came across this site ...happy days I was Chip's driver ....often wonder what Rob and Gareth (all grown up now) are up to now...
Still got Chip's disc and some bits at the back of the shed :)
Tom Ross
P.S. in reply to the last question...yes that is us in our final manifestation as a lifter using a 'linear actuator' I burnt out an electric drill drilling all those holes :) Pubquiz (talk) 17:10, May 28, 2014 (UTC)
Community content is available under
CC-BY-SA
unless otherwise noted.