Are we going to have a Daisy page? Does anyone know anything about it outside of its name and series? Toon Ganondorf (t c) 10:48, October 18, 2009 (UTC)
I seem to remember Daisy in my mind, I'm going to have a go at drawing it or what I think it looks like. I'll get back to you as soon as I've done it. Llamaman201 (talk) 17:24, December 22, 2009 (UTC)
Here is my rendition of what I seem to remember Daisy looking like, possibly from the magazine. Bare in mind I'm not the best drawer from memory. Llamaman201 (talk) 17:45, December 22, 2009 (UTC)
Screenshot
Edit
Just got this screenshot from the opening of Heat C. This may come in handy. Hogwild94 18:34, January 4, 2010 (UTC)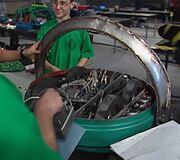 Brilliant. Helloher (Death is not my phone number) 18:36, January 4, 2010 (UTC)
You're welcome man! Hogwild94 18:38, January 4, 2010 (UTC)
Iron Daisy?
Edit
Did Daisy fail to qualify for Series 4 as Iron Daisy? Madlooney6 20:33, April 26, 2012 (UTC)

That's what I thought too but we should find some evidence first. Badnik96 23:39, April 26, 2012 (UTC)
Your logic makes sense.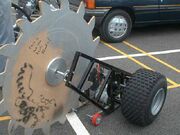 Why would the Daisy Chopper team enter with two robots. What about the other version of Daisy chopper though?
However, Iron Daisy might just be a up graded Daisy.
Sam (BAZINGA) 09:17, May 24, 2012 (UTC)
Invertible?
Edit
Daisy looks like it was invertible to me, does any one else think this? I'm asking this as it might have been a good fighter if it was invertible. Madlooney6 10:28, May 22, 2012 (UTC)
Community content is available under
CC-BY-SA
unless otherwise noted.