Bee-Capitator team
Edit
I have a theory that the Hodaf the Bad and Bee-Capitator should be listed as coming from the same team. Not only are both robots from Barnsley in South Yorkshire, but they BOTH have a captain called John Nicholson!
Now, I know there have been some bizarre coincidences in Robot Wars history before, as a trip to the "Did you know?" page will show, but I find it hard to believe that the only two robots to come from Barnsley both had captains with the same name, especially considering that Hodaf the Bad entered only two years after Bee-Capitator.
Can anyone confirm or disprove this? Drop Zone mk2 (talk) 12:57, April 8, 2015 (UTC)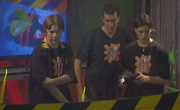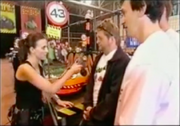 Well, here are the teams, as best as I could get from the YouTube videos, personally I'm not sure... Combatwombat555 (talk) 19:00, April 8, 2015 (UTC)

It's possible that the man with the black hair is John. But it would be strange that he'd be named captain, since he didn't talk in the S7 interview, and didn't drive either robot. Because of the ambiguity, and because Demon isn't considered to be part of Team Wild Thing, I'm not prepared to designate them as part of the same team. R

A

2

;

aka Resetti's Replicas.

(

My Talk

) 00:47, April 9, 2015 (UTC)

I asked Tyrone Ellis about this on Facebook, this is the reply he gave me
"John worked for barnsley collage and built bee with the students. Following year joined us to build hodaf"
— Tyrone Ellis on Facebook
Drop Zone mk2 (talk) 18:34, December 9, 2017 (UTC)
Crazy Coupe 88
Edit
I was wondering if the Tyrone Ellis in this team is the same one who was captain of the Crazy Coupe 88 team. Both robots are from Barnsley, and I think the person with the ginger beard who did the interview for Hodaf the Bad might actually be Tyrone Ellis. I know the Team Captain is usually the one interviewed, but sometimes the driver was the focus of the pre-battle interview; Ian Lockhart of Ewe 2, Ian Watts of Bigger Brother, Mark Pepper of The Sta. Drop Zone mk2 (talk) 08:26, September 12, 2016 (UTC)
I could believe it, I wish the team had a Facebook page. I think Tyrone might be in the RW Facebook group but not sure. ToastUltimatum 09:17, September 12, 2016 (UTC)

It's certainly possible, but I feel that if they were capable of building Hodaf so many years ago, Crazy Coupe wouldn't have looked like such a novice robot.

Toon Ganondorf

(t

c)

09:52, September 12, 2016 (UTC)

I reached out to Tyrone, he confirmed the link between Hodaf and CC88, AND gave details of three robots the team failed to qualify with. I know Tyrone wasn't the team captain of Hodaf but it sounds like he had a building role on every robot, so I'm going to list Hodaf and CC within the same series record. Source: [1] ToastUltimatum 20:06, September 14, 2016 (UTC)
First one was called ISM hydraulic jaws verticle second was X box twin hydraulic jaws one verticle one horizontal bigfish was the third axe tail spinning drum wedge invert able
This was Ellis' description of the robots which failed to qualify for Series 4, 5 and 6 in sequence. ToastUltimatum 20:07, September 14, 2016 (UTC)
Community content is available under
CC-BY-SA
unless otherwise noted.