If we are having this article, then what should be the layout? ManUCrazy 20:43, January 11, 2010 (UTC)
Ok, sorted it out more or less for now. ManUCrazy 23:21, January 11, 2010 (UTC)
The article is good so far, but maybe we should think about splitting it up into separate articles. We already have a page for the video games but I'm thinking it would be a good idea to create pages for the other sections and link to them on this page. What do you guys think? Christophee (talk) 13:11, January 13, 2010 (UTC)
The books seem to be getting their own pages and the toys, that leaves VCRs etc. Also what do people think should go on the book pages? I'm thinking Contents of the book, list the robots included and other info. Also "Mistakes" as the books have quite a few. Llamaman201 (talk) 18:19, January 13, 2010 (UTC)
There were a couple of mistakes in the main guide, saying that SMIDSY lost in round 2 to Dreadnaut, and that Spawn of Scutter won the pinall. Any other mistakes?Deadbotuliza 18:32, January 13, 2010 (UTC)
S3 apparently entered with Triterobot, the old Kronic is Wedgehog idea, but this isn't the place to list faults, its the books talk pages. Llamaman201 (talk) 18:34, January 13, 2010 (UTC)
Battlebots
Edit
Are we evetually going to include Battlebots toys for Frenzy, Killerhurtz, and The Mauler? RA2; aka Resetti's Replicas. (My Talk) 19:40, January 22, 2010 (UTC)
Maybe we can mention that they exist on the robots' pages, but I don't think they should get their own articles. Christophee (talk) 21:49, January 24, 2010 (UTC)
Everything
Edit
Are we meant to be putting literally everything that was released as Robot Wars merchandise? I mean, aside form the main ones already on the article, there were several other things such as jigsaws, stationery, etc. Is this too insignificant though? Datovidny (talk) 12:26, December 31, 2013 (UTC)
A miscellaneous page, maybe? CrashBash (talk) 13:12, December 31, 2013 (UTC)

I have pictures of a skateboard, flask, helmet, bin, lunch box, 2 different birthday cards and other miscellaneous stuff that was advertised in the second run of the magazine. Sam (BAZINGA) 13:26, December 31, 2013 (UTC)

I've even seen a Shunt beer glass. ToastUltimatum 13:46, December 31, 2013 (UTC)

That's actually a good idea, have a title of "Miscellaneous" or something, and then have a quick sentence saying "Robot Wars also expanded into various other....." or something, with a gallery underneath. That can always make it very easy to update the page when we later have a new image of a bit of merchandise. Datovidny (talk) 15:00, December 31, 2013 (UTC)
German book
Edit
The other week I came across this book from Germany. It appears to be largely about how to build your own robot but it does have a few tidbits on Robot Wars in it and some images of the robot RCC, which was apparently used as an "example" robot. —StalwartUK 10:58, March 30, 2014 (UTC)
Pullback playset?
Edit
Earlier this morning, I came across what appears to be a playset featuring two House Robot pullbacks and a host of accessories like those found on regular pullbacks. From the images and description of the aforementioned Gumtree post, it appears that the set contained:
1 Sir Killalot pullback
1 Matilda pullback
Barrels
Swinging car doors
Multi-ball release
See-saw ramp and sphere
Does anyone know the exact name for this set, or any more information surrounding its release? The Reddit post that mentioned it suggests it was pinball-themed, but I'm not too sure. VulcansHowl 10:34, April 2, 2017 (UTC)
It could well be a special Toys R Us set or one from another shop, like mentioned in this article. http://www.ebay.co.uk/itm/Collectors-Gazette-Robot-Wars-Issue-199-October-2000-/201859531881?hash=item2effc40469:g:xCcAAOSwzaJYA3O2 Nweston8 (talk) 11:28, April 2, 2017 (UTC)
More Pages For Merchandise.
Edit
I've been thinking that the Miscellaneous section is a bit cluttered, with a lot of slideshows, and a very long slideshow in the Other section. I was thinking that some of these could warrant their own page;
Clothes - We could do a page called "Robot Wars Clothing", and then add to that page as we find more.
Sticker collection and Album. This can warrant its own article. There should be a page on the Album, which can list the different sections, how many stickers were in each section, and so on. (I was actually planning to buy one as earlier this week there was a complete album on eBay. I tried to buy it, but My bid was just out of time, having tried to put in a bid just before the bidding ended. There is another one on eBay, which is part complete, which I might try to get if no-one else has a copy.}
Any piece of merchandise where a list could be written as part of the article. I was thinking this would make the Other section less full. Items like the Calendar (which contained profiles of various robots), and the Roboteer Tool Kit, could get their own pages.
What does everyone else think? Drop Zone mk2 (talk) 12:59, May 13, 2017 (UTC)
I'll quickly reply to this before I go to bed, because I meant to give my feedback on it when you first made this section, Drop Zone. Simply put, yes, I've thought similar for a while. I doubt we'd even need to be limited to just a Clothes page either, as I'm sure we can make the next three sections in Miscellaneous work as individual pages as well. It would be also be nice if we can represent the Other section properly as you say, and I don't think the requirement for having an article needs to be limited to individual items - like the Sticker Album - that have enough information to make them feel beefed up enough. Items such as the Duvet and Pillow Cover, the Clock, the Curtains, the Waste Basket, the Coasters and the Washing Kit can be placed together in a Homeware Items and Accessorises type article; the Birthday Cards, Postcards, Gift Wrap and Ties grouped together as their own article, and so on. It'd be good for us to cover where we can, and I'd be up for seeing these type of articles appear. Nweston8 (talk) 00:07, May 16, 2017 (UTC)

It's not something I'll personally be contributing to much, but I'd love to see the merchandise pages split off and expand. I didn't even know there was a Robot Wars waste basket until Nick just told me, so clearly it would help. The sticker book is particularly deserving. Drop Zone did you actually make that article for the CD-ROM containing the Robot Wars fonts etc? At 3am after the hefty process of writing Team Saint, I don't fancy checking. TOAST 01:53, May 16, 2017 (UTC)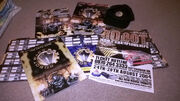 I recently bought a large lot of rare Robot Wars stuff. One of the things in the set was a Robot Wars Sticker album. It is empty, but I think I could still do a draft Robot Wars Sticker Collection article. It should be up tomorrow. Drop Zone mk2 (talk) 16:02, June 20, 2017 (UTC)
The Complete Compendium - Future DVD boxset?
Edit
Earlier this morning, I stumbled upon this Amazon listing for what appears to be an upcoming 6-disc DVD boxset relating to the reboot. No information on what specific series it will contain, but from what I can gather, it is due to be released on 16th October, has a total running time of 16 hours, and - according to the description - will include '4 Celebrity Specials'. The last part especially intrigues me - while I wouldn't be surprised if both episodes of Battle of the Stars were included, what could the other two 'specials' be? VulcansHowl 11:02, August 5, 2017 (UTC)
Ooo Looks good. I would hold back for an article for the time being (just to be sure). As for Celebrity Specials I'm a little stumped, could they be having the Series 4 one as well, deleted scenes or two others filmed outside of the Series. Or it could be a mistake.
Edit: I've seen some rumours claiming it could be both Series 9 and 10 (I find this unlikely, though not impossible) or Series 8 and 9 combined. Diotoir the son of nemesis (talk) 15:27, August 5, 2017 (UTC)
2018 VEX Robotics/Hexbug toy range
Edit
Just found out this morning that VEX Robotics will be producing a toy range based on the Robot Wars reboot for an autumn/winter 2018 release. According to the linked article, the range will be released under the Hexbug brand, and will include:
Autonomous and infra-red RC robots.
House Robots.
A replica of the Robot Wars Arena.
'Vehicles', 'play-sets' and 'construction kits'.
As far as I can tell, most of the planned toys sound similar to those from Hexbug's current BattleBots range, but the 'autonomous robots' idea seems especially intriguing. VulcansHowl 10:50, September 12, 2017 (UTC)
New Merch images
Edit
The Complete Compendium 2017 has released an image of the product and there's also the new Calendar! https://www.amazon.co.uk/Robot-Wars-Complete-Compendium-2017/dp/B074BP3V7Q/ref=sr_1_13?ie=UTF8&qid=1511726038&sr=8-13&keywords=robot+wars
https://www.amazon.co.uk/Robot-Wars-Official-2018-Calendar/dp/178549533X/ref=sr_1_6?ie=UTF8&qid=1511726038&sr=8-6&keywords=robot+wars
Diotoir the son of nemesis (talk) 19:56, November 26, 2017 (UTC)
Looks like The Complete Compendium 2017 has been released; this image confirms that the discs contain Series 9-10 and Battle of the Stars. VulcansHowl 22:22, December 11, 2017 (UTC)
Demand Media Construction Sets + First Aid Kits
Edit
Earlier today, I came across a range of Meccano-style construction sets made by Demand Media; the sets are based on Sir Killalot, Shunt, Matilda and Dead Metal respectively. The same company also appears to be producing Robot Wars-branded first-aid kits and tins of plasters - quite unusual choices for licensed products, I have to say, but very encouraging to see more forms of merchandise appearing for the reboot. VulcansHowl 22:31, February 20, 2018 (UTC)
Interesting that they're using the Preboot versions of the House Robots. Jimlaad43(talk) 23:03, February 20, 2018 (UTC)

Then again, the statistics listed on each set's page are those of the rebooted versions. I can expect that the images used on the boxes are of prototype versions of each set, or possibly hint towards an ability to create either version of each House Robot - looking again at the Dead Metal set, the proportions of the set's pincers appear to be closer to that of the rebooted version than the Series 3-7 version. VulcansHowl 23:10, February 20, 2018 (UTC)
A year and a half later, and I'd now be more than happy to buy a Robot Wars First Aid Kit, so I've sent an email to Demand Media to see if these items are available for purchase. It would make sense, considering the Construction Sets finally came to light not long ago. TOAST 22:32, September 6, 2019 (UTC)
GOOD NEWS!
Edit
Some good news, give or take, but it seem the toys maybe taking the Battlebots approach by maybe still going ahead with toy released after the cancellation. https://www.licensing.biz/entertainment/robot-wars-storms-into-gifting-following-new-demand-media-partnership Diotoir the son of nemesis (talk) 09:47, March 23, 2018 (UTC)
HEXBUG Reveal
Edit
I'm guessing everyone's seen the good news: https://twitter.com/HEXBUGUK/status/996299241378152448 I'm convinced that that's an arena and three House Robots :D Diotoir the son of nemesis (talk) 12:21, May 15, 2018 (UTC)
The new merchandise revealed!
Edit
These are going to need articles, although I may be too busy to help this week. Make sure to have a look at the new Robot Wars merchandise, it will be brilliant to have a Robot Wars equivalent to the excellent Hexbug BattleBots toys, although seeing Robot Wars represented by original designs instead of real robots is a big pity.
https://www.smythstoys.com/uk/en-gb/toys/construction-and-cars/hexbug/hexbug-robot-wars-arena/p/167862
https://www.smythstoys.com/uk/en-gb/toys/construction-and-cars/hexbug/hexbug-robot-wars-house-robot-matilda/p/167860
https://www.smythstoys.com/uk/en-gb/toys/construction-and-cars/hexbug/hexbug-robot-wars-head-to-head/p/167861
https://www.smythstoys.com/uk/en-gb/toys/construction-and-cars/hexbug/hexbug-robot-wars-singles-accessories/p/167849
TOAST 17:23, June 18, 2018 (UTC)
I was kinda hoping for the other House Robots, this honestly isn't as exciting as Battlebots but I will be anticipating nonetheless.Diotoir the son of nemesis (talk) 17:58, June 18, 2018 (UTC)
Tool belt bag and toiletries set
Edit
https://www.ebay.co.uk/itm/Robot-Wars-Tool-Belt-Bag-Toiltries-Set-Original-unused-collectors-item/183311124496?hash=item2aae31c810:g:ARMAAOSwc15bP4lq This useful? Sam (BAZINGA) 21:27, July 7, 2018 (UTC)
Programmes + Club Newsletters
Edit
Based on recent wiki activity I started to wonder how many of these things there actually are. I currently possess the following (all via eBay and all in good condition):
Official Souvenir Programme (Robot Wars Live Event)
Official Souvenir Programme: The Fifth Wars (Series 5)
Official Souvenir Programme 2002 (Extreme Warriors Season 2 + Nickelodeon)
Series VI UK and International Programme (Series 6 + Dutch Series 2)
Robot Wars Programme October 2002 (Extreme Series 2)
Robot Wars: The Seventh Wars (Series 7)
Haven't seen any evidence of any earlier ones and presumably none exist of the reboot, so it would appear I have the full set.
Also I wonder how many of the Club Newsletters were produced, curiously the two I have are both labeled "Volume 4 Issue 3" even though the contents and cover are totally different. StalwartUK 22:32, August 7, 2018 (UTC)
Out of nowhere, House Robot Construction Sets!
Edit
So, who remembers those four Meccano-style House Robot construction sets that were announced nearly two years ago, with a release date of late 2018. Well that never happened, so I think we were all right to assume the cancellation of the show had binned these off... but apparently not! Today I saw a post on Reddit which showed that someone had managed to purchase all four of these construction kits, and sure enough here is an online listing for Matilda, with the other three found further down the page! I've ordered all four (RIP £100) so provided this isn't some complicated hoax, I'll aim to get some articles started after they arrive! What next, do we get the cancelled reboot Forces Special?* TOAST 14:06, August 30, 2019 (UTC) joke credit: NJGW
Community content is available under
CC-BY-SA
unless otherwise noted.