"With two spikes to rake as it spins on a 1-metre circle in 4-wheel drive, though can turn surer than that in 2-wheel configuration! Wheelchair motors, with a mechancial brake costing £30 out of the total 500. It took 3 months to build"
— Jonathan Pearce introduces Talos
Talos was a brown box-wedge shaped robot that competed exclusively in Series 2 of Robot Wars, entered by a team who all worked in the automation department of Hima-Sella Ltd. Talos reached the arena stage of its heat, after managing to pit House Robot Dead Metal in the Gauntlet stage, but was then defeated by the eventual Heat winner G.B.H. in the Arena Semi-Final.
Design
[
]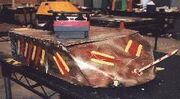 The robot had four-wheel drive in its complete setup and was armed with two spikes as weapons, however a single, larger lance could also be added. The team had intended to arm Talos with a pneumatic actuator fitted with a spike, but they could not add it to the robot without pushing it over the weight limit, so instead opted for the static spikes[1]. The chassis was made from steam pipe, which was robust, but heavy, which led to the team not having enough weight to fit an active weapon on the robot.
The robot had two 24 Volt wheelchair motors, sourced from a local supplier, and the speed controllers were made by team member James Hibbert. It was powered by two 12 Volt batteries, giving the robot a top speed of 5mph. The robot's radio control system was lent to the team by their employers, Hima-Sella Ltd.
"I think they were taking a risk hoping to get it back in one piece!"
— The Talos website on Him-Sella Ltd lending the team the radio control system
It had a 1m turning circle but it could turn on the spot in its alternative two-wheel configuration, while its four-wheel configuration was used for higher pushing power. Its took 3 months to build and the robot cost over £500 altogether. It used belt drive, and could alter between high speed and low torque and vice versa.
For the Arena Semi-Final stage, Talos gained extra 'war paint', and a new front lance, to celebrate its success[2].
However, Talos had a high ground clearance of 40mm, and no srimech, which ultimately let to its defeat in the Arena stage.
Etymology
[
]
In Greek mythology, Talos was also the name of a Bronze giant created by Hephaestus, the God of Fire and Forge, to protect the island of Crete from invaders.
The Team
[
]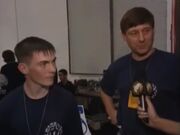 "How do you make a robot ? None of the team had any experience of making a robot but we all have a lot of expertise with radio control systems as that is the work that we do every day at Hima-Sella Ltd,. (Making and supplying  industrial radio control systems for Locomotives, cranes and mechanical handling equipment.)"
— The Talos website on the team[3]
Talos was entered by a team from Oldham in Greater Manchester, who all worked in the Automation department of Hima-Sella Ltd. The team captain was Iain Wilkinson, with James Hibbert and Mike Luke also being part of the team, though James Hibbert was absent from the filming of Talos' only appearance. Mike Luke drove the robot.
Qualification
[
]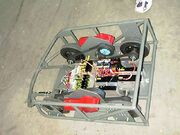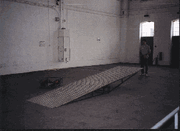 The team were only able to get Talos working for the auditions by working up to midnight the night before the auditions. It attended the auditions with no weaponry and no armour. The team decided to add a castor wheel to the front to aid manoeuvrability. After being inspected for safety and having a driving test, it was selected for the Second Wars.
"After inspection and having a wander about looking at other competitors robots we decided on an addition to the robot. We had great trouble in manoeuvring TALOS with 4 wheels, there was a lot of friction to overcome in trying to turn on the spot. It was decided that in place of two front wheels to fit a castor wheel to make turning easier. We kept the facility for 4 wheel drive for better grip because we found out that one of our events was to be the Tug of war."
— The Talos website on adding a castor wheel[4]
The team intended to build Talos 2 for Series 4, but it is unknown if the robot was ever completed.
Robot History
[
]
Series 2
[
]
"TALOS was in action on the 22 January 1999. The filming of the event took place over 4 days, but in those 4 days 5 other shows were filmed as well. It was an enjoyable experience if not a little weird,it felt like we were in an unreal world for 4 days."
— Talos website on the filming of Series 2[5]
Talos participated in Heat J of the Second Wars. In the Gauntlet stage of the heat, Talos took the left route.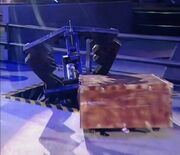 Talos used its two-wheel drive to push its way through the barrels, but drove onto an arena spike, which lifted it up and down, and Matilda came over to block it, pushing it back past the barrels. As Matilda raised her tusks, Talos reversed into Matilda, and when Matilda tried pushing it, Talos turned, getting around Matilda, but drove into the fence as it tried pushing past the barrels.
"Oh tusk, tusk Matilda, you've let Talos get away, but only into the barrels"
— Jonathan Pearce as Talos gets past Matilda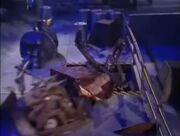 Dead Metal came over, pushing past the barrels, which allowed Talos to get free and drive past him. Talos sped down the route, pushing a barrel, but Shunt came over to block it, ramming it with his plough. Shunt turned away for another attack, allowing Talos to make some more progress, but Dead Metal drove down the course, and Shunt blocked Talos with his plough. Dead Metal got his arms around Talos, pinning it between the wall and Shunt, but as it reversed, Talos turned away from the wall and pushed him into the pit. However, as it pushed, its front wheels became stuck in the edge of the pit. Shunt got one side and axed it, whilst Matilda got behind it and cut into it with her chainsaw.
"It was a little shove from Talos, and only the pincers remain! That's splendid stuff. And the House Robots don't like it! Shunt, and Matilda in there as well. Oh dear! It's a chilly time for Talos - ice and a slice! What it needs is a bit of "spin and tonic" to get away! It's not going to get away! The House Robots are gonna make sure it's stuck at the bar!"
— Jonathan Pearce as Talos pits Dead Metal, but is then attacked by Shunt and Matilda
The House Robots continued to attack until time ran out. Talos had covered 6.5m, placing it third on the leaderboard, enough for it to progress to the Trial.
Craig Charles: "Well, Shunt and Matilda did not like you putting their mate down the pit, did they?"
Mike Luke: "Not at all, no!"
Craig Charles: "I mean, I think Matilda's living proof that robots get PMT - Post Mechanical Tension! They cut you up pretty badly, didn't they?"
Iain Wilkinson: "We've got a few repairs to do, but we'll be back!"
— Post-Gauntlet interview
The Trial was to the Tug of War in this Heat, so Talos switched to its four-wheel drive for extra pulling ability[6].
"Talos, the wheelchair motors, the 24 Volt battery system, powered on four-wheel drive - needs it now!"
— Jonathan Pearce at the beginning of Talos' Tug of War attempt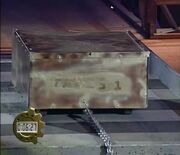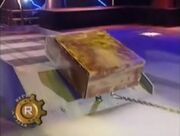 At the start, as both robots pulled on the chain, Matilda had the advantage, dragging Talos towards the pit, but Talos managed to get enough momentum to prevent being dragged to the edge. Matilda pulled Talos back again, but Talos resisted and pulled Matilda back. Matilda got an advantage again, but Talos managed to drag her back. With one last concerted drive, Matilda was able to pull Talos into the pit. Talos had lasted 21.47 seconds, which was again good enough for third, and so Talos progressed to the Arena Semi-Final.
"...we thought we had a good chance of holding our own with her but it was not to be, but we held on long enough to qualify for the semi-final stage."
— Talos website on Talos' performance in the Tug of War
In the Heat Semi-Final, Talos was drawn up against Series 1 veterans the On-the-edge Team with G.B.H., armed with a flipping scoop. Talos was armed with the lance weapon for this battle instead of the spikes.
"Myself and Mike were both extremely pleased to get to this stage, and could not believe we had got so far. We were drawn against GBH with whom we had been sharing a table in the pits."
— Iain Wilkinson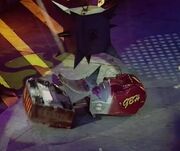 At the start, both competitors drove towards each other, but Talos stopped and turned around on the spot.
"Key features here; G.B.H. is more powerful, and I think Talos has too much space underneath the body there!"
— Jonathan Pearce in the early moments of the battle
As G.B.H. got close, Talos hit the front scoop with its lance, but as it tried driving past, it drove onto the scoop, allowing G.B.H. to lift it up. G.B.H. tried to push Talos to turn it over, but as its turned, Talos fell off the scoop. Talos drove forwards a little, but reversed and turned, driving straight onto G.B.H.'s scoop, allowing it to easily lift it up, then push it over onto its back.
"...and Talos, vulnerable and flipped, and over, and out!"
— Jonathan Pearce as G.B.H. turns Talos over
With no srimech, it couldn't self-right, so it was declared immobilised.
"We knew we had to stay away from the lifting arm of GBH but unfortunately that is exactly what we did not do and within a minute of the contest we had been well and truly flipped !! Well done to GBH, mind you they were experienced as they had entered a robot in the first series."
— Iain Wilkinson
Talos was therefore eliminated, and G.B.H. went on to the Heat Final
Craig Charles: "How do you feel about that then, young Talos?"
Mike Luke: "We were overpowered, I think. Didn't have enough weapons."
Craig Charles: "Have you enjoyed it on Robot Wars?"
Mike Luke: "Yeah, it was excellent, yeah"
Craig Charles: "You come back for the next wars, will ya? Hopefully with a bigger, better, stronger robot!"
Mike Luke: "Yeah, definitely!"
— Post-battle interview
After the battle, the disappointed Talos team admitted to Philippa Forrester that they did not think G.B.H. could turn it over.
Mike Luke: "Didn't think it were strong enough to flip us, no."
Iain Wilkinson: "No, 'cause they were having trouble with the lifting arm, so we thought "There's not much chance of them lifting us" but obviously we were wrong!"
— The Talos team to Philippa Forrester after the battle
Results
[
]
Wins/Losses
[
]
NOTE: Talos' successful Gauntlet and Trial runs are not included
Series Record
[
]
References
[
]
External Links
[
]