Tango was a heavyweight robot developed by Team Panoramic, which was intended to enter Series 9 of Robot Wars. However, its application to compete in the series was declined, as there was no evidence to suggest the robot would be completed in time.
On April 29th 2017, Team Panoramic confirmed they did not enter Tango for Series 10 due to the limited timeframe of the application process.
Design
[
]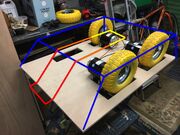 Tango is a four-wheel driven, invertible wedged box-shaped robot, with four motors powering each wheel. Its weapon was planned to be an electric lifting arm for the sake of taking an active weapon into the series, but after Tango was not selected to compete on the show, it continued to fight as a weaponless wedge.
Series Record
[
]
Outside Robot Wars
[
]
In Spring 2018, following the BBC's cancellation of the Robot Wars reboot, Team Panoramic announced that Tango would be converted into into a pushing robot for live events.[1] Tango would make its robot combat debut in April at the Extreme Robots event in Manchester, and would subsequently reappear at the Robots Live! event in Burgess Hill later the same month. The robot's most recent appearance came in September 2019, where it attended the Robots Live! Stevenage event and the concurrently-held FRA UK Championship. Although eliminated in the first round of the main competition, Tango performed strongly in at least one whiteboard battle, surviving to a judges' decision alongside eventual winner Gabriel.
More recently, Tango appeared as a static display at Robonerd 2021,[2] before making its final appearance in combat at the Robots Live! Crawley event during the same year. Team Panoramic stated that the robot would be passed on to a new owner and replaced by a new machine for 2022.[3]
Prior to Tango's debut, Team Panoramic also built and competed at live events with a variety of robots in the featherweight, antweight and fleaweight categories. These have included AtmosFear, a four-wheeled featherweight rammer, Why Do I Hurt All Over?!?!, an antweight vertical spinner, and uh, a sit-and-spin fleaweight inspired by Nuts.
Team Panoramic have also built several robots after Tango's debut across lower weight categories. Most notably Air Maxx, a featherweight vertical disc spinner, several beetleweights including Let's Dance, Friendface, AtmosFear (recycled name from the featherweight), SASA LELE & The Joe Brown 4DX Motion Theatre Experience. They have also accepted and are accepting antweight commissions via their service Panoramic Creations.
References
[
]
External Links
[
]