Team 101 was a group of roboteers that entered Series 2-6 of Robot Wars and the first series of Robot Wars Extreme with three different robots.
The team consisted of Mike Franklin, the team captain, Jason Smith and Paul Johnson. Mike was joined by his young daughter Amy in Series 3, along with Johnson, who was uncredited on the show. In Extreme 1, Steve Bickle joined the team to fill the place previous held by Johnson.
The team fought with three very different robots. Unusually, none of these robots used wheels for locomotion.
Their original tracked entry, Robo Doc, was built by Paul Johnson, and reached the Arena stage in Series 2 before losing to King Buxton, starting the team's rivalry with the latter. Robo Doc was entered by Mike Franklin with work colleagues of his from R Griggs & Co, who sponsored the robot.
"We all work for R Griggs & Co. makers of the famous Dr Martens footwear. I run the engineering components division, here we make all manner of special machines and machine components. As the prospective team captain I have a background of experimental engineering having worked on many different projects including gas turbines and lasers. I am also a keen modeler with skills in electronics and model building. The rest of the team all work in the same department, all being skilled toolmakers."
— Mike Franklin on the Robo Doc website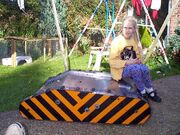 The remaining two machines were built by Mike Franklin, with the tracked 101 entering Series 3-5 and Extreme 1.
"Unfortunately we were knocked out in the show semi final by King Buxton (a great little robot) and the company lost interest in sponsoring another entry in Series III. So I had to build my robot at home ... My thanks must go to Paul Johnson who joined the team at filming to help with the repairs and running of the robot."
— Mike Franklin on the Team 101 website
101 was notable for being built from a few pounds worth of new material and a lot of scrounged metal, and reached the Semi-Finals in Series 3. Franklin invented the automatic retracting spike system for 101.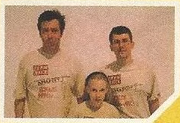 After 101's brutal defeat against Fluffy in Series 5, it was retired and replaced with Anarchy, a powerful and highly engineered walkerbot built with help from team member Steve Bickle. Anarchy reached the Heat Final in Series 6, and Franklin's engineering skills were recognised when it received the Best Engineered Award in the same series.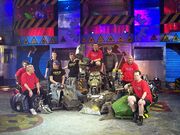 At one time during the original series, Mike Franklin became a house roboteer, controlling Refbot.[1] Franklin was notably behind the controls of Refbot when it drove into the pit while Raging Reality fought Tetanus 2, and during the battle between Refbot and Sgt. Bash in the New Blood Championship.
Team 101 did enter Series 7, but due to Mike Franklin working for the Robot Wars production crew, he was not allowed to compete and work on the show, so he chose to withdraw.
"I was entered in the 7th series, but was then told I could not work on the show and compete, so gave up my place. Then the budget was reduced and the crew. So ended not working on the show either. After that was to busy working, along with 4 young children, so no free time."
— Mike Franklin on Facebook[2]
Team 101 stated that they were interested in applying for the Series 8 of Robot Wars with Anarchy. However, with the weight limit for walkerbots now reduced from 200kg to 135kg, the revised limit meant that Anarchy would now be too heavy to compete.
Super Bunny
Edit
Amy Franklin sported a small plush bunny toy, nicknamed Super Bunny. The toy quickly became the mascot of Team 101, and was often referred to by Jonathan Pearce and Craig Charles.
During the First World Championship, prior to the battle with Weld-Dor, Superbunny was spotted tied down to the outer of 101. Horrified, Philippa Forrester asked little Amy what she was doing to the toy she had owned for 9 years. Amy replied indifferently, wanting to see her bunny chopped in half, and explained that it was her father's fault for wanting to crucify Superbunny.
"She's going to die!"
— Amy Franklin's indifferent answer to the sacrifice of Superbunny
During the battle, however, Superbunny was seen in Amy's hands, safe within the booth.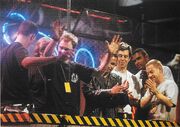 Team 101 had a long-standing rivalry with the King Buxton team, having first fought against them in both the second and third series. King Buxton defeated the team's original machine, Robo Doc, in Series 2, with Team 101 earning revenge in the following series by defeating King Buxton in the Heat Final with 101.
"Well that was for Robo Doc! ... Revenge is sweet!"
— Mike Franklin after defeating King Buxton in Series 3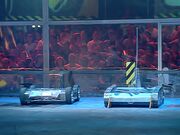 Julia Reed: "Of all the robots in Robot Wars, I can't believe these two have paired up..I thought they were sworn enemies."
Mike Franklin: "Well we are in the arena, but in the end of the day, we've got mutual respect for each other's robot - they've got a good robot, we've got a good robot, so we decided that we'll go do some damage to some others now."
Julia Reed: "But not to each other."
Mike Franklin: "Well possibly."
— Pre-Tag Team talk with Julia Reed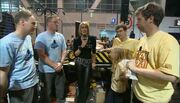 The two teams put this rivalry behind them when they paired up for - and won - the Series 4 Tag Team Terror competition. In the final, 101 and King B3 celebrated their victory by battling each other in the arena, somewhat rekindling the grudge. In Extreme Series 1, 101 and King B Powerworks re-entered the Tag Team Terror as reigning co-champions, but were eliminated in the first round after King B Powerworks went 'berserk' following a malfunction, and their opponents, Mega Morg and Diotoir, won the subsequent judges' decision. In the aftermath, both the 101 and King B teams blamed each other for their Tag Team loss, and a Vengeance battle was staged for them to settle the grudge once again. There, 101 won the battle after King B Powerworks malfunctioned again, and the King B team admitted that 101 was the 'superior' robot.
Following their Extreme 1 Vengeance battle, Team 101 and the King B team promised to continue their Tag Team partnership. However, neither team participated in Extreme 2, so were unable to do so.
| Name | Weight Class | Series |
| --- | --- | --- |
| Robo Doc | Heavyweight | Series 2 |
| 101 | Heavyweight | Series 3-5, Extreme 1 |
| Anarchy | Heavyweight | Series 6 |
Wins/Losses
Edit
Series Record
Edit
Outside Robot Wars
Edit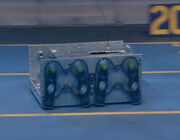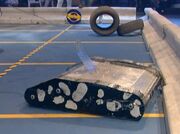 Like many other Robot Wars teams, Team 101 entered several series of the spin-off show, Techno Games, with various machines built for different events. They initially entered the Battery Sprint in the 2000 edition with the eight-legged walkerbot, Scuttle, which was disqualified after most of its legs broke off during its first-round run against Waddle. Featuring a similar design and walking mechanism to Anarchy, Scuttle would go on to win gold in the Battery/Lightweight Sprint at the 2001, 2002 and 2003 editions of Techno Games. A weaponless version of Anarchy, called Scuttle B², also entered and won the Heavyweight Sprint competition at Techno Games 2002 and 2003.
In addition to their walkerbots, Team 101 also entered a largely unchanged version of 101, named Transpower, into the Assault Course at Techno Games 2002. There, it won its heat against Mighty Mouse, but was disqualified in the quarter-finals after impeding the progress of Bugs Buggy.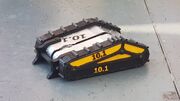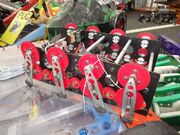 In September 2018, the original Scuttle reappeared at the first RoboNerd meet in September 2018, organised by Team B, appearing alongside Robo Doc. This also prompted Mike Franklin to plan a beetleweight replica of 101 named 10.1, in order to challenge Team B and their planned beetleweight King BtL. Both robots came to fruition in time for the event, with 10.1 sporting faithful tracks, and an active pickaxe weapon. 10.1 defeated King BtL in their head-to-head[3], and both robots fought in various melees throughout the day. Mike Franklin also brought Scuttle to the event.
External Links
Edit
References
Edit
↑ http://www.nottinghampost.com/pictures/Robot-Wars-filmed-Nottinghamshire/pictures-28529668-detail/pictures.html#12
↑ https://m.facebook.com/comment/replies/?ctoken=934499296749314_934536590078918&ft_ent_identifier=934499296749314&gfid=AQBwFiAj5TAyPVhn&notif_t=group_comment_mention&notif_id=1543100924790936&ref=m_notif
Community content is available under
CC-BY-SA
unless otherwise noted.