"The team works at weekends and evenings each member has a specialist skill such as electronics, metal working or design. It's a formidable combination and the team has high hopes that its creation will crush all opposition come the new series!"
— BBC Education - See Hear website on Team Berserk
Team Berserk was a team from Huddersfield that competed in four series of Robot Wars.
The Team
[
]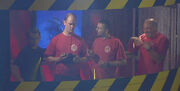 The team consisted of Stuart Ford and his two friends Christopher O'Connell and Graham Kershaw.
The team first entered the Series 2 Super Heavyweight Championship with Berserk, before entering the main championships of Series 3 and 4 with Berserk 2. Their Series 3 run was memorable in that it was the first opponent to withstand Hypno-Disc's flywheel. They entered Twister in Series 5, but the robot failed to qualify for Series 6.
Team Berserk were notable in that three of the four team members were deaf, communicating in sign language. This allowed the team to have one extra team member to act as a translator. This role was fulfilled by Graham's son Martin Kershaw across all four series the team competed in, although he was rarely credited in the team statistics.
Robots
[
]
| Name | Weight Class | Series |
| --- | --- | --- |
| Berserk | Super Heavyweight | Series 2 |
| Berserk 2 | Heavyweight | Series 3-4 |
| Twister | Heavyweight | Series 5 |
Wins/Losses
[
]
Series Record
[
]
Trivia
[
]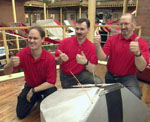 Team Berserk were interviewed on the 13th March, 1999 edition of See Hear on Saturday, a magazine program dedicated to deaf and hard-of-hearing viewers.[1]

Interestingly, when asked about whether being deaf was a problem when appearing on the show, Stuart Ford stated the only issue was that the producers did not bring in an interpreter because they wrongfully assumed interpreters performed their duties free of charge. This led to Martin Kershaw stepping in to fulfil the role.
References
[
]

This Robot Wars related article is a stub. You can help Robot Wars Wiki by expanding it.