Team Big Cheese was a relatively successful team that competed in several series of Robot Wars. They fought across four wars and one Extreme reaching two Semi-Finals and two Heat Finals. They entered three Heavyweight robots, The Mule which made the Heat Final but also won Best Engineered Robot in Series 2, The Big Cheese which also reached the Heat Final before losing to eventual champions Chaos 2, and finally Wheely Big Cheese, their most well known robot that, aside from making two Semi-Finals, was famed for its flipper which made up most of the machine.
Team Big Cheese can also claim to be responsible for both the highest and furthest OotA seen on Robot Wars, using Wheely Big Cheese to flip Axe Awe out from the middle of the Arena in the heats of the Fifth Wars.
As well as The Mule winning the Best Engineered Award for the Second Wars, The Big Cheese was nominated for the same award the following series, however it lost to the robot that also beat it in the main competition, Chaos 2.
Roger Plant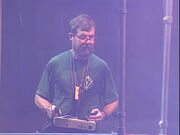 Roger Plant was the man at the heart of Team Big Cheese, entering The Mule by himself in the Second Wars. He is a very experienced engineer, having travelled the world with the RAF and worked with explosives in the depths of the sea. He remained team captain throughout Team Big Cheese's appearances, when he was joined by John McGugan and Paul Otten. Paul Otten left the team for Extreme 1/Series 5, and was replaced by Murray Wharf.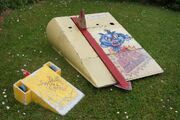 Team Big Cheese didn't compete after Series 5, likely due to the costs of keeping the robots going. Roger Plant then sold all of the machines from Team Big Cheese shortly after Robot Wars finished. The Series 5 Wheely Big Cheese model was bought by Team Xbotz. The Series 4 model, after having a series of new owners, was bought by Team Hydra in September 2008, and has since been is the process of reconstruction to return to fighting form. The Mule was sold on eBay by a currently unknown buyer. The Big Cheese was also sold on eBay to an unknown buyer for £500, but has since been sold to Joseph Prophet, again across eBay, for only £50. Prophet has since rebuilt The Big Cheese, and has formed Team ThunderCheese. Prophet built a new featherweight called Small Cheese, and has competed with this new robot at the new Robot Wars live events, whilst The Big Cheese has been used as a display model.
Robots
Wins/Losses
Series Record
Honours