Team Carbide is a roboteering team, the champions of Series 9, and runners-up in Series 8 and 10. Comprising of Dave Moulds, veteran roboteer Sam Smith and, originally Sheryl Prior, the three competed together as Team Carbide for the first time in Series 8 of Robot Wars, with Moulds and Smith returning for Series 9 and Series 10.
Although Series 8 marked Team Carbide's collective debut, Sam Smith had been competing in Robot Wars since Series 4. Their most famous robot is Series 9 champion Carbide, co-designed and built by Moulds and Smith, which also finished second in Series 8 and Series 10.
The Team
[
]
"The team have rated their chances of winning [Series 8] as 10 out of 10. Team mates David and Sam are both very experienced amateur fighting robot builders – who until now have always competed on opposing robot teams."
— Official Robot Wars website[1]
Dave Moulds
[
]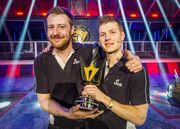 Dave Moulds was the captain of Team Carbide in Series 8 and 9, and was also the driver of Carbide. By trade, Moulds is a robotics engineer for Cadbury, and is local to Derby. Dave Moulds entered the televised roboteering scene as a member of Team Hurtz in BattleBots, and originally built his own robot Turbulence, which became the UK champion in the 2006 live circuit. Turbulence would later win the 2016 pilot under ownership of a new team.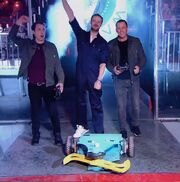 Dave Moulds was specifically chosen to be a mentor in Robot Wars: Battle of the Stars. He joined BBC Radio 1 DJ's Scott Mills and Chris Stark to compete with Arena Cleaner, a robot which was similar in design to Carbide. Moulds repaired Arena Cleaner when necessary, and eventually the team won the episode.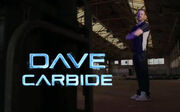 "The fights that we win aren't always the best fights, are they? I think you can have an absolutely brilliant fight once you lose, and you actually learn more from it. Obviously, winning's great, but for us, we always want to keep developing the machine, making it as good as we can, and the more we learn going throughout the competition, the more fun it is!"
— Dave Moulds to Haynes Manuals on the mentality of Team Carbide
Sam Smith
[
]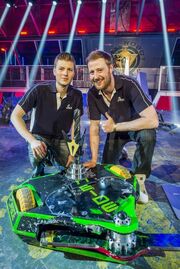 In Team Carbide, Sam Smith operates Carbide's weapon, having co-built and designed the robot, and would later become team captain in Series 10. By trade, he is an aerospace engineer for Rolls Royce, and is also a featherweight roboteer in his own right. Sam Smith's position as captain in Series 10 came into effect in order to raise awareness of the equal workload that both team members contributed to Carbide, and offer equal screen-time to both team members.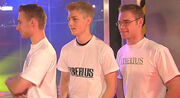 Sam Smith had previously competed on Robot Wars with his robot Tiberius, which debuted in Series 4, before returning to Series 5 as Tiberius 2, and Tiberius 3 competed in Series 6-7 and Extreme 2. Smith's team represented Loughborough University when they won the University Challenge in Extreme 2. Tiberius' other team members included Sam Smith's father Stuart Smith, Simon Coulthard, who Sam Smith studied at college with, Simon's father John Coulthard, Craig Lawson and Carl Lawson.
"Dave likes making things simple and easily maintained, Sam sometimes makes things complicated by optimisation, eventually we come to an agreement and meet in the middle."
— Dave Moulds on the thought processes of himself and Sam Smith[2]
Sheryl Prior
[
]
Sheryl Prior is an accountant by trade. The television show defines Prior's role as the team's tactician, although the Robot Wars website refers to her merely as 'moral support' and 'tea making'[3]. She did not return for Series 9 or 10.
Robots
[
]
| Name | Weight Class | Series |
| --- | --- | --- |
| Carbide | Heavyweight | Series 8-10 |
| Tiberius | Heavyweight | Series 4-7, Extreme 2 |
NOTE: Tiberius was entered only by Sam Smith, and has no connection to Dave Moulds or Sheryl Prior.
Wins/Losses
[
]
NOTE: This wins/losses ratio includes the performance of Carbide and Tiberius, and excludes the performances of Arena Cleaner and Turbulence
Series Record
[
]
NOTE: Dave Moulds also competed in Battle of the Stars as mentor for Episode 1 champion Arena Cleaner.
Outside Robot Wars
[
]
Dave Moulds has also participated in ABC's rebooted series of BattleBots, both as part of Team Carbide and with different teams. In Season 1, he joined Team Robo Challenge when they attempted to enter with Beta, although Beta could not compete due to some of its parts being lost in transit.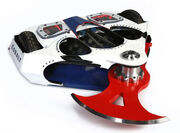 At around the same time that Team Carbide developed Carbide for Robot Wars, they also produced a heavyweight for the 2016 season of BattleBots, Cobalt. Cobalt features an almost-identical shape and design to Carbide, but features different armour and internals, and is armed with an axe-like asymmetrical bar spinner instead of the symmetrical weapon Carbide uses. Additionally, it used a white, blue and red colour scheme, in contrast to Carbide's predominantly black and green finish. For BattleBots, Team Carbide featured Dave Moulds, Sam Smith, Sheryl Prior, and James Cooper. In its first battle, Cobalt was drawn against Season 1 quarter-finalist, Overhaul. Its spinner quickly reached top speed at the start, and a series of attacks on Overhaul's sides caused Cobalt to deflect away constantly. One hit and a loose set screw caused Overhaul to lose drive on one side, putting Cobalt through to the round of 32, further than Photon Storm, Team Storm's rebuilt version of Sam Smith's former heavyweight Tiberius. In the round of 32, Cobalt fought newcomer, wildcard recipient and eventual Season 2 runner-up, Bombshell. It tried to ram into Bombshell's overhead bar spinner rear-first to open up an opportunity to attack, but Bombshell's blade repeatedly cut through Cobalt's tyres, hampering its mobility. While Cobalt managed to tear one of Bombshell's side panels off, it was eventually immobilised and eliminated after Bombshell continued to damage its tyres.
Team Carbide also competed in the Chinese show This is Fighting Robots, made by the same producers behind King of Bots. The team entered with Tungsten, a heavyweight version of Sam Smith's featherweight Shard, with an additional axe weapon to accompany its powerful vertical spinner. In the first episode, Gabriel Stroud encouraged Zheng Shuang to add Tungsten to her team of robots, justifying this through Carbide's success in Robot Wars. Zheng Shuang was persuaded, and Tungsten joined the Green team. Tungsten was chosen to represent its team in a battle against Greedy Snake, Mr Hippo and Lieutenant Bam, which Dave Moulds agreed with, as Tungsten was well-equipped to defeat the drum spinner of Mr Hippo. Indeed, after Mr Hippo immobilised Greedy Snake, Tungsten then immobilised Mr Hippo. However, Lieutenant Bam delivered further attacks to the beaten Mr Hippo, and then pounded Tungsten, which had lost the use of its weapon. Ultimately, Tungsten lost the rumble to Lieutenant Bam, but it still progressed to the Tag Team round, where it partnered with Red River Hong. Although Tungsten was pitted upon its first contact with Slash Boy, it still managed to immobilise Slash Boy with the same blow, and Red River Hong was able to immobilise Saturn, before Tungsten was brought back into play to further damage Slash Boy. In its first head-to-head battle, Tungsten fought the South Korean entry Blade, and immobilised it by throwing Blade high into the air. In a four-way melee, Tungsten defeated Thunder and Lightning, Vulcan on a Judges' decision, allowing Tungsten to reach the Top 8. Tungsten faced Red River Hong in its quarter-final, and sustained damage, but eventually immobilised its opponent after throwing it around the arena. In the semi-final, Tungsten threw Shrederator Tiger Claw into the air with huge hits, until the American machine eventually became immobile due to its magnets overriding its ability to drive. In the Grand Final, Tungsten removed a wheel from Tánshè to disable half of its drive, and Tungsten ultimately won the Judges' decision, making Team Carbide the champions of This is Fighting Robots, the team's second televised championship victory.
Having been absent from the 2018 season of BattleBots due to filming clashes with This is Fighting Robots, Team Carbide converted Tungsten into a new version of Cobalt for the 2019 season of BattleBots, using a new vertical spinning disc. Andrew Kenworthy of Robo Challenge also joined the team. Tungsten fought SubZero in its first televised battle, and used its vertical spinner to inflict major damage, ripping wheels away from SubZero to secure a prompt and impressive knockout. Cobalt then caused severe damage to DUCK! in its second battle, throwing it through the air repeatedly and tearing away its entire front plough, but a collision with a seam in the floor led to Cobalt being counted out, losing the battle it had dominated until that point. Although Cobalt comfortably defeated Bombshell in its third fight to avenge a loss from its previous BattleBots appearance, Cobalt was defeated by End Game to conclude its Fight Night record at two wins and two losses. This was still enough to give Cobalt a last chance at the Top 16, if it could defeat Minotaur in a play-in match, but lost a close Judges' decision, and was finally eliminated.
Team Carbide initially revealed their intention to return for BattleBots 2020 with Cobalt[4], but subsequently withdrew due to travel restrictions resulting from the COVID-19 pandemic.[5]
In 2021, Team Carbide announced their retirement from robot combat due to family and other external commitments.[6] They chose to sell and transfer captaincy of Cobalt to John Mladenik of Robotic Death Company, builders of shell spinners Megabyte and Gigabyte. Alongside Gigabyte, the Robotic Death Company competed with Cobalt during the 2021 season of BattleBots. The Cobalt side of their team were captained by Brent Reiker and the robot was driven by Matt Maxham from Team PlumbCrazy. In its debut fight under new ownership, Cobalt was soundly beaten by Fusion, but redeemed this with a highlight victory over Ghost Raptor where Cobalt split its opponent apart completely, alongside a knockout win over the famously durable Gruff. As a result, it finished its Fight Night with a 2-1 win record and qualified for the main competition as the 14th seed. Here, it started strongly with a knockout victory over Yeti, disabling its opponent's drive and lifting forks. Its next battle against defending runner-up Whiplash proved controversial, as both robots were immobilised by becoming stuck at the same time and a split judges' decision put Cobalt through to the Top 8. However, their quest for the Giant Nut was abruptly halted at the hands of eventual champion Tantrum.
On the live event circuit, Dave Moulds had also fought with various featherweight robots starting in 2002. He has fought with various different versions of Turbine, armed with a flipper, which has since been retired. In full-combat events, Moulds has fought with a few spinner-wielding robots. These include:
360, a featherweight robot designed to heavily resemble Hypno-Disc, armed with an extremely powerful horizontal flywheel and later a self-righting mechanism to match its inspiration. The first British featherweight to use a brushless system,[7] it also made a televised appearance in a 2010 episode of The Gadget Show, dealing extensive damage to but losing to a robot designed by the show's presenters as part of a robot combat challenge.[8]
540, a six-wheeled box-shaped robot with an interchangeable eggbeater and rammer configuration. Featured internal magnets, allowing the robot to drive up walls. The robot was later bought and renamed Disturbance by Calum Jones, primarily fighting as a wedge from this point on, and is nowadays owned by Shane Lale under the name Pushabili-tilly, finishing second in the 2019 UK Featherweight Championship.
720, an octagonal-shaped robot armed with a spinning drum, now owned and renamed Sabre20 by Team Legion.
722, an improved version of 720 with a similar paint scheme to Carbide, which finished as runner-up at the 2017 FRA Featherweight International Championships[9]. Now owned by Jamie McHarg and was rebranded as Revolver before later continuing the namesake of McHarg's own drum spinner Drumroll.
A 1lb (450g) version of Cobalt, which competed in a South Korean live event with help from Tom Lloyd.
Dave Moulds also won the 2006 FRA Heavyweight UK Championships with heavyweight flipper Turbulence, alongside teammate Ed Wallace. For more information, refer to the Turbulence article. Dave Moulds was also the weapons operator for Calum Jones' featherweight robot Drivetrain at the 2017 UK Featherweight Championship.
Series 10 captain Sam Smith also fights in live featherweight events with NST, a horizontal bar spinner built in the early 2010's, and Shard, a vertical flywheel which debuted in 2015. Both robots have proven extremely successful; NST won the 2012 Featherweight UK Championship under the controls of Grant Cooper and also won the 2015 UK Featherweight Annihilator. Shard finished tenth at the 2017 FRA Featherweight International Championships and inflicted heavy damage in all of its victories, also inspiring the design of the team's heavyweight robot Tungsten (see above).
Trivia
[
]
Although Dave Moulds and Sam Smith have always used the Team Carbide name at robotic combat events when partnered, it should be noted that their appearance on BattleBots predates their televised appearance on Robot Wars, where the robot Carbide debuted.
Shortly before filming of Series 9 began, Team Carbide were asked to arrive in black shirts and play the role of villains on the show, which the team declined, preferring to present themselves naturally.[10]
Team Carbide's titular competitor, Carbide, was inducted into The Combat Robot Hall of Fame in 2017 following its dominant performances in Series 8 and 9.[11]
Honours
[
]
References
[
]
External Links
[
]