Team Cassius was a team from Stowmarket in Suffolk which entered the first three series of Robot Wars, reaching the Grand Final on two occasions with their flipper robots Recyclopse and Cassius.
Team Members
[
]
Team Cassius was founded by Rex Garrod. Together with Simon West, George Francis and Mick Cutter, they first entered the original series of Robot Wars, building two robots; Recyclopse and Robot the Bruce. George Francis and Mick Cutter did the electronics for the robots, whilst Simon and Rex did the mechanics[2].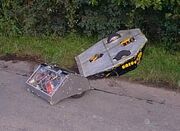 George Francis and Mick Cutter entered Robot the Bruce as a separate entry, and George Francis would go on to form his own team, Team Chaos, but he would continue to use Rex Garrod's workshop. The two continued to work closely together, with George helping Rex with the electronics on Cassius, and Rex helping with the mechanics of Chaos. Chaos 2's first ever battle being an informal roadside skirmish with Cassius, which Chaos 2 won 4-1[3].
Rex Garrod
[
]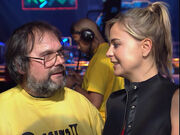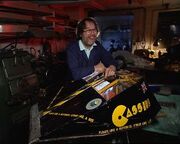 Rex Garrod was a former children's television presenter and engineer, with an extensive career in special effects. He drove Recyclopse and the original Cassius, as well as operating their pneumatically-powered, front-hinged flipper weapons.
He was well known for his cheerful and sporting demeanour, always on hand to help other roboteers modify and repair their robots whenever problems arose. This collaborative spirit extended to a 'pacifist' approach to combat, in which Garrod avoided attacking his opponents once they had become immobilised. Instead, he preferred to take on and occasionally vanquish the House Robots, sparing defeated opponents of any further damage.
A keen innovator, Garrod is credited for the creation of the flipper weapon on Robot Wars and for successfully pioneering the self-righting mechanism (srimech) in UK robot combat, which was famously demonstrated by Cassius in Series 2. Garrod placed greater emphasis on putting on an entertaining fight than achieving outright victory, while often praising other entries for their individual performances such as Loco and Panic Attack.
On three occasions where Cassius' incarnations ended up in the pit, he joked about his own driving skills when discussing his machines' losses with Craig Charles. A recurring exchange between the two concerned Charles placing bets on Cassius winning the main UK Championship, with Garrod responding in a quickfire and outwardly jovial fashion.
Nevertheless, Garrod enjoyed major success in his earlier Robot Wars appearances, reaching the Grand Final in the first two UK Series.
Simon West
[
]
A friend of Rex Garrod, Simon West was an engineer, who was part of the team in all three of the team's appearances. He had helped build the team's robots, including Robot the Bruce. He left the speaking in all the team's introductions and interviews to Rex, and in Series 3, Mick Cutter as well, apart from a brief comment to Phillipa Forrester after Cassius 2's shock exit in Round 2 of Series 3.
Edward Bull
[
]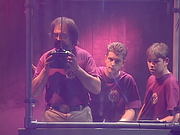 Only part of the team for Series 2, he did not have a speaking role.
Mick Cutter
[
]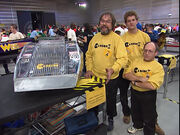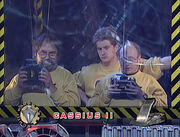 Having competed with George Francis for Series 1 and 2, Mick Cutter rejoined Team Cassius for Series 3.
Taking over the role of driver, Mick Cutter shared Garrod's feelings about preferring to attack House Robots rather than causing unnecessary damage to beaten opponents. Unfortunately, he drove into the pit in Round 2 in his only appearance, and never competed again as the team retired.
Notable Achievements
[
]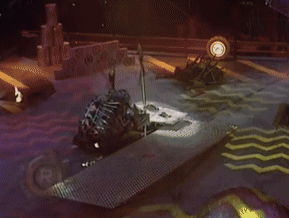 Garrod's Protest
[
]
Rex Garrod harboured an intense resentment for several of the rules in earlier series of Robot Wars, as he felt many were unnecessary whilst other aspects of the show's safety procedures were grossly unattended.
During Series 2, Garrod was reprimanded by one of the production crew's health and safety inspectors for a very minor incident. In his anger, Garrod told the inspector that much worse things could occur because of their negligence in other areas, such as the implementation and inspection of failsafe devices. His protests fell on deaf ears.
Not long afterwards, a robot went "berserk" and a person was hospitalised as a result. Garrod expected Mentorn to have learned their lesson, and turned up for Series 3 expectantly. However, in The Pits, an unidentified spike-wielding robot was dropped and activated while being carried into the studio; the same robot later stabbed a crew member in the leg while being prepared for a battle.[7] Immediately, Garrod retired from Robot Wars in protest.
Robots
[
]
| Name | Weight Class | Series |
| --- | --- | --- |
| Recyclopse | Heavyweight | Series 1 |
| Cassius | Heavyweight | Series 2-3 |
Wins/Losses
[
]
Series Record
[
]
NOTE: Mick Cutter entered Series 1 and 2 with Robot The Bruce and Chaos, respectively.
Outside Robot Wars
[
]
Rex Garrod worked on special effects in a number of television shows, including building the eponymous car for the children's show Brum, which was a remote-controlled model.
Although he retired from the television show after Series 3, Rex Garrod continued to compete at live events, building a third version of Cassius, which had a rear-hinged flipper, as well as a featherweight, Cassius Junior. He also continued to bring the earlier versions of Cassius for static display.
Rex Garrod worked as one of the robotics experts for the magazine Ultimate Real Robots. In the magazine, he did a interview about the construction and inner workings of Cassius, and ran a regular feature called Rex's Robot Challenge, where he gave instructions on building a featherweight flipper. In issue 94, he gave instructions to build a remote controlled flying saucer.
In addition to the magazine feature, Rex Garrod also ran Rex Garrod's Robot Challenge, a competition encouraging people, particularly schools, to build featherweight robots.
Sadly, Rex Garrod passed away on the 8th April 2019, after a long battle with Alzheimer's at the age of 75.[8][9][10]
Trivia
[
]
Honours
[
]
Honour
First robot in UK to successfully self-right
References
[
]
External Links
[
]
UK Series Teams
Series 1
Series 2
Series 3
Series 4
Extreme 1/Series 5
Series 6
Extreme 2/Series 7
Series 8-10