"... and if you know anything at all about Robot Wars, you'll already know who we are."
— George Francis during the team's introduction in Robot Wars Extreme 1
Team Chaos (informally known in Series 1 as The Village Idiots) was a long-standing team that entered the first six series of Robot Wars and both series of Robot Wars Extreme. The team entered two robots, Robot The Bruce in Series 1, which reached the Grand Final, and Chaos 2 (originally Chaos) in Series 2-6, reaching the Heat Final of Series 2, winning Series 3 and 4, reaching the second round of the Semi-Finals in Series 5, and the Heat Final of Series 6.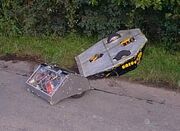 The team was closely associated with Team Cassius, having worked together to create their initial robots (Recyclopse and Robot the Bruce).
"I first heard about Robot Wars back in '97 ... I was originally asked to help out Rex Garrod with Recyclopse. Shortly before the series, we decided to make another robot. We built Robot The Bruce, Rex and Simon built Robot the Bruce and I did the electronics for it, so we entered two robots."
— George Francis on entering Robot Wars
Rex Garrod also helped with Chaos 2, with Chaos 2's first ever battle being an informal roadside skirmish with Cassius, which Chaos 2 won 4-1.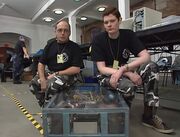 George Francis, a mechanic, was joined by Mick Cutter in Series 1-2.
"They call themselves The Village Idiots - they're no idiots, they're very clever electric engineers...George Francis, the driver, is building a single-engined aeroplane driven by a car engine, that's a bit of a worry."
— Jonathan Pearce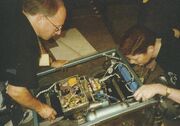 Mick Cutter joined Team Cassius in Series 3 and was replaced by Ian and Richard Swann when Francis fought with Chaos 2 (although it can be assumed that these two were involved prior to this, as Richard Swann is seen pictured with the first incarnation of Chaos on the Team Chaos website).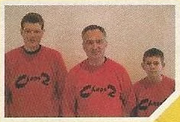 "I was working on a big job and I needed someone to help me, so I called George to see if he could help us out and he joined in. That's when he asked me if I'd like to be on the Chaos team, didn't take a great deal of persuasion to say "Yes"!"
— Ian Swann on joining Team Chaos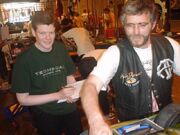 Francis also controlled Ramrombit, a sacrificial stock robot from Series 2 built specifically for the Inferno Insurrection Exhibition Event with Nemesis and Sergeant Bash.
Despite retiring from competing for Series 7, George Francis still contributed to the show as a technical assistant, a role he had held since Extreme 1 and also held during Dutch Robot Wars.
George Francis and Mick Cutter wore black shirts in Series 1 and blue shirts in Series 2. When Ian Swann and Richard Swann joined the team, they, along with Francis, sported red sweatshirts with Chaos 2's logo printed on in black, a palette swap of the machine's colours. In Series 5 and some occassions in Extreme 1, the team wore regular T-shirts, also red with Chaos 2's logo printed on.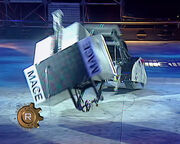 Team Chaos had a small rivalry with Team Mace. The two teams first met in the Heat Final of Series 2. Mace pushed Chaos into Matilda, who flipped Chaos over. Chaos attempted to self-right, but was unable to because Francis and Cutter had forgotten to fit pieces of plastic on the back of the robot to help it self-right. In the next series, the teams met again in the second round of the Series Semi-Finals. This time however, Chaos 2 flipped Mace 2 over, and this time Mace 2 was unable to self-right, and Chaos 2 was declared the winner, to go through to the Grand Final. Gemini, Team Mace's entry for Series 4 and 5, never faced Chaos 2 (despite the likelihood increasing due to Gemini's heat being placed among the first eight in Series 4, when it should not have been), so the scores stay at one victory each for the two teams.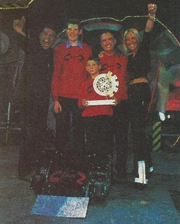 NOTE: Mick Cutter entered Series 3 with Cassius 2. George Francis controlled Ramrombit in the Inferno Insurrection.
George started building a robot for the American BattleBots, originally intended to be called Quasar, a robot similar in shape to the original Chaos but with a high pressure flipper on the front and large vertical disk on the back, but it was never finished. Instead, George Francis joined John Reid to enter BattleBots Season 5.0 with Beta.
Although Team Chaos did not enter spin off show Techno Games, team member Ian Swann joined The Steel Avenger team when they entered under the name Tin Tackler in 2003.[1]
George and Ian converted two copies of the Chaos 2 pullback into fighting robots and Ian built an antweight robot in a two-part feature on how to build an ant, all of which were featured in Ultimate Real Robots Magazine. Ian's ant was a wedge shape with a rear-hinged flipper but it was made from cardboard as it was only for demonstration purposes and was shown fighting one of the converted pullbacks controlled by Richard.
Honour
Most consecutive UK Series Victories (18)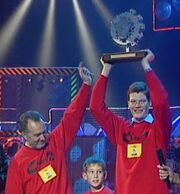 Team Chaos and Cold Fusion Team were the only two surviving teams from the Series 1 Grand Final to fight in Series 4, which they did in the Grand Final.
Team Chaos always lost at the Heat Final stage of the main competition when their robot wasn't seeded first, doing so in Series 2 and 6. (This excludes Series 1 and 3, as these series didn't have the seeding process).
Team Chaos are one of only two teams to fight in five or six wars and never fail to reach the Heat Final, the other being Team Scutterbots..
George Francis was part of The Steering Committee.
Team Chaos' third robot, Chaos 2, was made an inaugural member of The Combat Robot Hall of Fame in 2003, in recognition of its Robot Wars successes and for being the first robot to throw another out of the arena.[2]
Despite Chaos 2 being the first robot to throw an opponent out of the Arena, George Francis did not use this term to refer to such a tactic, instead frequently referring to it as throwing an opponent 'over the fence'.
Team Chaos is the only team in history to make six heat finals.
UK Series Teams
Series 1
Series 2
Series 3
Series 4
Extreme 1/Series 5
Series 6
Extreme 2/Series 7
Series 8-10
Community content is available under
CC-BY-SA
unless otherwise noted.