Team Chaos was a long-standing team that entered every UK series except 7, including both Extremes. The team entered three robots, Robot The Bruce in Series 1, reaching the Grand Final, Chaos in Series 2, and Chaos 2 in Series 3-6, winning Series 3 and Series 4, and reaching the second round of the Semi-Finals in Series 5, but only the heat final of Series 6.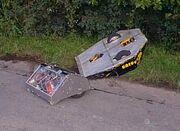 The team was closely associated with Team Cassius, having worked together to create their initial robots (Recyclopse and Robot the Bruce). Rex Garrod also helped with Chaos 2, with Chaos 2's first ever battle being an informal roadside skirmish with Cassius, which Chaos 2 won 4-1.
George Francis, a mechanic, was joined by Mick Cutter in Series 1-2.
"They call themselves The Village Idiots - they're no idiots, they're very clever electric engineers...George Francis, the driver, is building a single-engined aeroplane driven by a car engine, that's a bit of a worry."
— Jonathan Pearce
Cutter joined Team Cassius and was replaced by Ian and Richard Swann when Francis fought with Chaos 2 (although it can be assumed that these two were involved prior to this, as Richard Swann is seen pictured with the first incarnation of Chaos on the Team Chaos website). Francis also controlled Ramrombit, a sacrificial stock robot from Series 2 specifically for the Inferno Insurrection Exhibition Event with Nemesis and Sergeant Bash. George also planned to create a robot for the American BattleBots called Quasar, a robot similar in shape to the original Chaos but with a high pressure flipper on the front and large vertical disk on the back. Like many of the other experienced roboteers, George Francis became a technical assistant on the show for Series 7 after retiring from competing, a position he also held during Dutch Robot Wars.
Rivalry
Team Chaos had a small rivalry with Team Mace. They met in the heats of Series 2 originally. Mace, the robot of Team Mace, pushed Chaos into Matilda, who flipped Chaos over. Chaos attempted to self-right, but was unable to because Francis and Cutter had forgotten to fit two pieces of plastic on the back of the robot. In the next series, the teams met again in the second round of the Series Semi-Finals. This time however, Chaos 2 flipped Mace 2 over, and this time Mace 2 was unable to self-right, and Chaos 2 was declared the winner, to go through to the Grand Final. Gemini, Team Mace's entry for Series 4 and 5, never faced Chaos 2 (despite the likelihood increasing due to Gemini's heat being placed among the first eight in Series 4, when it should not have been), so the scores stay at one victory each for the two teams.
Trivia
Team Chaos and Team Cold Fusion were the only two surviving teams from the Series 1 Grand Final to enter Series 4, interestingly, they both made the grand final of Series 4.
Team Chaos always lost at the heat final stage of the main competition when their robot wasn't seeded first, doing so in Series 2 and 6. (This excludes Series 1 and 3, as these series either excluded or didn't have the seeded process).
Team Chaos are the only team to fight in five or six wars and never fail to reach the Heat Final.
Robots
Wins/Losses
Series Record
Series 1: Grand Final with Robot The Bruce
Series 2: Heat Final with Chaos
Series 3: Grand Champion with Chaos 2
Series 4: Grand Champion with Chaos 2
Extreme 1: All-Stars Semi-Finals with Chaos 2
Series 5: Semi-Finals, Round 2 with Chaos 2
Series 6: Heat Final with Chaos 2
Series 7: Did not enter
Honours
Honour
Most consecutive UK Series Victories (18)
References