Team Firestorm (styled by the team as Team FireStorm) were a team from Durham who competed in the original run of Robot Wars with the very successful Firestorm series of machines, reaching the Grand Final on three separate occasions. Team Firestorm had previously competed in Series 2 with GroundHog, under the name Team RFM.
The Team
[
]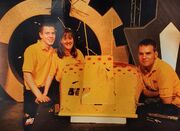 Three main team members made up Team Firestorm, with students Graham Bone and Alex Mordue forming the team at 19 years of age to compete in Series 2 with GroundHog, under their original name Team RFM. The two students competed together in Series 2-4, with Graham Bone's girlfriend Hazel Heslop joining as the third member for Series 5. Team Firestorm remained a static partnership of Graham and Hazel across Series 6 and 7 after Alex Mordue moved away from Durham and left the team.
Among Team Firestorm's achievements are; five series semi-final appearances, of which three continued to the Grand Final where Firestorm would finish in third place; second and third place finishes in All-Star tournaments, a competition victory in the Commonwealth Carnage, and the record for the most combat victories within the UK championship.
Graham Bone
[
]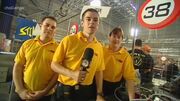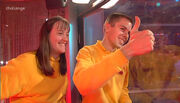 Graham Bone was the captain of Team Firestorm throughout their entire run in Robot Wars. In his Robot Wars debut, Graham was a 19-year old Mechanical Engineering student, and by the time of Series 7, he was a 23-year old design engineer for DeWalt. Graham was jointly responsible for the build and maintenance process of GroundHog and earlier Firestorm machines, before becoming fully responsible for the building and repairs of Firestorm 4 and 5 in later series. Graham would originally alternate driving responsibilities with Alex Mordue, before solely taking on the driver role for later series, and was responsible for many of Firestorm's most notable victories.
Throughout Robot Wars, Graham gained a reputation as one of the most competent drivers in the show, with a competitive and patient driving style, but also made time to attack the House Robots in victory. His competitive nature was often reflected in team interviews, but Graham was also very sporting in his rare defeats, usually offering a thumbs-up to any teams who could defeat Firestorm in battle.
In the present day, Graham works as an engineering manager for the hardware company, Stanley Black & Decker.[1]
Alex Mordue
[
]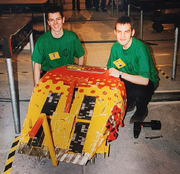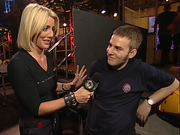 Alex Mordue was a part of the team from their beginnings in Series 2 until the end of Series 5. The same age as Graham Bone, Alex Mordue was a Mechanical Engineering and Computer Science student for most of his time on the show. He was jointly responsible for building and maintaining the machines alongside Graham Bone, and was also the driver of Firestorm in some of its battles. Alex Mordue also managed the GroundHog website while Graham Bone managed the Firestorm website.
Following his graduation, Alex Mordue started a new career in Scotland after the conclusion of Series 5 and moved away from the Durham-based team, leaving Team Firestorm as a result.
After an extended absence from robotic combat, Alex Mordue continued to work on 3D-printed designs for the benefit of the robotics community, before making a surprise return to combat in 2018 with his beetleweight Saw Loser, and has remained an active representation of Team Firestorm (under his new moniker Team RGB) in robotic combat ever since.
Hazel Heslop
[
]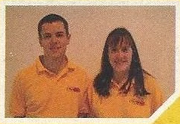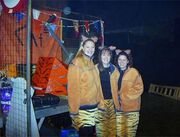 Hazel Heslop (nowadays Hazel Bone) was the girlfriend and later fiancée of Graham Bone during Team Firestorm's run on Robot Wars, aged between 24-25 at the time of Series 7. By profession, Hazel Heslop was a design draughtsman for Siemens Power Generation Ltd. Hazel Heslop made her first appearance on the show in Series 1 of Robot Wars Extreme, and remained a part of the team until Firestorm 5's final appearance in the Seventh Wars. The Firestorm website credits Hazel Heslop for some of Firestorm's construction. Hazel Heslop was a reserved character on-screen, with some of the presenters referencing her quiet nature in interviews. Hazel Heslop became engaged to Graham Bone between Extreme 2 and Series 7, and the two wed after the original run of the show had concluded.
Outside of Team Firestorm, Hazel Heslop briefly joined Team KaterKiller in the second series of Extreme when Kat 3 competed in the Iron Maidens, a competition reserved for female-led teams. This made Hazel Heslop the only roboteer to compete in three different competitions during Extreme 2.
"We needed a third female team member...as we got on so well with them we asked, she was a very good team member!"
— Georje Williams on Hazel Heslop
Following their retirement from robot combat, Hazel began working at Newcastle College and serves as the leader for the Manufacturing Engineering course. Hazel's bio on the official college website also credits her appearances on Robot Wars with Firestorm.[2]
Other
[
]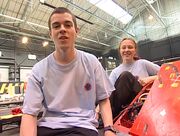 For the Series 4 side events only, an extra team member Jenny Parsons[3] joined Team Firestorm on-screen temporarily, but was not credited on the statistics boards.
The team website also credits Graham Bone's parents Beryl and Danny for transport and design, respectively, and the construction of the Firestorm machines was also assisted by Kevin and Josh Stones[4].
Robots
[
]
| Name | Weight Class | Series |
| --- | --- | --- |
| GroundHog | Heavyweight | Series 2 |
| Firestorm | Heavyweight | Series 3-7, Extreme 1-2, US Season 1 |
Wins/Losses
[
]
NOTE 1: GroundHog's successful Gauntlet and Trial runs are not included.
NOTE 2: Firestorm 3's third place play-off against Hypno-Disc is not included, as there was no official winner of the battle before Hypno-Disc then withdrew from the rematch.
Series Record
[
]
Outside Robot Wars
[
]
Team Firestorm
[
]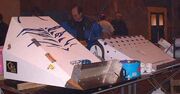 Team Firestorm competed in two series of Techno Games with Snowstorm, a derivative of Firestorm without an active weapon. In 2002, Snowstorm teamed up with Kat's Whiskers to compete in the football tournament, reaching the final before losing 5-0 to Storm Chaser and Sprocket to earn the team a silver medal. In Techno Games 2003, Snowstorm and Kat's Whiskers lost their first-round football match to Constrictor and Hellbent with a 2-1 score. Snowstorm also entered the Assault Course in 2003, where although Snowstorm completed the course more quickly than Sugar Plum Fairy, it amassed penalties along the way leaving its amended final time higher than that of Sugar Plum Fairy, eliminating Snowstorm in the first round.
Although Team Firestorm continued to appear at a limited number of live events with Firestorm, the series was retired not long after Robot Wars went off-air, and Graham Bone retained Firestorm 5 exclusively for display purposes.
Team RGB
[
]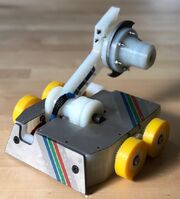 Upon his return to robotic combat in 2018, Alex Mordue built Saw Loser, a largely 3D-printed beetleweight robot armed with a vertical spinner on a moving arm, capable of either hitting robots upwards at ground level, or bringing its spinner down on opponents like a saw. Team RGB's first competition with Saw Loser was the online webseries Bugglebots. Saw Loser performed well in its heat, defeating Sir Lance-a-Frog on a Judges' decision and won its second-round battle over Zero Gravitas in a single knockout blow. Saw Loser was knocked out of the heat by the eventual champion K2 on a judges' decision, and fell short of the Grand Final after its speed controller was severed by Maximum Ogredrive in the five-way rumble. Under the controls of Shane Lale, Saw Loser also competed in the 'Ref Rumble', but was defeated by The Berg which was being driven by Tim Rackley.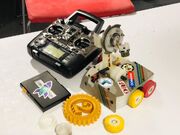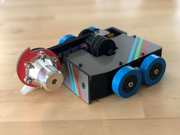 After receiving upgrades, Saw Loser became the UK beetleweight runner-up in Febuary 2019, competing in the UWE Beetleweight Bot Brawl hosted by the Bristol Bot Builders. Saw Loser advanced to the final where it was defeated by Daedalus. An entirely new Saw Loser was built for the second season of Bugglebots where it won its heat over WID3BOI, Unconscious 514 and Léim Thart with three consecutive knockouts, to progress to the Grand Final. There, Saw Loser advanced to the Top 4 after defeating Thunder Child on a split Judges' decision, before being eliminated by K2 once again, and relegated to fourth place by Daedalus.
In May 2022, Saw Loser took part in Norwalk Havoc Robot League, where it reached the final, but lost to Crashfest despite winning the first fight.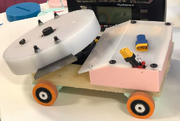 Alex Mordue also organised his own beetleweight competition, the Battle in the 'Burgh, in November 2019. This also allowed Alex Mordue to compete with Saw Loser in his home region. For the same event, Alex Mordue also built a beetleweight robot inspired by Hypno-Disc entirely from HDPE, under commission from another team.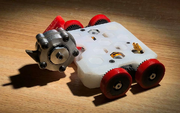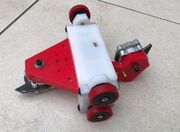 Alex Mordue also built a 750g robot Wee Loser so that it could compete as part of a beetleweight clusterbot. It debuted at the Beetleweight Bot Brawl in 2020, where it competed alongside Don't be a Brick from Team Kamikaze. The design shares the vertical spinning disc and four-wheel driven design of Saw Loser, but at a reduced scale without a moving arm. Wee Loser was launched out of the arena in both of its fights, knocking Saw Losers out in the first round. In August 2020, spare parts and materials from Wee Loser were later transferred over to a new full beetleweight, Use your Wee-Lose-ion, armed with both a vertical spinner and a horizontal disc.
Trivia
[
]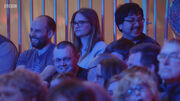 Honours
[
]
Honour
Most UK Series Semi-Finals reached (5)

Nominations
References
[
]
External Links
[
]