Team Immersion is a roboteering team captained by Newcastle-based roboteer Adam Hamilton, who was joined by various rotating team members in Robot Wars. After competing in the untelevised pilot episode ahead of Series 8 with the borrowed Tanto, Team Immersion competed in Series 10 with their own machine, Vulture. Outside of Robot Wars, the team are known for winning various featherweight and heavyweight accolades.
The Team
[
]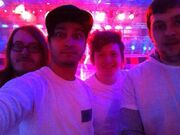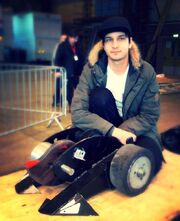 When Robot Wars was first announced to be returning in 2016, Team Immersion owned no heavyweight robots of their own, so team captain Adam Hamilton loaned a heavyweight machine from Team Danby, knowing that they had applied for Series 8 with Foxic and Apex. Adam Hamilton applied for Series 8 with Tanto, alongside his static teammate Matthew Pearman, and also enlisted the temporary assistance of Jack Tweedy and Craig Croucher to form Team Tanto. This team competed in the pilot episode of Series 8, where Tanto lost its opening melee.

Once applications opened for Series 9, Jack Tweedy and Craig Croucher purchased Tanto from Team Danby, and renamed the robot Neutron, and applied for the new series separately from Team Immersion. Adam Hamilton and Matthew Pearman started to create computer-aided designs for robots with which they could enter Series 9, and initially conceptualised a clusterbot named Immersion, combining a vertical spinner like the team's featherweight Amnesia, and a two-way flipper. However, the team decided against this design, as they considered it too similar to that of Crackers 'n' Smash[1]. Hamilton and Pearman then created the first concept design of Vulture, and Jarvis Callister then joined Team Immersion at this stage in order to improve the design. However, Matthew Pearman also left the team at this stage to apply for Series 9 as the captain of Team Slam, having recently purchased Dantomkia from Team S.Tek. Matthew Pearman's position was briefly filled by Matt Smith of Riptide Robotics, but ultimately Team Immersion would not qualify for Series 9, and Matt Smith also left the team.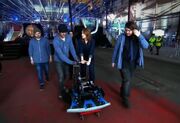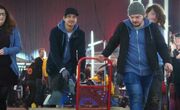 Ahead of Series 10, Adam Hamilton and Jarvis Callister completed the build of Vulture, and were also joined by Hamilton's partner Emma Jones and housemate Thomas Long in order to complete the team, who would then compete in Series 10. After Series 10 concluded, Jarvis Callister parted from the team, with the post-Robot Wars Team Immersion consisting of Adam Hamilton, Thomas Long and Matthew Pearman, with occasional assistance from Emma Jones.
Adam Hamilton
[
]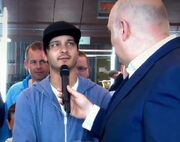 Adam Hamilton is the captain of Team Immersion, making him the lead builder, designer and financer of the team's machines. An accomplished driver, particularly in featherweight competitions outside of Robot Wars, Adam Hamilton was the driver of Vulture in Series 10, and was the only team member to compete in both the 2016 pilot and Series 10 as part of Team Immersion. Hamilton was aged 25 at the time of Series 10, and according to the Robot Wars website, worked in the 3D printing industry. On top of this, Adam Hamilton commissions computer-aided designs for combat robots, having assisted many roboteers in this way while carrying a signature look across his designs, a speciality which Jonathan Pearce mentioned while reading Vulture's statistics.
Competing on Robot Wars, Adam Hamilton set out to prove that heavyweight robots can still be built on a smaller budget, inside a series where robots such as Rapid and Sabretooth were exceeding £20,000 in value, and also that a background in engineering is not required to enter the roboteering community as a competitor.
Adam Hamilton's first robot was a featherweight competitor named Amnesia, which he brought to filming to display alongside Vulture. For more information on Adam Hamilton's projects outside of Robot Wars, see Outside Robot Wars.
Matthew Pearman
[
]
Matthew Pearman is a long-term member of Team Immersion, and remains a member of the team to this day, while also captaining Team Slam for solo projects. Matthew Pearman was part of Tanto's team in the 2016 pilot episode as the second static team member, before Jack Tweedy and Craig Croucher were enlisted for additional assistance. Matthew Pearman also assisted Adam Hamilton with the creative process of Vulture prior to Series 9, before purchasing Dantomkia from Team S.Tek and applying for Series 9 with this machine, as the captain of Team Slam. Matthew Pearman did not return to Team Immersion for Series 10 as he and his girlfriend Steph Ziolkowska joined Team Nelly to apply with Nelly the Ellybot, which was not selected to compete.
Jack Tweedy and Craig Croucher
[
]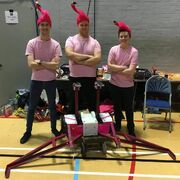 Outside of Robot Wars, Jack Tweedy is the captain of Team Nebula, while Craig Croucher is the captain of Team Snappy Robotics. As neither roboteer had their own heavyweight robot to enter Series 8 with, Adam Hamilton invited Tweedy and Croucher to join him in Team Tanto, and both assisted with the maintenance of Tanto during its brief run in the 2016 pilot episode, while Jack Tweedy was also the driver of Tanto in its only battle.
While Team Immersion applied for Series 9 with Vulture, Jack Tweedy purchased Tanto and united with Craig Croucher under the Team Nebula name to apply for Series 9 with the robot, which they had rebranded as Neutron. After Neutron was not selected to compete in Series 9, Jack Tweedy entered Series 10 as a member of Team Terrafonics, competing with Apex, while Craig Croucher joined Team Die Gracefully Robotics to apply for Series 10 with Jellyfish and Ice Cream, although this was not selected to compete.
For more information on Jack Tweedy and Craig Croucher's robots and excursions outside of Robot Wars, see Neutron.
Jarvis Callister
[
]
Outside of Robot Wars, Jarvis Callister is the captain of Team Short Circuit, and at the time of Series 10, he was a computer programming student aged 19. Callister joined Team Immersion ahead of Series 9, after seeing computer-aided designs of Vulture that he felt he was able to improve upon, and many of Callister's modifications were implemented into the final machine, also providing financial assistance towards some parts of Vulture. On the televised show, Jarvis Callister was the weapons operator of Vulture, firing the axe head while Adam Hamilton drove the robot, and also assisted with repairs of the machine, although Callister was largely uninvolved with the build process due to living in the south of England, unlike his three Newcastle-based team members.
The televised edit of Vulture's heat featured Jarvis Callister prominently, as he repeatedly asked cameraman Henry Imbert to stop filming him while he attempted to repair Vulture, in footage which ultimately made it to air, portraying the stress that Team Immersion felt during the right repair windows they were allotted. A combination of these factors, including Vulture's forfeiture of its planned fight with Track-tion, led to Jarvis Callister parting ways with the rest of Team Immersion immediately after Series 10 concluded.
Thomas Long
[
]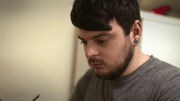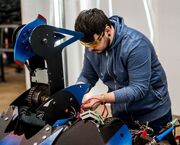 Thomas Long was aged 25 at the time of Series 10, and was a barista at the time. Thomas Long was responsible for the wiring and maintenance of Vulture in Series 10, and was partially involved with the build process of the machine which largely took place in Newcastle.
Outside of Robot Wars, Thomas Long is still a member of Team Immersion and occasionally assists Adam Hamilton with CAD commission projects, and briefly operated a featherweight machine, Halcyon.
Emma Jones
[
]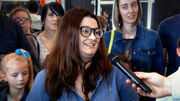 Emma Jones was 21 years old at the time of Series 10, and was a student and bar worker. On the Robot Wars website, her team role was listed as tactician, although when filming began, her role shifted more towards team relations, providing support to the rest of Team Immersion where needed, including Jarvis Callister's mother who was also present at filming off-screen. Although Emma Jones is not typically a member of Team Immersion as a competitor, she continues to attend live events alongside the team in a supporting role.
Robots
[
]
| Name | Weight Class | Series |
| --- | --- | --- |
| Tanto | Heavyweight | Series 8 (Pilot) |
| Vulture | Heavyweight | Series 10 |
NOTE: Jack Tweedy would later enter Series 10 with Apex
Wins/Losses
[
]
NOTE: Tanto's unaired battle in the Series 8 Pilot is not included in the tally, and Vulture's withdrawal prior to its battle with Track-tion is not considered a loss
Series Record
[
]
Outside Robot Wars
[
]
Team Immersion featherweights
[
]
Team Immersion captain Adam Hamilton regularly competes at featherweight events with Amnesia, armed with an electrically-operated front-hinged flipper. In 2016, the original version (initially built as a simple two-wheel drive rammer) finished fourth at the 2016 FRA Featherweight International Championships; the second version (Amnesia 2) improved on this record by finishing third in the following year's championship, held at Insomnia 61. Amnesia did this by winning two of its group battles outright, before finishing second in another group battle after losing mobility in the last fifteen seconds. Qualifying through the losers' melee, Amnesia fought its way to the semi-final stage, where it was defeated, and secured third place by defeating Utopia in the play-off.
In August 2018, a brand-new version of Amnesia, occasionally called Amnesia 3, competed in the inaugural King of Bots UK championship, where it won the entire competition. It won its first qualification round against Strix and Elevate, its second against Nelly the Ellybot and X-303 and its third against The Claw and Hedgebot. Amnesia qualified for the Top 20 undefeated, and defeated Take Cover by stranding it against the arena wall, advancing to the Top 12 to quickly defeat the substitute competitor Orpheus by overturning and pitting it. Amnesia won its quarter-final match against Binky by overturning it when it was unable to self-right using its spinner, before winning its Semi-Final against Rocket to reach the final round. There, Amnesia emerged victorious against Calabash Bros, becoming the 2018 King of Bots UK champion.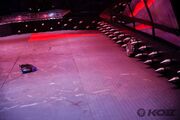 In January 2019, Amnesia took part in the King of Bots Opening Battle, held to promote the upcoming second season, as part of the Blue team. There, it won a head-to-head battle against fellow King of Bots featherweight champion Patchwork, by stacking the drum spinner against the spikes on the arena wall. Ultimately, the Blue team went on to win the event over the Red team, thanks to Amnesia's victory.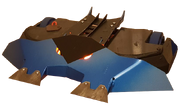 Amnesia also entered the Robodojo Autumn Featherweight Championship in November 2018, sporting an 'anti-vertical' flipper designed to inflict recoil damage upon vertical spinners. Nevertheless, Amnesia entered the Sportsman division where no spinners were present, and continued its winning streak by defeating Boring Wedgebot #7, Mattock and Luna-Tic in three consecutive battles. It reached the final of the event, but was defeated by Barghest on a Judges' decision. Amnesia returned for the March 2019 Robodojo event, with extra steel strips added to its wedge. Amnesia went undefeated across all four of its head-to-head Sportsman fights, and ultimately won the four-way final by KO.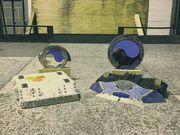 Amnesia then won a second Robodojo event in a row, emerging victorious in the May 2019 sportsman event with back-to-back knockouts against The Tragic Roundabout, Ensign Wedgely Crusher, Piece De Resistance and Comet, before winning the four-way final against Barghest, Midas and Forge Master 2. This success carried over to the July 2019 Robodojo, where Amnesia defeated Harald, Danger UXB, Mattock and Comet before winning the final over Luna-Tic. In November, Amnesia was declared the Robodojo 2019 Sportsman champion for its year-long victory. Amnesia also reached the quarter-finals of the 2019 UK Featherweight Championship hosted in the same arena.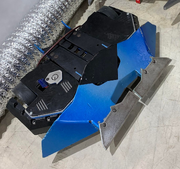 Having retired from Robodojo competitions, Amnesia moved on to competing at FightFest, a featherweight and hobbyweight combat event run by Team Immersion in collaboration with Labman Automation. Amnesia 4 took part in both the pilot and promotional events in July, throwing Carcinus out of the arena and defeated the eventual champion Conker 3 by knockout. Amnesia returned for the FightFest Winter Challenge 2021 representing England in the Battle of the Isles.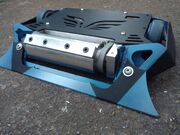 Thomas Long was also a featherweight roboteer in his own right, competing with Halcyon, an two-wheel driven invertible robot built from scraps. Its weapon was a drum spinner with a top speed of 10,000rpm. Halcyon was originally designed by Adam Hamilton, and Thomas Long occasionally assists Adam Hamilton with larger build projects. Halycon's only competition appearance was at Insomnia 61, but it was defeated by Shard in its first battle, and did not participate in any further battles. Halcyon was not repaired after sustaining major damage in this battle, and was retired from combat.
Team Immersion heavyweights
[
]
Team Immersion competed in the Chinese TV show This is Fighting Robots, with the team comprising of Team Immersion's Adam Hamilton and Thomas Long, Andy Russell of Team Hobgoblin, and Gareth Anstee of Team. Ablaze. They did so with a new heavyweight robot, Bonfire. Bonfire boasted a 14kg spinning head on the end of its axe-type arm, generating 20 horsepower of energy, and is able to use interchangeable weaponry, alongside an anti-spinner scoop. Initially, Bonfire was chosen by Green team captain Zheng Shuang, and was the first This is Fighting Robots competitor to be chosen by any of the celebrity team captains. However, Shuang deselected it in order to allow Tungsten to enter her team, and so Bonfire was required to fight a four-way melee to impress her and the other celebrities. Fighting against Sandstorm, Chronos and Blue Demon, Bonfire ultimately got selected by Wu Chun, after pushing Sandstorm into a grinder at one point during the battle. As a result, it entered the main tournament as part of Chun's Red team. However, when Bonfire was selected to enter its rumble in the main competition, its weaponry was disabled, and Bonfire was immobilised by a relentless string of attacks from Blue. After this performance, Wu Chun dropped Bonfire from his team, eliminating it from the competition.
In June 2018, the team completed a new heavyweight machine, named Immersion after the long-running team name, weighing between 70-80kg and boasting 27 horsepower on its brushless drive system. A scaled-up version of Amnesia's design, Immersion is armed with a two-stage front-hinged electric flipper, located behind a solid HARDOX wedge. Originally designed for a presumed eleventh series of Robot Wars, Immersion was first test-driven at Robots Live! in Grantham, and also appeared at the 2018 UK Championship in Stevenage. There, Immersion won its first battle by ramming Luna-tic into the arena walls and pitting it, but although Immersion's brushless drive was running perfectly, its flipper was struggling as a result of a weapon control adaptor that the team had outsourced by commission. This faulty adaptor led to Immersion's second-round defeat to Iron-Awe 6, where it was unable to self-right after being flipped.
Immersion returned to Robots Live! in Grantham with a new brushless weapon system and adjusted wheel positions, in June 2019. Immersion enjoyed reasonable success, winning a four-way melee over Iron-Awe 8, Mean Machine and Real Steel to reach the semi-finals, where it completed several flips on Behemoth but lost the use of one wheel and lost the Judges' decision as a result. Immersion faced Iron-Awe 6 in the third place playoff and commanded the opening minutes of the battle, but was flipped a number of times in the closing stages, bringing the fight to a Judges' decision. The battle was considered so close that both robots were tied on 18 points, and the Judges needed to review the footage of the battle and announce the winner at a later stage of the event, ultimately deciding that Iron-Awe 6 had won, resigning Immersion to fourth place. In September, Immersion appeared once again at the FRA UK Championship in Stevenage, reaching the quarter-finals following victories over Behemoth, Weird mAlice and ThunderChild in the opening two rounds. Facing YOTON, it performed strongly at this stage, at one point tipping YOTON against the 'death drum' hazard. During the battle, however, Immersion's flipper again malfunctioned, causing it to stick open and preventing the robot from self-righting when YOTON flipped it over in the closing stages. Immersion would be eliminated from the championship as a result, for a Top 8 finish.
In late 2019, the team (now typically comprised of Adam Hamilton, Ed Hodges and Isaac Sharp) completed the second iteration of Immersion, using a machined aluminium and HDPE chassis and an improved weapon system. After a brief debut at Extreme Robots in Cheltenham, the new Immersion made its head-to-head debut in Dublin, January 2020. Using its extremely low wedges and driver control to good effect, Immersion reached the final by defeating Kan-Opener, Ripper, Diot-Awe and Beast in successive fights. In the final, Immersion lost an extremely close rematch with Beast, but with the scores level between the two, Immersion won its third and final fight against Beast to emerge as the Irish champion, winning a sword handforged by Dr. Zulu in the process.
On May 6th 2020, it was publicly revealed by the BattleBots Facebook page that Team Immersion would be competing in the upcoming season of the American TV show[2]. This had previously been confirmed to BattleBots Supporters on February 21st 2020, prior to the season's postponement. The team intended to enter with Abrasion, a robot built upon the design of the rebuilt Immersion, but was a separate and new build designed specifically for the 2020 season of BattleBots. Ultimately, Abrasion could not take part in the 2020 season due to travel restrictions imposed between the United Kingdom and the USA due to the ongoing pandemic, but Abrasion is in a battle-ready state for future seasons.
Ember, a twin build for Abrasion, made an appearance at RoboNerd in September 2021 as a static display. Distinguished by its alternatively-designed armour and flipper, along with a flame-inspired paint scheme, it would also take part in the following month's Robots Live! Crawley event alongside Immersion, under the captaincy of Ed Hodges. In its competition fight, it was able to immobilise ThunderChild but lost the judges' decision to the Ka-Pow! overall. Ember also appears at all FightFest events as a static display piece.
The 2022 circuit for the Team Immersion heavyweights started at Robots Live! in Birmingham at Makers Central, with Immersion collecting two wins on Capers! and Apocalypse and one win on Tectonic.
Commission projects
[
]
By full-time profession, Adam Hamilton creates computer-aided designs of robots for all weight classes, also optionally completing the build process with machining services from Kevin Cleasby. The robot concepts and completed robots that Adam Hamilton has designed include:
Barghest, a featherweight with an Uberclocker-style lifting jaw, built for Christopher Lobley. Has now been fully redesigned three distinct times, maintaining a strong record at featherweight live events.
White Dwarf, an invertible featherweight designed for Joel West-Ward, with a lifter inspired by Panic Attack. Now owned by Niall Bonner.
Virus, a second featherweight robot for Joel West-Ward, inspired by Spectre, with an electric grabbing weapon. A heavyweight version Diamond Head was also conceptualised, but is not intended to be built.
Utopia, featherweight counterpart to Dystopia, armed with a rear-hinged flipper, designed for Gareth Anstee.
Force 7, shortened to F7, a middleweight lifter built by Team Tilly, which later became the 2019 UK middleweight champion.
General d'Meaner, heavyweight grabber designed by Adam Hamilton, and built by Gareth Anstee for the University of Greenwich. For more information, see Trolley Rage.
Dystopia, a redesign of the original Dystopia, built by Gareth Anstee.
Defector, a pneumatic featherweight flipper designed to blend styles seen in Europe, Asia, and America.
RPM, a redesign of an existing vertical beetleweight spinner owned by Gareth Anstee.
Resistance, a four-wheel driven pushing beetleweight built by Gareth Anstee.
Ascension, a redesign of Gareth Anstee's pneumatic flipper beetleweight.
Tempest, an invertible featherweight armed with a horizontal bar spinner, designed for Matthew Pearman (see Team Slam).
Mad Rush, a featherweight lifter owned by Alex Hall, which entered the 2018 King of Bots UK featherweight championship prior to withdrawing. Now owned by Anthony Murney.
Shogun, a featherweight robot with an axe designed for Alex Hall, with some inspiration from Beta.
Euphoria, a four-wheel driven featherweight designed and built for Isaac Sharp. Armed with a broad electric lifting scoop in homage to Atomic, or alternative lifting weapons.
Microswitch, the second version of Kevin Cleasby's featherweight counterpart to the heavyweight Switch, armed with a drum spinner.
Booster, a featherweight flipper designed for 30lb competitions in the United States, built by Chad New.
Mini Grill, a featherweight vertical spinner inspired by Two BBQ, currently being built by Jack Kelly.
Minítóir, a featherweight version of Diotoir, based mainly around its Series 5 version, armed with a geared elecric scoop. Built for Peter Redmond.
Revolt, a hobbyweight (5.4kg) version of Reistance, an invertible pushing robot built for Gareth Anstee.
Onikuma, a hobbyweight vertical spinner built by Christopher Lobley. Debuted at the hobbyweight championship held at the FightFest Winter Challenge 2021.
Little Dill, a featherweight (30lb) version of BattleBots competitor Big Dill, designed by Adam Hamilton and soon to be built for Emmanuel Carillo.

Adam Hamilton also designed the second version of Big Dill ahead of its appearance in the 2021 season of BattleBots and subsequent live events (including its appearance as Banana Runt at Robot Ruckus which it won outright in November 2021).
Adam Hamilton designed the arena used at FightFest events under commission from Labman Automation, also being the head tournament organiser for the FightFest Winter Challenge 2021. After Andy Russell had designed two heavyweight robots, The Golden Daddy and Tenderizer for a YouTube video released by Sidemen, Team Immersion constructed Tenderizer and helped to maintain both robots at filming.
Team Slam
[
]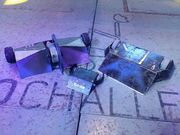 Matthew Pearman has been involved with building robots since 2009, and has briefly owned various robots across this time, including Boneyard, Bulldog Breed, S.M.I.D.S.Y., and Bullfrog, while also building his own robots in the featherweight and beetleweight divisions. Among these featherweights was the vertical spinner Surveyor, which would later be disassembled so its components and structure could be used in Amnesia and Blunt Force Trauma.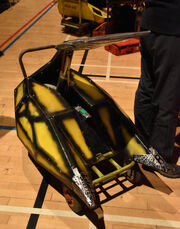 In October 2016, Matthew Pearman of Team Slam became the latest owner of Series 6-8 competitor Dantomkia. Under Team Slam's ownership, the robot received numerous modifications including revised armour and a larger flipper plate, and returned to live events in 2017, competing at the Robots Live! event in Stevenage that October. In a battle with Saint and Ka-Pow!, Dantomkia's pneumatic system mounts broke, and the robot eventually became stuck against the arena wall, and was pitted by Ka-Pow! to be eliminated. Matthew Pearman still owns Dantomkia to this day, and intends to test new internal components within the machine across 2019, including a brushless drive system.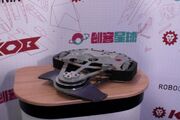 In August 2018, Team Slam entered a horizontal featherweight spinner, Tempest, into the inaugural King of Bots UK International Championship, held at Insomnia 63, Birmingham. Designed by Andy Russell and Adam Hamilton[3] when the robot was originally named Slam, Tempest initially lost its first qualifier battle to Calabash Bros, before winning its second against Telekinesis and Beauty 2. Tempest subsequently lost its third and final qualifier to Straddle 2, which saw Straddle 2 splitting its chassis open and both competitors becoming immobilised following their initial collision. The Judges' decision ruled against Tempest; although it still scored enough points to secure a place in the knockout round, it was forced to withdraw from its battle against Barghest due to the damage inflicted by Straddle 2, and was replaced by eventual runner-up Calabash Bros.
Team Short Circuit
[
]
Jarvis Callister fights in the live event circuit with his own featherweights under the name Team Short Circuit. He started fighting in 2011 with Anti-Gravity which was a Roaming Robots Battle Ant kit - he later built an improved version called Anti-Gravity 2. From 2012, he started fighting with featherweights. Callister's first featherweight was MetalBeak, a black wedge-shaped robot armed with a flipper. His next robot, Project X, which was an invertible six-wheel driven parallelogram-shaped ramming robot. This was succeeded by Ricochet which was a similar design armed with a double-scoop. After initially purchasing it from another team in 2014, Callister's Flow! was armed with a full-pressure flipper. Skyfall was also armed with a powerful flipper, and was made from parts previously used by MetalBeak. Callister previously owned a beetleweight with a vertical disc named RPM, but this has changed hands to Team. Ablaze. He has also stood in as driver of Titan at various live events.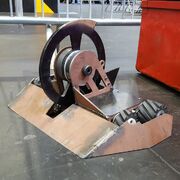 Jarvis Callister's newest featherweight robot is Shrapnel, a four-wheel driven robot armed with a vertical spinner. At the FRA UK Featherweight Championship in 2017, the robot's debut, Shrapnel finished in fifth place, closing out its tournament on eleven points. It did this by winning one group battle outright, winning another by default, and earning enough points through its remaining two melees to reach the knockout stages. There, it was eliminated by Explosion.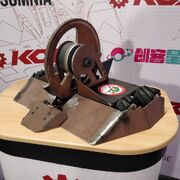 In August 2018, Shrapnel competed in the inaugural King of Bots UK featherweight championship. It won its first battle by immobilising Crabsolutely Clawful and wedging Aegis Mk II against the wall, despite losing the use of its disc in the process. Shrapnel immobilised Calabash Bros in its second battle, but again lost the use of its disc, this time surviving to and winning the Judges' decision over Strix. Shrapnel comfortably qualified for the Top 20 after ripping Orpheus to pieces with one devastating blow in its final qualification match; it also proceeded to rip away the entire front of Hell's Angel and throw Aegis out of the arena to earn a place in the Quarter-Finals. However, Shrapnel was eliminated at that stage by Calabash Bros, after the latter ripped its weapon belt out, disabling the disc and preventing Shrapnel from self-righting when thrown upside-down by the Chinese entry.
Trivia
[
]
Adam Hamilton brought his featherweight Amnesia to the filming of Series 10, and displayed it in The Pits.
The team name 'Immersion' is inspired by a Pendulum album of the same name, with robots such as Vulture and Matthew Pearman's Tempest (originally Slam) referencing several of their songs.

Team Immersion's Bonfire references a song by Knife Party, made up of Rob Swire and Gareth McGrillen of Pendulum.
References
[
]
External Links
[
]