This father-and-son from the Grimm family, have had a fairytale relationship with robot fighting! Not only do they lay claim to the original wedge flipper, they also have been happily working as team mates for over 16 years of course!Jonathan Pearce in Series 10
Team Iron-Awe is a team from Somerset that fought on the British TV show Robot Wars. They have fought with several different versions of Iron-Awe, and also Axe-Awe. Iron-Awe was a robot with an axe that fought in Series 4 whilst Axe-Awe, Iron-Awe 2 and Iron-Awe 2.1 all had an axe and a flipper. Iron-Awe 6 competed in Series 10 with only a flipper. The team also fought with a featherweight called Prince of Awe that reached the featherweight final in Series 7.
The Team
Team Iron-Awe was formed by Gilbert Grimm and his son Robert. Together, they built the robots, and appeared together throughout all of the team's appearances. From Extreme 1 through to Series 6, Adrian Moore joined the team, and Ian Bilboe took his place for Extreme 2 and Series 7.
After watching the first 2 series of Robot Wars we decided to apply to take part in the series. However due to a delay in receiving the rules and other commitments we missed out on the deadline for Series 3. We spent the time coming up with a design.Team Iron-Awe website on entering Robot Wars[1]
The team were not particularly successful on the televised show, only reaching the Heat Final once in four attempts, but since the show's original cancellation, the subsequent models of Iron-Awe have proved much more successful, most notably winning the UK Championship three times with Iron-Awe 5 (2008 and 2010) and Iron-Awe 6 (2019). The team also competed with Iron-Awe 6 in Series 10, but failed to make the Heat Final after finishing in third place. They did qualify for the 10 Robot Rumble, but did not make it through to the Grand Final.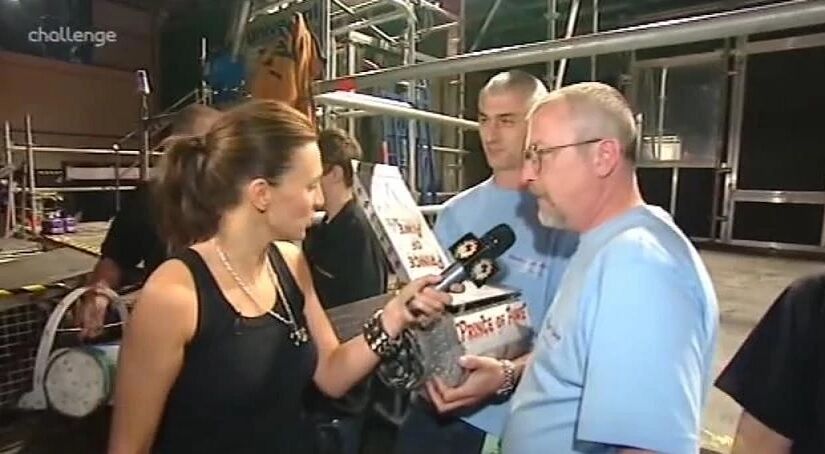 Team member Ian Bilboe also entered Prince of Awe in the featherweight competition of Series 7, but as it was his robot, Gilbert and Robert did not compete with him. Prince of Awe is also not acknowledged on the team's website.
Team Iron-Awe are one of only three teams to have had their robots thrown out of the arena three times, with the others being Team Vader and Team Ixion. The most famous of these was against Wheely Big Cheese. Iron-Awe 2.1 did however manage to pull off one of the biggest shocks in Robot Wars history by flipping Series 5 runners-up Bigger Brother out of the arena in Series 7.
Team Members
Gilbert Grimm
Building a robot from scratch is not a particularly easy thing to achieve, especially when you only have the rulebook and a TV program for inspiration. For us the mechanical design and construction of the robot was a relatively straight forward process due to an engineering background and contacts in the industry to help out. The electrical side was slightly more tricky as none of the team had any experience in this area. We ordered parts based on the suggestions from Robot Wars.Team Iron-Awe website[2]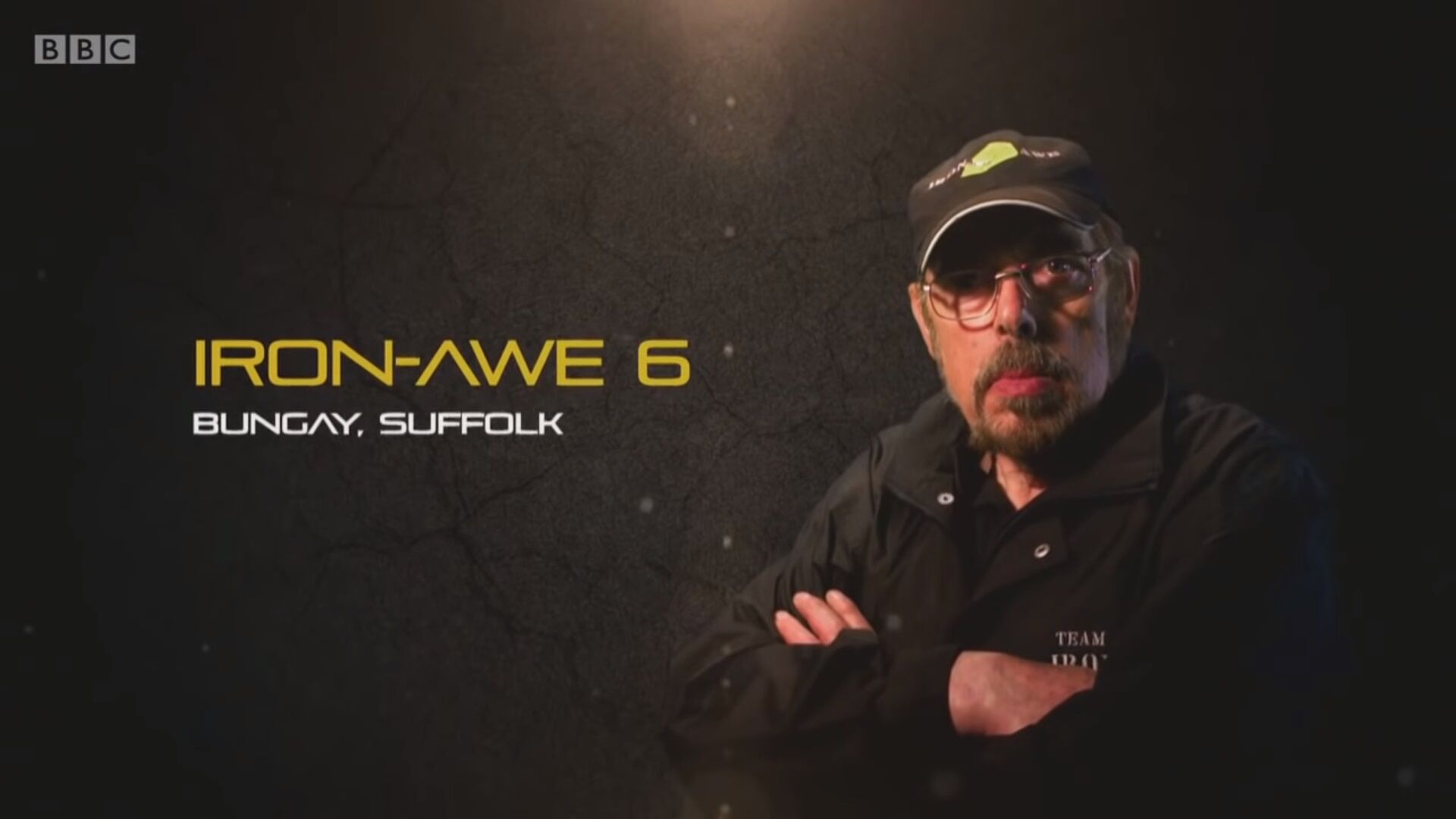 The team captain throughout the team's appearances, Gilbert and his son Robert were the main members of the team. Gilbert Grimm did most of the speaking in interviews and introductions, although he left the driving of the robots to his son Robert.
Gilbert was an experienced engineer, which helped him in the construction of Iron-Awe and Axe-Awe. He worked with packaging machinery, and used lots of parts from packaging machinery in Iron-Awe and Axe-Awe.
I'm a skilled engineer, currently working as a part time maintenance engineer, but I've done all sorts of equipment doing installations and packaging machinery.Gilbert Grimm, interviewed by Eastern Daily Press[3]
Robert Grimm
We were inspired by the original Robot Wars, which we used to watch together. I used to say to me dad that we would be able to build better ones, so we thought we'd have a go.Robert Grimm, interviewed by Eastern Daily Press[4]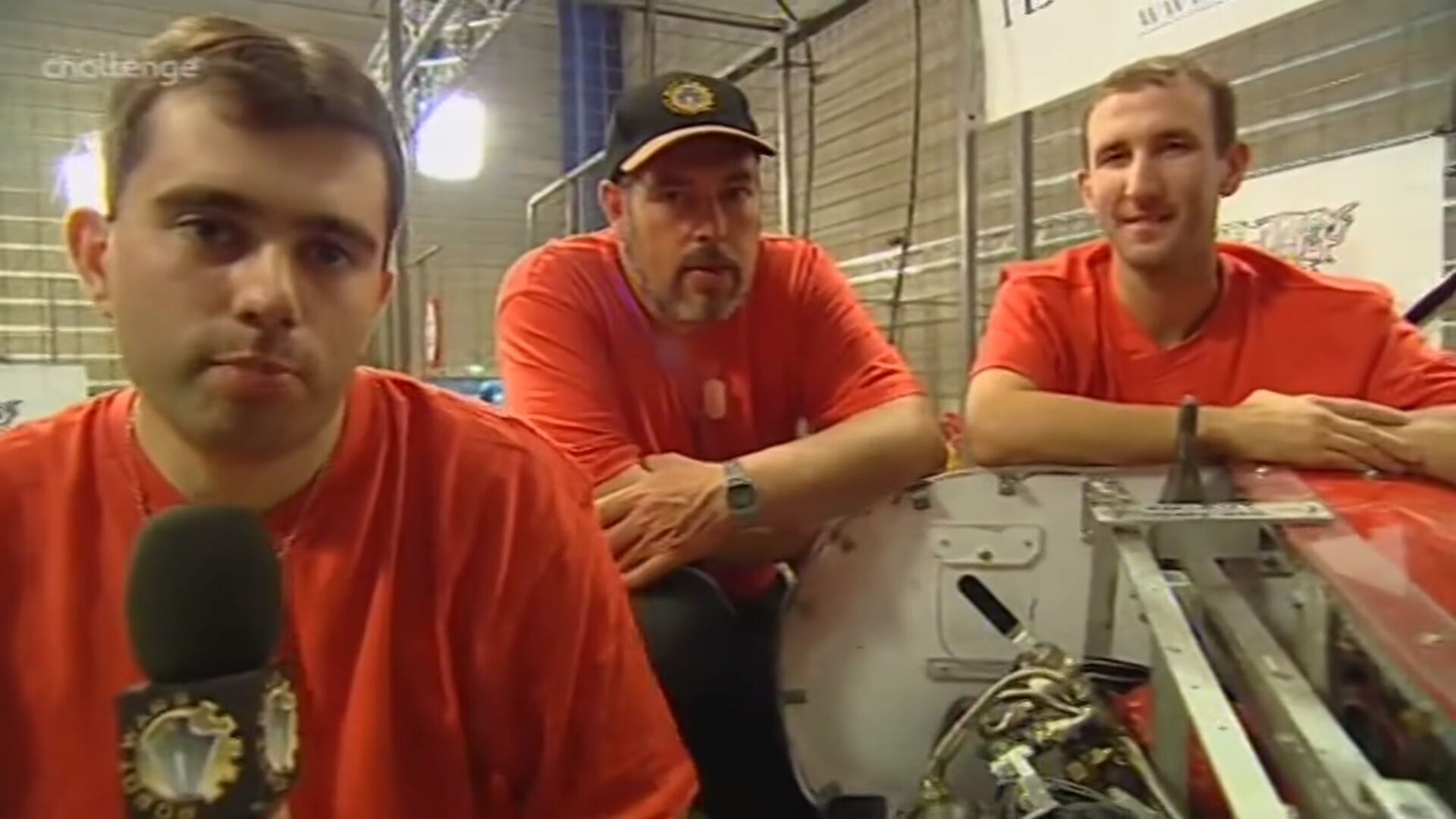 The other ever-present member of the team, Robert Grimm was the driver throughout all the team's appearances, with all the different robots. He also operated the weapons.
It was him who originally suggested to his father Gilbert that he should build a robot and enter. He shared speaking roles with his father across the series they competed in.
Adrian Moore
Joining the team when they entered Axe-Awe, Adrian Moore was a friend of Robert Grimm, having met him at university[5].
He did not control the robots, nor did he have a speaking role in the introductions or interviews. Outside of the show, he was responsible for maintaining the team's website[6].
However, after competing with the team in Series 5, 6 and Extreme 1, Adrian Moore left the team, due to being too busy with other commitments. [7]
Ian Bilboe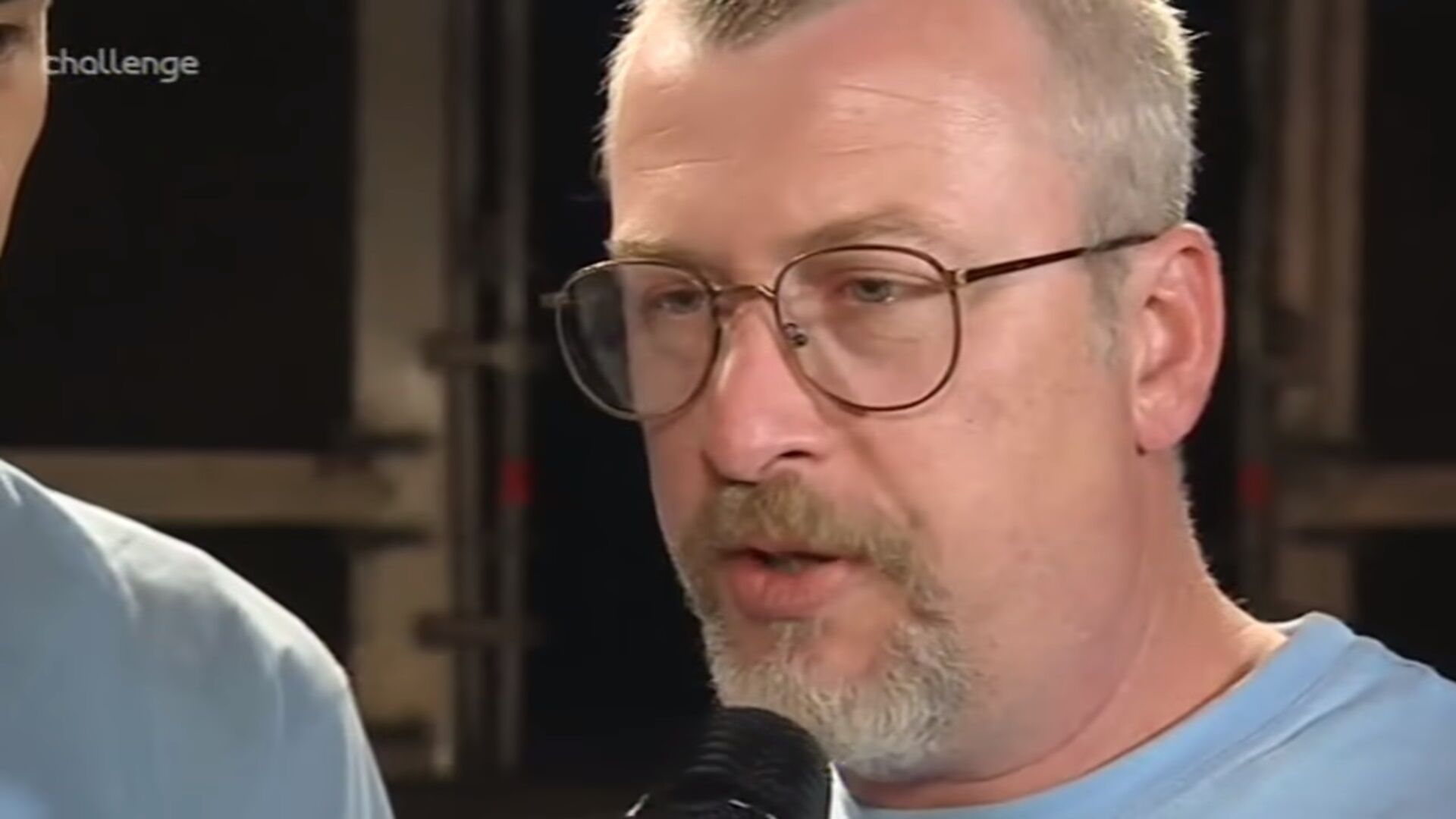 After Adrian Moore left the team, Ian Bilboe took his place. He had met the team at a live event, and he joined the team after expressing an interest in their robot[8]. He competed with Iron-Awe in Extreme 2 and Series 7.
Ian Bilboe also had his own robot, Prince of Awe, which was entered into the Featherweight Championship of Series 7. However, he entered it separately, with neither Gilbert or Robert being part of the team. Although he did not have any speaking roles whilst competing with Iron-Awe, he was the captain and driver of Prince of Awe.
Other
For the Celebrity Special shown as part of the Christmas specials in December 2000, the team were joined by the actress Natalie Cassidy. As per the rules, she had to control the machine for sixty seconds before she was permitted to hand the controls over to the roboteers. She covered Iron-Awe in L-Plates to show her lack of experience driving robots.
My brother, who is eighteen years older than me, got me a remote-control Ferrari. I was about seven or eight and I used to love it. All the other kids had Barbies and stuff, but I had my remote control car. So I've had a bit of practice with the remote control.Natalie Cassidy, interviewed by Robot Wars Magazine[9]
Iron-Awe lost in Round 1 to Pussycat, and Natalie Cassidy joined the Cold Fusion Team, who were being led by her EastEnders co-star Adam Woodyatt, for the rest of the tournament.
When Ian Bilboe entered Prince of Awe into the featherweight championship in Series 7, he was joined by a second team member, who did not make any other appearances with the team. However, due to the featherweights not having their own statistics boards, his identity is unknown. The Team Iron-Awe Facebook page also claimed to be unsure of his identity when asked in 2022.[10]
Although Team Iron-Awe consisted only of father-and-son Gilbert and Robert Grimm in Series 10, Robert's eight-month old son William featured heavily in Iron-Awe 6's VT, with Gilbert Grimm referring to him as the third team member[11]
The grandson's name is William, and we're hoping he's gonna be another keen roboteer. Even at 8 months old he's very interested in getting hold of the controller. Maybe to chew the aerial, but still getting hold of the controller, so he seems keen, and together I think we make a pretty good team!Gilbert Grimm on his grandson William in Series 10
Since the filming of Series 10, William has become interested in robotics[12].
Outside of the televised show, Shane Lale of Team Tilly has also competed with the team. Shane Lale was an old friend of the team[13], despite living in Birmingham, a long way from the team. Occasionally, he would take over as Iron-Awe's driver, and under his control, the team won Robots Live! in Grantham, and the FRA UK Heavyweight Championship at Stevenage in 2019, having been the mainstay regular driver of at least one Iron-Awe machine at live events for years and has continued to do so.
Robots
| Name | Weight Class | Series |
| --- | --- | --- |
| Iron-Awe | Heavyweight | Series 4, 6-7, 10, Extreme 2 |
| Axe-Awe | Heavyweight | Series 5, Extreme 1 |
| Prince of Awe | Featherweight | Series 7 |
Wins/Losses
Series Record
Outside Robot Wars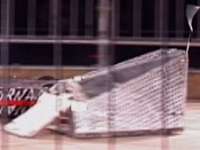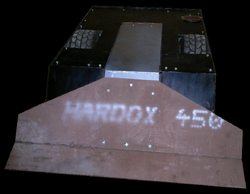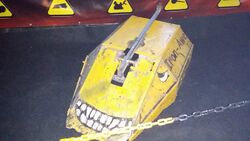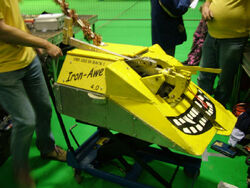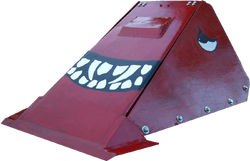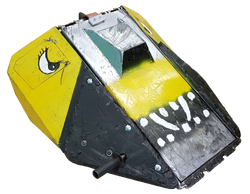 In addition to the versions of Iron-Awe seen on television, there have been five other versions of Iron-Awe. For more details, see Iron-Awe
Iron-Awe 3 – Built in 2004, it featured rolled edges on the flipper. It was sold to Team Wind Power in 2007, who renamed it L and then White Knight. It was sold to Team Shock in 2016 and has since been renamed Earthquake.
Iron-Awe 4 – In 2005, Iron-Awe 2.1 was deemed pretty worn out and was rebuilt into Iron-Awe 4. Iron-Awe 4 was smaller than Iron-Awe 2.1 but still armed with a flipper and an axe. It was sold to Team Orr and renamed Orrion in 2009.
Iron-Awe 5 – Built in 2006 following the success of Iron-Awe 3. Iron-Awe 5 features a modular construction making it easy to repair. Iron-Awe 5 won the 2008 and 2010 UK Championships, as well as been given a spot in The Combat Robot Hall of Fame in 2009.
Iron-Awe 7 – Iron-Awe 7 made its debut in July 2013 at the Robot Wars Live Newport UK Championship. Iron-Awe 7 has a wide flipper like the new version of Ripper.
Iron-Awe 8 - Iron-Awe 8 made its debut in September 2018 at the Robots Live! event in Stevenage. It sported a lower, rounder profile and a narrower flipper.
After the original cancellation of the show, the team also built a featherweight called Small-Awe, which competed at events such as Roaming Robots in Manchester in 2006[14], Robots Live! in Leicester in 2007[15] and Roaming Robots at Magna, Rotherham in 2007 [16].
The team have also competed with a heavyweight called Predator, an invertible parallelogram-shaped robot, armed with a flipper[17].
Trivia
One of Team Iron-Awe's later machines, Iron-Awe 5, was inducted into The Combat Robot Hall of Fame in 2009, as a result of its successes in live events held up to the year of its induction.[18]
References
External links