Team MAD (known during Series 7 as Team BlazerBotics, and also referred to as Team Robots Live! or Team Apollo), are a roboteering team best known for competing in the three reboot series of Robot Wars with Apollo, winning the championship outright in Series 8, also competing in the lower weight class divisions during the show's original run. In Team MAD's debut appearance, and their final appearance, the team consisted of brothers Dave and Alan Young.
The Team
[
]
Dave Young
[
]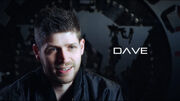 In televised appearances, Dave Young was consistently the captain of Team MAD, competing as a one-man team in lower weight classes during the second series of Extreme and Series 7, before captaining a full team throughout the Robot Wars reboot, including Series 8-10. Dave Young was generally not the team captain of the team outside of Robot Wars, but took on this role for the show, where he was an energetic and enthusiastic speaker. Dave Young was prepared to hype up a battle he was involved in, either by posing or dancing before a battle, and regularly encouraged his team vocally. At the time of Extreme 2 and Series 7, Dave Young was still a schoolboy, but grew up to be a Bluecoat performer, and was employed as a theatre technician at the time of Series 8, before becoming a full-time events manager from Series 9 onwards.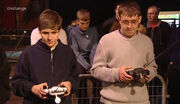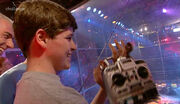 Dave Young first competed in the second series of Extreme, in both the antweight and featherweight divisions. Dave Young competed at the young age of 16 alongside an unidentified female teammate, while brother Alan Young competed with other antweights and featherweights. He competed in the Antweight Championship with Hades, although it lost its opening qualifier. His featherweight entry was Gladiator, which qualified through its opening battle, which also included Alan Young driving another robot. Gladiator reached the Featherweight Final, where Alan Young rejoined the team, although Dave Young still drove the robot. Dave Young returned to the Featherweight Championship in Series 7 with G2, an upgraded version of Gladiator, although he failed to reach the final on this occasion after G2 was immobilised by Kitty.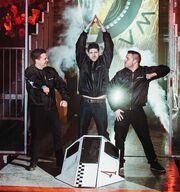 Dave Young's claim-to-fame in Robot Wars came in Series 8, where he captained Team MAD alongside teammates Marc Dermott and Ben Bacon. He was the driver and main mechanic of Apollo, which ultimately went on to win the series. This version of Team MAD was described as the 'boyband of Robot Wars', because of the trio's joint poses and enthusiastic attitudes. Dave Young also drove Apollo in Series 9, and reached the first round of the Grand Final, although Young was required to carry out more extensive repairs throughout due to repeated encounters with Carbide. Dave Young was the primary driver of Apollo in Series 10, although he offered driving opportunities to his brother for the 10 Robot Rumble. Dave Young was aged 29 in Series 10, and was native to North Wales, stated as a resident of Abergele in Series 9, and Conwy in Series 10.
"It's fantastic to be team captain of your older brother. Growing up throughout the years, he's always been the boss, telling me what to do, and I've always been given the hand-me-downs throughout the years, so now he's got to listen to me, he's got to stand there and watch me drive the robot, and he better get used to it!"
— Dave Young on his captaincy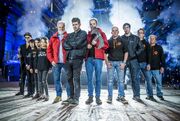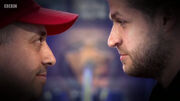 Dave Young held an important role in the first international special of Series 10, during Robot Wars: World Series. Dave Young was enlisted as the captain of Team UK, which included his own robot Apollo alongside fellow British machines Gabriel 2, Sabretooth and Terrorhurtz. Dave Young encouraged all of his British teammates to perform well, and offered tactical advice, recommending that Terrorhurtz opened its Tag Team battle against Diotoir, and that Toby Colliass should ignore his father's pacifism when battling Rabid M8. Apollo defeated Diotoir in the final battle of the episode, the necessary win to ensure that Team UK had defeated Team Rest-of-the-World, and Dave Young raised his second Robot Wars trophy at the end of the episode.
"We bring the experience of winning Robot Wars to the team. There's not many teams out there that have done it, and it's experience that is invaluable."
— Dave Young as the captain of Team UK
Alan Young
[
]
"I've decided to bring my brother along for the ride. He's a professional robot builder, so bringing in his expertise should make Team Apollo a competitive team once again."
— Dave Young on his brother in Series 10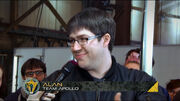 Although Alan Young never gained the opportunity to captain Team MAD on Robot Wars outside of his one-man team in the lower weight classes of the classic series, Alan Young was consistently the captain of the team on the live circuit, and other television shows such as Techno Games, where both brothers competed. In shows including BattleBots and King of Bots, Alan Young would captain the team without brother Dave Young present as a competitor. Alan Young proved to be an influential figure on the live circuit, starting the Robots Live! touring event at a young age, making him the organiser for many heavyweight robotic combat events, his full-time profession.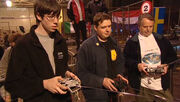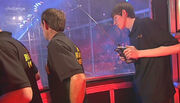 At the age of 18, Alan Young competed in the antweight and featherweight classes of Extreme 2 and Series 7, much like his younger brother, although with less success. In both of Alan Young's battles during Extreme 2, where he drove the antweight Chroma and the featherweight Flybot, Dave Young would also drive another robot in the same battle, and Alan Young's robots were consistently defeated first. However, this allowed Alan Young to unite with his brother in the final of Extreme 2's Featherweight Championship under the Gladiator team, after initially being the sole member of Flybot's team. Alan Young drove Alpha in the Featherweight Championship of Series 7, but lost the Judges' decision of its opening round, with Dave Young's G2 also falling in the same battle.
"So, Carbide went in the corner and has hit the barrier. He's managed to rip the steel barrier, it's a 6mm steel plate, and he's ripped it from the wall. So we've had to stop the fight while we sort it out, then we're going to re-fix the barrier, and get back on with the fight."
— Alan Young's spoken line in Series 8 as part of the technical crew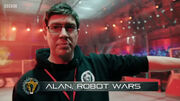 In Series 8 and 9, Alan Young was recruited as a member of the technical team for the rebooted series, meaning that he could not compete as a member of the team, despite being the lead designer and builder of Apollo. Alan Young did compete in the pilot episode filmed prior to Series 8, as the driver of Merlin, which reached the second round. Alan Young's robot MONTE was also entered into the same pilot by Paul Streeter. Alan Young's only televised appearance Series 8-9 was during the Series 8 Grand Final, where he (as a member of the technical team) discussed the safety measures regarding the arena wall that had been broken by Carbide.
Angela Scanlon: "You've been wheeled in, jazz hands aside, to get Apollo back on form."
Alan Young: "Yeah, this is the difficult third album! You know, we've got to come back and prove ourselves!"
— Team MAD's new approach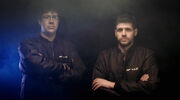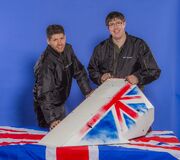 Alan Young was to reprise this role in Series 10, but after Marc Dermott withdrew from the team shortly before filming, 31-year old Alan Young forfeited his place on the technical crew to join his brother as a member of Apollo's televised team. This allowed Team MAD to take a new approach as a team, transitioning from the energetic "boyband of Robot Wars" team seen in Series 8-9 into one with high expertise, which Dave Young credited to his brother's vast experience in robotics. Alan Young was fully involved with the design and maintenance of Apollo's upgrades, although both his brother and the production crew took jabs at Alan Young's expense, calling him 'awkward', jokingly criticising his dance before Apollo's battle against The Swarm and Apocalypse, and Dave Young admitted that he enjoyed giving orders to his older brother. During the 10 Robot Rumble, Alan Young drove Apollo, which was the final robot to fall during the battle. As a resident of Chester, formerly Birmingham, Alan Young allowed Apollo to be a joint Welsh-English team, and wore a cape sporting the Union Flag in his appearance during Robot Wars: World Series while offering advice to driver Dave Young.
Cameraman: "Are you quite awkward, Alan?"
Alan Young: "Am I awkward? ...I don't really know how to reply to that!"
— An example of Alan Young being mocked after Dave Young called him 'awkward'
Marc Dermott
[
]
"Bluecoats Dave and Marc have been friends for ten years, but have only been competing as a robotics team for one year."
— The Robot Wars website on Marc Dermott and Dave Young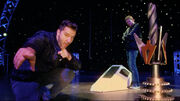 Marc Dermott, aged 32, participated as part of Team MAD in Series 8 and 9, and was present for both of Apollo's appearances in the Grand Final. An entertainment manager professionally at the time of Series 9, Marc Dermott brought his sense of humour to the show, regularly telling jokes, sometimes at the expense of teammate Dave Young, with other examples including Marc Dermott referring to Carbide as "can't abide". He initiated many of the team's dances and poses, including a performance of 'the robot' before Apollo's heat semi-final against Carbide, and both team members bounded around their booth before the Heat Final rematch. Marc Dermott was listed as a mechanic of Apollo on the Robot Wars website, and occasionally offered advice to Dave Young while he drove Apollo in battle.
Marc Dermott: "I'm happy days, aren't we?"
Dave Young: "I'm happy, it's really cold as well, so that means the flipper's probably only working at half..."
Marc Dermott: "That's only because he wore two layers that he thinks it's cold. Four layers, four layers, like that."
Dave Young: "...But Apollo works a lot better in the warm, so that was probably about half power."
Marc Dermott: "Same as you!"
Dave Young: "...Will you shut up? We were launching them a fair height!"
— Marc Dermott constantly interrupts Dave Young with a barrage of jokes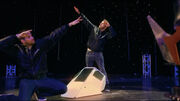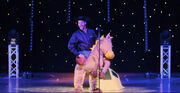 Marc Dermott had intended to return to Team MAD for Series 10, but hardly one week before filming was about to begin, Dermott was offered an acting position overseas, and was unable to attend filming as a result, leading to Alan Young taking his place. Marc Dermott met Dave Young and Ben Bacon as a bluecoat performer at Pontins, and had previously appeared on television as a presenter of live Darts on Sky. Because of this, Apollo's VT in Series 9 was filmed at Pontins, where Marc Dermott performed various pantomime techniques, with Apollo hiding behind him.
Marc Dermott: "Whoa whoa whoa there, old Dara!"
Audience: "It's behind you!"
Marc Dermott: "Oh no it isn't!"
Audience: "Oh yes it is!"
Marc Dermott: "Aaaaaah!!"
— Marc Dermott's pantomime performance, with a horse named Dara
Ben Bacon
[
]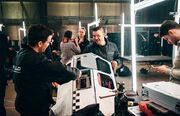 Ben Bacon was a member of Team MAD for Series 8, exclusively. Ben Bacon showed similar enthusiasm to his teammates Dave Young and Marc Dermott on-screen, and joined in with the team's poses and dances, celebrating Apollo's victories passionately. However, Ben Bacon's interest in robotics was lower than his televised appearance suggested, would later decide not to rejoin the team in subsequent series. Aged 28 at the time of Series 8, Ben Bacon was still an entertainer by trade, having first met the rest of the team as a Bluecoat entertainer at Pontins.
"The team met as they were members of the famous Pontins 'Bluecoats Entertainers,' and formed a friendship from there. Captain, Dave, has converted his farmyard barn into a 'Robot Workshop.' The barn is now 'a museum' to all of his old fighting robots from previous series, which includes Kronic the Wedgehog, other old competitors' robots, and purchased old house robots."
— The Robot Wars website on Team MAD in Series 8
Robots
[
]
| Name | Weight Class | Series |
| --- | --- | --- |
| Chroma | Antweight | Extreme 2 |
| Hades | Antweight | Extreme 2 |
| Flybot | Featherweight | Extreme 2 |
| Gladiator | Featherweight | Extreme 2, Series 7 |
| Alpha | Featherweight | Series 7 |
| Apollo | Heavyweight | Series 8-10 |
| Merlin | Heavyweight | Series 8 (Pilot only) |
NOTE: Alan Young also built MONTE, which was entered into the 2016 pilot by Paul Streeter.
Wins/Losses
[
]
NOTE: The performance of Merlin in the pilot episode is excluded
Series Record
[
]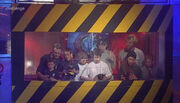 NOTE: MONTE, a robot built by Alan Young, entered the 2016 pilot under Paul Streeter where it lost in Round 1.
Outside Robot Wars
[
]
In addition to Robot Wars. Team BlazerBotics entered its sister show Techno Games with a wedge-shaped robot named Blazer, the team's first middleweight and from which they received their original name. Blazer entered the Assault Course, but lost to Bugs Buggy, and was later equipped with a pneumatic flipper for combat events. However, it would not attempt to qualify for Robot Wars.
After Robot Wars entered its hiatus, the team purchased Raging Knightmare in early 2005, which they renamed Knightmare, and fought with it until 2013 when it was sold on to Adrian Sandercock and later to Ceri R Jenkins, the latter of whom renamed it Raging MORG. Team MAD also fought with Merlin, UFO and former FRA UK Champion Kronic 3, the latter having been retired and superseded by Apollo in recent years. Team MAD also set up a company called Robots Live!, which hosts live robot combat events for heavyweight and featherweight robots. Along with Extreme Robots and Robo Challenge, Robots Live! is a very well-regarded event organiser in the roboteering community, and currently hosts the FRA UK Championships as one of their events. Team MAD have also bought the shell of Wedgehog, which they use only for display purposes.
Of Team MAD's robots, Merlin underwent several rebuilds since the Seventh Wars, and competed regularly at live events with considerable success; most notably reaching the finals of the 2006 UK Championships and winning that year's Tag Team Terror with Velocirippa. Kronic, meanwhile, earned the team's biggest successes until its retirement; becoming the UK Annihilator Champion twice in a row in 2010 and 2011 and finishing fourth in the 2012 UK Championships. In August 2018, Team MAD built a featherweight version of Apollo named Rocket, which entered and finished third at that month's King of Bots UK International Championships. For more information, see here.
The team also participated in Scrapheap Challenge, competing in the Giant Archery competition at the Scrapheap Challenge Roadshow at 2007 Bodelwyddan Medieval Festival. There, they competed as The Robot Warriors, and narrowly missed out on a place in the final.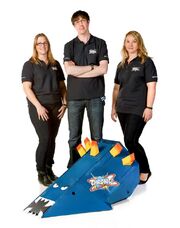 Under the name of Team Chronic, Team MAD applied to participate in the 2015 reboot of BattleBots with Chronic, a blue wedge-shaped robot with a flipper and a similar body shape to Apollo. Although Chronic was not chosen to compete in the main series, it was the first robot to fight in the new BattleBox, battling Swamp Thing, built by Team Hardcore Robotics of Tombstone fame. This battle was staged as a test for the camera equipment, where Chronic threw Swamp Thing around, causing external damage to it by causing the robot's thwacking tail to fall off, but Chronic eventually broke down and lost the battle. Chronic remained a reserve for the series, but was not required to take part. Chronic was also due to compete in a nine-robot rumble at the end of the series, but due to time restraints in filming, it never took place.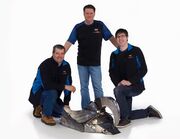 Although Chronic was not accepted to take part in the 2016 series of BattleBots, Alan Young was still able to participate by joining Team Storm and Andrew Marchant in entering Photon Storm, a reworked version of Tiberius. It lost to the Brazilian robot Minotaur in round one, surviving for a good amount of time before a heavy drum blow to the side caused a weld to break and took both of its drive motors, damaged the battery while also damaging the hydraulic line that powered the weapon. Photon Storm was not selected as a wildcard, and thus, was eliminated.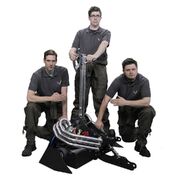 Alan Young represented Team Robots Live! in the Chinese TV show King of Bots, competing alongside Ed Wallace, and Kevin Cleasby with a heavyweight robot named Vulcan. The robot was black, and was armed with a large bladed axe, and a front scoop like that of older Terrorhurtz editions. In the first round, it fought the Chinese flipper, Saber. However, after being flipped in the early stages, Vulcan struggled to land axe blows. Vulcan was turned over by the floor flipper, and later lost the use of a wheel. Towards the end of the second minute, Sabre flipped Vulcan over, and after struggling to self-right, its axe became stuck in a flame jet, leaving it stuck. Thus, Vulcan lost in the first round. Regardless, it still fought alongside Tánshè in a Tag Team battle against Saber and Greedy Snake, winning the battle on a Judges' decision due to Tánshè immobilising Saber.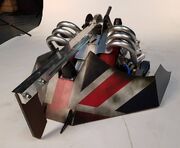 Alan Young returned to China to compete in This is Fighting Robots, also known as Season 1.5 of King of Bots, using an upgraded version of Vulcan. He was joined by Sam Cooper of Team Chronic, as Ed Wallace was unable to return, while Kevin Cleasby built his own robot, Switch. Vulcan now uses CO2 instead of compressed air, and a new four-wheel drive system. Vulcan was considered visually impressive by Zheng Shuang, who selected it to join her team of robots, advancing Vulcan to the main competition. There, it fought Firefox and Zen Oh, and after Firefox was immobilised by Zen Oh, Vulcan repeatedly pounded the Portuguese machine until it was also immobilised, awarding the win to Vulcan. In the Tag Team round, Vulcan was partnered with Xiake, the successor to the King of Bots runner-up Chiyung Jinlun, in order to battle 008 and Greedy Snake. However, after Xiake was pitted, Vulcan was held in the air by Greedy Snake, and lost the resulting Judges' decision. Vulcan was initially eliminated at this stage, but as Zhang Yishan's team had a shortage of competitors, Vulcan was reinstated as part of the blue team. Vulcan was immediately forced to defend this title against Colombian challenger South American Eagle God, but Vulcan's axe easily penetrated the armour of its opponent, eventually punching a lithium polymer battery to set its opponent alight, winning by knockout. As one of only two active members on the blue team, Vulcan fought the American shell spinner Megabyte, and lost the use of its axe almost immediately, but Vulcan managed to disable Megabyte's spinner through repeated rams, and eventually won the fight when Megabyte was overturned by the floor flipper. Vulcan next fought in a four-way melee against Tungsten, Ninja and Thunder and Lightning, where Vulcan survived to a Judges' decision and earned a point for its team, but lost the battle overall to Tungsten. Vulcan advanced to the Top 8, but there it was finally eliminated after losing mobility in battle with Shrederator Tiger Claw.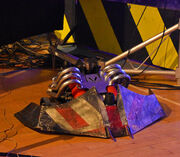 Vulcan also appeared at the King of Bots UK featherweight championship in August 2018, to demonstrate the power of heavyweight robots. After destroying wooden pallets for the audience, Vulcan was able to retire Spank the Monkey by destroying the featherweight machine. It later appeared in the 2019 Opening Battle, promoting the upcoming second season, where it fought a single head-to-head battle against eggbeater spinner Hold Me Back. Despite initially getting flipped and damaged by its opponent's weapon, Vulcan would win the battle via a Judges' decision after axing Hold Me Back numerous times.
Outside King of Bots, Vulcan has attended several events in the UK alongside Apollo and other robots created by Team MAD. In September 2018, it attended the Robots Live! Stevenage as an active competitor, winning a whiteboard battle via knockout against Meggamouse and Puck, and Robonerd as a static exhibition. Otherwise, it fights exclusively in head-to-head battles against Apollo, outside of the main competition.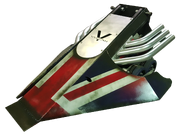 For King of Bots II, Alan Young created a new version of Vulcan equipped with a full-pressure flipper heavily inspired by Apollo, while incorporating key aesthetic details of Vulcan, including its signature four-wheel drive system. It defeated the experienced Xiake to join Huang Jian Xiang's team, and then teamed up with Xiake to defeat Doraemon and Emerald in a two-on-two fight. To the delight of Alan Young, Vulcan was able to avenge its Season 1 loss to Saber in its next battle, and continued its undefeated run by flipping Boxing Champion over, and tossed Cracked Sword out of the arena in its fifth win before the final tournament. There, Vulcan defeated former champion Spectre, and finally Drift to win the competition outright on behalf of its team. Although Vulcan shares first place with four other robots, it is often regarded as the overall series champion due to its undefeated status, and its victory in the final fight of the series.
In February 2020, Team Apollo were confirmed to be entering that year's season of BattleBots with Orion, a brand-new robot armed with a flipper (officially described as a 'launcher'). Orion combines the paint scheme of Apollo with the general shape and four-wheel drive system of Vulcan, along with a new set of decorative exhaust nozzles on either side of the flipper.[1] With the COVID-19 pandemic postponing filming of the 2020 season to October, the team would later withdraw due to ongoing travel restrictions and safety concerns.[2] Team Apollo were again accepted for the 2021 season of BattleBots, but were forced to withdraw due to work commitments.
In November 2021, Team MAD competed in a Robots Live! event held in Riyadh, Saudi Arabia with Apollo, Orion and the King of Bots Season 1 iteration of Vulcan, alongside Alan Young's MONTE. Apollo and Orion both finished as knockout bracket semi-finalists, and finished the round robin battles with thirteen and twelve wins respectively. Vulcan amassed four wins across the event before falling in the first round of the bracket to Tánshè, while MONTE earned three wins, then fell in the first round to Apollo.
Honours
[
]
Trivia
[
]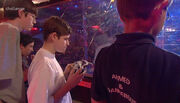 In all three of Team MAD's first-round battles in the lower weight classes (Extreme 2 Antweight Championship, Extreme 2 Featherweight Championship and Series 7 Featherweight Championship), both Dave and Alan Young separately competed within the same battle.
In all of their appearances on the rebooted show, Team MAD wore Apollo-branded waterproof jackets. During Robot Wars: World Series, Gabriel Stroud and John Reid also wore an Apollo jacket as part of Team UK.
On June 19th 2018, Dave and Alan Young recorded a promotional video on behalf of HEXBUG, promoting the HEXBUG Robot Wars Arena in front of Apollo, where Alan Young won a practice battle with the toys by driving Impulse, defeating Royal Pain which was driven by Dave Young. The merchandise was then sold at the Robots Live! event held in Grantham, the following weekend.
References
[
]
External Links
[
]