Team Mace was a relatively successful team who competed in the original series of Robot Wars. They entered Series 2 to 5, as well as the first series of Robot Wars Extreme. Team Mace made the Semi-Finals in their first two campaigns with their original robot, Mace, before replacing it with Gemini in Series 4, which was the first clusterbot to ever appear on the show. While Gemini did not reach the Semi-Finals, it won both the Best Design and Most Original Entry awards and the Pinball Warrior Tournament all in its debut series.
Both of Team Mace's robots sported pneumatic flipping arms and had warning stripes on the front. They also both had the British flag on their back ends.
The Team
[
]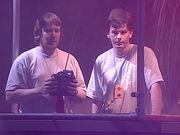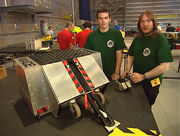 Team Mace came from St Leonards-on-Sea in East Sussex and consisted of friends Shane Howard and Brian Fountain in all of their appearances. Shane was the team captain and controlled Mace in all of its battles as both the driver and weapons operator. When the team entered Gemini, Shane shared the controls with Brian, with both members controlling one half each. According to Jonathan Pearce, Shane had an ambition to fly a helicopter to the stars. Meanwhile, Brian observed the battles while Shane was in control, but was able to become a co-driver once Gemini was built. In their Semi-Final battle against Big Brother, Brian wore a small plastic bowler hat and according to Jonathan Pearce, he had met Paul McCartney, Eric Morecambe and Ruth Madoc. Brian had also built a beetleweight version of Mace known as Mini Mace, which could be seen on the table next to Mace 2 in their Series 3 interview.
Shane was the lead designer of Mace while it was Brian who thought up the idea of Gemini, first coming to him after reading the rules of the competition when they received the information pack through the post. However, the team chose not to build a clusterbot as construction for Mace was already underway and the idea was put off again as they prepared to enter Series 3 as Shane was sceptical about it as they thought they would get beaten too easily.[1] Eventually after Series 3, Shane finally agreed to go with the clusterbot idea and Gemini was built for Series 4, with Brian being the designer and Shane being the builder.[2]
"Gemini was a brainchild I had as soon as we got the information pack through the post, giving all the rules and types of robot designs suggested and clusterbots was on the list. Mace was well underway by then so we went with it. So after the filming of Series 2, we got together to discuss what next, I popped the question to Shane "What about a clusterbot?". Shane dismissed it saying we would not stand a chance against a normal heavyweight bot and would take a lot of working out to produce something that would be effective, so we upgraded Mace to Mace 2 for Series 3. After Series 3, Shane said "Let's build a clusterbot for Series 4", so after many months of building and testing, Gemini was born"
— Brian Fountain on the origins of Gemini in 2021 (edited)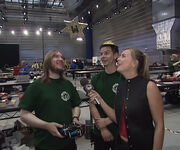 Both Shane and Brian shared speaking roles, with both of them getting a chance to talk in their Series 3 introduction. In the Series 3 Semi-Finals, the team had a running joke with Philippa Forrester that a 'twinkling star of good luck' was following them around, with a prop star with a letter 'M' on it being hung over them on the boom microphone in their first pre-battle interview. Notably, the star was upside down and this was pointed out rather humourously by Philippa. In the second pre-battle interview, Philippa held the star up on a stick. Unfortunately, Richard Swann of Team Chaos called it the 'twinkling star of bad luck', and this supposedly made the team lose the battle against Chaos 2.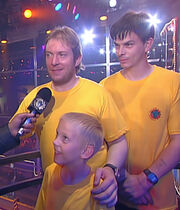 In Series 4 with the introduction of Gemini, Shane invited his son, Daryl, onto the team. Daryl had minor speaking roles, his most notable being after their defeat of The Creature, where he spoke to Julia Reed with Elanor Harmsworth. In the same interview, he revealed that Shane had spoken to George Francis of Team Chaos to ask how he had made the flipper of Chaos 2 as powerful as it was, with Shane taking this advice when building Gemini.
The team sported black shirts in Series 5 and Extreme 1 with Gemini's name written on in white lettering. Before this, Shane and Brian had worn white shirts in Series 2 and green shirts in Series 3, while all three members wore yellow shirts in Series 4.
Team Mace made their last appearance in Series 5 and did not enter any other series afterwards. They were unable to enter Series 6 due to rule changes disallowing the soda stream bottles used to power Gemini's flipping arms. The team could not fit suitable CO2 canisters in without pushing the robot over the weight limit. This effectively led to the team's retirement from Robot Wars.[3]
Robots
[
]
| Name | Weight Class | Series |
| --- | --- | --- |
| Mace | Heavyweight | Series 2-3 |
| Gemini | Heavyweight | Series 4-5, Extreme 1 |
Wins/Losses
[
]
Series Record
[
]
Outside Robot Wars
[
]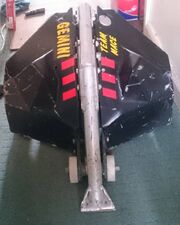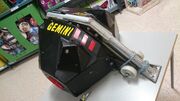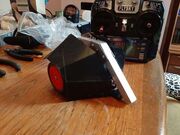 After their retirement from Robot Wars, Team Mace disbanded in September 2003 as Brian Fountain moved to Scotland and took one half of Gemini with him.[4] Meanwhile, the other half of Gemini and Mace remained with Shane Howard. In the present day, both Shane and Brian still own their respective halves of Gemini,[5][6] while Shane deconstructed Mace in the following years.[7]
Both Brian's and Shane's halves of Gemini were present on display in 2016. Brian's half, along with Mini Mace, appeared on display at a local Tesco supermarket as part of a charity event organised by Brian while Shane's half was displayed at an unknown event. In February 2021, Brian gave permission to roboteering group Asimov's Loophole to create an antweight version of Gemini, which the team named geMINI.
Honours
[
]
References
[
]