"Evolution by design"
— Team Motto
Team Make Robotics (also shortened to Make Robotics and known as The Behemoth Boys or Team Behemoth on TV) are a long-standing team who have entered every UK series of Robot Wars except Series 1, including both series of Robot Wars Extreme. They have competed with the heavyweight Behemoth (Series 2-10, Extreme 1-2), and antweight Anty B (Extreme 1-2), both distinguished by their large lifting scoops and yellow and black colour schemes. Having competed in nine main series, Team Make Robotics are the longest-competing team in the show's history, and reached the Grand Final to finish in third place in their most recent appearance.
The Team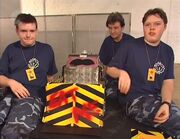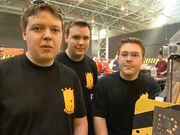 "After watching a few shows we decided to send off for the application form and it all went from there."
— The team on joining Robot Wars[1]
Team Make Robotics initially consisted of Anthony and Michael Pritchard, their father Edward and friend Kane Aston, who built their heavyweight Behemoth for their debut in Series 2. Edward Pritchard did not compete with the team following Series 2, with Kane Aston taking his place for Series 3 and all of Behemoth's subsequent appearances except for the Extreme 2 Iron Maidens tournament. Anthony also fought as a single roboteer in the Extreme 1-2 Antweight Championships with Anty B, essentially an antweight replica of Behemoth. In Series 9, the team roles included Anthony Pritchard as captain and driver, Kane Aston in charge of pneumatics, Michael Pritchard running electronics, and Kevin Cleasby as the team mechanic.
For the Iron Maidens competition in Extreme Series 2, Anthony's mother Liz Pritchard, who had long since been coming along to Robot Wars in support, operated Behemoth's axe weapon, with Michael's girlfriend Claire Gray driving the robot itself. Team Make Robotics also represented the University of Hertfordshire when they entered Behemoth into the Extreme 2 University Challenge.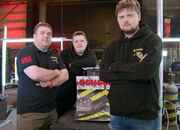 Despite their experience and longevity, the team's successes in Robot Wars had been mixed. In its earlier appearances, Behemoth reached the Semi-Finals of Series 2 and finished runner-up in The First World Championship, but was unable to win its Heat in any of its subsequent main series appearances. Its remaining performances saw it reach the Heat Final in Series 3-4 and 8, and eliminated from the second round in Series 5-7 and 9. Behemoth turned this around in Series 10 by reaching the Grand Final, finishing in the top four. Behemoth also competed in various side competitions held throughout the main series and in Robot Wars Extreme, notably winning the Series 7 House Robot Rebellion along with teammate Gravity.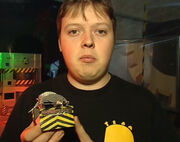 Meanwhile, Team Make Robotics enjoyed more success with Anty B, which despite losing the Antweight Melee in the first series of Extreme after falling underneath the Floor Flipper, won the Antweight Championship in the second series of Extreme; the team's only Robot Wars accolade to date. Behemoth and Anty B's track records ensure that the team currently holds the records for entering the most competitions and losing the most battles out of any competing team.
Team Make Robotics also built BBC 2 Ident, a 2-shaped lightweight robot commissioned as an official ident for BBC Two, the original and current UK broadcaster of Robot Wars.
Etymology
Team Make Robotics used the name Team Behemoth for Robot Wars, but the Make Robotics name was used on Techno Games, and it is also currently the name of the team's website. The name Make Robotics comes from the team members initials; Michael, Anthony, Kane and Edward.
Controversy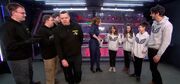 The team had a publicised difference of opinion following Behemoth's loss to Cherub in Series 9, as Behemoth entered its Head-to-Head battle against the latter with an untested weapon. The weapon - a pair of grabbing arms - proved ineffective in battle and contributed to its loss via the subsequent Judges' decision. Anthony Pritchard had vehemently opposed the use of the weapon - insisting that the scoop would have guaranteed Behemoth victory - and walked away from the control room after the decision was announced, in a move which attracted unfavourable coverage from the press.[2] Pritchard did not remain present with his Make Robotics teammates for Behemoth's following whiteboard matches against Gabriel and TR2. Although Pritchard was criticised by the press, who assumed that he walked out because of Behemoth losing to Cherub's team of children, he clarified that the age of his opponents was not a consideration, and he felt the blame was purely with his team for using the experimental gripper weapon. He also clarified that after the cameras had stopped rolling, he had apologised to Angela Scanlon and Team Cherub.[3]
The controversy was addressed in Series 10, introducing the entire series, to portray Anthony Pritchard's actions in a more relatable manner, and Anthony Pritchard promised to never repeat his actions.
Robots
| Name | Weight Class | Series |
| --- | --- | --- |
| Behemoth | Heavyweight | Series 2-10, Extreme 1-2 |
| Anty B | Antweight | Extreme 1-2 |
Wins/Losses
NOTE: Behemoth's successful Gauntlet and Trial runs, whiteboard matches, and exhibition match with TR2 are not included. Behemoth's withdrawal from the Southern Annihilator is considered a loss.
Series Record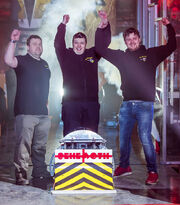 Outside Robot Wars
Team Make Robotics
In Techno Games, Make Robotics fielded two robots, dressed in fur reminiscent of Killerkat, and named Technomoth and Tigermoth. These were two versions of Behemoth used in the previous wars. Technomoth entered Techno Games 2002 without fur in the Assault Course, coming 4th overall, the same year that Technomoth worked with a robot called Ravioli in the Football. However, Ravioli hardly moved so the pair lost their first match. Technomoth return to the Assault Course, this time covered in fur, in 2003 but lost to Rash (whose team had built Ravioli the year before) in round 1. Technomoth and Tigermoth got to the semi finals of the Football at least after beating the Skeleton Crew 2-0 in the quarterfinal.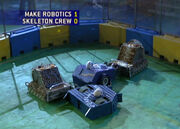 They also represented the University of Hertfordshire when they entered other Techno Games events, including the Relay race that they won in 2001 and 2002 as Team KAM. KAM came from the initials of the three team members that entered the Relay race: Kane, Anthony and Michael.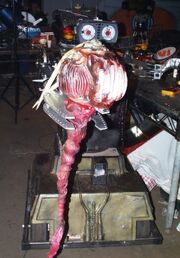 Make Robotics also competed in the BBC Three game show Mechanoids with Megabyte, a robot with a humanoid-style upper body and arms, one of which featured a pneumatically-operated claw. Made predominantly out of Land Rover parts and dexion shelving, Megabyte consistently outscored its opponent 'Brian Damage' across the 'Furnace', 'Nest' and 'Alien Hunt' rounds to win its episode by a seven point margin.[4][5]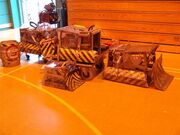 Both Anty B and Behemoth have achieved various successes at live events since Robot Wars entered its initial hiatus, with Make Robotics being named Winter Tour Champions in 2006 with Behemoth, after defeating favourites Iron-Awe. Behemoth also notably finished third in the UK Championships in 2005, second in 2013 and third again in 2017, undergoing several rebuilds and upgrades in the process. As of September 2018, Team Make Robotics still regularly appear on the live events circuit, presently fighting with the latest version of Behemoth and Kevin Cleasby's heavyweight robot Switch (see below).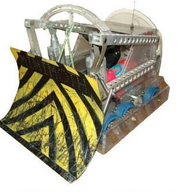 Alongside Behemoth and Switch, Team Make Robotics also compete on the live event circuit with a featherweight version of the former, called Minimoth. Boasting a similar weapon and design to its heavyweight counterpart, Minimoth was a regular competitor at the FRA International Championships; in 2015, it won an 18-robot 'Gladiator' battle held as part of that year's championship.[6]
Team Make Robotics are also the current owners of Mortis and its unfinished successor, Rigormortis, and reused the latter's weapons pod for their ABC BattleBots entry, Radioactive (see below).[7]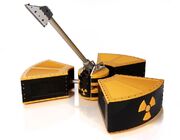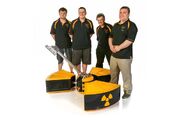 In 2015, Team Make Robotics competed in the revived series of BattleBots with a new heavyweight robot called Radioactive. Radioactive won its first battle, beating Sweet Revenge on a Judges' decision, despite moving sluggishly and finishing the battle immobile. In the Round of 16, Radioactive was given the lowest seeding possible, and was drawn up against the No. 1 seed, Tombstone. Radioactive was knocked out and eliminated from the tournament.
Anthony Pritchard married his partner in December 2018. Ant's wedding ring was made using titanium from Behemoth Evo III. Behemoth itself was part of a static display at the wedding, alongside Sgt. Bash.
Kane Aston
During the first hiatus of Robot Wars, Kane Aston became the head of the Fighting Robots Association (FRA), the governing body of the heavyweight live circuit, responsible for officiating the standard rules for combat while organising the UK championship for each respective year since 2004. Kane Aston still upholds this position as of 2019.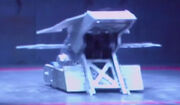 In 2018, Kane Aston built a new robot for the Chinese TV show Clash Bots, Devourer, a highly manoeuvrable robot armed with large, electrically powered clamping jaw. It fought the Chinese vertical spinner, Down Hook. Devourer was quick in its movement, and slammed into Down Hook, but sustained severe damage from the 7000rpm spinner, and briefly became immobile after shedding armour throughout the battle. It later regained mobility, but sustained more damage from Down Hook until the time expired. Devourer lost the Judges' decision, and was eliminated from the competition.
Kane Aston also featured as a judge for Bugglebots in 2018 alongside Annita van der Meer of Team Dutch Robot Girls and Ian Botwright of Team Conker.
Kevin Cleasby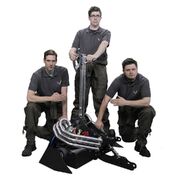 Kevin Cleasby collaborated with Alan Young and Ed Wallace to enter the Chinese TV show King of Bots to enter with a heavyweight robot named Vulcan. The robot was black, and was armed with a large bladed axe. In the first round, it fought the Chinese flipper, Saber. However, after being flipped in the early stages, Vulcan struggled to land axe blows. Vulcan was turned over by the floor flipper, and later lost the use of a wheel. Towards the end of the second minute, Excalibur flipped Vulcan over, and after struggling to self-right, its axe became stuck in a flame jet, leaving it stuck. Thus, Vulcan lost in the first round. Regardless, it still fought alongside Tánshè in a Tag Team battle against Saber and Snake, winning the battle on a Judges' decision due to Tánshè immobilising Saber.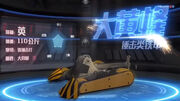 For the Chinese show This is Fighting Robots, produced by the team behind King of Bots, Kevin Cleasby built his own heavyweight robot, Switch, armed with an electrically powered hammer. It was selected for a celebrity's team, and fought in a four-way battle against EarthShaker, Stealth and the clusterbot Thunder and Lightning. However, Switch was repeatedly flipped by EarthShaker, also being pushed around by half of Thunder and Lightning, ultimately losing the battle which was won by Stealth. Switch also fought in a Tag Team battle, where it partnered with Lieutenant Bam to battle ORBY Blade and the reigning King of Bots champion Spectre, but Switch was immobilised in battle, losing the match.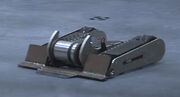 Kevin Cleasby also built a featherweight counterpart to the machine named Microswitch, armed with a drum spinner. It competed at the featherweight championship hosted by King of Bots in August 2018. In first first battle, Microswitch lost a three-way melee against Calabash Bros. In its next battle, Microswitch placed second after surviving longer than Broadax, but suffered severe damage from the vertical spinner of Binky. In its final qualifier, Microswitch was driven into the pit by Hell's Angel.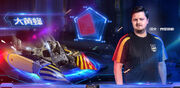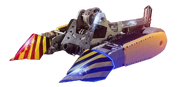 Kevin Cleasby returned to King of Bots II with Switch, which now boasted an array of weapons including the existing hammer, a drum spinner, and a lifting mechanism which ultimately went unused. It used the hammer in its first battle against Cracked Sword, and won the battle to earn a place on a celebrity team. Using its drum spinner, Switch then immobilised Emerald and Yesaji in a two-on-two fight to earn a victory for the celebrity Zhu Zheng Ting. Despite this, Switch was almost eliminated from the competition on multiple occasions when Zhu Zheng Ting intended to cut it from his team, with teams such as Tánshè, Snake and Two BBQ offering themselves for elimination after their losses to spare Switch, but ultimately Switch was automatically eliminated from the tournament without any further involvement after Zhu Zheng Ting's team lost too many battles.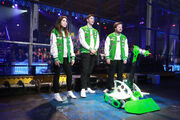 Kevin Cleasby was also in attendance at BattleBots for part of its 2019 season, as a member of the Jasper team. For more information, see here.
Trivia
Honours
Nominations
External Links
References
UK Series Teams
Series 1
Series 2
Series 3
Series 4
Extreme 1/Series 5
Series 6
Extreme 2/Series 7
Series 8-10
Community content is available under
CC-BY-SA
unless otherwise noted.