"Adam and Daniel's dad set up the engineering firm, which they now own, when they were eight years old. As children, they were immersed in the business and credit their love of engineering to this."
— The Robot Wars website on Team Mute's introduction to engineering[1]
Team Mute is a team of roboteers that debuted in Robot Wars Extreme: Series 2, before entering Series 7 and 8 of Robot Wars.
The Team
[
]
"After watching Robot Wars on TV, both me and Daniel thought it would be good to build a robot,. We both work at our family run engineering company, so we had access to lathes. Welders etc."
— Adam Emmett on entering Robot Wars[2]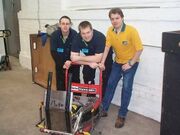 Adam and Daniel Emmett are twin brothers, and are engineers by trade, owning the family business opened by their father Peter Emmett over thirty years ago. The Robot Wars website claims that they were immersed in the business and credit their love of engineering to this[3].
Team Mute entered a heavyweight robot, Mute, a front-hinged flipper and namesake of the team, which was originally built to enter Series 4, into Series 7 of Robot Wars, and Extreme 2. Team Mute also entered two Featherweight Championships with Micro Mute. In 2016, Team Mute entered with Bonk.
Team Mute enjoyed a fair amount of success on Robot Wars, as Micro Mute reached the final of the Featherweight Championship in Extreme 2, while Mute was the runner-up of the New Blood Championship, and a heat winner in the Seventh Wars. However, Bonk lost its only battle, and was not selected to compete in Series 9[4].
Team Members
[
]
Adam Emmett
[
]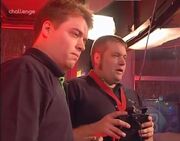 The team captain through all the team's appearances, Adam drove all three of the team's robots. He and his brother Daniel worked together at their engineering company to construct the team's robots.
"I drove both robots and Daniel did the weapons. I tried once to do it all but its to much and was much better split between us"
— Adam Emmett on the roles of the team members[5]
Daniel Emmett
[
]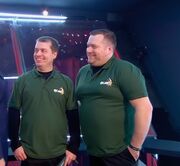 "The design with regards with drawing the robots was done by Daniel as he's good with CAD but the design was a joint effort and a lot of trial and error even with CAD. The construction was done at our engineering company, so it was a joint effort at Venturi Jet Pumps Ltd"
— Adam Emmett on designing and constructing the team's robots[6]
The only other team member to appear throughout all the team's appearances, Daniel Emmett was the weapons operator for Mute and Bonk.
Daniel Emmett was responsible for creating the technical drawings using CAD, although the actual designs for the robots were a joint effort between him and Adam.
Peter Emmett
[
]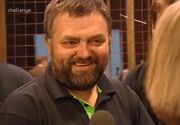 Only part of the team for their first televised appearance in Extreme 2, Peter Emmett is the father of Adam and Daniel. He formed the family engineering firm, which Adam and Daniel both accredit their love of engineering to. He did help with the engineering for Mute[7].
Peter was only seen with the Mute team during Round 1 of the New Blood Championship, as he had to go back to work. He was also part of the team when the entered Micro Mute in Extreme 2. He did the speaking in the pre-battle interview before Mute's Round 1 battle.
"We didn't think about getting past the 1st round and Peter had to go back to work as both me and Daniel were missing"
— Adam Emmett on Peter Emmett's abscence after Round 1[8]
Jeremy Honcox
[
]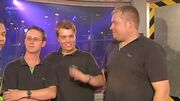 "Jeremy is a friend from university and used to come to all the live events with us"
— Adam Emmett on Jeremy Honcox[9]
Joining the team for Series 7, Jeremy was a friend of Adam's, having met at university. He competed with Mute and Micro Mute. Despite not being the team captain, he did a lot of speaking in the team's introductions and interviews, speaking to Jayne Middlemiss before each of Mute's battles, and speaking in the post-battle interviews with Craig Charles after Round 2, the Heat Final and the Semi-Final battle with Firestorm 5.
In the Featherweight Championship, after Micro Mute was immobilised, Sir Killalot picked it up and repeatedly forced it into Matilda's flywheel, shredding the back end and ripping out lots of components. Adam Emmett was so angered about the excessive amount of damage done to his immobile competitor, and walked out of the control booth. After the battle, Jeremy spoke to Jayne Middlemiss to describe the amount of damage and how much work went into Micro Mute, as the other team members were too upset to speak about it.
Jayne Middlemiss: "One angry roboteer, one very upset robot."
Jeremy Honcox: "And my team mates are just... they're not here at the moment."
Jayne Middlemiss: "Livid?"
Jeremy Honcox: "Yeah!"
— Post-battle interview
Robots
[
]
| Name | Weight Class | Series |
| --- | --- | --- |
| Mute | Heavyweight | Extreme 2, Series 7 |
| Micro Mute | Featherweight | Extreme 2, Series 7 |
| Bonk | Heavyweight | Series 8 |
Wins/Losses
[
]
Series Record
[
]
Outside Robot Wars
[
]
For information on the performances of Mute, Micro Mute and Bonk on the live circuit, see their respective pages.
Adam Emmett also briefly owned Eric in the time Robot Wars was off-air, hoping to restore it, however, he did not have the time, and Eric was sold on again.
In July 2016, the team were interviewed on BBC Radio Stoke, prior to Bonk's appearance in the rebooted series[10].
Robot Wars Live Events
[
]
Mute did not appear at any Robot Wars live events despite being in working condition, although the team competed with Bonk, to minimal success. Bonk lost in the first round of the 2013 Robot Wars Winter Tour, and would later compete exclusively at Robots Live! events.
External Links
[
]
References
[
]