"Adam and Daniel's dad set up the engineering firm, which they now own, when they were eight years old. As children, they were immersed in the business and credit their love of engineering to this."
— The Robot Wars website on Team Mute's introduction to engineering[1]
Team Mute is a team of roboteers that debuted in Robot Wars Extreme: Series 2, before entering Series 7 and 8 of Robot Wars.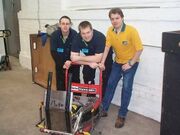 Adam and Daniel Emmett are twin brothers, and are engineers by trade, owning the family business opened by their father Peter Emmett over thirty years ago. The Robot Wars website claims that they were immersed in the business and credit their love of engineering to this[2].
Team Mute entered a heavyweight robot, Mute, a front-hinged flipper and namesake of the team, which was originally built to enter Series 4, into Series 7 of Robot Wars, and Extreme 2. Team Mute also entered two Featherweight Championships with Micro Mute. In 2016, Team Mute entered with Bonk.
Team Mute enjoyed a fair amount of success on Robot Wars, as Micro Mute reached the final of the Featherweight Championship in Extreme 2, while Mute was the runner-up of the New Blood Championship, and a heat winner in the Seventh Wars. However, Bonk lost its only battle, and was not selected to compete in Series 9[3].
| Name | Weight Class | Series |
| --- | --- | --- |
| Mute | Heavyweight | Extreme 2, Series 7 |
| Micro Mute | Featherweight | Extreme 2, Series 7 |
| Bonk | Heavyweight | Series 8 |
Mute did not appear at any Robot Wars live events despite being in working condition, although the team competed with Bonk, to minimal success. Bonk lost in the first round of the 2013 Robot Wars Winter Tour, before becoming exclusive to Robots Live! events.
For information on the performances of Mute, Micro Mute and Bonk on the live circuit, see their respective pages.
Adam Emmett also briefly owned Eric in the time Robot Wars was off-air, hoping to restore it, however, he did not have the time, and Eric was sold on again.
UK Series Teams
Series 1
Series 2
Series 3
Series 4
Extreme 1/Series 5
Series 6
Extreme 2/Series 7
Series 8-10
Community content is available under
CC-BY-SA
unless otherwise noted.