"Initially, we were called team Harkonnen (as in Dune) but we never really used it and were usually just called the Irish guys."
— Peter Redmond on the other names of Team Nemesis
Team Nemesis were an Irish team that competed in Series 1-5 and 10 of Robot Wars as well as both series of Robot Wars Extreme. Their most famous robot was Diotoir. Widely known for their sportsmanship, generosity, humour and trademark polka dot fur, the team were a major presence in the early series of the show, especially in international tournaments where they represented the Republic of Ireland on four occasions.
In the original run, they achieved thirteen wins between their two robots, and, despite regularly being perceived as 'underdogs', only failed to reach the Arena Semi-Final/Heat Semi-Final stage once in the main UK series.
The team were very widely liked by the fans and production team. Philippa Forrester specifically singled them out in her handover to Julia Reed in Series 4. Craig Charles hugged Cairon Byrne after Diotoir's first major success, and his son Jack even joined the team in Series 4 and 5 as an honorary member. Jonathan Pearce often shared in the jokes and praised them as one of his favourite teams. The team were one of the first to draw fans in the televised audience, with signs and even Diotoir's famous fur not uncommon on audience members.
Team Nemesis made a high profile return to the show in Series 10 in the first instance of the reboot acknowledging the previous series. Peter Redmond captained the entire 'Rest of the World' team during the first episode of Robot Wars: World Series.
"Diotoir is a team. It's not me, I'm not Diotoir. And the editing, the way it was done on TV made it look like it was all me, that it was my robot and I was doing everything and that's not true. There are a lot of other people on the team…I wouldn't be able to do it without [the rest of the team] and Diotoir wouldn't exist and we wouldn't have been able to get on without all them."
— Peter Redmond after Series 10[1]
Peter Redmond
Edit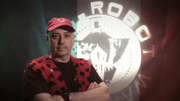 Peter Redmond was the captain and driver of both Nemesis and Diotoir. An aviation technician in the Irish Air Corps by trade during Series 1, he had a history of building dune buggies, robot vacuums and other machines, according to Jonathan Pearce. Redmond and his teammates entered the series at the nudging of Ciarán Byrne, who had seen Robot Wars in the United States.
"I did an online search and I found out that BBC had bought the rights for Robot Wars in the UK, and they were going to start building and they were looking for entries, so I said "Ok, we could do that, let's start building a robot!""
— Peter Redmond on entering Robot Wars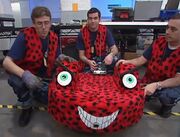 Redmond initially shared driving with William Murphy during the Gauntlet run, and spoke to Jeremy Clarkson after the defeat of Shunt in the Sumo Trial. Redmond noted this as his proudest moment for the Nemesis machine. [2]
With the arrival of Ciarán Byrne onto the team, Redmond tended to leave the humour and antics to him and had a lower profile, doing less interviews and cutaways and instead focusing on the robot. As Diotoir went through its trials and tribulations of Series 3 and 4, he maintained a self-deprecating humour, joking that he would drive into the pit against Sting 2 in order for the ordeal to be over and he could go home. In Series 4, a stressed looking Redmond participated in the robot's cutaway, visibly in the middle of making repairs to the robot.
"If we had no other reason to do this international competition, we'd have this."
Peter Redmond made a high profile return in Series 10 alongside Diotoir. The production team had contacted him repeatedly trying to encourage the return of Diotoir, but Redmond steadfastly refused to enter his retired machine to be obliterated and maintained he had insufficient time to build a new robot. The offer to rebrand Kadeena Machina was ultimately what won him over, though he only had one practice drive prior to the filmed fights.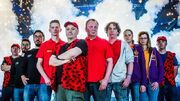 As the international captain of the "Rest of the World" team, he was the primary spokesperson and strategist, approaching the other three teams to give advice, such as advising Rabid M8 to attack the rubber on Gabriel 2's wheels. To widespread amusement, his attempt to encourage Annita van der Meer led to her telling him to "stop talking" during the fight with Terrorhurtz. Overall, his appearance was praised by the new hosts and new roboteers, many of whom watched the original series.
Redmond noted in a Q&A that he was disappointed that the focus was exclusively on him, at the expense of his teammates.[3] He also stated that as of January 2018, he and his teammates would begin building new robots for an entry into a potential Series 11.
Joe Gavin
Edit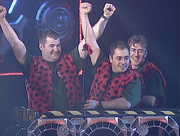 Joe Gavin was an air force engineer and primarily responsible for the inner workings of Team Nemesis' machines. He spent far less time in the spotlight than Redmond and Byrne; after Nemesis' retirement he rarely spoke on screen, and despite being present along with Redmond in Series 10, Joe Gavin did not physically appear outside of a single brief shot. Gavin was present for nearly every series that Team Nemesis competed in, missing only Series 4 for unknown reasons.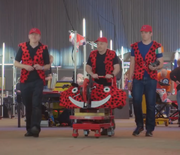 Gavin was more prominent during the Nemesis years, the first member of the team to speak on camera as he gave the rundown during the pre-Gauntlet cutaway. In Series 3, he chimed in on Peter Redmond's joke that Diotoir had been named so no one could say it by adding that it was specifically Craig Charles that they wanted to struggle with pronunciation.
Ciarán Byrne
Edit
"Up the middle with smoke!"
— Byrne's favourite tactics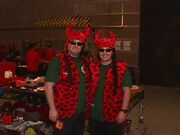 Ciarán Byrne (known as "Doctor Zulu" or "Zulu" increasingly by the show, even on the stat boards) was the third prominent member of Team Nemesis. A welder, his role was mainly Diotoir's armour and chassis. Though his involvement and influence pre-dated this, his first appearance was in Series 3, where he and his teammates battled time and exhaustion to get Diotoir up and running after the customs demanded that Diotoir be completely disassembled. He first appeared putting the finishing touches on Diotoir before the fight with Sting 2, though he was quick to say that if Redmond made good on his intention to self-pit, he would jam the screwdriver he was holding into Redmond's back. When Diotoir won its fight with Sting 2, Philippa Forrester praised Byrne as the lucky mascot.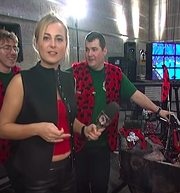 Byrne was a natural performer and was largely responsible for the comedic antics of the team, putting the team in the same vein as The Hub Nuts and the International Wreck Crew. Even in the strain of Series 3 and 4, he was quick to make a joke, but this took to a whole new level in Extreme 1 where Diotoir finally competed without issues. He claimed that the Mega Morg/Diotoir partnership arose after they caught the former team smuggling blow-up sheep into Ireland, claimed that Diotoir's springs came from the space shuttle, and ran a column with Robot Wars Magazine where he mocked the Firestorm team as "girly boys", an incident that set up a Vengeance battle in the same series. He also "sabotaged" Firestorm 3 before that fight in a staged incident that led to a reprimand from Derek Foxwell and a threat to revoke one of the Sportsmanship Awards.
Despite his bombastic persona, Byrne was much like Redmond and Gavin in his generosity to others. As an experienced welder, he gave his skills out freely and equally, and was heavily praised by many teams, including Series 3 runner-up Hypno-Disc, which lost a tooth before Byrne repaired it. This was despite how busy Byrne was getting Diotoir up and running, as Forrester noted that he and his teammates had been out helping even before Diotoir's fights were filmed.
Ciarán Byrne did not appear in the team's return for Series 10. However, in a Q&A, Peter Redmond mentioned that Byrne was still an invaluable member of his team and future projects would involve him. [4]
Jack Charles
Edit
"That young lad on the left, does he pass a fleeting resemblance to a Robot Wars presenter?"
— Jonathan Pearce during the Series 4 pinball
Jack Charles, son of Craig Charles, began appearing in the Team Nemesis lineup in the Series 4 side events. He was first acknowledged by Pearce during the Pinball Warrior tournament, who advised the viewing audience who he was. He interacted with both his father and Forrester during Extreme 1 and Series 5, the latter of whom made a big fuss over him. Jack Charles held the Tag Team Terror trophy while Redmond and Byrne spoke to Craig Charles. Jonathan Pearce would later call him the Team Nemesis mascot.
William Murphy, John Cunnane and Will Sweeney
Edit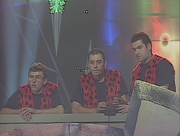 William Murphy was on the team during Series 1 and 2. He was an aviation technician like Peter Redmond, with whom he seemed to share driving responsibilities as they both held the controller. He egged on the flames when Nemesis was set on fire. He also mentioned the idea of putting a giant novelty kebab on Nemesis, which the team ultimately did twice in Series 2.
John Cunnane made a single appearance in Series 2. As Jonathan Pearce described the team as air force engineers, it is likely that he too was a member of the Irish Air Force.
Will Sweeney joined the team in Series 10, replacing Cairon Byrne who did not attend. Peter Redmond lamented that the show did not give any focus to him or Joe Gavin[5].
Celebrity Special
Edit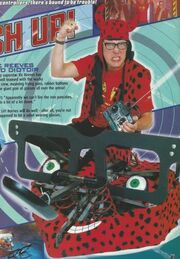 "Hi, I'm Vic Reeves, Britain's most foremost roboteer!"
— Vic Reeves
For the Series 4 Celebrity Special, shown as part of the Christmas specials in December 2000, Team Nemesis were joined by comedian Vic Reeves and his daughter, Alice. As with the other celebrities, he added various novelty decorations to Diotoir, including a frying pan attached to its lifting arm and a pair of oversized glasses paying homage to the ones he wore. The comedian was a perfect fit for the comedic team, who stole one of Wild Thing's and Shauna Lowry's fluffy animals, decapitated it and put it in the frying pan for incineration.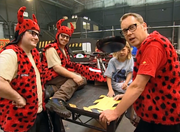 As per the rules, Reeves had to control Diotoir for sixty seconds before he was permitted to hand the controls over to the roboteers. However, Reeves drove Diotoir all through all three fights with Redmond only making minor gestures of assistance. Having completed an apprenticeship in engineering, Reeves was considerably more experienced than his fellow celebrities, though this was humorously rebuffed by Ciarán Byrne.
Julia Reed: "Have you brought any valuable information to the team, boys, Zulu?"
Cairon Byrne: "Not one bit. He brought his child, so we're actually thinking swapping him for her for a driver, because she's better."
— Byrne puts Reeves in his place, while Alice Reeves laughs
Trademarks
Edit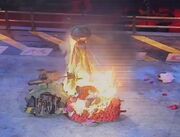 "Nobody warned us about this stuff, I mean, it's better than chainmail, it's better than anything…we tried to burn it off, we just couldn't get it off!"
— Adam Woodyatt after the Celebrity Special
Team Nemesis' machines featured several trademarks, including Diotoir's bloodshot eyes, huge toothy grin and the iconic black on red polka dot fur. The fur was highly flammable, but the team were unaware that House Robot Sergeant Bash would be equipped with one, even though they were banned by regular machines. Redmond claimed that he set out to locate cow, leopard or tiger fur or something similar to cover Nemesis with when he found the "lady bug" fur that is now such an icon. Half a roll remained and Redmond purchased the entire remaining stock. The eyes were discarded lights with painted eyes, which were destroyed a lot during the series.
"If you're going to cover a robot with fur, you might as well take the fire."
— Peter Redmond in Series 2's Gauntlet
Though set up as something the team wanted to avoid in Series 1, with the flames being cause for immediate loss against Roadblock, beginning in Series 2 the team and show actively embraced the flammable nature of the fur. Peter Redmond deliberately drove into fire on several occasions, whilst Murphy agreed that they should burn the fur all to hell. One Series 2 Grudge Match - the Inferno Insurrection - was even staged specifically for Nemesis and the sacrificial Ramrombit to be set alight by Sergeant Bash. Jonathan Pearce claimed that he loved it so much, he dreamed about it between Robot Wars series.
"Look out for the fur, everyone wants a piece of it."
— Jonathan Pearce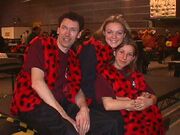 The Fur Virus, as it was informally described, refers to Team Nemesis' substantial use and distribution of the fur among other teams, resulting in other robots and even audience members brandishing the polkadot fur. Not only did they decorate their robots with the fur, but also wore full outfits comprised of vests and demon hats made out of the same material. Jonathan Pearce was often incredulous as to how much of the fur Team Nemesis possessed, as even after being set on fire and burnt, Diotoir would often receive new fur before the next battle it fought in.
The fur was also shared among other teams in the pits, who often decorated their robots or even made their own garments with it. For example, the Firestorm and Panic Attack teams both decorated their robots with the fur following their respective wins over Diotoir in Extreme 1. Wheely Big Cheese also had a strip of fur strapped to its back during its appearance in Heat H of Series 5, a reference to it defeating Diotoir in the Extreme 1 All-Stars. House Robots also occasionally sported the fur; in Series 3, Heat B, Sir Killalot was seen with a strip on top of his head resembling a mohawk haircut. Most recently, several competitor robots appearing in the Robot Wars: World Series specials - filmed and broadcast as part of Series 10 - had parts of the fur attached to them, including Apollo and Terrorhurtz.
This trademark was continued into Techno Games, with Team Nemesis' entries Ulysses and Stanoscloir also being clad in fur with bloodshot eyes and (in Ulysses' case) a grin.
In Series 10, alongside the team's signature furry waistcoats, Team Nemesis also wore red caps with Diotoir's grin on it.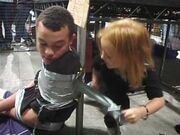 Team Nemesis were renowned for their sense of humour, frequently engaging in humourous banter with and making jokes on other teams and Robot Wars personalities on- and off-screen. Their acts, again, were made purely for entertainment; most occurred throughout Extreme 1, with notable examples including Ciarán Byrne 'sabotaging' Firestorm 3, the team bribing Noel Sharkey with cakes before the Tag Team Terror final, and Jack Charles being taped to a chair, resulting in him needing rescue from Ellie Watts.
Redmond, Gavin and Byrne's jokes often reflected on their robots. For example, in Series 2, Nemesis entered the battle with a large novelty kebab mounted between the wheelguards, in the hope that it would catch fire and burn up. Nemesis also carried a vegetarian sausage into battle, which was cooked in the fight and given to Philippa Forrester to eat afterwards. Nemesis entered the arena heavily bandaged in the Trial in Series 2, before being replenished for the fight with Onslaught, showing that the bandages were also part of the humour.
Diotoir's original website was also full of jokes, making out that Peter Redmond was a secret agent, Joe Gavin was only three feet tall, and Ciarán Byrne was responsible for the invention of viagra.
Sportsmanship
Edit
"When you're working in Robot Wars, anybody who can help out will always help out, because that's the nature of what we do."
— Peter Redmond
Team Nemesis was recognised for being one of the most sportsmanlike teams on the show. On many occasions, Team Nemesis went out of their way to help other teams with repairs and support, their efforts being officially recognised with Nemesis and Diotoir each winning the Sportsmanship Award in Series 1, 3 and 4 respectively. Jonathan Pearce incorrectly quoted Team Nemesis as the winners of the Series 2 Sportsmanship Award during their battle against The Steel Avenger in Series 3.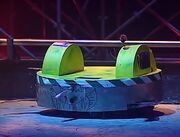 The most significant example of Team Nemesis' generosity came in the International League Championship, where they lent the Terror Australis team Nemesis after their own robot suffered technical issues before its first battle. This enabled the Terror Australis team to continue participating in the aforementioned event, them from being forced to withdraw and go home without competing. Much to Peter Redmond's relief, they did still defeat their own old and retired robot in the upcoming fight. Byrne and Redmond both assured the Terror Australis team that they had suffered damage during the fight, though Philippa Forrester suspected that they were exaggerating it to make the Australians team feel better.
"They'd travelled all the way from Australia and their robot had broken down. At the time we were introducing the new Diotoir and we had Nemesis in our van, just in case. So we said, look guys, your robot isn't working, you've come all the way from Australia and your robot isn't working, it'd be a shame to go home without doing anything, you can use our robot, Nemesis. I think we got a Sportsmanship Award because we gave them a robot…We had a robot, so why not?"
— Peter Redmond
Behind the scenes, Team Nemesis, and in particular Ciarán Byrne, would always be available to support other roboteers with running repairs to their robots. Byrne's welding skills proved particularly useful, with many roboteers praising him for his assistance and the quality of the repairs he undertook. Notable instances include helping Team Power to attach a front blade to Sonic in Series 3, and welding one of the teeth on Hypno-Disc's flywheel back on after it broke off during its Series 4 battle against V-Max.
In Series 5, Team Nemesis and Team Scutterbots made a Gentleman's Agreement to pit each other to save each other from damage once victory had been achieved.
Mechatrons
Edit
Redmond, Byrne and Gavin formed their own company Mechatrons in 1996, which is still active today. Mechatrons specialises in offering educational workshops and robotics kits as well as robots for corporate events, exhibitions and film/TV, with Diotoir making prominent appearances at their events and on their official website.
The team fought with two similar-looking robots, each decorated with red and black polka-dot fur, bloodshot eyes and toothy grins:
Nemesis was their original robot, one of the first robots to debut in Robot Wars and from which they got their name. Nemesis never failed to reach the Arena stage in either of its Heats, being the fastest to complete The Gauntlet in its Series 1 heat and pushing Shunt off the Sumo ring later on in the same episode. Although it did not win a single battle in the Arena stage, it won the Sportsmanship award at the end of Series 1.
Diotoir (full name: Diotoir, Son of Nemesis) was built as Nemesis' successor, and extended its fame. It enjoyed considerably more success than its predecessor, reaching two Heat Finals, the finals of the International League Championship (representing the Republic of Ireland) and Series 4 Celebrity Special, and the Semi-Finals of The First World Championship (again representing the Republic of Ireland). Additionally, it won the Extreme 1 Tag Team Terror tournament, paired with Pussycat, and the Sportsmanship award in Series 3-4. It entered Robot Wars: World Series using a loanerbot previously identified as Kadeena Machina.
| Name | Weight Class | Series |
| --- | --- | --- |
| Nemesis | Heavyweight | Series 1-2 |
| Diotoir | Heavyweight | Series 3-5, 10, Extreme 1-2 |
In 2016, Team Nemesis were asked by a Facebook user whether they would compete in Series 8 of Robot Wars. Team Nemesis replied with "Maybe", implying that they were considering an entry into the new series. However, despite attempting to apply for Series 8 with a new robot based on one of their original machines, Team Nemesis received no response from the producers. They subsequently did not attempt to apply for Series 9-10 as Peter Redmond did not have enough time to build a new robot for either series, eventually deciding to compete in the World Series following several requests from the producers.[6]
Wins/Losses
Edit
NOTE 1: This tally does not include the losses collected by Terror Australis when Nemesis was loaned to the team.
NOTE 2: Two of Team Nemesis' losses were collected while driving a loanerbot.
Outside Robot Wars
Edit
Like many other Robot Wars teams, Team Nemesis also competed in Techno Games with a variety of robots. They built Ulysses, a walkerbot powered by a 50cc petrol engine, which won gold in the Internal Combustion Sprint event in the 2001 series, beating the reigning champion Tecumseh in doing so. However, it lost the following year's Heavyweight Sprint event to Scuttle B². Ulysses' name is derived from the Latin name for Odysseus, a hero from ancient Greek literature.
For the 2002 Techno Games, Team Nemesis also entered a two-wheeled robot into the Assault Course, called Stanoscloir. However, it lost in the first round to Kat's Whiskers.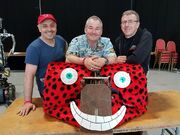 Peter Redmond also built a Rubik's Cube solving robot called RuBot II, which is capable of solving a Rubik's Cube in under 20 seconds[7] and held the world record for the fastest robot of its kind until 2011.[8][9] Nicknamed The Cubinator, it makes an appearance in the 2010 Guinness Book of World Records, and is still owned by Redmond, regularly appearing at exhibitions and events under the custodianship of Mechatrons.
Peter Redmond has run a Mechatrons event every year, running heavyweight combat brackets and static displays, also taking Diotoir to the events. In January 2018, he acquired Iron-Awe 7 and converted it into another new version of Diotoir, which made its robot combat debut later that month at the FMB World Finals in China.[10]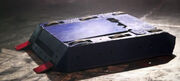 Peter Redmond competed on the Chinese TV show Clash Bots, where his first episode was aired in May 2018. Redmond was part of a fictitiously villainous team, alongside John Findlay, Tyrone Ellis and their Chinese captain. Peter Redmond controlled Smasher, a renamed version of Findlay's robot Cyclone. However, Smasher's teammate Sparta, driven by Findlay was promptly immobilised. After this, AU Thumper buried its axe into the wheel housing of Smasher, and did not let go, dragging Smasher around the arena. This allowed the vertical spinner of Dark Wolf to strike the rear of Smasher with devastating blows, causing Smasher's lithium polymer batteries to catch fire, and Smasher lost the battle in a blaze of smoke.
Series Record
Edit
Team Nemesis was the first international team to compete in the UK Championship, and the only one until Series 7.
Team Nemesis have both loaned a robot to another team, and competed with a loanerbot themselves.
As Robot Wars also switched broadcaster to Channel 5 in between these series, which was not shown in Ireland, the team lost their sponsorship, and were therefore unable to travel to the UK for qualification into or filming of Series 7.
References
Edit
External Links
Edit
UK Series Teams
Series 1
Series 2
Series 3
Series 4
Extreme 1/Series 5
Series 6
Extreme 2/Series 7
Series 8-10
Community content is available under
CC-BY-SA
unless otherwise noted.