"Often thought of as the 'joke team' of Robot Wars, yeah, who's laughing now?"
— Jonathan Pearce during Team Nuts' successful run in Series 10
Team Nuts are a team from Reading who competed in Series 8, 9 and 10 of Robot Wars, reaching the Grand Final in their third attempt to finish in joint third place.
The Team
[
]
"What a mixed bunch this lot are! Driver Rory is a cybernetics student alongside minibot driver Alex, while Dave works in a stock room for a DIY store. Handy for spare parts, no doubt! Chris is an engineer, so he must be the sensible one!"
— Jonathan Pearce on Series 8's Team Nuts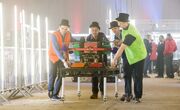 The team originally consisted of Rory Mangles, Dave Lawrie, Chris Shakespeare and Alex Shakespeare, who formed the team together after previously competing in live events with their own teams and robots. They reached the second round of Series 8 with Nuts, which lost all three of its Head-to-Head battles there, but returned to Series 9 with Nuts 2, which was eliminated in its group battle. Nuts also competes at live events with reasonable success.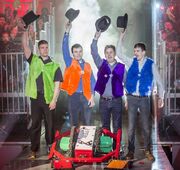 During Series 8, the team wore top hats and furry waistcoats, with each member wearing a different coloured waistcoat. Rory Mangles wore orange, Alex Shakespeare wore blue, Chris Shakespeare wore purple, and Dave Lawrie wore green.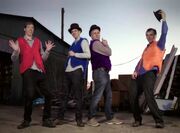 After Series 9, when Dave Lawrie left the team, Gareth Barnaby filled his space, wearing a red waistcoat. Each member of the team now wore a beanie in place of their top hats.
Angela Scanlon: "Is Nuts 2 now going to be a CV for your future career in roboteering?"
Rory Mangles: "I would hope so, if it works as expected, it's got some serious roboteering in there!"
— Angela Scanlon on the work life of Team Nuts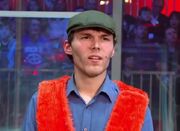 In Series 10, the three members of Team Nuts, Rory Mangles, Alex and Chris Shakespeare, all wore flat caps to represent Rory Mangles' heritage as a farmer, and Chris Shakespeare wore a new leopard-print waistcoat. Rory Mangles and Alex Shakespeare were both full-time roboteers at the time, with Rory Mangles now working for the same company as the Dorset Roboteering Team.
Team Nuts were notably quite scathing of their own machine, stating that it was 'not supposed to be a good robot' in spite of their great success in Series 10.
"If we win here, we go straight through to the Heat Final, which is kind of scary, because you know... it is Nuts, and Nuts isn't supposed to be a good robot!"
— Rory Mangles
As Alex Shakespeare is one of the UK's most successful antweight roboteers, and a competent driver of Nuts' minibots, Dara Ó Briain and Professor Noel Sharkey interviewed him during the first episode of Robot Wars: World Series to discuss the lower weight classes of robotic combat, particularly antweights, beetleweights and featherweights. Alex Shakespeare drove an antweight flipper during the interview, while recommending the weight class as a gateway path to robotics.
Team Die Gracefully Robotics
[
]
In Series 9, Dave Lawrie, who entered Series 8 as part of Team Nuts, entered a new robot, Jellyfish, alongside his wife Gemma, and in their VT only, Dave's brother Tim. The team is known as Team Die Gracefully Robotics (also shortened to Team DGR), a name that he has used on the live circuit for many years. Dave and Gemma competed in Heat 1, battling Nuts 2 in the same Group Battle, where Angela Scanlon and Jonathan Pearce referenced a potential rivalry between the two teams.
Although both Nuts 2 and Jellyfish were eliminated in the same Group Battle, Jellyfish was reinstated into the main competition when Rapid withdrew, and Team Die Gracefully Robotics invited Rory Mangles and Alex Shakespeare to work with them as a reunited team. Although Jellyfish did not reach the Heat Final, the team collected a win over Sabretooth together.
Following on from Jellyfish and Ice Cream not being selected for Series 10, Dave Lawrie, along with Sam Elliott and Craig Croucher, began working on a new heavyweight, Two-Headed Death Flamingo. For more information, see Outside Robot Wars.
Robots
[
]
Name
Weight Class
Series
Nuts
Heavyweight
Series 8-10
Jellyfish
Heavyweight
Series 9
(Team Die Gracefully Robotics)
Wins/Losses
[
]
NOTE: This incorporates the wins and losses of Team Nuts and Team Die Gracefully Robotics
Series Record
[
]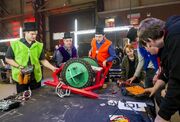 Outside Robot Wars
[
]
Before they formed Team Nuts for Series 8 of Robot Wars, team members Rory Mangles, Dave Lawrie, Chris Shakespeare & Alex Shakespeare had their own teams and fought with their own robots in the live events held during the show's original twelve-year hiatus.
Rory Mangles
[
]
While Rory Mangles was the original builder of Nuts, he has also built various other robots which regularly compete in live events. These include Richie, a black featherweight armed with an electric lifter with two-front mounted spears, and a variety of robots in smaller weight classes, such as antweights Bully Dozer, Slice To Meet You and Why Wait, and 2017 European Beetleweight champion Incomplete Control.[1] Mangles also produces NanoTwo kits for roboteers competing in the antweight and fleaweight categories. These comprise of a set of NanoTwo ESCs, motors and wheels, as well as options for extra components and a version specially adapted to comply with fleaweight rules[2].
Rory Mangles is one of the most recognised roboteers in the antweight division, with regular success across a variety of competitive and sportsman designs. Some of the humorous antweights built by Rory Mangles include a two-wheel driven wedge built in December 2018 which featured his own face reacting to Nuts 2 winning its Judges' decision over Carbide in the Series 10 Grand Final, and a robot built from a Heinz Baked Beans tin named Lasagne for One. As of August 2020, his newest beetleweight is Big Trash Panda.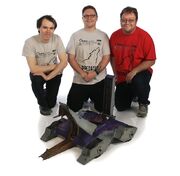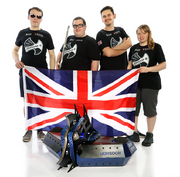 Rory Mangles also competed in both the 2018 and 2019 seasons of BattleBots. In the 2018 season, he joined Craig and Chris Danby to compete with Predator, and in the 2019 season, he joined Tom Brewster's team to compete with Monsoon. For more information on each respective robot, see Team Danby and Tauron.
Team Shakey (Alex Shakespeare)
[
]
Fighting under his own team, Team Shakey, Alex Shakespeare has built several featherweights including Gimli, which is armed with an electric axe and was upgraded in August 2020. He also competed with the featherweight AAK (short for An Adorable Kitten), a four-bar flipper and a four-wheel drive rambot, before later giving the name to a future heavyweight. Alex Shakespeare often fiought with featherweights belonging to Chris Shakespeare as well as his own, and has fought in events with featherweights such as AAK, Spur, Spur 2, Olaf and Gimli, as well as entering the red minibot of Nuts into live events. He has also fought with a large number of antweight robots, such as Accelerant, Stanley, Test Robot Please Ignore, Space-Y and Wedge Wedge Wedge, the latter a three-part clusterbot. Alex was given an older chassis of heavyweight robot Apocalypse from Ed Wallace which he renamed to AAK (after his featherweight) and entered into the 2015 Robot Wars World Championship. The heavyweight AAK has since been sold to Team ACE Robotics. The red minibot which accompanies Nuts 2 in Robot Wars has also competed in live events, competing in the featherweight class, despite weighing considerably less than 13.6kg. In March 2019, Alex Shakespeare completed a six-wheel drive, box wedge-shaped antweight robot armed with projectile glitter cannons.
Since 2014, Alex Shakespeare has also built and sold numerous custom antweight robots under the Team Shakey name, to fund construction and repairs to his own featherweight and antweight machines. These antweights are fully compliant with AWS regulations, and range from bespoke robots built to specifications set out by the customer to miniature replicas of heavyweight competitors.[3]
In mid-2017, Team Shakey also began offering a selection of standard 'Ready To Run' antweights. Available designs initially included a flipper, an axe/grabber and an invertible pusher.[4] In November 2017, Alex Shakespeare set up a new website - Nuts And Bots - with the purpose of distributing the above 'Ready to Run' antweights,[5] custom robot commissions and antweight components.[6] A new big-wheeled version of the pusher robot was released in August 2019, although by this time the original flipper, axe and pusher robots were no longer available to purchase.[7] By 2021, a new set of pre-built robots had been introduced including updated flipper, grabber and pusher designs. All use ABS chassis and dual ESCs suppled by Bristol Bot Builders, in place of the original NanoTwos which have since been discontinued.[8]
In 2019, Alex Shakespeare competed in the second season of the web-series Bugglebots. He entered with the beetleweight WID3BOI (styled as W I D 3 B O I), an extremely wide robot with two grabbing arms as its weapon. Its heavy front armour was able to resist spinners, but WID3BOI lost drive in its first fight against Saw Loser and although it was able to outlast Rev 4 in its losers melee, it lost to Léim Thart after driving into the pit.
Following further issues encountered by WID3BOI in live beetleweight events, Shakespeare built another machine for the category with the emphasis on being a 'solid and reliable' overhead grabber design. Dubbed Boring Bot, an early version of this debuted as a minibot for his featherweight entries. A second version was completed by August 2021 for events hosted by Bristol Bot Builders, featuring an HDPE and 3mm HARDOX construction.[9]
Team JACKLS (Chris Shakespeare)
[
]
Chris Shakespeare has fought under the team names of Team JACKLS and Team Shakesc in both the featherweight and antweight categories. Chris was the builder of the Spur series of featherweights (all four-wheel drive rammers), Olaf (a two-wheel drive rammer originally armed with a lifter) and an unnamed robot with an electric axe. He has fought in several Antweight World Series events, with notable antweight robots including Flint, Fantric and Formic, among several others.
Team Die Gracefully Robotics (Dave Lawrie)
[
]
Between 2007 and 2017, Dave Lawrie fought at live events with his own team, Team Die Gracefully Robotics. Many of his heavyweights that he had built for the live events were designed to be basic in order to stand out from more modern flipper-wielding robots such as Iron-Awe 5. In 2007, he built his first robot called Monolith, a green wooden wedge-shaped robot, and later helped build Cabrakan, a two-wheeled robot armed with a stabbing chisel which was built as a joint project between Team Die Gracefully Robotics, Team Godzilla and Team Hell for the 2009 UK Championships. In 2010, Lawrie built Anger for the UK Championships which was armed with a front wedge, and for the 2011 UK Championships held at the O2 Arena, London, he built Wilhelm's Scream, a red and green box-shaped robot running on two wheels. During the events, Dave Lawrie has also fought with various featherweights such as Hoodrat, Canary Wharfare, Goon, Japanese Fighting Tortoise and TW3-RX5. He also frequently fought in the antweight class with several antweight robots, often entering as a completely new team for every event, although he has since retired from competing in this category.
Two-Headed Death Flamingo
[
]
Following their unsuccessful application for Series 10, Team Die Gracefully Robotics retired from robot combat, with Dave Lawrie later co-building a new robot, Two-Headed Death Flamingo, with would-be Series 10 teammates Craig Croucher and Sam Elliott. Armed with twin pecking 'heads' and side 'wings', Two-Headed Death Flamingo made its live events debut in October 2017, at Extreme Robots in Gloucester. It was extremely successful, participating in six fights, and managed to immobilise Eruption with direct attacks.
In the lead-up to the Series 10 Grand Final, Rory Mangles appeared on BBC Points West with the original Nuts machine and Two-Headed Death Flamingo. Mangles drove Two-Headed Death Flamingo while the BBC presenter drove Nuts in a practice battle held on Mangles' farm.[10] Two-Headed Death Flamingo won the battle by stranding Nuts on the surface of its wheel. Dave Lawrie also attempted to enter the 2018 season of BattleBots with Two-Headed Death Flamingo, but was not selected to compete. The original build made further live events appearances during the same year, including Robots Live! at Burgess Hill and Extreme Robots in Portsmouth.[11] During the latter, Two-Headed Death Flamingo finished the main competition third, losing to Beast in a controversial semi-final before defeating Apex in the play-off, immobilising Major Damage in the process.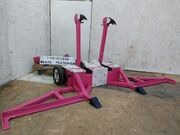 In early 2019, Lawrie stepped back from his involvement with the team, leaving Two-Headed Death Flamingo to continue competing with Croucher, Elliot and Joe Brown.[12] The robot itself was upgraded during this time to use new HARDOX axe heads, improved wheels, front wedgelets and a shortened wingspan to make its design more competitive. It attended the UWE Bot Brawl 2019 in February as a static exhibition, with plans to enter future live events across the year. In September, Two-Headed Death Flamingo appeared at the FRA UK Championship in Stevenage, finishing fourteenth overall in the main competition and participating in several whiteboard battles. Felix Townsend joined the team two months later as a fourth member.[13]
A brand-new version of Two-Headed Death Flamingo applied for the 2021 season of BattleBots, featuring an upgraded design with flexible HDPE wings, faster axe-like 'beaks', a 26hp brushless drive system and internal space for a built-in flamethrower at the front.[14] Interchangeable weapon, wing and attachment configurations were also planned.[15] While COVID-19 related travel issues would prevent all UK-based teams from entering, a panel from the original version was shipped over to Las Vegas with Monsoon and signed by other participating teams during filming.[16]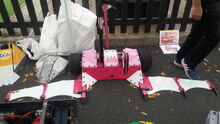 In July 2021, the original Two-Headed Death Flamingo was retired and officially 'sacrificed' to the Dead Metal replica built by Jamie McHarg.[17][18] Meanwhile, the 2021 version made its debut at Robonerd in September,[19] followed by a first appearance in combat at the Robots Live! Crawley event in October.[20] There, Two-Headed Death Flamingo performed well, taking part in five fights and finishing fourth in the main competition following consecutive defeats against Eruption and Ignition respectively.[21]
For more information on Two-Headed Death Flamingo, see here.
Bristol Bot Builders (Gareth Barnaby)
[
]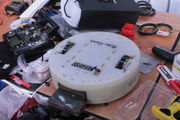 Gareth Barnaby is also a competitor in the lower weight classes. In August 2018, he entered the King of Bots UK featherweight championship with a sit-and-spin design named Take Cover, which used a Meltybrain drive system, and was built as a prototype for a design that a future Nuts machine may have used if Robot Wars were to run an eleventh series. Take Cover won the first qualification round of the event against The Claw and Raving Luna-Tic, but was subsequently pitted by Saber-X in its next battle. It won its final battle against X-303 and Luna-Tic, and qualified for the Top 20, where it lost to the top seed Amnesia when it was stranded on the arena wall. Although it reached a Judges' decision in the losers' melee, it was eliminated by Orpheus. Take Cover also took part in a Tag Team battle, partnered with Crabsolutely Clawful, but the pair lost the battle to Apex FW and Broadax after getting stranded on the wall in unison at one point. It also took part in the eighteen-way Gladiator battle, but lost after getting hooked on one of Crabsolutely Clawful's arms in the early stages.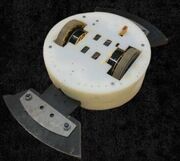 Take Cover was retired after its appearance in King of Bots UK and was succeeded by TRAC, a similar Meltybrain spinner using much larger and heavier HARDOX weapon teeth. TRAC competed at the FRA UK Featherweight Championship in August 2019 with success, collecting victories over Aegis Mk 2 and Enigma to qualify out of its Heat in second place. In the Top 16, TRAC faced a fellow Bristol entry in Crabsolutely Clawful, but after electing not to spin up at the beginning of the fight, TRAC was pitted by its opponent and eliminated at this stage.
In 2019 Gareth Barnaby competed in the second season of the web-series Bugglebots with the beetleweight Gear Down For What?!, a robot armed with an axe and directly driven by brushless motors with no gearing, making it extremely fast. In its first fight, Gear Down For What?! narrowly defeated former fourth place Snappy, driven by fellow Bristol Bot Builder Craig Croucher, on a split judges' decision. It then lost to Phoenix in the second round after losing its removable link, a problem that reoccurred in the opening moments of the Second Chance Rumble, eliminating it.
Robot Wars Live Events
[
]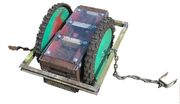 Prior to its performance in Series 8, Nuts made its combat debut at the Robot Wars live events, competing at various Live Tour events with initially limited success.
Alex Shakespeare also fought at the 2015 Robot Wars World Championship with AAK (An Adorable Kitten), also with limited success as the event was being used solely to test the drive system and the weapon had yet to be added. AAK fought TR2 and ThunderChild in its first round battle, but failed to move at all after blowing a fuse, and was eventually flipped out of the arena by TR2. It also fought in a six-way melee with Behemoth, Ripper, Luzifer, Weird mAlice and Meggamouse, but was eliminated early on after it was flipped onto its back by Meggamouse and could not self-right. Ripper would ultimately win the melee on a judges' decision.
Trivia
[
]
After Nuts 2 defeated Concussion in Series 10, Dorset Roboteering Team captain Tim Rackley recommended Rory Mangles for a job at the same workplace as their team, where Mangles was then employed.
Two of Alex Shakespeare's antweight robots - Space-Y and Test Robot Please Ignore - made an appearance in the first episode of Robot Wars: World Series, during an education segment where Professor Noel Sharkey explained the various lower weight classes in UK robot combat. With Shakespeare at the controls, Space-Y flipped a pen off the workbench at Dara Ó Briain's prompt, before proceeding to throw itself around and lift the beetleweight chassis.
In 2021, Team Nuts were recognised in the The Combat Robot Hall of Fame, with Nuts 2 receiving an Honorable Mention for its Series 10 run and popularity as an 'underdog' entry.[22][23]
Honours
[
]
References
[
]
External Links
[
]