Team Panda (alternatively known as Robot Wars 101 after their website) was a team of roboteers who entered six series of Robot Wars, but only qualified for three. They also entered the Antweight Championships of both series of Robot Wars Extreme.
The Team
[
]
The team captain was Pete Collier, the only member present in all the robots appearances. Originally, Chris Loader was the second member of the team, but during the construction of More Panda Monium, he and his partner moved, meaning he could no longer help the team directly.
"Chris and Linda have moved away and although we did get to spend a few hours on MPM together, I've mostly be trying to get things finished solo. It has been hard work - it's difficult to start to make decisions alone when you've got used to thinking as a team. Chris has been supporting me by mail and phone."
— Robot Wars 101, 1999 diary[1]
Steve Bracewell joined the team in 2001, having been a workmate of Pete's before being persuaded to join the team.[2]
"Steve Bracewell made the mistake of answering an email asking for help building a robot. Since then his life has consisted almost entirely of lifting his Pants on and off the table in Pete's garage. His philosophy on engineering is, if it can't be done with a large hammer, its not worth doing"
— Steve Bracewell profile on the Robot Wars 101 website[3]
Cathy Drinkwater also joined the team at the same time as Steve Bracewell, but she did not appear on the show.
Team Panda debuted in Series 2 with Panda Monium, which reached the Arena Semi-Final stage of its heat. Their second machine, More Panda Monium, was built for Series 3; however, it would not be selected for the main competition, and a Tag Team event in which it was intended to participate in[4] was cancelled due to a behind-the-scenes accident. The team subsequently attempted to enter it into Series 4 after their next robot, Big Pants, failed to qualify despite performing well during its qualifier against Edge Hog. More Panda Monium was equally unsuccessful, losing its own qualifier against Hard Cheese and thus failing to qualify as well.
The team returned for Robot Wars Extreme: Series 1 with one of their antweight robots, Pants, which also returned for the equivalent Antweight Championship in the second series. Though Big Pants again was unable to qualify for Series 5, it was updated to become Hot Pants which successfully entered Series 6. Team Panda's final Robot Wars entry was their Seventh Wars heavyweight Thunderpants, which while again succeeding in qualifying for the main competition, was unable to enter the arena for its first-round battle due to lasting drivetrain damage from its qualifier.[5] As a result, Thunderpants was red-carded by Refbot and eliminated without having left its entry gate.
In each series of the original UK Robot Wars they successfully applied for, Team Panda's machines enjoyed limited success in combat. Despite performing well during its Gauntlet and Skittles attempts, Panda Monium fell at the Arena Semi-Final stage in Series 2 after getting overturned by Matilda's tusks. Subsequently, both Hot Pants and Thunderpants suffered defeat in the first rounds during their respective appearances. However, while it was thrown out of the arena during the Extreme 1 Antweight Melee, Pants went on to qualify for the Extreme 2 Antweight Final, picking up the team's only victory in five series.
Costumes
[
]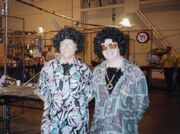 In Series 6, Team Panda's members wore afro wigs and sunglasses with colourful shirts to go with the small disco ball on their robot Hot Pants.
In Series 7, they wore superhero outfits with orange capes, yellow underpants on the outside and white shirts with a yellow logo. However, the latter costumes were not seen on the televised show, as their interview concerning Thunderpants' misfortune was cut and they were not shown to be in the control booths prior to its sudden elimination.[5]
Robots
[
]
Wins/Losses
[
]
Series Record
[
]
Outside Robot Wars
[
]
Beyond Robot Wars, Team Panda have had a influential and long-lasting presence on the UK and European robot combat circuit. A number of their heavyweight machines, including More Panda Monium and Big Pants (later Hot Pants), made appearances at a variety of live and charity events, fighting seasoned All-Stars including Panic Attack, Terrorhurtz and 13 Black on different occasions.[6][7][8][9]
As well as founding the Robotwars101 website - a database and discussion forum for robot combat classes and events which initially started as a journal for their Robot Wars entries - the team founded the Antweight World Series (often shortened to AWS) in 1998 as a locally-based competition for robots weighing no more than 150g. Intended to be a 'joke' event, the first AWS ran the following year with four roboteers and six robots in attendance (including Team Panda's own creations Pants and Cannon Fodder). From that point on, the AWS grew in popularity, with entry lists reaching as many as 100 robots per event. This helped cement the antweight category as an accessible and affordable starting point for new roboteers.[10][11]
Sixty-two Antweight World Series events have taken place as of January 2022, the most recent, AWS 62, running on 20th November 2021 in Midsomer Norton, Somerset.[12] To this day, the Robotwars101 forums remain an active online community for roboteers participating in antweight events such as the AWS.[13]
Team Panda have entered a number of their own antweight competitors into live events including the AWS - among them the aforementioned Pants and Cannon Fodder.[14] The latter was built in multiple versions armed with spinning weapons, ranging from a flail to a circular sawblade and a 'child-friendly' plastic disc made from a fast food toy).[15] Pete Collier also produced replicas, plans and construction kits based on Pants for sale to customers.[14]
A second axe-wielding robot, Squashy, was also completed by Pete Collier at the 2002 Brighton ModelWorld exhibition as part of an antweight-building workshop. This used leftover parts from Pants - including the axe head - and fought alongside its older counterpart from Antweight World Series 8 before retiring in Antweight World Series 26.[16]
References
[
]
External Links
[
]