Team Panda was a team of roboteers that entered six series of Robot Wars, but only qualified for three. They also entered the antweight championships in both series of Robot Wars Extreme.
The Team
[
]
The team captain was Pete Collier, the only member present in all the robots appearances. Originally, Chris Loader was the second member of the team, but during the construction of More Panda Monium, he and his partner moved, meaning he could no longer help the team directly.
"Chris and Linda have moved away and although we did get to spend a few hours on MPM together, I've mostly be trying to get things finished solo. It has been hard work - it's difficult to start to make decisions alone when you've got used to thinking as a team. Chris has been supporting me by mail and phone."
— Robot Wars 101, 1999 diary[1]
Steve Bracewell joined the team in 2001, having been a workmate of Pete's before being persuaded to join the team.[2]
"Steve Bracewell made the mistake of answering an email asking for help building a robot. Since then his life has consisted almost entirely of lifting his Pants on and off the table in Pete's garage. His philosophy on engineering is, if it can't be done with a large hammer, its not worth doing"
— Steve Bracewell profile on the Robot Wars 101 website[3]
Cathy Drinkwater also joined the team at the same time as Steve Bracewell, but she did not appear on the show.
They entered Panda Monium in Series 2, and built a sequel robot named More Panda Monium for Series 3; however, it would not be selected for the main competition, and a Tag Team competition in which it was intended to participate in[4] was cancelled due to a behind-the-scenes accident. Team Panda also tried to enter Series 4 with a new robot called Big Pants, but they failed. They also tried to enter More Panda Monium again for Series 4, but it too failed to qualify.
The team returned in Extreme Series 1 with an antweight robot called Pants, which was also entered in Extreme Series 2. In Series 6, the team entered Hot Pants, also known as "Big Pants" to the team as it was merely Big Pants updated. Their final robot that entered Robot Wars was named Thunderpants, which qualified for the main competition, but couldn't get past the entry gate due to a broken drivetrain, so it was red-carded and didn't fight.
Despite entering all but the first series of UK Robot Wars, none of their robots ever had much success in the Robot Wars Arena, with Pants being the only one to win an actual battle.
In addition to Pants, the team built two other antweights; Cannon Fodder and Squashy.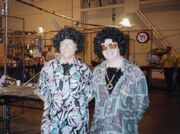 In the Sixth Wars, the team wore afro wigs and sunglasses with colourful shirts to go with the small disco ball on their robot Hot Pants. In Series 7, they wore Superhero outfits and colourful external underpants, but this was not shown on the television show, as their interview was cut and they were not seen in the control pods.
The team was also known as Robot Wars 101, which is also the name of the team's website.
Robots
[
]
Wins/Losses
[
]
Series Record
[
]
External Links
[
]
References
[
]