"Remember, we're the guys with the original 9 tonne hydraulic crusher, and if you think you've got a robot tough enough, then come and find us in the Robot Wars arena!"
— Simon Scott at the end of Ultimate Warrior Collection - Razer
Team Razer is a team of roboteers who entered the world-famous Razer in Series 2 through 6 of Robot Wars and both series of Robot Wars Extreme, later returning for the rebooted series in 2016.
Despite performing poorly in its first three main series appearances, Razer excelled in the side events, and racked up numerous trophies, most notably winning two World Championships. In Series 5, Razer finally hit its stride and won the domestic title. It followed that up with another strong performance in Series 6, finishing as runner-up. The team returned in 2016 for Series 8, with new team members Gillie Lewis and Darcie Lewis in place of Vincent Blood, retiring after this appearance.
Ian Lewis also entered Razzler into the Antweight Championship of Extreme 1, essentially a converted Razer pullback toy.
The Team
[
]
Simon Scott and Ian Lewis
[
]
"Me and Simon, we watched a fantastic show called Robot Wars that came onto BBC Two ... just from the advert that we saw, it was Rob Knight up there with Mortis, whacking away with this great axe, and we imagined "That would be really simple, it's a nice little machine, a bit like a radio controlled car with a little axe on top, would be really easy to build. Perhaps we can give Rob Knight a bit of a sorting out!"
— Ian Lewis on entering Robot Wars.[1]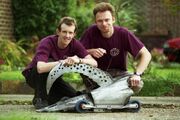 Ian Lewis and Simon Scott were industrial designers who had gone to school together. After seeing the first series of Robot Wars, they were inspired to make their own robot.
"Both of them had worked on unusual mechanical and sculptural projects (some solo and some as a team) for many years. With their engineering backgrounds, Ian's experience in radio-controlled models, and Simon's hydraulic expertise, robotic combat was certainly tailor-made for them"
— Razer website Robot Wars.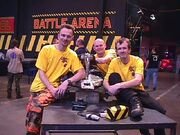 Ian Lewis worked in the electronics industry, and also was an enthusiast of remote-control cars, which gave him useful skills for building Razer.[2]
They experimented with several different types of weapons before ultimately deciding on the hydraulic crusher. Thus, Razer was born. The two of them built Razer together, with Ian Lewis doing the electronics and Simon Scott being responsible for the bodywork and the hydraulics. [3]
Throughout all the team's appearances, Ian Lewis was the driver, and Simon Scott operated the crusher. Interestingly, across the series, Scott and Lewis shared captain roles, with Ian Lewis being the captain for Series 2, 4, 6, Extreme 2 and Series 8, whilst Simon Scott was captain in Series 3, 5 and Extreme 1.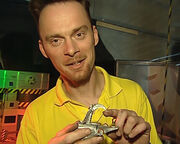 Ian Lewis also built Razzler, the team's Antweight robot, having modified a Razer pullback. He entered it on his own in the Antweight Melee of Extreme 1.
"I converted the little Razer toy, to make the Razzler, some of you may have seen it. It's only twelve hours of work, little bit expensive, say 150 quids worth of stuff, but really easy to do, it's all there already."
— Ian Lewis on building Razzler[4]
The team often aimed to damage in the most entertaining way for the cameras, such as when they pulled the wheels off Milly-Ann Bug in Series 4, and how they pushed Raging Reality into Matilda's flywheel, before putting it on the pit and opening it in their Series 6 Heat Final. However, they always respected the hard work of their opponents' machines. For example, the 101 and Milly-Ann Bug team's specifically asked them not to damage their expensive internal components. In both cases, they agreed, with Razer puncturing 101, but not damaging the internals, and against Milly-Ann Bug, they pulled the wheels off, then stopped attacking when Milly-Ann Bug was immobile.
"What we wanted was to provide some memorable footage, but there was a limiting factor to be taken into account. The Milly-Ann Bug team are extremely nice people and had asked we try not to damage the expensive internals of their machine. The question was how to win the fight in style without incurring the opposing team a fortune in ruined components."
— Team Razer website on fighting Milly-Ann Bug[5]
These "gentlemen's agreements" led to one of Team Razer's more infamous moments. In the Series 4 Heat Final, Razer became stuck in forward gear. Pussycat continued to attack, ripping into the back. After the fight, Lewis immediately hurried down to the pits to inspect the damage on Razer, not even bothering to show up for the post-fight interview. Down in the pits, he showed off all the gruesome damage that Razer had taken, and admonished the Gribbles for their lack of restraint. During Extreme 1, Ian challenged the Pussycat team to a grudge match, reiterating what he'd said in Series 4 about the unnecessary damage they'd caused. In reality, Ian was at peace with the incident, and the grudge was acted out for entertainment purposes.
"Now, to set the record straight, the Razer team do admire Pussycat as a clever design with a weapon capable of inflicting real damage. We wanted to prove that their previous win over us was our harsh luck due to a tiny brass strip falling out of a cutoff switch. We just wanted a fair fight"
— Team Razer website on the Extreme 1 Vengeance battle[6]
Vincent Blood
[
]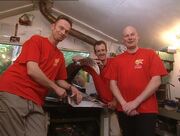 In Series 3, the team was joined by the brother of Ian's fiancee, Vincent Blood, often referred to on-screen as Vinnie Blood. Blood was primarily responsible for constructing and maintaining the team's website, but he helped out on the robot as well.
"I was so delighted that my friends had built this new machine to go in and have a go at Robot Wars, and I made them get me audience tickets, and I was actually there, not part of the team for Series 2, but part of the audience, and right after I had seen it, I was just so impressed and enthused I joined the team and did their website for them."
— Vincent Blood on joining Team Razer, interviewed on the Ultimate Warrior video
He appeared with the team until Extreme 2. In Extreme 1, he introduced himself as "tactician" during Team Razer's introduction.
In Extreme 2, Razer fought Tornado (armed with its anti-crusher web) in the semi-final of the European Championship. During the match, Razer picked up Tornado, and began smoking; its motors had burned out. The two robots remained hooked together for well over the 30-second holding limit, before cease was called. The judges ruled in favour of Razer, however Simon and Vincent believed the decision to be unfair, as Razer was clearly immobile, and Tornado should have been freed by the Refbot. Ian refused to go along with the decision, believing competitors did not have the right to overturn judges' decisions, and when his teammates tried to explain that they were 2-1 in favour of conceding the match, Ian told Vincent that his vote didn't count, as he didn't help build the machine. Ian eventually relented and apologised for his out-of-line remark, but he still refused to be on camera when the team handed over the victory to Tornado.
"When competing at a very high level we all need a few absolutes in place. A good set of fair rules. Good, fair judges, with integrity. These are just a couple, start questioning these at your peril, the competitors cannot become the judges, where would you stop? ... we had many questionable decisions, for and against us, that I kept to myself, for the sake of competing at that level."
— Ian Lewis
Over the months prior, Vincent had been indecisive about remaining on the Razer team, and Ian's behaviour towards this matter was the last straw. He announced his resignation soon afterwards, precipitating in Razer's retirement from Robot Wars, with the team not entering Series 7.
Gillie Lewis
[
]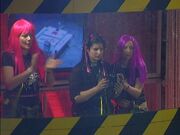 The sister of Vincent Blood and the partner of Ian Lewis, Gillie Lewis joined the team for Series 8. She had previously been the captain of Widow's Revenge. This was before she married Ian Lewis, so she was credited as Gillie Blood.
Team Razer were not involved in the construction of Widow's Revenge, though they had links to its team, The Robot Widows. The Widow's Revenge team all pretended to be the wives of the Razer team, whilst Jonathan Pearce incorrectly stated that the "Robot Widows" were the wives of Team Razer, and that Team Razer had helped build the machine, but this is not entirely true. Apart from Gillie Blood, the other two team members were not linked to Team Razer, but Emily Cathcart, the girlfriend of Vinnie Blood, joined the team when Jenny Smith fell ill. Their anti-male statements were directed towards all married roboteers, not just Ian, Simon, and Vincent.
Gillie Lewis: "I support the boys, really, by reminding them to eat and drink!"
Angela Scanlon: "So mum springs to the rescue with food?"
Gillie Lewis: "I brought a nice box of sausage rolls!"
— Gillie Lewis explains her role in the team
According to the official website, she was responsible for "wellbeing and logistics"[7]
Darcie Lewis
[
]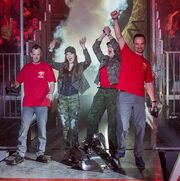 "I just wanted to be here to support Dad, because I've grown up with Razer, since I was little"
— Darie Lewis, asked by Angela Scanlon why she joined the team
The daughter of Gillie Lewis and Ian Lewis, Darcie was only present for Series 8. Working as a model outside of Robot Wars, according to the BBC website, she was the team's costume designer and wardrobe advisor.
Costumes
[
]
Always looking to entertain the audience, Team Razer occasionally dressed up to add a little extra entertainment value. For the Series 3 Pinball Competition, Simon dressed up in a lab coat, with a Conehead-style hat, Ian dressed with a large wig, and Vinnie dressed in drag. For the Series 4 Pinball Warrior run, Vinnie Blood wore sunglasses and a mask of tin foil, nicknamed "the human pinball". For Extreme 2, Ian Lewis had the Razer logo shaved into the back of his hair.
RobotsRus/Robogeddon
[
]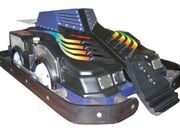 In 2002, Ian Lewis and Simon Scott, the two remaining members of Team Razer at the time, collaborated with Andrew Cotterell of Team Ming to form a robot building/hiring company called RobotsRus. Together, they created the Robogeddon concept for combat robots and arenas built specifically for leisure and educational use.
The former comprised of heavyweight-sized robot kits (alternately called RCVs, Robot Combat Vehicles or Cyber-Raptors), each weighing 70kg when fully assembled. These comprised of a box-wedge shaped robot with four-wheel drive and a full-body bumper to absorb shocks. Each was armed with an electric lifting arm which could be used to turn other RCVs over and self-right.[8]
As well as individual kits, the Robogeddon RCVs also formed part of a transportable arena which could be set up for use at private and public venues including theme parks, holiday resorts[9] and shopping centres. Four pre-built units would be available for guests to control themselves during battles, with up to eight players, a water-resistant overhead canopy and a variety of gameplay options depending on the operator's request.[8]
To publicise RobotsRus' services, Cotterell chose to take two pre-built RCV units, modify them and enter them for Series 7; these being Ming Dienasty and Zorro respectively.
The complete Mobile Robogeddon arena was first introduced in July 2004 as part of an event held at the Legoland Windsor theme park, during which Razer and Mute attended on the 24th along with Philippa Forrester.[10][11]
Robots
[
]
| Name | Weight Class | Series |
| --- | --- | --- |
| Razer | Heavyweight | Series 2-6, 8, Extreme 1-2, US Seasons 1-2, German Series |
| Razzler | Antweight | Extreme 1 |
Wins/Losses
[
]
Series Record
[
]
Outside Robot Wars
[
]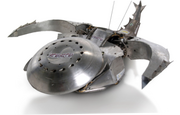 The team also entered several seasons of BattleBots. They entered the untelevised 1999 event and the pay-per-view 2000 event with Razer, winning the Gigabot/Heavyweight Rumble in the latter. They also entered Season 5.0 (originally intended for Season 3.0 and 4.0) with Warhead, a silver scorpion-like design with a petrol-driven spinning dome for a weapon, which could be angled, as well as hydraulic arms for self-righting, and a movable scorpion tail at the back. This robot had a good degree of success, defeating five opponents including the favoured Nightmare and The Matador, before ultimately losing out on a Judges' decision to OverKill.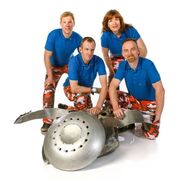 For the 2015 BattleBots reboot on ABC, Team Razer returned, this time with Gillie Blood Lewis and James Cooper as team members, with an upgraded Warhead, with a notable change being the replacement of the dome's internal combustion engine with an electric motor. However, the team did not do as well in this season, losing their first match to the eventual champion Bite Force on a unanimous Judges' decision. Warhead was given a wild card position in the last 16, but lost again to Stinger: The Killer Bee on another Judges' decision after getting flipped over. However, on account of its unique design and engineering, it was voted for the Best Design Award by its fellow competitors, which it won.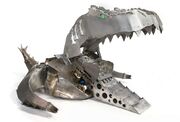 Warhead returned for the 2016 series of BattleBots, now sporting an interchangeable dinosaur head jaw weapon, interchangeable with the disc, and dual flamethrowers. Gillie Blood Lewis did not return, while James Cooper competed with Cobalt, and James Vandervelden joined Team Razer. Warhead used its jaw to crush Rob Knight's humanoid robot Obwalden Overlord, before setting it on fire. Warhead faced BattleBots veterans Complete Control in the second round, and switched to its spinning disc. Warhead won in spectacular fashion, tearing a huge gash in Complete Control, setting the entire robot on fire through another impact, and dealt the finishing blow by moving on its head through the gyroscopic forces of its disc. In the Round of 16, Warhead faced promising newcomer Minotaur. Here, it had its disc torn off after a few hits and continued to take blows from Minotaur's drum until it was knocked onto its side with both side panels ripped away and its side wings not working, ending Warhead's run.
A relatively unchanged Warhead also competed in the third season of the BattleBots reboot, aired on Science Channel and Discovery Channel, with the same team and interchangeable weapons. After only debuting ten episodes into the season, Warhead won its first battle against Sharkoprion on a Judges' decision after using its dinosaur jaw to tear away a tyre from its opponent. Warhead then won its second battle on a Judges' decision, using the same weapon setup to defeat Chomp by holding it in place and constantly using its flamethrower. Warhead used its spinning disc in battle with Warrior Dragon, but split the weapon apart in contact with the arena wall - nevertheless, Warhead continued to use its damaged disc and flamethrowers to win a split Judges' decision, after Warrior Dragon lost mobility in the dying seconds. In its final qualifying match, Warhead had no choice but to use its dinosaur head, which offered the robot no self-righting mechanism on top, and as a result it was defeated by Whiplash after being overturned. Despite its successful record of 3-1 in the main competition, Warhead narrowly missed out on the Top 16, on the grounds that its most effective weapon was broken beyond repair. Outside of the main competition, Warhead represented the United Kingdom in the USA vs The World special, and defeated Blacksmith on a split decision, using its dinosaur head.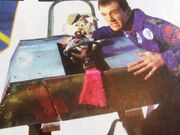 Although Team Razer did not enter the spin-off show Techno Games, Simon Scott worked on the show as a pit reporter in the 2002 and 2003 series, where he was referred to as a "Pit Pundit". Simon would take a close look at robots, describing their components and how the robots worked. He praised the designs or workings he thought were best, and enthusiastically commented on his favourites for each event, predicting who he thought would win and why.
Although Team Razer retired from Robot Wars after Series 8, they did appear in a short video released by the BBC, How to build a Robot Wars robot.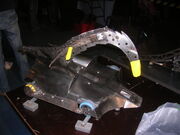 In the Chinese TV show King of Bots, Ian Lewis also appeared as one of the Judges. His achievements with Razer were acknowledged in his introduction, and Ian Lewis notably had the final call in a split decision between Thunder and Lightning and Steel God of War.
Featherweight versions of Razer and Warhead, called Venom and Predator respectively, were created by Team Robo Challenge and made various appearances at live events.
Trivia
[
]
Simon Scott manufactured the spinning drum used by Concussion in Series 9.
Team Razer holds the rare honour of having two different robots featured in The Combat Robot Hall of Fame - Razer (unanimously inducted in 2003) and their BattleBots entry, Warhead (made an Honorable Mention in 2003).[12] Currently, the only other UK team with this achievement is Team Hurtz.
According to the Extreme 2 programme, Simon Scott's hobbies included skateboarding and mountain-biking, while Vincent Blood was keen on gardening.
Honours
[
]
References
[
]
External Links
[
]