Team Rubbish (known during the original run of the show as Team VHS-Robots) are a Belgian roboteering team who competed in both series of Dutch Robot Wars with Pika, and later competed in the British Robot Wars reboot with Cobra.
One of the most successful Belgian teams in robotic combat alongside the team behind Philipper, the team are also known for competing on the live circuit with Brutus.
The Team
[
]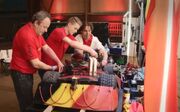 The team originally competed in both Dutch series of Robot Wars under the name Team VHS-Robots, competing with Pika 2 in Dutch Series 1, and Pika 3 in Dutch Series 2. For these series, Marco van Hek captained the team, and he was joined by his son Tim, and friend Joeri Ramakers. Team VHS-Robots also attempted to compete in the seventh British series of Robot Wars with Caesar. By reaching the Heat Final with Pika 2, Team VHS-Robots were the most successful Belgium team to compete in Dutch Series 1, before conceding this title to Philipper 2 in the second series.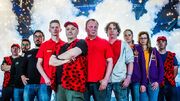 After competing in the European live circuit whilst Robot Wars was off-air, the team became known for competing with Brutus, which the team attempted to enter into the first reboot series of Robot Wars, but it was not selected to compete. This led to the team, now known as Team Rubbish, to convert Brutus into Cobra, which competed in Series 9, and Robot Wars: World Series, part of Series 10. A consistent pairing of Marco van Hek and Stefan Vanthoor were joined by Dutch roboteers Jeroen van der Loo and Jeroen van Lieverloo in Series 9, and by Marco's son Bram in Series 10.
Marco van Hek
[
]
"Smashing. Just, smashing, nothing more, nothing less."
— Marco van Hek's battle philosophy before his debut battle in Dutch Series 1 (translated from Dutch)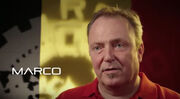 Marco van Hek was the captain of Team Rubbish, and the lead builder and designer of the team's machines. Marco drove Pika 2 in its first fight of the Dutch series, but after this would entirely delegate the driver role to his sons and teammates, both on Robot Wars and the live circuit.
Marco notably came from a non-engineering background, being a full-time fish salesman throughout his Robot Wars career, a topic which was discussed with Dara Ó Briain in the World Series. Marco was nevertheless a competent engineer, and was renown for his strong build quality.
"Wow, that's about as far removed from all of this as you can be!"
— Dara Ó Briain on Marco van Hek's occupation
Tim van Hek
[
]
"Pika themselves will be going smaller anyway, because this time around someone else is on the controls! Since you're way better at it..."
— Bridget Maasland to Tim van Hek before his first time driving Pika 2 (translated from Dutch)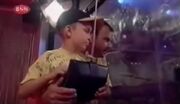 Tim van Hek is Marco's eldest son, who joined his father in competing with Pika at both series of Dutch Robot Wars. He was the driver of Pika 2 from its second fight onwards in the Dutch series of Robot Wars, also driving Pika 3 in both of its fights. During these battles, the young Tim had to be held up by his father as he was not tall enough to see over the barrier in the control booth. Tim was not present during the reboot of the UK series.
Bridget Maasland: "So tell me, what will your strategy be?"
Tim van Hek: "Uh, Pika!"
— Tim van Hek imitates Pikachu in Dutch Series 1 (translated from Dutch)
Commentator Eric Corton nicknamed Tim as "Pika Jr" on occasion, and it was also noted in Dutch Series 1 that the Pikachu toy on top of the robot was his own personal plush toy. Much like Joe and Ellie Watts of Team Big Brother, Tim van Hek answered almost all interview questions simply with the word "yes".
Rob Kamphues: "I think you're the youngest Robot Wars contestant ever!"
Tim van Hek: "Yes."
Rob Kamphues: "And you steered that entire thing all by yourself?"
Tim van Hek: "No."
Marco van Hek: "Yes you did, you were the one steering, weren't you?"
Rob Kamphues: "That was you steering?"
Tim van Hek: "Yes."
Rob Kamphues: "And you sent them [Maximum Torque] straight to the house robots?"
Tim van Hek: "Yes."
Rob Kamphues: "So you'll be steering again in the next round?"
Marco van Hek: "He will, he's better than I am!"
— An example of a post-match interview with Tim and Marco van Hek (translated from Dutch)
Joeri Ramakers
[
]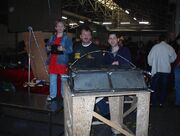 Jeori Ramakers was a consistent member of the Pika team for both of its appearance on Dutch Robot Wars. He assisted Marco van Hek with the maintenance of Pika 2 and Pika 3, and was involved with the build process for these machines and Caesar. Joeri Ramakers usually wore sunglasses on-screen in Dutch Series 2.
Stefan Vanthoor
[
]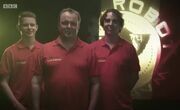 Maintenance engineer Stefan Vanthoor became a long-time teammate of Marco van Hek whilst Robot Wars was on hiatus from television, and was present for all of Cobra's appearances in Series 9 and 10, also attempting to enter Series 8 with Brutus. He was the team's lead mechanic and was jointly responsible for converting Brutus into Cobra ahead of Series 9, also being the driver of Cobra in its brief Series 9 campaign.
Jeroen van der Loo
[
]
Main article: Team KODOX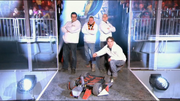 Jeroen van der Loo is a Dutch roboteer, and the captain of Team KODOX, best known for Tough as Nails. Although Jeroen van der Loo applied to compete in Series 9 with Tough as Nails, his robot was not selected to compete, so he instead joined Team Rubbish to compete with Cobra. Although he could only have a limited involvement in the build process due to being based in the Netherlands, Jeroen van der Loo was listed as the team's mechanic by the Robot Wars website, making him key to any repairs that needed to take place.
Jeroen van Lieverloo
[
]
Main article: Team Tie-Rip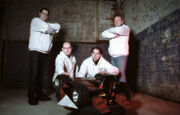 Jeroen van Lieverloo is the captain of Team Tie-Rip, who temporarily joined Team Rubbish for Series 9. He created the CAD model of Cobra used in its application for Series 9, translating Marco van Hek's idea for weaponising Brutus into a digital design. Jeroen van Lieverloo was also responsible for maintaining Cobra's electronics throughout the robot's brief campaign in the series. Like Jeroen van der Loo, he was a Dutch roboteer, and as such only had a limited involvement in the build process.
"I had no intention to enter Gravity as it was still just a wedge-shaped flipper and I felt I would need to make something more original. Jeroen put Tough as Nails forward but did not have the time to make the upgrades it really needed so we were unsure if it would get selected. I also spoke to Marco van Hek and he had a plan to upgrade Brutus to a robot with an active weapon. We had a meeting and he explained his plans. I made a CAD drawing to translate his plans into an actual design and Cobra was born. We sent in the application and were selected!"
— Jeroen van Lieverloo on joining Team Rubbish[1]
Bram van Hek
[
]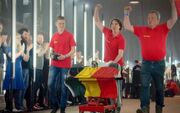 Bram van Hek is another of Marco's sons, and joined the robot for the World Series filmed after Series 10. For this appearance, Bram van Hek became the driver of Cobra, taking over from Stefan Vanthoor. Under his control, Cobra collected a victory over Sabretooth, making Bram van Hek one of only two drivers on Team Rest of the World to win a fight in the World Series.
Despite not competing with Pika, Bram was the direct inspiration for these robots' names, as Pika was Bram's childhood nickname, derived from a love of the Pokémon game and anime series.
Robots
[
]
| Name | Weight Class | Series |
| --- | --- | --- |
| Pika | Heavyweight | Dutch Series 1-2 |
| Cobra | Heavyweight | UK Series 9-10 |
Wins/Losses
[
]
Series Record
[
]
Dutch Series
[
]
UK Series
[
]
Outside Robot Wars
[
]
Team Rubbish are regular competitors across the European live circuit, particularly in the Netherlands and the United Kingdom. The team competed at a limited number of events with Pika 3 and Caesar, and later Brutus. For more information on these robots, see their individual articles.
While Robot Wars entered its 12-year hiatus, Marco van Hek joined forces with Andre Boxebeld from Team Delight (best known for The Lethal Swan), to form Team A.D.H.D. for a number of events.
A few months after Series 7 was filmed, WJ Dijkstra sold Gravity 3 to Marco van Hek, who modified and rebuilt parts of the machine to create Hades, a rear-hinged flipper which the team used on the live circuit for several years, including an appearance at the 2006 UK Championship. Despite the legacy of Gravity, Hades was largely unsuccessful. It made a return to the live circuit at the Robots: Extreme Wars Live Guildford event in June 2012, but it lost all of its fights. The team also built a featherweight version of Hades known as Hades Jr., and in 2020 started building a middleweight robot of the same name.
Marco van Hek would also buy Tomahawk over the course of the Robot Wars hiatus. He rebuilt the machine in late 2012 with help from other Belgian and Dutch roboteers, leading to its rebrand as TMHWK. It competed at the Roaming Robots Winter Tour in 2012 under Marco van Hek, and the robot then changed ownership to Marien van der Meer, builder of Scraptosaur. Marco van Hek also took over Kan-Opener H-spec in 2016 after it competed at Bronebots.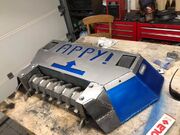 After competing in Robot Wars with Cobra, the team returned to competing in live events with Brutus, also starting to build a middleweight version named Brutus Jr reusing drive motors from Pika 3. The team did, however, build a brand-new heavyweight robot called Appy, named after Stefan Vanthoor's dog. Appy was a two-wheel driven invertible robot armed with a drum spinner. This competed at Extreme Robots in Maidstone alongside Brutus in 2019, where it defeated Donald Thump in a head-to-head, but became immobile in a four-way melee against Galactus, GABOS and Nibbler. Team Rubbish revealed the CAD for a new version of Appy in January 2020.
Trivia
[
]
During the process of building Cobra, team captain Marco van Hek was set on fire, according to the Robot Wars website[2].
External Links
[
]
Honours
[
]
References
[
]