"Complicated design is easy. Simple takes work."
— Motto of Team Run Amok[1]
Team Run Amok is a team from Salem, Oregon that competed in both seasons of Robot Wars: Extreme Warriors and Nickelodeon Robot Wars. The team built and entered two robots on the show; Run Away and The Gap.
The Team
[
]
"Back in late November or early December of 2000 I saw just a little snippet of a notice at the end of "Junkyard Wars" on TLC. The voice said something like: "Visit the TLC website and sign-up to compete in the TLC robot challenge -- a new event in robotic combat." … Well, I was at my computer in about 30 seconds, went to the website, and sent in an email requesting an application and more info. I had been following robot combat for a couple of years, and intended to get around to building something. "
— Mark Joerger on joining Robotica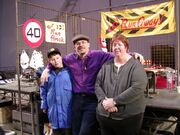 Team Run Amok originally competed in Robotica, with Mark Joerger entering Run Amok, which became the champion of the first series. He had become interested in combats robots after watching a BattleBots pay-per-view event [2] a couple of years before Robotica was announced, and had begun sketching a few designs before he started on Run Amok. When Robot Wars: Extreme Warriors was announced, he converted Run Amok into Run Away, adding spinning weapons, extra top armour, and a new drive chain.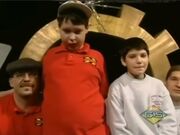 Run Away was entered in all three seasons of the American Robot Wars by the Joerger family; Mark, Aaron and Lissa. In Extreme Warriors: Season 2, they decided to build a second robot, due to the higher standard of robots in Robot Wars. The Gap was entered in US Season 2 by their sister team, Team Creative Steel; Max Chapin, Josh Robson and Jordan Robson.
The Gap was due to enter Nickelodeon Robot Wars in the International Tag Team competition alongside Run Away, but the robot sustained drive gearbox damage during its fight with Propeller-Head which could not be repaired, so the team fought with the loanerbot Zanzara. The teams failed to achieve much success in the main competition, with neither robot progressing past the second round in either season.
Team Members
[
]
Mark Joerger
[
]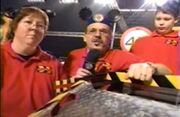 The founder of the team and Team captain, Mark Joerger was the main driver of Run Away. He was the main speaker in the team's interviews and introductions.
Before entering robot combat, he had a hobby in remote controlled cars and boats[3], as well as experience in a variety of mechanical design contests. [4]. He was the team's electronic specialist[5].
Although he did not compete with The Gap in Extreme Warriors 2, he was responsible for its design and construction.
Aaron Joerger
[
]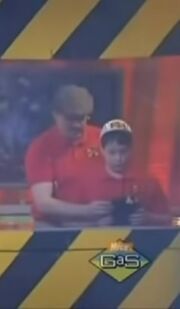 "My son (Aaron, age 9) had become a bigger fan of robot combat than I was. He could name every 'bot from the BattleBots tournaments, who built them, who they had fought against, and what their strengths and weaknesses were. I had a notebook full of designs that I was going to get to -- someday. This looked like a perfect father/son project."
— Mark Joerger on Aarron[6]
Mark Joerger's son, Aaron competed in all Run Away's appearances, and also competed with his father on Robotica. He helped to build Run Amok.
"I've tried to involve him in whatever projects I've been working on since he was tall enough to see what was on my workbench."
— Mark Joeger on Aaron
He sometimes led the team's intros and interviews.
"All the other robots, beware!"
— Aaron Joerger in Nickelodeon Robot Wars
In Nickelodeon Robot Wars, Aaron Joerger got the chance to drive Run Away, but because Run Away only competed in the International Tag Team, and was irreparably damaged after the first round, this was his only televised fight with him at the controls.
Lissa Joerger
[
]
"She works out logistics, serves as team psychologist and tracks our finances. She also asks key questions about design elements that have resulted in major re-designs on more than one occasion."
— Mark Joerger on Lissa
Mark's wife, Lissa (credited as Alissa Joerger in Season 2) had a fairly small role as part of the televised show, not having a speaking role during introductions and interviews, and was not even present during the Extreme Warriors Season 1 Tag Team Terror or the team's appearance in Nickelodeon Robot Wars.
However, she was an important part of the team behind the scenes, helping the team with their finances, discussing the robot's design and working out logistics for the team.
Max Chapin
[
]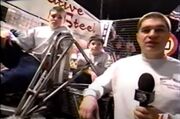 "I was busy driving and repairing Run Away at the competition, so driving The Gap fell to my chief metal fabricator and design consultant, Max Chapin. Max is the owner of the Creative Steel metal fab shop here in Salem and did a fantastic job as a first-time robot combatant."
— Mark Joerger on Max Chapin [7] The Gap, Team Run Amok website
Having previously been the team's welder, Max Chapin first appeared on the show when the team entered their second entry, The Gap, into Extreme Warriors: Season 2, as the Joergers were busy entering Run Away. He had previously done design work, welding and fabrication for Run Amok, designing and building the battery box, wedge and bumper[8].
When entering with The Gap, he competed with his two sons [9] under the name Team Creative Steel. The name came from the steel fabrication shop he owned in Salem.
He also helped the Run Away team in Extreme Warriors Season 2, managing to restore Run Away to fighting condition after its axles were severely mangled by Destructive Criticism in its Round 1 battle.
Josh Robson
[
]
The elder of Max Chapin's two sons, Josh Robson competed with the team when they entered The Gap in Extreme Warriors, but was not present during their appearance in Nickelodeon Robot Wars.
Jordan Robson
[
]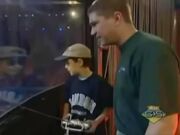 Max Chapin's other son, Jordan Robson's main contribution to the team came in Nickelodeon Robot Wars, where he drove Zanzara in the Tag Team competition. During this competition, he led the team's introduction and was interviewed by Vivianne Collins.
In Extreme Warriors: Season 2, Mick Foley actually signed his jumper, and pointed it out to the camera during the post-battle interview after Round 1.
Robots
[
]
| Name | Weight Class | Series |
| --- | --- | --- |
| Run Away | Heavyweight | Season 1-2, Nickelodeon |
| The Gap | Heavyweight | Season 2 |
| Zanzara | Heavyweight | Nickelodeon |
Wins/Losses
[
]
Series Record
[
]
Outside Robot Wars
[
]
Team Run Amok previously had success outside of Robot Wars in the American robot competition show, Robotica. They entered and won the first season with Run Amok, which was later modified and renamed Run Away for Robot Wars.
After winning Robotica, Aaron Joerger wanted to practice driving, so the team built Mini Run Amok, a 40% scale replica of the original robot for him to drive, Mark Joerger having viewed the original robot as too dangerous for a child to operate[10]. An ever smaller replica, only 1/4 ounce, was also built, Micro Run Amok.
The team also built a number of small robots entered into tournaments outside Robot Wars. The first was Rat Amok, an antweight armed with a mousetrap, similar to Little Nipper, which competed at the NorthWest AntWeight Tournament as part of the annual Da Vinci Days celebration on the campus of Oregon State University in 2002[11].
The team built a second antweight, Mini Maxbot, that Aaron Joerger competed with at a number of Da Vinci Days tournaments. Next, they built a Beetlewight, Zpatula, which was built from an R/C toy of Biohazard. It was entered into the Da Vinci Days robot combat tournament, where it won, thereby qualifying for the Nationals. After losing its first battle, it won three battles in a row, but suffered an electronics failure in its battle against Sandman, thereby missing out on the final[12].
They also built a hobbyweight called Nasty Glass of Water, with a lifting platform[13]. However, it is not known to have competed in any events.
Team Run Amok also hosted a series of antweight events, Antbotica. These events were held as part of larger events such as Da Vinci Days and the Robothon Festival at Seattle Center, and contestants could bring their antweights to compete in a number of obstacle course-style challenges, such as "Shuttle Race", "Seed Pit" and "Turntable Bridge"[14].
"The approach of the 9th anniversary of the first Robot Wars competition in San Francisco motivated me to create a site to honor the efforts of builders who had created particularly successful combat robots. I decided that the community of robot builders themselves were the group best suited to select robots for the new Hall of Fame, but I needed a way to focus the attention of that group on the 'big picture' rather than just start an arguement [sic]."
— Mark Joerger on founding The Combat Robot Hall of Fame[15]
In 2003, team captain Mark Joerger founded The Combat Robot Hall of Fame, an unofficial list of robots considered to be the best by roboteers from the international robot combat community. Voting is open every odd-numbered year to cast ballots for new members, among those including competitors from Robot Wars, BattleBots, Robotica and King of Bots, as well as robots competing exclusively in live events. Criteria for an individual robot's selection included their combat records, design, weaponry, entertainment value and/or their wider influence on the sport. Robots which appear on 50% or more of the ballots are granted full membership into the Hall of Fame; robots which appear on more than 25% but less than 50% receive an Honorable Mention and eligibility for full membership in future votes. As of 2021, the Hall of Fame consists of 45 fully-inducted members, with a further 39 receiving Honorable Mentions.[16][15]
On October 18th, 2013, team member Aaron Joerger sadly passed away from a pulmonary embolism at the age of 22.
Trivia
[
]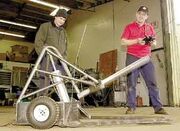 When applying for Robotica, Mark Joerger attached a robotic arm to a R/C car, just so he could include a photo of it in his application, to give the impression he had experience in building combat robots[17]. This R/C car was later used to make Mini Run Amok.
Lissa Joerger was credited as Alissa Joerger in Extreme Warriors: Season 2.
Max Chapin's wife Kristie came with the family to London, but was not seen on screen.
The team produced a printable cut out to produce a 1/10 scale model of Run Amok, which was posted on their website [18].
References
[
]
External Links
[
]