This article/section of article contains SPOILERS about the new series of Robot Wars. If you're unaffected by potential spoilers, then continue to read the article. Otherwise, this article/section of article should not be read before watching the relevant episodes.
"What advice do I give to people who think they can beat us? Fear us."
— Craig Colliass
Team Saint was a roboteering team which collectively referred to the Colliass family, who entered Series 8 of Robot Wars as Team Gabriel and Series 9 as Team Cherub. Team Saint was the name used by the team on the live circuit, where they are captained by the father of the family, Craig Colliass. Team Saint returned once again in Series 10.
The Team
"As in most cases with a family situation, you actually do things by consensus and do it by mutual respect. I don't want to be a totalitarian kind of a person, it's not my style. My sons are such nice characters that we get on so well - it works as a family."
— Craig Colliass in Series 8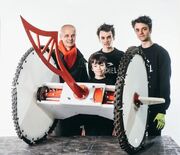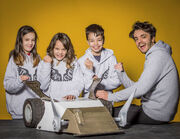 The Colliass family, consisting of Craig Colliass, his two daughters, and his three sons, were based in Essex. They reached the Heat Final stage in both Series 8 and 9 of Robot Wars. They did so in Series 8 with Gabriel, while captained by Craig Colliass, and in Series 9 with Cherub, while captained by Sarah Colliass. The two captains competed together with an updated version of Gabriel (Gabriel 2) in Series 10.
Team Cherub had a signature victory pose, where the team would put their hands on their backs, and flap them as though they were angel wings.
Craig Colliass
"My training is actually in engineering, so I've got a lot of experience in cutting and working with metals, and also other materials."
— Craig Colliass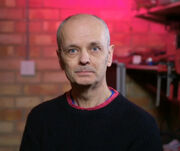 Craig Colliass was the head of the family and the captain of the team on the live circuit, as well as holding the position as captain during Series 8. In Series 10, he was listed as the 'International Captain', while daughter Sarah was 'Team Captain'. He built both robots and was the most involved with the repairs of the robot. Although he was not present on the televised Team Cherub, he was still in attendance at filming with Gabriel, an unused reserve for that series, and assisted with the repairs of Cherub.
Craig Colliass regularly arrived at Robot Wars in costume. In Series 8, he wore a large trenchcoat with a red scarf, red goggles on his forehead, and would carry two smaller replicas of Gabriel's sword. After donating this costume to Alex Brown's charity auction, he prepared a brand-new costume for Series 9 including a metal bowler hat, later used in Series 10 alongside a large cane.
As a captain, Craig Colliass was known to be quite generous in victory. This was particularly noticeable when Gabriel fought Beast in Series 8, as Gabriel required a knockout victory in order to qualify for the Heat Final, but having noticed that Beast was starting to overheat, he ordered his team not to attack Beast, despite it officially being still mobile.
"We felt that Beast had actually been immobilised, and it didn't seem proper for us to continue any gratuitous violence!"
— Craig Colliass after the battle with Beast
Sarah Colliass
"My Dad was a wimp last year, and I'm going to make sure I don't make the same mistakes he did"
— Sarah Colliass in Series 9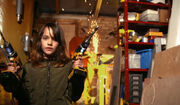 Then-twelve year old Sarah Colliass was the captain of Team Cherub in Series 9. Sarah was the primary speaker in Cherub's VT in Series 9, and gave Toby commands while he drove Cherub. Sarah was also part of the team in Series 10, and was listed as the Team Captain.
"If my robot got destroyed in battle, I'd be really upset, and I'd go up to them, and cry right in their faces so they feel guilty!"
— Sarah Colliass in Series 9
Toby Colliass
"13-year old Toby has proved himself to be among the best drivers in the competition!"
— Angela Scanlon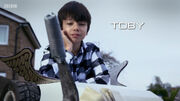 Toby Colliass was the youngest son of the family (13 years of age at the time of Series 9). In Series 8, he was introduced as the "apprentice", and did not play an active role on Team Gabriel until the whiteboard matches took place, where Toby was given the chance to drive Gabriel in a match against Behemoth, which they won.
Since Toby's driving debut, he effectively rose beyond the rank of 'apprentice', and became the driver of Cherub in Series 9. This role continued into Series 10, where Toby drove Gabriel 2 for the entirety of its appearances in that series.
Mark Colliass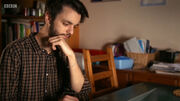 Mark Colliass, alongside Toby, was one of only two team members to appear on both Team Gabriel and Team Cherub. In Series 8, his role was 'pit crew', and he would assist with the repairs of Gabriel. This role became more important in Series 9, where Mark Colliass was the key team member when Cherub was in need of repairs. Additionally, Mark operated Cherub's lifting forks. By trade, Mark Colliass is a graphic designer, and he was the eldest son of the family, at 25 years of age in Series 9.
Zack Colliass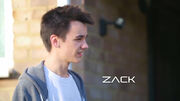 Zack Colliass was a member of Team Gabriel, and was 18 in his televised appearance. Zack was the driver of Gabriel throughout its Series 8 campaign. At the time, he was a student in sixth form.
Rosie Colliass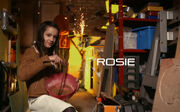 Rosie Colliass is Sarah's twin sister, and was therefore also 12 years old in Series 9-10. On television, her team role in Series 9 was stated as the 'cupcake maker'. The Robot Wars website called Rosie the weapons operator for Cherub, although this role was fulfilled by Mark Colliass in the battles. In Series 10, her role was upgraded to 'co-captain', alongside her sister Sarah.
Robots
| Name | Weight Class | Series |
| --- | --- | --- |
| Gabriel | Heavyweight | Series 8, 10 |
| Cherub | Heavyweight | Series 9 |
Wins/Losses
NOTE: Whiteboard matches are not included
Series Record
Outside Robot Wars
Team Saint use both Gabriel and Cherub at live events, most pertinently the Robot Wars live tour, Extreme Robots and Robots Live! events. At Extreme Robots in Manchester, Toby Colliass drove Gabriel in competition for the first time.
In addition to Gabriel and Cherub, the team have also fought on the live event circuit since 2007 with different versions of their first robot The Saint, the namesake of the team. The first version was a thwackbot with a horizontal pickaxe which would strike opponents while The Saint spun on the spot. The current version of The Saint is the second one, which still fights today - a barrel-shaped robot with a sword weapon, attacking in much the same way as Gabriel. The Saint's most recent appearance came at the 2017 Robots Live! Stevenage event, where it finished seventh overall in the FRA UK Championship and fought in numerous whiteboard battles.[1]
The team have also fought with a number of featherweights;
Gabriel (not to be confused with the heavyweight), an axlebot with a grinding blade on the end of the arm.
Seraphim, which also resembles Gabriel in appearance.
Mechatron, a pushing robot driven by four wheels.
In May of 2017, they sold one of the prop swords they used in Series 8 on eBay, signed by Craig Coliass. It was sold for £102 to the same person who won Craig's Series 8 outfit in the charity auction.
Team Saint will also compete in the upcoming Chinese TV show, Clash Bots.
Trivia
With six members, Team Saint is the largest team in Robot Wars to only contain family members.
References
External Links