Team Tilly (known on the show as Team Mouse) are a Derby-based roboteering team who competed in Series 9 of Robot Wars with Meggamouse, having built up over a decade of prior experience on the live circuit, which they compete in to this day.
The Team
[
]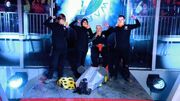 Team Tilly was a family team with over ten years of experience leading into their Robot Wars appearance. Although they only competed in Series 9, Team Tilly had intentions of competing in Series 7 with a near-fully built featherweight machine, and were only unable to apply for the series due to timing clashes with a family holiday.
On Robot Wars, Team Tilly went under the name of Team Mouse, as they were loaning the heavyweight robot Meggamouse from its owner Trevor Wright, who also competed under the name of Team Mouse while competing on television with Mighty Mouse, and the live events circuit with Meggamouse. Team Tilly had previously applied for Series 8 with Meggamouse, and later applied for Series 10 with the full-body spinner Dizzy Tilly, but did not appear in either series.
The name 'Team Tilly' was created by Shane Lale in his childhood, as he was required to enter a team name while competing in a local robotics event using a remote controlled Matilda toy, with Tilly being a nickname for Matilda. All robots fully owned by Shane or Peter Lale in some way incorporate 'Tilly' into the robot's name, and have done since 2004.
Shane Lale
[
]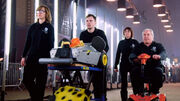 Shane Lale at the time of Series 9 was a 21-year old Product Design student, and has been the long-running captain of Team Tilly. When competing with Meggamouse, he was the robot's driver, and was responsible for the machine's maintenance and repairs. Shane Lale has been involved with combat robotics from early childhood, and would have been aged only between 7-8 had he been able to enter Series 7 as planned.
Although Team Tilly have owned various heavyweight and featherweight robots in their own right, Shane Lale's most notable heavyweight achievements were made possible by borrowing or buying spare robots of other teams, starting with his heavily modified Ewe 2 before moving onto machines such as Meggamouse at the time of Robot Wars, and Iron-Awe 6, which he drove to victory in the 2019 UK Championship.
Peter Lale
[
]
Peter Lale, more commonly Pete Lale, is a retired electrical engineer, aged 53 at the time of Series 9. Father to Shane and husband to Jackie, Peter was the team member with the most engineering and electronics experience when the team first involved themselves with robotics, and was the lead builder and repairman of their machines until Shane took over the role with age. For Robot Wars, Pete Lale was listed as the team's electrical expert, suggesting that the wiring and circuitry of Meggamouse would have been his main responsibility if required.
Due to his physical disabilities, Pete Lale's responsibilities in the robotics community gradually shifted away from competing, and he instead became known as one of the most established judges of the live circuit, also completing tech checks alongside his son for safety management.
Jackie Lale
[
]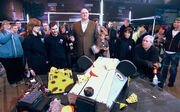 Jackie Lale at the time of Series 9 was a 55-year old full-time carer, and is wife to Peter Lale and mother of Shane. Her role on the Robot Wars website states that she 'looks after Charles and the rest of the team', with Charles referring to the minibot of Meggamouse. Indeed, Jackie Lale's role on the team is largely in support, with her commonly assisting at live events in areas such as catering, allowing her to remain heavily invested in the sport along with the rest of her family.
Sophie Clarkson
[
]
At the time of Series 9, Sophie Clarkson was a 20-year old Creative Writing student, and Shane Lale's girlfriend. She was the driver of Meggamouse's minibot Charles in its TV appearance. Beyond Robot Wars, Sophie Clarkson remains involved with the team's combat robotics, being a competitor in her own right at various featherweight competitions, and the online web-series Bugglebots.
Robots
[
]
| Name | Weight Class | Series |
| --- | --- | --- |
| Meggamouse | Heavyweight | Series 9 |
Wins/Losses
[
]
Series Record
[
]
Outside Robot Wars
[
]
Team Tilly's live events career started with a very young Shane Lale bringing his remote controlled Matilda toy to live events starting with Roaming Robots at Newark in 2002 to fight genuine featherweight competitors such as Kitty with it. Notably, after Kitty destroyed Shane's Matilda toy, Stuart Barnwell bought him a new toy from the merchandise stall, which competed in another fight later that day.
The team's first competitive featherweight was completed in 2004, being a full body spinner named Dizzy Tilly. This found a great degree of success for a new machine, achieving two podium finishes at its first two events, including a surprise victory over Little Spinner. A newer version of Dizzy Tilly was also competed in the Featherweight Championships between 2009 and 2013 without great success before later being conceptualised as a heavyweight for Robot Wars. Another featherweight that Shane Lale would later own is the original version of Ironside, which he restored to working condition in May 2020.
Team Tilly's first heavyweight was Tilly's Revenge, which was a large pink coloured (later black and orange) wedge-shaped robot armed with an electric lifter, built in 2005. The team fought with it until 2008 when it was sold to Team Kinforesters who renamed it Hortron.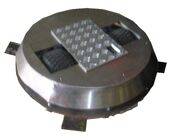 For the UK Championships in 2006, the team fought with Tilly 101, a circular invertible robot armed with a full body rim spinner. Its first battle was a head-to-head against Mighty Mouse, but it quickly broke down and lost. Tilly 101 then fought in a three-way battle against Mighty Mouse and Tanto, this time surviving the whole match, but again lost to Mighty Mouse, knocking it out of the competition. Tilly 101 later made it to the final of the International Championship where it lost to Kronic.
From September 2006, the team purchased an upgraded version of Ewe 2 with a full-pressure flipper, renaming it to TillyEwe 2. Under Team Tilly's ownership it performed very well in live events, winning the 2007 Annihilator and also finishing 3rd in the Roaming Robots Winter Tour 2007. In 2008, the team built an upgraded version of TillyEwe 2 named Tilly 2 Evo which performed even better, reaching the finals of the UK Championships in 2008, 2009, 2010 and 2011.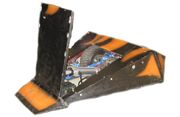 Also for the 2011 UK Championships, the team built Tilly XP, a wedge-shaped robot with a front-hinged flipper which was granted a Wild Card seed placing at the event but was beaten in the heats by the team's own Tilly 2 Evo. The team also built TillyEwe 3 in 2013 which debuted at the 2013 European Championships, although much of its armour had to be removed before entering the arena to conserve weight, and as a result TillyEwe 3 could not live up to its predecessor's success.
In 2014, Shane Lale drove Beast to second place at the FRA heavyweight championship and later bought this version of the machine from John Lear and painted it gold, renaming it Khaos. It competed at a number of UK live events under this guise before retiring. The team briefly owned Bulldog Breed, but soon passed it onto another owner. In 2019, the team also bought UFO from Alan Young and later repainted the machine in 2020, although it is unclear if UFO will return to combat under Team Tilly.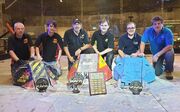 From 2016 onwards, the team opted more commonly to borrow and operate heavyweight flippers from other teams, including Meggamouse and Iron-Awe 6. Team Tilly have been most successful with Iron-Awe 6, using Team Iron-Awe's machine to earn achievements such as a victory at Robots Live! in Grantham and Mechatrons in Ireland in 2018, before winning the 2019 UK Championship in Stevenage[1].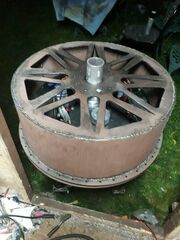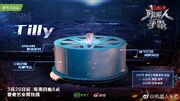 Team Tilly competed in the Chinese show Clash Bots with their own machine Tilly, a 104kg full body spinner with a 6mm HARDOX 450 shell, which had been converted from Hammertime, a live events competitor which started life as Corkscrew Two. It fought Catfish, a Chinese vertical spinner, and opened the battle with a devastating hit which appeared to immobilise Catfish. However, the Chinese robot regained mobility, and delivered several huge blows, throwing Tilly through the air. Both robots remained mobile for over ninety seconds, with Catfish starting to release smoke, but Tilly eventually became immobile near the arena wall and lost the battle, eliminating it from the competition. Like all international Clash Bots competitors, Tilly did not return from China after its appearance on the show.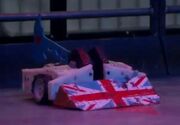 In 2018, Shane Lale bought the second version of the axe-wielding featherweight Hatchet from Sam Price and renamed it Red Hot Tilly Pecker. In August 2018, it competed in the Fighting My Bots World Cup in Shanghai, China, achieving a 3-2 win-loss record in its group[2]. Later the same month, it competed in the inaugural King of Bots UK featherweight event at Insomnia 63, Birmingham. Red Hot Tilly Pecker initially fought Binky and Blunt Force Trauma Remix in the first qualifying round, finishing the battle second after getting itself stuck on an already-immobilised Blunt Force Trauma Remix. In a three-way melee against The Claw and Neon, Red Hot Tilly Pecker finished second, after being immobilised by Neon. Ultimately, Red Hot Tilly Pecker was eliminated in its final melee, finishing second for a third time after its wheel was ripped away by Sabre20. At the Robodojo Autumn Featherweight Championship in 2018, Red Hot Tilly Pecker suffered two surprise losses in the Sportsman division, before redeeming itself by causing significant damage to The Tragic Roundabout[3]. Shane Lale also drove Mattock at the January 2019 Robodojo event in the Sportsman class, finishing in fourth place. Red Hot Tilly Pecker also competed in the FRA UK Featherweight Championship 2019, under the controls of Sophie Clarkson. It enjoyed a reasonable amount of success in its Heat, finishing in third place out of six by defeating Frycook, and Venator 3 on a split decision, despite losing to Telekinesis, Galaga and Captain Jack Spinnah. This put Red Hot Tilly Pecker through to a three-way melee for a place in the Top 16, but it was immobilised by Drumroll and was eliminated at this stage. Red Hot Tilly Pecker had a successful run at Robodojo in November 2019, finishing in the top three. In July 2020, it finished third and sixth at the two Robodojo events that month.
In July 2020, the team created Red Hot Tilly Pecker 2 from scratch, designed in CAD by Pete Lale while being built and driven by Shane Lale. The all-HDPE design was inspired by the Series 6 version of Terrorhurtz, with the body shape and bladed axe to match. It debuted at the second Robodojo event in July 2020 and won six back-to-back matches (including four knockouts) to reach the Grand Final of the event before finally losing mobility in battle with Euphoria.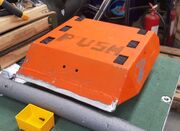 In August 2019, Shane Lale competed in the UK Featherweight Championship with the six-wheel drive rammer Push-Abili-Tilly, a repainted version of Disturbance (previously 540). Shane Lale had previously driven this robot to two wins at the July 2019 Robodojo under its original name of Disturbance, replacing a dropout part-way through the competition and ramming one opponent out of the arena. Push-Abili-Tilly finished second in its heat, losing to X-303 and Barghest but winning against Sinister, Impact and Graffiti. This put it through to the Top 16, where it defeated Plastic Fantastic, but lost to Satanix. However, Satanix was forced to withdraw, and Push-Abili-Tilly rejoined the competition at the semi-final stage, where it completed a shock turnaround against Barróg Doom to reach the Grand Final. There, it was thrown out of the arena by X-303, resigning Push-Abili-Tilly to second place in the FRA championship. Push-Abili-Tilly also competed at two full combat Robodojo events in 2020 with mixed success.
Shane Lale won the 2021 Robodojo Sportsman competition with a new robot, Drive By, which also competed at events hosted by the Bristol Bot Builders. The robot is inspired by BattleBots competitor Whiplash and features lifting forks and large rubber molded wheels. It secured first place for the year's circuit in February 2022 with an unbeaten streak resulting in a victory over Euphoria in the final.
Later that month, he won the 2022 Bristol Bot Builders Beetleweight Brawl with End Boss, an insectweight nod to 2020 BattleBots champions End Game, after defeating Oubley in the final.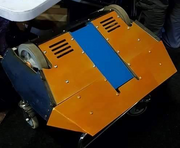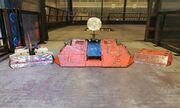 Team Tilly also built a middleweight robot, F7 known in full as Force 7, armed with a lifter, originally designed by Adam Hamilton. F7 was initially intended to enter RoboGames 2018, but pulled out[4], and ultimately first appeared at the Extreme Robots Manchester event in April 2018. There, it participated in numerous battles against heavyweight competitors, including a head-to-head against TR3 and a melee against Eric and Crackers 'n' Smash. In November 2019, F7 became the UK middleweight champion, defeating Raphael in the final.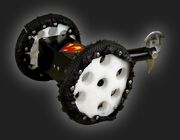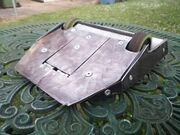 Team Tilly have also designed a number of beetleweights. Sophie Clarkson competed in the web-series Bugglebots with Dr Thwackenstein, a beetleweight thwackbot inspired by Gabriel, which had also competed at a previous beetleweight event. It was unsuccessful at the event, suffering from damaged speed controllers against Weewoo, before losing one of its wheels in the redemption round which was ultimately won by Rev 2. Shane Lale was also present at both seasons of Bugglebots as a referee, also driving Saw Loser in the 'Ref Rumble' against The Berg. As of June 2020, Shane Lale primarily competes in beetleweight events with F.7, a scaled down version of the middleweight F7, debuting at a Robodojo event that month.
Shane Lale competed in the 2019 season of BattleBots as part of Team Pun-Chant, with their robot Nelly the Ellybot. For more information, see the Nelly the Ellybot article.
Other miscellaneous machines driven by Shane Lale in battle at any point in time include Mighty Mouse, Velocirippa, Kan-Opener H-spec, MONTE, Merlin, Turbulence, Weird mAlice, Pressure and White Knight. Other notable machines driven by Shane Lale, but not necessarily in combat, include Tornado, Firestorm, Bigger Brother and Terrorhurtz.
Trivia
[
]
Team Tilly were the first team to become a new FRA UK Heavyweight Champion following the cancellation of the Robot Wars reboot, as the 2018 champion Eruption had already won the title twice prior.
References
[
]
External Links
[
]